Biosecurity aspects of cattle production in Western Uganda, and associations with seroprevalence of brucellosis, salmonellosis and bovine viral diarrhoea
Open Access
Research article
Part of the following topical collections:
Abstract
Background
Many low-income countries have a human population with a high number of cattle owners depending on their livestock for food and income. Infectious diseases threaten the health and production of cattle, affecting both the farmers and their families as well as other actors in often informal value chains. Many infectious diseases can be prevented by good biosecurity. The objectives of this study were to describe herd management and biosecurity routines with potential impact on the prevalence of infectious diseases, and to estimate the burden of infectious diseases in Ugandan cattle herds, using the seroprevalence of three model infections.
Results
Farmer interviews (n = 144) showed that biosecurity measures are rarely practised. Visitors' hand-wash was used by 14%, cleaning of boots or feet by 4 and 79% put new cattle directly into the herd. During the 12 months preceding the interviews, 51% of farmers had cattle that died and 31% had noticed abortions among their cows. Interestingly, 72% were satisfied with the health status of their cattle during the same time period. The prevalence (95% CI) of farms with at least one seropositive animal was 16.7% (11.0;23.8), 23.6% (16.9;31.4), and 53.4% (45.0;61.8) for brucella, salmonella and BVD, respectively.
A poisson regression model suggested that having employees looking after the cattle, sharing pasture with other herds, and a higher number of dead cattle were associated with a herd being positive to an increasing number of the diseases. An additive bayesian network model with biosecurity variables and a variable for the number of diseases the herd was positive to resulted in three separate directed acyclic graphs which illustrate how herd characteristics can be grouped together. This model associated the smallest herd size with herds positive to a decreasing number of diseases and having fewer employees.
Conclusion
There is potential for improvement of biosecurity practices in Ugandan cattle production. Salmonella, brucella and BVD were prevalent in cattle herds in the study area and these infections are, to some extent, associated with farm management practices.
Keywords
Serology 
Biosecurity 
Poisson regression 
Additive bayesian network 
Endemic infections 
Disease control 
Uganda 
Cattle 
Abbreviations
AI

Artificial insemination

BVD

Bovine viral diarrhoea

DAG

Directed acyclic graph

DVO

District veterinary officer

ECF

East Coast fever

FMD

Foot-and-mouth disease

TAD

Transboundary animal disease
Background
In low-income countries cattle represent a source for nutritious food, income, and may also play a major role in the social context [1]. One threat to livestock production is infectious diseases, endemic or epidemic, which directly affect the farmer but also many formal and informal actors in the often complex value chains of animal products [2]. Outbreaks of infectious, serious and so called Transboundary Animal Diseases (TADs) in cattle may have additional consequences for the farmers due to trade restrictions. Such diseases, and others with high morbidity and clear clinical signs and/or increased mortality are likely to be recognised by farmers, and linked to losses in production [3]. However, endemic infections with less dramatic clinical manifestations, such as reproductive disturbances, diarrhoea, or poor growth, may be part of what farmers perceive as "normal" and not as something possible and/or worthwhile to control, despite negative effects on income and food security.
The prospects for eradication of specific infectious diseases might be beyond what is reasonable in low-income countries, where the livestock production systems differ from systems in high-income countries. Instead, efforts could be made to decrease infection pressure in general, by improved biosecurity, and thus improve productivity.
Biosecurity, i.e. actions to prevent introduction of infectious agents in an area, farm or group of animals, or to limit circulation of those already present, is essential for animal disease control and improved herd health [4]. Many biosecurity measures are not disease-specific, e.g. to keep animals separated from other herds. To successfully suggest changes in biosecurity to cattle farmers one has to know what management routines are currently practiced in the population. In addition, knowledge of actual associations between disease occurrence and management in the local context would give valuable information on current routines with high impact on disease prevalence in cattle.
Uganda is an East African country with great potential for food production and for developing its livestock sector. The bovine disease spectrum is similar to other Sub-Saharan African countries and, in contrast to countries with a more developed dairy production, dominated by infectious diseases. Farmers themselves rank east coast fever (ECF), helminthosis, trypanosomiasis, anaplasmosis, and foot-and-mouth disease (FMD) as major disease problems [5]. As many infectious diseases in cattle are zoonotic and of a public health concern, control of such diseases in cattle is not only an economic issue, but a One Health issue. When disease control actions are carried out, these generally focus on response to outbreaks, e.g. vaccination and movement bans during FMD outbreaks [6]. Research efforts have been targeted mainly at TADs, such as FMD and vector-borne diseases, e.g. trypanosomiasis [7, 8, 9]. The knowledge regarding many other endemic and less obvious infectious diseases that are likely to have a high impact on calf mortality, reproduction, growth and milk production, is more limited. Estimating the occurrence of such diseases may provide a better picture of the overall disease burden of infectious diseases in the cattle population. Further, if and to what extent Ugandan cattle farmers practice biosecurity is unknown. This knowledge would be useful for future interventions.
This study is part of a project on biosecurity as a tool for cattle disease prevention. The objectives were: firstly, to describe herd management and biosecurity routines with potential impact on the prevalence of infectious diseases in Ugandan cattle herds and, secondly, to estimate the burden of infectious diseases and any associations with herd management, using three model infections.
Methods
This was a cross-sectional field study with the herd as the unit of interest.
Results
Herd sizes, production and management data from the farmer interviews are presented in Tables 
1
and
2
. As seen in the livestock census 2008 [
14
], small herds of less than five dominated in Kabarole district while Kasese district had the largest herds. The median number of animals per herd corresponded to those estimated in the census, except for Kasese where the median size in this study was 21–50 animals and the median figure reported in 2008 was 11 animals [
10
]. The most commonly stated main purpose of the cattle was dairy and beef (59.7%,
n
 = 86), while dairy was the second most common (34.7%,
n
 = 50). However, dairy was less common in Kasese (17.5%,
n
 = 7) and the two farmers that stated beef production as the main purpose were in this district. Other purposes included e.g. draught power or not stated (
n
 = 6). The most frequent breed was mixed breed (local and exotic) which was the main breed in 76 (53%) herds. The second most common breed was local breed, which was the main breed in 57 (40%) herds. Exotic breed was the most common breed in 11 (8%) herds. Most cattle were managed by the owner and his/her family but about a third of the cattle herds in Kabarole, half of those in Kamwenge and two thirds of those in Kasese also had employees taking care of the cattle. In Kabarole, most farmers (76.4%,
n
 = 42) used a communal bull but ten farmers (18.2%) had their own bull and seven (12.7%) also stated that they use AI. Only one farmer in each of the districts Kamwenge and Kasese used AI and in Kamwenge about half of the farmers had their own bull and half used a communal bull. In Kasese, two thirds of the farms had their own bull and one third used a communal bull.
Table 1
Description of some of the non-numerical parameters regarding cattle herd management and performance in Western Uganda
 

Kabarole

n (%)

Kamwenge

n (%)

Kasese

n (%)

Total study area

n (%)

Total

55

49

40

144

Herd size*

 2-5

35 (64)

13 (26.5)

2 (5)

50 (34.7)

 6-10

11 (20)

14 (28.6)

7 (17.5)

32 (22.2)

 11-20

4 (7.3)

11 (22.4)

6 (15)

21 (14.6)

 21-50

5 (9.1)

6 (12.2)

14 (35)

25 (17.4)

 51-100

0

3 (6.1)

9 (22.5)

12 (8.3)

 101-150

0

0

0

0

 151-200

0

2 (4.1)

2 (5)

4 (2.8)

Purpose of cattle *

 Beef

0

0

2 (5)

2 (1.4)

 Dairy

24 (43.6)

19 (38.8)

7 (17.5)

50 (34.7)

 Dairy and beef

29 (52.7)

30 (61.2)

27 (67.5)

86 (59.7)

 Other

2 (3.6)

0

4 (10)

6 (4.2)

Cattle care by

 Husband/wife*

54 (98.2)

35 (71.4)

21 (52.5)

110 (76.4)

 Other family*

43 (78.2)

26 (53.1)

18 (45.0)

87 (60.4)

 Employees*

18 (32.7)

27 (55.1)

26 (65.0)

71 (49.3)

Decision regarding cattle made by

 Husband/wife

54 (98.2)

47 (95.9)

39 (97.5)

140 (97.2)

 Other family*

22 (40.0)

12 (24.4)

3 (7.5)

37 (25.7)

 Employees

0

1 (2.0)

0

1 (0.7)

You, family, employees have contact with other's cattle*

26 (47.2)

18 (36.7)

29 (72.5)

73 (50.7)

Visitors to cattle

 Wash hands before

6 (10.9)

5 (10.2)

9 (22.5)

20 (13.9)

 Clean boots or feet

0

3 (6.1)

2 (5.0)

5 (3.5)

Share equipment with other farmers

20 (36.4)

11 (22.4)

8 (20.0)

39 (27.1)

Farmers in area help each other with cattle

21 (38.2)

21 (42.9)

22 (55.0)

64 (44.4)

New cattle put directly with the herd

 Always

47 (85.5)

37 (75.5)

30 (75.0)

114 (79.2)

 Never

2 (3.6)

5 (10.2)

4 (10.0)

11 (7.6)

 Sometimes

1 (1.8)

0

1 (2.5)

2 (1.4)

 Never bought

3 (5.5)

5 (10.2)

4 (12.5)

13 (9.0)

 Missing value

2 (3.6)

2 (4.1)

0

4 (2.8)

Preventive measures for healthy cattle last 12 months

 Tick spray/ dip

54 (98.2)

48 (98.0)

40 (100)

142 (98.6)

 Traditional medicine

1 (1.8)

2 (4.1)

0

3 (2.1)

 Cattle kept separate from other cattle herds

1 (1.8)

2 (4.1)

4 (10)

7 (4.9)

 Antibiotics or other drugs*

39 (70.9)

45 (91.8)

39 (97.5)

123 (85.4)

 Deworming

53 (96.4)

46 (93.9)

39 (97.5)

138 (95.8)

 Vaccination*

8 (14.5)

2 (4.1)

12 (30.0)

22 (15.2)

Has own bull*

10 (18.2)

24 (49.0)

26 (65.0)

60 (41.7)

Use communal bull*

42 (76.4)

24 (49.0)

14 (35.0)

80 (55.6)

Use artificial insemination

7 (12.7)

1 (2.0)

1 (2.5)

9 (6.3)

Cattle on pasture

51 (92.7)

49 (100)

40 (100)

140 (97.2)

Cattle on pasture tethered*

16 (29.1)

11 (22.4)

1 (2.5)

28 (19.4)

Fenced pastures*

 Yes

24 (43.6)

16 (32.7)

13 (32.5)

53 (36.8)

 Yes, partly

19 (34.5)

22 (44.9)

5 (12.5)

46 (31.9)

 No

8 (14.5)

11 (22.4)

22 (55)

41 (28.5)

Shared pasture

18 (32.7)

19 (38.8)

24 (60.0)

61 (42.4)

Use pasture in national park*

1 (1.8)

0

17 (42.5)

18 (12.5)

Wildlife on the pasture

22 (40.0)

15 (30.6)

23 (57.5)

60 (41.7)

Water to cattle from open water*

23 (41.8)

9 (18.4)

35 (87.5)

67 (46.5)

Water to cattle from a well*

27 (49.1)

42 (85.7)

2 (5.0)

71 (49.3)

Water to cattle from tap

9 (16.4)

1 (2.0)

4 (10.0)

14 (9.7)

Other livestock on the farm or in the household

52 (94.5)

47 (95.9)

35 (87.5)

134 (93.1)

 goat

45 (81.8)

40 (81.6)

28 ()70.0

113 (78.5)

 chicken

40 (72.7)

39 (79.6)

28 (70.0)

107 (74.3)

 pig*

18 (32.7)

11 (22.4)

2 (5.0)

31 (21.5)

 dog*

24 (43.6)

5 (10.2)

8 (20.0)

37 (25.7)

Farmer was satisfied with the health of the cattle over the last 12 months*

43 (78.2)

41 (83.7)

20 (50.0)

104 (72.2)
Table 2
Description of some of the numeric parameters regarding cattle herd management and performance in Western Uganda
 

Kabarole

Kamwenge

Kasese

Total

 

n a

Medianb (Q1;Q3)

n a

median (Q1;Q3)

n a

median (Q1;Q3)

n a

median (Q1;Q3)

Calves born*

48

1 (1;3)

46

4 (1.25;6)

39

6 (3;14)

133

3 (1;7)

Abortions*

14

1 (1;1)

12

2 (1;3.25)

18

2 (1.25;3)

44

1.5 (1;3)

Dead cattle*

23

1 (1;1)

26

2 (1;2)

25

3 (1;5)

74

(2 (1;3)

Dead calves

7

1 (1;1.5)

14

2 (1;5.25)

18

2 (1;3.75)

39

2 (1;3)

Sold or given away cattle*

38

1 (1;2)

44

3 (2;4.25)

33

4 (2;6)

115

3 (1.5;4)

Cattle sold for slaughter*

26

1 (1;2)

30

3 (2;4)

30

3 (2;5)

86

2 (1;4)

Cattle sold at market

2

3 (2;4)

18

2.5 (2;3.75)

1

1 (1;1)

21

2 (2;4)

Cattle returned unsold from market

0

 

2

1.5 (1.25;1.75)

0

 

2

 

Sold or given to another farmer

18

1.5 (1;2)

12

3.5 (1;8.5)

5

3 (3;3)

35

2 (1;3.5)

Cattle sold due to poor performance

5

1 (1;2)

9

2 (1;3)

11

2 (1.5;3.5)

25

2 (1;3)

Cattle sold due to disease

3

1 (1;1)

4

1 (1;1.25)

5

4 (1;5)

12

1 (1;2.5)

Cattle bought or received

15

2 (1;2)

32

2 (1;4)

18

2 (1;3)

65

2 (1;3)

Cattle bought from market

2

1 (1;1)

12

1 (1;2)

4

1.5 (1;2.25)

18

1 (1;2)

Cattle bought/received from other farmer

13

2 (1;2)

22

2.5 (1;4.74)

14

2 (1;2.75)

49

2 (1;4)

Cattle bought with known disease

0

–

6

1 (1;1)

1

1 (1;1)

7

1 (1;1)
The majority of farmers had sold or given away cattle the last year, mainly for slaughter. According to the local field teams there is a weekly livestock market in Kamwenge but no such market in Kabarole nor in Kasese, except for one on the border to the Democratic Republic of Congo where cattle transported from Tanzania are also traded. However, it was noted that the weekly markets often had a section for livestock, poultry and meat. The farmer interviews gave the same picture where 18 famers in Kamwenge had sold cattle at a market but only two in Kabarole and one in Kasese.
In addition, almost half of the farmers had bought or received new cattle, mainly from other farmers and less frequently from a livestock market. The majority (79.2%, n = 114) said that they always put new animals directly together with the rest of the herd. Of the 11 farmers that used some type of quarantine for new cattle, a separate pasture or paddock or at another home was stated as the quarantine location. Seven farmers (one in Kabarole, two in Kamwenge and four in Kasese) said they kept their cattle separated from other cattle herds (Table 1). Biosecurity measures like visitors' hand-wash or cleaning of boots or feet were rarely practiced.
Overall, almost three quarters of farmers were satisfied with the health status of their cattle the preceding 12 months, however in Kasese this figure was only 50%. In addition, 123 (85%) stated that they had given antibiotics or other drugs as prevention to healthy cattle and 142 (99%) had used tick spray during the same time period (Table 1). Of the farmers that stated they had had their cattle vaccinated (n = 22), the most frequent diseases stated as vaccinated against were FMD (n = 10), blackleg (n = 5), ECF (n = 2) and one each for brucella, anaplasma and lumpy skin disease. The time of vaccination was often not clear and could be up to "several years ago".
The types of wildlife some farmers (41.7%, n = 60) stated as present in their pastureland were mainly monkeys and baboons (n = 26) and a wide range of animals mentioned by one or a few farmers including wildcats, foxes, elephants, buffalos, wild pigs, mongoose, antelopes, hyenas, rabbits, lions, hippos, and crocodiles or "animals from Queen Elizabeth National Park".
Water sources differed somewhat between the three districts. In Kabarole 16.4% (n = 9) of the farmers stated that they gave the animals water from a tap, while 49.1% (n = 27) said they took water from a well and 41.8% (n = 23) that the cattle drank from an open water source. In Kamwenge, the corresponding figures were 2.0% (n = 1) tap water, 85.7% (n = 42) from a well and 18.4% (n = 9) from an open source while in Kasese they were 10.0% (n = 4) tap water, 5.0% (n = 2) from a well and 87.5% (n = 35) from an open water source.
Serological results
Serum was collected from in total 1567 individual cattle; 901 young and 666 adults. The median number (1st; 3rd quartile) of individuals per herd was 8 (4;20). The median number (1st; 3rd quartile) of analysed samples per herd was 7 (4;12), 7 (4;16) and 7 (4;7) for brucella, salmonella and BVD, respectively.
The apparent herd prevalences of the three diseases are presented in Table 
3
. The difference between districts was statistically significant (
p
 < 0.001) for brucella but not for salmonella and BVD (
p
 > 0.05). Kasese had the highest apparent herd prevalence of brucella and Kabarole the lowest. Approximately half of the herds in all three districts were positive for BVD. The apparent herd prevalence when test results from young or adult individuals were assessed separately are shown in Table 
4
. There was a trend that herds in Kasese tested positive to a higher number of diseases than herds in Kamwenge. Herds in Kabarole were to a larger extent negative or only positive to one disease (Table 
5
). For BVD, 48 of 138 herds had at least one positive young individual and of those, 24 had two or more positive young individuals, suggesting an ongoing infection in the herd.
Table 3
Frequency and apparent prevalence (%) of seropositive cattle herds in Western Uganda
 

Kabarole

n (%)

Kamwenge

n (%)

Kasese

n (%)

Total

n (%)a

Total

55

49

40

144

Brucellab

3 (5.5)

5 (10.2)

16 (40)

24 (16.7 (11.0;23.8))

Salmonella

8 (14.5)

16 (32.7)

10 (25.0)

34 (23.6 (16.9;31.4))

BVD

28 (50.9)

27 (55.1)

22 (55.0)

77 (53.4 (45.0;61.8))
Table 4
Frequency and prevalence (%) of seropositive cattle herds based on tested young or adult individuals
 

Herds with younga individuals

Herds with adulta individuals

 

n positive herds (n tested)

prevalence positive herds (%)b

n positive herds (n tested)

prevalence positive herds (%)b

Brucella

4 (123)

3.3 (0.9;8.1)

21 (137)

15.3 (9.7;22.5)

Salmonella

15 (138)

10.9 (6.2;17.3)

20 (129)

15.5 (9.7;22.9)

BVD

48 (138)

34.8 (26.9;43.4)

40 (89)

44.9 (34.4;55.9)
Table 5
Number of diseases cattle herds were positive to
Number of ELISA tests for which the herd had a positive test result *

Kabarole

n (%)

Kamwenge

n (%)

Kasese

n (%)

Total

n (%)

0

22 (40.0)

13 (26.5)

11 (27.5)

46 (31.9)

1

28 (50.9)

26 (53.1)

12 (30.0)

66 (45.8)

2

4 (7.3)

8 (16.3)

15 (37.5)

27 (18.8)

3

1 (1.8)

2 (4.1)

2 (5.0)

5 (3.5)
Associations between herd management and biosecurity and infectious disease burden
The poisson model suggested that having employees to care for the cattle was associated with a herd being positive to a higher number of diseases with an RR estimate (95% CI) of 1.9 (1.3;2.8). In addition, an increasing number of dead cattle the previous 12 months and sharing pasture both had RR estimates (95% CI) of 1.1 (1.0;1.1).
The globally best fitting DAG from the multivariate model is presented in Fig. 
2
. It included ten nodes and seven arcs in three separate networks. Variables for quarantine for new cattle, having visitors in contact with the cattle wash hands or boots, and the categories of herd sizes >5 were not connected to any other nodes and are not shown. The global fit of the model did not increase beyond 1 parent (network score = −1258). The first network illustrates how small farms (2–5 cattle) were less likely to have employees care for their cattle, or to be positive to at least one disease, as well as more likely to be from district 1 (Kabarole). The second network of variables illustrates how farmers who help each other were more likely to also share equipment, the cattle to have contact with other cattle and to share pasture. The third network illustrates how farms in district 2 (Kamwenge) were more likely to have bought cattle. The second and third networks illustrate how herd parameters are associated with each other, although not to herd serological status.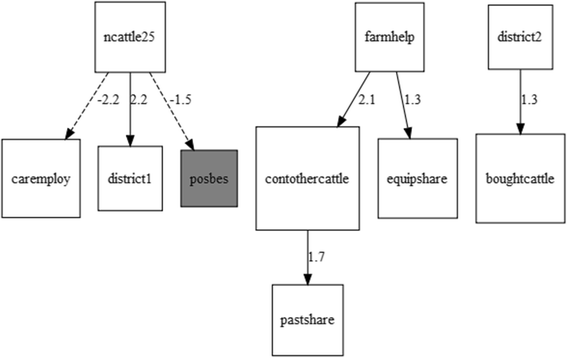 Discussion
Potential for improved herd biosecurity
A shared characteristic of the three model diseases is that they can be controlled and prevented by biosecurity measures. Zoonotic infections such as salmonellosis and brucellosis are particularly important to control in countries such as Uganda with a large rural population with close contact with livestock, and dairy and meat value chains that may lack the capacity to control these pathogens [39, 40]. Studies on herd biosecurity routines and basic production aspects in Ugandan cattle farms are sparse. The results from the farmer interviews indicate that there is a huge potential for improved biosecurity. For example, the proportion of farmers that had introduced new cattle in the last 12 months was high while very few stated that they used a quarantine for new cattle. Given that most farmers had received only a few animals, it should be possible to keep them isolated for a limited time period. Most cattle that were sold were destined for slaughter while most cattle that were brought in came from another farmer, and only a few from the cattle market. Cattle markets are relatively rare in the study area but the finding is, nevertheless, positive from a disease control point of view. The proportion of farmers who had traded diseased cattle was low, which is also positive from a disease control perspective. This figure may however be an under-estimation due to reluctance to divulge such habits if it was perceived to be regarded as poor practice by the researchers.
In Kabarole district, land ownership allows more farmers to have paddocked pasture for their cattle. This should reduce the risk of disease transmission because the herd is separated from other herds. For farmers that use communal grazing, a disease prevention measure could be for the community to treat their cattle as one epidemiological unit and to keep their common herd separate from the herds of other communities. A well or open water were the most common sources of water, and watering points are sites where herds mix. Agreements could be made between communities to visit the watering point at different times, to separate herds in space and time and thus reduce the risk of direct disease transmission.
Biosecurity routines, such as handwashing and cleaning boots for visitors to the cattle, were rarely used. Many basic measures such as an extra pair of boots for visitors, asking visitors to wash their hands before handling cattle, a small paddock to keep new or diseased cattle isolated, and to only buy healthy looking cattle are all relatively low-cost investments which, if they were practiced, would reduce the risk of introduction of infectious diseases to the herd. Advice on preventive actions is difficult to convey, since what is sought is a non-event (absence of disease or production loss) and hence the incentives are not tangible. This is a particular challenge in settings where farmers might not feel empowered or in charge of their own destiny and where uncontrollable disasters and political unrest are recurrent. In addition, biosecurity measures have to be practically feasible for farmers to adopt them, and knowledge about what the local population of farmers can actually do, or think they can't do, is needed. This will be the focus of some of our future studies.
Farmer knowledge of infectious diseases and biosecurity was not directly assessed. Surveys from other low-income countries with small-scale farming have suggested a general lack of knowledge and access to information on infectious diseases and control measures. Studies in Uganda have found that small-holders with pigs had knowledge about African swine fever but did, however, not implement biosecurity [14, 41].
The risk factor analysis suggested an association between the number of diseases a herd was serologically positive for and the following factors: employees caring for the cattle, shared pasture and a higher number of dead cattle. While this association does not necessarily reflect a causation, the first two could be explained as related to indirect and direct contacts with other herds, while the third is most likely an indication of the presence of disease in the herd and hence a "risk factor" that is in fact a symptom. However, risk factors are often correlated and individual effects may be difficult to discern. The ABN is one approach to tackle this challenge. The results from the ABN suggested that a herd size of two to five cattle was associated with a herd being negative to all three diseases, and not having employees caring for the cattle. The DAG from the ABN illustrates connections between variables that the univariate analysis did not capture. This method could potentially be used to create "farmer profiles" in the study population and suggest how, within a small geographical area, farmers vary in their management. For biosecurity interventions it would be very helpful to know which practices are likely "to come in a package" and thus need to be addressed as such. Moreover, it is important to know if farmers should be addressed as a community rather than individual farmers because their cattle are kept as one epidemiological unit. This was supported by the ABN results where a cluster with shared pasture, shared equipment and farms helping each other emerged. A larger sample size might had given enough power to detect more risk factors in the poisson regression model and to generate more complex DAGs.
During the field work it was noted how heterogeneous the farmer population is in the study area. Not only due to parameters that were assessed in the interviews, but to factors related to cultural group, socio-economic status, and experience as cattle owners. This could complicate the assessment of differences between farms with healthy and less heathy cattle, i.e. make identification of single risk factors for disease harder to identify. The three districts differed in some aspects, where a few could be seen in the DAGs (Fig. 2), e.g. Kabarole having smaller farms managed by the farmer and his/her family. There were some characteristics that were different for the farms in Kasese when compared to those in Kabarole and Kamwenge. The herds were larger and used more open water sources and pasture in natural parks or game reserves. They appeared to be more likely to be managed by the husband/wife of the family with less involvement of other relatives, and employees taking care of the cattle. They sold more cattle and the farmers and their employees were more frequently in contact with other cattle. Still, the overall heterogeneity of the farms and farmers made subgroups less distinguishable by the current study design.
Serological results
The results indicate that the three model diseases are endemic at a moderate (brucella and salmonella) to high (BVD) prevalence in the Ugandan cattle population. The diseases were chosen because they have different epidemiology and transmission routes and affect herd productivity.
The prevalence of salmonella in animal production is high in many parts of the world. Production systems that cause continuous exposure to salmonella are usually intensive [42, 43] but in more extensive systems the animals may be exposed to environmental bacteria, for example where they are gathered at night or in the milking kraal. The prevalence of salmonella isolated from mesenteric lymph nodes from healthy cattle slaughtered in an abattoir in north-east Nigeria was 61% [44], although the authors remark that this was probably an over-estimation because of the stress animals had been subjected to before being culled. Nevertheless, salmonella can be expected to circulate in smallholder farming systems in Africa, which the current results support, and measures to prevent exposure of the animals to salmonella from other herds and/or the environment would be expected to reduce the prevalence.
BVD has not been extensively investigated in smallholder systems in Africa. A study among small-scale family farms in northern Turkey revealed a seroprevalence of 32% [45]. In Kerala province in India, a study among smallholder dairy cattle revealed a prevalence of 24.7%, but higher among animals with infertility problems [46]. There are some reports of BVD being endemic in African cattle, from South Africa [47] and Cameroon [26]. A Swedish MSc thesis detected serological reactions among cattle in peri-urban farming systems in Kampala [25]. In addition, serological reactions to BVDV have been detected in African wildlife such as kudu and eland [48]. BVD has an immunosuppressive effect and in populations with a high infection pressure, e.g. sub-Saharan Africa, this impact on health and performance is likely to be even more important. Reducing the high seroprevalence found in this study might therefore have a positive effect in cattle herds in Uganda.
There are various reports on the presence of brucellosis in African cattle. In Uganda, serosurveys show different herd prevalence levels ranging between 5 and 100% in different regions, agro-ecological zones, and different animal management systems [21, 22, 24, 49] and it is not always clear to what extent vaccination was practised in the study populations. No reports on prevalence from the particular area of this study have been found but it was clear that brucellosis is endemic.
There was a difference in prevalence between districts for Brucella as well as for the number of diseases herds were positive to, both had the highest numbers in Kasese district. Sharing pasture remained in the final poisson model of the outcome number of diseases a herd was positive to. Kasese had many farms with communal grazing, however district did not remain in the model. The ABN suggested that herds that were negative to all three diseases, were linked to fewer employees, small herd size, and being located in Kabarole. Brucella has been shown to be more prevalent in pastoralist communities with communal grazing, both in livestock and in humans [18], agreeing with the current results.
Interestingly, a clear majority of all farmers (72%) were satisfied with the health status of their cattle the last year, although this figure was lower for the farmers in Kasese. This supports that a high burden of clinical and subclinical infections with negative effects on productivity might be considered as normal in the study population. Similarly, abortions could be part of what is experienced as "normal", although abortions were more frequent in Kasese. Abortions were likely under-reported by farmers because pregnancy checks are hardly ever performed and abortions in early stages of pregnancy would be noted as a prolonged calving interval. This, in turn, might not be noted either, because there were generally no farm records. In a previous study, Kenyan farmers have been suggested to report too low numbers of abortions in their cattle [50].
Study limitations and practical challenges with impact on methodology and results
There are challenges to carrying out epidemiological field studies in low-income countries. Failure to acknowledge these challenges may lead to invalid results being presented as solid data.
Firstly, in the absence of formal or informal animal registers, any sampling frame will be incomplete and the level of representativity is often difficult to assess. Even when a lot of effort is put into applying a probability sampling method, practical obstacles such as inaccessibility due to poor roads and failure to communicate regarding visiting time often lead to replacement of selected farms in a manner that sometimes impact on the sampling method. In the present study, the aim was a random sample of villages, which for practical reasons was not fully achieved. However, the team members that recruited farmers did at that point not know which factors that would be evaluated, and the first author had no knowledge about the villages in the area. This would have avoided any subconscious selection bias. Two herds per village were sampled which, in theory, would call for village to be included as a random variable in models. However, village is not an epidemiological unit in Uganda but an administrative and geographical delimitation of the rural landscape where farms are continuously scattered and usually not aggregated near a village centre. Hence, no actual clustering on village level is to be expected.
Secondly, cultural clashes and language barriers may lead to misunderstandings that affect the results of interviews and questionnaires. The extent of this is difficult to assess. Including control questions to detect bias or misunderstandings may lead to further complications and distrust. One factor not to be ignored in this type of studies is the power imbalance and skewed relation when European, well-educated researchers perform field studies in farms in low-income countries. It is well-known that interview subjects might say what they think the interviewer (or researcher present in the interview situation) wants to hear, in favour of the most truthful answer. One should have in mind that highly unequal relationships such as in this study could increase the response bias. Efforts were made at each interview to inform the farmer that their name would not be published, who the team members were and what organisation they represented for the study. Still, it cannot be known whether the farmers felt confident enough to supply truthful answers to all questions.
The aim of 60 sampled herds per district was not reached, mainly in Kamwenge and Kasese. This was because of the unexpectedly large amount of time needed for transportation between farms, time spent at each farm visit, and farmers that had forgotten about the agreed visit and/or had already let their cattle out on pasture when the team arrived. Because of budget and time limitations, the field work could not be extended until all 180 farms had been visited. Efforts were made to cover as many geographical areas as possible during sampling. Only one farmer declined to participate in the study at the first recruitment visit. The authors believe the results to fairly represent the situation of bovine infectious diseases and cattle management in the study area, as well as other regions in Uganda with similar conditions.
Serology does not indicate the current infection status but rather the infection history of the herd. By prioritising individuals of less than 2 years' age for salmonella and BVD a more recent history could be assessed. Nevertheless, a cross-sectional study is a snapshot of serological status and a longitudinal study design might have given more information about infection dynamics in the population. It is not known if there are seasonal variations in three model diseases in the study area, a fact that would clearly affect the results. However, cattle production itself does not appear to change by season in the study area so there is no obvious reason for seasonality in the disease prevalence.
The herd sensitivity is lower for farms with few tested individuals and hence the risk of false negatives increases. However, a cut-off of one positive individual per herd reduces herd specificity, especially with the sample analysis approach used in this study. Increasing the cut-off for a herd to be classified as positive to two seropositive individuals (of any age) changed the number of positive herds from 24 to 12 for brucella, from 34 to 6 for salmonella, and from 77 to 37 for BVD. This reduction of >50%, highlights the importance of case definition for prevalence estimates. In addition, changing the cut-off could influence a risk factor analysis. For BVD, at least three positive samples from individuals has been used as a cut-off for the herd to be likely to have persistently infected (PI) animals, i.e. an ongoing infection, as herds without PI animals tend to self-clear from the infection [51]. However, in the current study the objective was not to identify herds with PI animals but herds with animals that were seropositive, i.e. had undergone the infection.
The ELISAs used for the serological analyses were not evaluated in the study population. It is known that tests validated in non-exposed populations perform differently in endemic situations and this could have affected the results in the current study [52]. However, there are no available commercial tests for the diseases in this study that are properly evaluated in African settings and perhaps no market incentive to perform such evaluations of the current tests. The salmonella ELISA does not detect all serotypes and hence the real seroprevalence of salmonella is likely to be higher.
Conclusions
There is room for improvement of biosecurity practices in Ugandan cattle production. However, to take proper action to improve biosecurity and cattle health in any region, knowledge of the current status is necessary, i.e. disease prevalence and a description of management systems. Design and evaluation of interventions for such improvement would benefit from the creation of farmer profiles, using data on disease prevalence and herd management practices. As in many studies on biosecurity, few significant associations were seen in the risk factor analysis but this does not justify lack of efforts to improve biosecurity.
Despite the challenges and limits of this study, it is clear that salmonella, brucella and BVD are present in cattle in the study area. Moreover, the prevalence of these infections is, to some extent, associated with farm management practices. Brucellosis and salmonellosis are important zoonotic infections and reducing the prevalence within and between herds would benefit the human population directly as well as allow for healthier livestock.
Notes
Acknowledgements
The authors would like to thank the District Veterinary Officers Drs Salvatory Abigaba, Alfred Kamanyire and Kalule Godfrey and their respective teams for dedicated assistance with the field work, Mr. Johnson Mayega for skilful laboratory work, and the participating farmers for generously sharing their experiences and time.
Funding
The study was financially supported by the non-commercial, not-for-profit, governmental Swedish Research Council (Vetenskapsrådet), Grant No. 348-2013-6608. The funding body had no role in study design, data collection, analysis, or interpretation, or writing of the manuscript.
Availability of data and materials
Serological and interview data can be provided by the corresponding author upon request.
Authors' contributions
CW and SSL designed the study with support from KS and SB. CW planned and carried out the field work, statistical analysis and drafted the manuscript. CM was responsible for the laboratory work. All authors revised the manuscript and approved the final version of the manuscript.
Ethics approval and consent to participate
Informed consent was given (orally) by all participating farmers after they were informed about the purpose of the study and that the identities of individual farmers were not to be included in any reports. Moreover, farmers were informed that if they wished, they would receive the serological results from their own herd. The local team members later visited all study herds to share the results and to give general biosecurity advice orally, and in an information leaflet that was left with the farmer. No other incentives were given to the farmers.
All handling of animals including sampling was carried out under the direct supervision of the District Veterinary office staff in accordance with their national mandate. The district veterinary office, under the Ministry of Agriculture Animal Industry and Fisheries (MAAIF) has the official mandate to design effective and efficient animal disease control strategies and carry out investigations related to animal diseases in the country (The Ugandan Animal Disease Act, Ch 38, part III, point 9). Therefore the need for approval by a local research ethics committee was deemed unnecessary.
Informed oral consent was obtained from the veterinary officers who were trained and interviewed the participating farmers.
Consent for publication
Not applicable.
Competing interests
The authors declare that they have no competing interests.
Publisher's Note
Springer Nature remains neutral with regard to jurisdictional claims in published maps and institutional affiliations.
Copyright information
© The Author(s). 2017
Open AccessThis article is distributed under the terms of the Creative Commons Attribution 4.0 International License (http://creativecommons.org/licenses/by/4.0/), which permits unrestricted use, distribution, and reproduction in any medium, provided you give appropriate credit to the original author(s) and the source, provide a link to the Creative Commons license, and indicate if changes were made. The Creative Commons Public Domain Dedication waiver (http://creativecommons.org/publicdomain/zero/1.0/) applies to the data made available in this article, unless otherwise stated.