The health impacts of climate-related migration
Part of the following topical collections:
Abstract
Background
Changes in climate, in conjunction with other drivers of mobility, shape human migration. While there is an increasing focus on the adaptive potential of migration, the health impacts of climate-related migration, including planned relocation and forced displacement, have not been thoroughly examined. The Intergovernmental Panel on Climate Change stated that migration is currently, and will increasingly be, influenced by environmental degradation and climate change, and that it needs to be addressed in a focused and coordinated manner.
Discussion
This paper examines the links between climate change, migration, and health, considering diverse migration responses, including immobility, forced displacement and planned migration, as well as the associated health risks and opportunities in different contexts. Using case studies, the paper illustrates strategies to reduce the health risks associated with climate change-related migration.
Conclusion
While there is an increasing body of research examining the climate change–migration nexus, a dual approach is now required. This approach must include debate and further research regarding the health consequences and responses associated with climate migration as well as immediate strengthening of health systems to make them both climate resilient and migrant inclusive.
Keywords
Climate change 
Migration 
Displacement 
Relocation 
Public health 
Governance 
Adaptation 
Human mobility 
Environmental change 
The nexus between climate change, migration, and health
Human migration in response to ecological change has been occurring since the origin of our species [1], yet the push that anthropogenic climate change is currently exerting on human migration is relatively new and gradually intensifying [2]. Environmental changes associated with increasing greenhouse gas concentrations include flooding, drought, increased frequency and intensity of climate-related disasters, and sea-level rise [3]. Globally, these environmental changes are shaping human migration, particularly through their intersection with other economic, political and social drivers of mobility [4]. Climate change acts as a threat multiplier, exacerbating existing sociopolitical and economic vulnerabilities, undermining livelihoods [5], inflating the risk of conflict [6], and making it difficult for people to remain in situ [7].
Moving beyond assumptions that climate change will lead to mass international displacement and threaten geopolitical security [8, 9], there is an increasingly nuanced understanding that human migration represents an adaptive response to the impacts of climate change [4, 10]. Indeed, there have been explicit efforts to connect migration with climate change adaptation, disaster risk reduction, resilience, and development [11].
While there is an increasing body of research and analysis focused on climate change-related migration, the impacts on human health are under-examined. Herein, we explore the nexus between climate change, migration, and human health using case studies to examine a range of climatic push factors, diverse migration pathways, and resultant health impacts.
Health risks
Climate change affects human health. 'Direct' or 'primary' health impacts include heat-related morbidity and mortality and disaster-related injury. 'Indirect' health effects are mediated via changes to ecological and social systems, including, for example, altered fresh water availability and food security, changing disease ecologies including altered distribution of disease vectors and pathogens, and – as is the focus of this article – the health impacts of climate-related migration, displacement, and relocation [12].
Climate-related migration can potentially have both positive and negative health effects and well-being consequences for both the host and home communities. We have adapted the Intergovernmental Panel on Climate Change risks framework (Fig. 
1
), using a migration lens, to outline various factors that determine and mediate environmental risks and contribute to migration responses, which culminate in diverse consequences for population health. Climate and weather events, vulnerability, and exposure are influenced by a range of factors, including natural climate variability, anthropogenic climate change, and socioeconomic development. Adaptation to climate change focuses on reducing vulnerability and exposure, and building capacity and resilience to the potential adverse impacts of climate extremes, acknowledging that risks cannot be completely eliminated [
13
]. Diverse migratory responses, mediated by personal and household characteristics as well as broader drivers and constraints, include immobility, forced displacement, migration, and planned resettlement.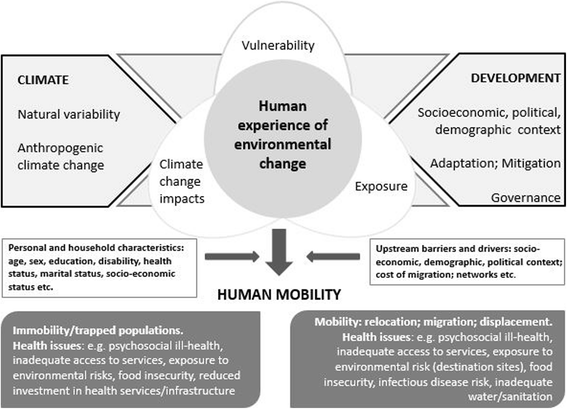 Due to the complexity of ecosystems, and the diversity of place-based impacts, including factors such as governance, socioeconomic status and other societal aspects, it is challenging to draw global conclusions about the influence that climate change exerts on human populations. Therefore, we explore individual case studies where environmental and climatic change is influencing migration and health, and discuss the associated vulnerabilities and resilience. The following case studies cover planned relocation, immobility and in situ adaptation, planned return, rural–urban migration, and circular mobility in a range of diverse settings worldwide.
Response strategies
The case studies above illustrate diverse migration responses that communities and governments employ in retort to environmental change. These migration responses can occur both within and between countries and can have differential impacts on health and well-being. While it is not possible to definitively state that the issues delineated in each case study are directly attributable to climate change, it is accepted that many environmental risks will increase in frequency and intensity due to climate change. Notwithstanding this uncertainty, it is important for researchers, practitioners and policy-makers to further consider the manner in which communities might migrate (e.g. proactively or reactively, forced or voluntarily) in response to current and/or future changes in their environment. Uncertainty should not imply inaction; rather, public health researchers and practitioners should support the development of appropriate and well-considered responses with multiple benefits to communities, regardless of the degree of climate migration that might be experienced.
International initiatives have developed principles, frameworks and statements around climate-related migration, including the Cancún Adaptation Framework [38], which recognised climate change-induced displacement, migration and planned relocation as central to climate change adaptation. Yet, multi-sectoral and multi-agency involvement in climate change decision-making and broader governance approaches is complex [39]. Climate migration will require active responses from intergovernmental organisations, all tiers of government in nation states, as well as partnerships beyond government, including NGOs and the private sector. This could include partnership webs involving the International Organization for Migration, UNHCR, Ministries of Health, Departments of Environment, and humanitarian aid organisations like Medecins Sans Frontieres and the International Committee of the Red Cross.
Given the difficulty of attributing migration to climate change impacts, it is critical to develop and support migration-related frameworks and focus broadly on the intersections between migration, development and environmental change [40]. The WHO Framework for Climate Resilience provides programmatic direction for strengthening health systems by improving universal health coverage and ensuring services are migrant inclusive and responsive to migration flows. This provides an important foundation for government policy and programmes, providing guidance on how to link health systems strengthening with climate change resilience. Support with the operationalisation of this framework is an important next step.
Climate-related migration, as with any migration, can contribute to both vulnerability and resilience [23, 41], with potential for both protective and detrimental impacts on human health and well-being. For example, migrating populations may be exposed to infectious diseases for which they have limited immunity or face new climate-related health risks in the destination context; yet, they may also migrate from sites of food insecurity or have improved access to health services in destination sites. Destination contexts, including political and legal frameworks, physical infrastructure, education and employment opportunities, technology and social capital, will operate as key determinants of migrant health [42].
Climate-related migration will often be a last resort. Vulnerable communities must be supported to better prepare for and respond to climate change risks, recognising that many communities have substantial experience in planning for and recovering from natural hazards. Yet, when people choose to migrate, relocate or are forcibly displaced, it is critical to reduce the health risks and foster opportunities for the improved health and well-being of people on the move.
Conclusion
Herein, we discussed diverse migration experiences and the associated health outcomes as analogues to explore the climate change–migration–health nexus. These are illustrative examples rather than predictive cases since migration experiences and outcomes are diverse and context based. Thus, forecasting requires causal thinking that winds its way through uncertain climatic, environmental, geomorphological and population health contexts.
A key fact for this emerging issue is the need to strengthen health systems to make them both more climate resilient and migrant inclusive. A shift to 'climate-resilient health systems' is a useful precautionary measure, as it aims to strengthen multiple aspects of national and sub-national health systems, regardless of the extent to which climate-related migration might occur.
Further, there is a need for empirical evidence of the health impacts of climate-related migration, including for migrating populations and host communities, as well as populations left behind. While there is emerging research that examines how migration can be an adaptive response to climate change, the health impacts – both positive and adverse – must be better understood. The central question is whether people, communities and nations can adopt migration as a response to climate change impacts, whilst safeguarding human health and well-being. This requires a better understanding of risk of infectious diseases, non-communicable diseases, food security, environmental exposures such as heat extremes, mental health and access to health services.
Migration due to changes in natural environments is complex. The adaptive potential of migration cannot be assumed, particularly as migration itself can induce health risks. Rights-based health and governance frameworks are required such that migrating communities have the opportunity to build healthy lives in sites of resettlement or relocation. We should strive for research, science, governance and policy that contributes to healthy futures and synergises with the broader development agenda.
Notes
Acknowledgements
Not applicable.
Availability of data and materials
Not applicable.
Authors' contributions
All authors contributed equally and approved the final manuscript.
Author information
Patricia Schwerdtle is an academic in Nursing & Midwifery, Faculty of Medicine, Nursing and Health Sciences at Monash University, Australia and she is affiliated with the Institute of Public Health, Faculty of Medicine, Heidelberg University, Germany. Patricia is on the Board of Directors of MSF, Australia.
Dr Kathryn Bowen is a Senior Research Fellow at the Research School of Population Health, Australian National University, Australia. Kathryn is also an Honorary Senior Fellow, Clean Air and Urban Landscapes Hub, University of Melbourne, Melbourne Australia.
Dr Celia McMichael is an academic at The School of Geography, The University of Melbourne, Australia.
Ethics approval and consent to participate
Not applicable.
Consent for publication
Not applicable.
Competing interests
The authors declare that they have no competing interests.
Publisher's Note
Springer Nature remains neutral with regard to jurisdictional claims in published maps and institutional affiliations.
Copyright information
© The Author(s). 2018
Open AccessThis article is distributed under the terms of the Creative Commons Attribution 4.0 International License (http://creativecommons.org/licenses/by/4.0/), which permits unrestricted use, distribution, and reproduction in any medium, provided you give appropriate credit to the original author(s) and the source, provide a link to the Creative Commons license, and indicate if changes were made. The Creative Commons Public Domain Dedication waiver (http://creativecommons.org/publicdomain/zero/1.0/) applies to the data made available in this article, unless otherwise stated.