Defining the external implementation context: an integrative systematic literature review
Part of the following topical collections:
Abstract
Background
Proper implementation of evidence-based interventions is necessary for their full impact to be realized. However, the majority of research to date has overlooked facilitators and barriers existing outside the boundaries of the implementing organization(s). Better understanding and measurement of the external implementation context would be particularly beneficial in light of complex health interventions that extend into and interact with the larger environment they are embedded within. We conducted a integrative systematic literature review to identify external context constructs likely to impact implementation of complex evidence-based interventions.
Methods
The review process was iterative due to our goal to inductively develop the identified constructs. Data collection occurred in four primary stages: (1) an initial set of key literature across disciplines was identified and used to inform (2) journal and (3) author searches that, in turn, informed the design of the final (4) database search. Additionally, (5) we conducted citation searches of relevant literature reviews identified in each stage. We carried out an inductive thematic content analysis with the goal of developing homogenous, well-defined, and mutually exclusive categories.
Results
We identified eight external context constructs: (1) professional influences, (2) political support, (3) social climate, (4) local infrastructure, (5) policy and legal climate, (6) relational climate, (7) target population, and (8) funding and economic climate.
Conclusions
This is the first study to our knowledge to use a systematic review process to identify empirically observed external context factors documented to impact implementation. Comparison with four widely-utilized implementation frameworks supports the exhaustiveness of our review process. Future work should focus on the development of more stringent operationalization and measurement of these external constructs.
Keywords
Implementation context 
External context 
Local context 
Outer setting 
Integrative review 
Systematic review 
Abbreviations
CFIR

Consolidated Framework for Implementation Research

EBI

Evidence-based intervention

EPIS

Exploration, Preparation, Implementation, Sustainment framework

MLF

Multi-level Framework Predicting Implementation Outcomes
Background
Considerable scientific effort has focused on identifying factors affecting translation of evidence-based interventions (EBIs) from research to practice. While conceptual models and empirical studies emphasize the importance of the external implementation context—i.e., factors existing outside the boundaries of the entity or entities leading the implementation of one or more EBIs—to the translation process, numerous factors point to limitations of its current conceptualization, including the absence of a comprehensive external context measure and its constituent factors. Moreover, current frameworks that generally define the external context are rooted in theoretical conceptualizations, rather than observed instances of external factors affecting implementation. The current paper highlights limitations of extant conceptualizations of the external implementation setting and then describes a integrative systematic literature review aimed at developing an inductive conceptualization of the external context.
While there is an extensive body of literature focused on the identification of facilitators and barriers organizations encounter when implementing EBIs [1, 2], empirical research in this area has focused largely on influences internal to implementing organizations. This is a considerable gap considering the recognized influence of both internal and external factors to the implementation process and because external factors are often antecedents of organizational readiness, drive organizational-level policy and processes, and pose greater difficulties in addressing than internal factors because they are typically beyond any single organization's control to easily change [3, 4, 5, 6, 7, 8, 9]. Instrument reviews by both Clinton-McHarg et al. [10] and Lewis et al. [11] have demonstrated lack of consideration of the external context among validated implementation measures. While some instruments identified in these reviews measure selected aspects of the external context, no one instrument identified focuses explicitly on it. This is problematic because it leads researchers to one or a combination of the following options when seeking to understand the impact of the external context on the implementation process: (1) combine single items from multiple instruments; (2) use each identified instrument in its entirety; or (3) create untested, home-grown measures. All of these options cause obvious problems related to consistency, replicability, and comparability across implementation studies [11].
While defined within some existing implementation frameworks (e.g., [3, 4, 5, 6]), there are inconsistencies regarding what these theoretical guides consider the external context to comprise. For instance, while some frameworks include social climate factors related to the larger community within which the intervention is embedded (e.g., [5]), others do not (e.g., [3, 4]). Moreover, frameworks sometimes include important constructs but do not provide detailed operationalizations for them (e.g., [5, 6]). Apart from existing implementation frameworks, Birken et al. [8] have pointed to organizational theory as an area where researchers can look to better understand the external context. They specifically highlight how "[o]rganizational theories describe, explain, and predict the complex interaction between organizations and their external environments" (p. 2) and how these interactions influence organizational decisions and behavior [12, 13, 14, 15]. While useful, organizational theories are not implementation-specific and likely lack important insights necessary for understanding the noted impact of the broader implementation context on different aspects or stages of the implementation process [16]. Given the above stated issues, a stronger and more consistent operationalization of the external context would greatly benefit the field.
More well-defined definitions for the external context and its constituent parts would be particularly beneficial for studies of complex interventions made of multiple interrelating components that extend into and interact with larger systems and communities within which they are embedded [17, 18, 19, 20]. As an example, Housing First, a model for serving chronically homeless individuals with serious mental illness and substance use disorder [13], is a highly complex EBI because it requires interaction between multiple individuals (e.g., providers, case managers, landlords), organizations (e.g., government funders, non-profit service providers, property management) and systems (e.g., housing, medical, mental health, substance abuse) to be successful [19, 21, 22, 23]. As such, it requires significant relational coordination with external entities. Previous research has also demonstrated how external factors such as community stigma and broader politics often result in 'not in my back yard' attitudes that can negatively impact model implementation [24, 25]. While external factors such as these are captured to some extent through concepts like 'cosmopolitanism' [3], 'interorganizational networks' [4, 6], 'interorganizational relationships' [6], 'sociopolitical' [4], 'social climate' [5], and 'political climate' [5] found in existing implementation frameworks, no one framework captures them all.
Our goal in the current literature review was to identify a more exhaustive list of external context factors impacting the implementation of complex interventions than what is explicated in current models and frameworks produced through synthesis of pre-existing theory [3, 4, 5, 6, 26]. We employed an integrative review process that aimed to indictively develop a taxonomy of external context constructs  based in empirical observations existing in the identified literature.
Methods
We conducted an integrative literature review because of its usefulness for generating theory and classifications of constructs [27, 28, 29]. The standard process for an integrative review includes the following steps: (1) problem formulation, (2) data collection, (3) evaluation of data, (4) data analysis, and (5) interpretation and presentation of the results [29]. The primary problem motivating this review was the lack of a tool to measure the external implementation context for complex interventions. As such, our primary research question was: What external context factors have been demonstrated to impact the implementation of complex health interventions (and social service interventions with health implications) within the empirical literature? Because of the appropriateness of inductive processes for theory and construct development, we conducted an iterative literature review where sampling at each stage was informed by literature identified in prior stages [27, 30].
Data collection process (July 2014–July 2015)
To be included for initial screening, articles were required to: (1) be written in English; (2) describe empirically observed external context factors (i.e., facilitators or barriers existing outside the boundaries of a particular organization or organizations implementing the intervention) affecting the implementation of a complex intervention or interventions, i.e., "interventions that contain several interacting components" [18] (p. 1); and (3) describe an intervention with impact (or reasonably ascertainable impact) on client- or population-level outcomes. We excluded any article that (4) only discussed external context factors as theoretical barriers or facilitators or (5) focused on interventions we understood to only impact organizational- or staff-level outcomes. Qualitative, quantitative, and mixed method articles were all included. Additionally, if a review article was encountered at any stage in the search process, we screened the original articles discussed within the review for inclusion into our analysis. All identified articles were processed using Zotero bibliographic management software [31]. When an article met basic inclusion criteria or when there was not enough information to tell from the title or abstract, we loaded the article into MAXQDA qualitative analysis software for further review and potential coding [32].
We collected data in four stages: (1) identification of known literature, (2) journal search, (3) author search, and (4) database search (Fig. 
1
presents an overview of this process). These stages were identified after consultation with our university's public health librarian (HC), who developed a strategy to specifically start with a review of the recent literature narrowly defined by our initial problem definition and expand to be more expansive in scope with each stage. (Engagement of librarians in systematic review design is demonstrated to lead to more comprehensive search strategies utilizing more exhaustive techniques than typically followed [
33
].)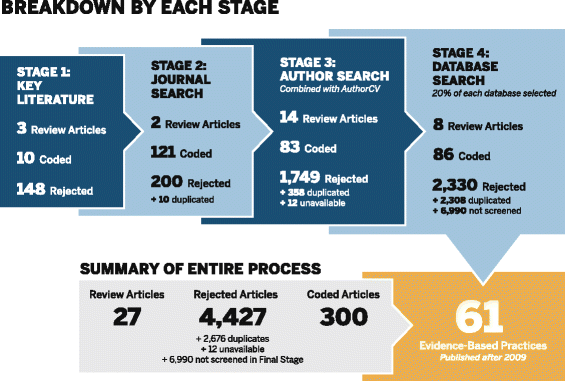 The need for a multi-stage process was evidenced by the librarian's initial searches that suggested the literature was too widely dispersed across disciplines for a keyword search to be effective. As such, the iterative process developed was aimed at identifying different strands of literature using different terminology to express similar concepts, which could inform a final database search (e.g., journal and author specific keywords and time parameters). Therefore, our search followed a logic similar to that of snowball sampling frequently used in qualitative research [34]. Reflecting our iterative approach, coding and category development started in Stage 1 and continued throughout the data collection process.
The goal of Stage 1 (July 2014 through November, 2014) was to identify articles discussing issues related to implementation in the external context to serve as a foundation for the search. To accomplish this, the Principal Investigator (DPW) first identified 22 documents discussing external context issues in Housing First programming (an intervention he has expert knowledge of) and articles discussing more general issues related to the external implementation context that he was already familiar with. Three of these articles were literature reviews, from which we identified an additional 139 articles (n = 161). Only 10 of these articles met inclusion criteria to continue to the next stage.
The goal of Stage 2 (November 2014) was to identify communities studying and conversing about the implementation of complex interventions using articles identified in Stage 1 as a guide. We identified 16 journals likely to publish literature on the external implementation context from the Stage 1 key literature and DPW's expert knowledge of the topic. Because our list of journals was interdisciplinary and terminology is often discipline specific, HC created a list of search terms specific to each journal based on keywords from articles published within them that were identified in Stage 1 (see Additional file 1). To keep the search narrow at this stage, we randomly chose to search issues published in the years 2008, 2009, 2012, and 2013. For those journals without keywords, we manually searched the table of contents.
In Stage 3 (December 2015 through January 2015), we identified the 25 most relevant authors for our search based on the frequency of their publications in Stage 1 and the relevance of their work to the review (see Additional file 1). Only first and senior authors of articles were considered (as they were most likely of all included authors to have a strong body of research related to the goals of the review). We next identified the complete publication history for selected authors using Scopus (Elsevier citation database) and a search of their curriculum vitaes, which assisted us in our final refinement of parameters for Stage 4 (i.e., the database search).
In Stage 4 (July 2015),1 we used database-specific controlled vocabulary and keywords used by authors identified in the previous stages to design the database search. We ran a series of searches in the following databases: PubMed, PsychINFO, CINAHL, and Academic Search Premier. We used the previously generated keywords and phrases to identify appropriate controlled vocabulary for each database (see Additional file 1). Both controlled vocabulary terms and keywords or phrases were combined with filters (e.g., English language, publication date, peer-reviewed articles) to focus the search results. A second search of PubMed was also conducted using the specific name of the At Home/Chez Soi Housing First project, as we were aware individuals studying the program were publishing a considerable amount of new implementation literature on this EBI at the time, which we wanted to ensure we captured since previously used search terms were not picking it up. As we had already coded articles from previous stages and were approaching saturation of themes, we decided to limit the number of the database results we would review. We first separated these into one of four categories based on the primary discipline of the journal they were published in (e.g., medicine, public health, interdisciplinary, other). We then randomly selected 20% of the articles in each category to be coded. If duplicate articles from previous stages or foreign language articles were found, we replaced the article with another randomly-selected one from the same category and database. Additionally, to avoid redundancy and oversaturation, we did not code any articles for which we had already identified five or more articles from that author in earlier stages.
A detailed flow chart outlining the article screening process is depicted in Fig. 1 (a simplified PRISMA flow diagram is included in Additional file 2). Through this entire process, we identified a total of 14,432 articles. Of these, 2676 were duplicate articles, 4427 (including those marked as non-empirical and foreign language) were rejected for not meeting inclusion criteria, 27 were review articles that helped us identify original works, and 12 did not have full text versions we could locate. There were an additional 6990 articles identified in Stage 4 that we did not screen because we were reaching saturation of themes at that point (see Data Analysis section below). This left a total of 217 unique articles, which were fully coded. Due to this large number of articles, we have chosen to focus only on 61 describing EBIs published after 2009 because: (1) there is a potential difference in factors affecting implementation of interventions demonstrated to be effective (i.e., EBIs) and (2) it is reasonable to expect attention to external factors would be more salient after 2009 because this is when the first article describing the Consolidated Framework for Implementation Research (CFIR), an implementation framework that includes an 'outter setting' domain, was published, and this framework has had considerable influence over the operationalization of constructs affecting the implementation process. Due to heterogeneity of criteria depending on discipline of origin (i.e., medicine, behavioral health, public health, criminal justice), we defined an intervention as an EBI if: (1) the article stated it was an EBI or that there was prior evidence of its efficacy/effectiveness; (2) we were familiar with the intervention as an EBI; or (3) we were able to find evidence of its status as an EBI through an online search.
Data analysis
We conducted an inductive thematic content analysis with the goal of establishing homogenous, well-defined, and mutually exclusive categories from which to develop our constructs [27, 35, 36, 37]. First, two researchers (DPW and ELA), developed a list of preliminary codes after reviewing the articles identified in Stage 1. Next, three research assistants (JC, JJ, and IO) and ELA coded instances where external context factors were discussed in the 217 unique articles (see above) using our preliminary codes. When a coder encountered a facilitator or barrier not fitting the initial list, we discussed it as a group and developed a new code if warranted. Approximately every 2 months during the process, we used 10% of the articles to establish interrater agreement by looking at the degree of overlap in codes in MAXQDA [38]. We did not move coding forward until interrater agreement was established at 80%. Evaluation of the data was conducted during the coding process: only one article was identified that did not appropriately explain external context factors to warrant its inclusion in the review.
DPW conducted a second round of analysis in which he reviewed segments coded by the other researchers to develop more exact and thorough categories, focusing on the 61 EBI articles published after 2009. This activity also served as a quality check on the previous round of coding, and all instances where he identified a passage of text that may have been inappropriately coded were discussed as a team and recoded if discussion warranted. This process resulted in the development of eight overarching constructs representing the external context, which are described in detail below.
Once coding was completed, we created a two-by-two matrix of all codes to ensure there was no substantial overlap between them that would require collapsing or redefining of categories. We also counted the number of articles each category appeared in to understand how strongly represented it was within the sample (we did not count the frequency of times the code appeared, as there was potential that multiple coding instances of the same category within a document might be reflective of a single issue).
Results
Of the 61 articles included in the analysis, 43 [39, 40, 41, 42, 43, 44, 45, 46, 47, 48, 49, 50, 51, 52, 53, 54, 55, 56, 57, 58, 59, 60, 61, 62, 63, 64, 65, 66, 67, 68, 69, 70, 71, 72, 73, 74, 75, 76, 77, 78, 79, 80, 81] were research articles and 18 [82, 83, 84, 85, 86, 87, 88, 89, 90, 91, 92, 93, 94, 95, 96, 97, 98, 99] were non-research articles (e.g., practice articles, policy updates, issue pieces, case studies, and commentaries). Additionally, 48 articles [39, 40, 41, 43, 44, 48, 49, 50, 51, 52, 53, 55, 57, 58, 59, 60, 61, 62, 63, 64, 65, 66, 67, 68, 71, 72, 73, 74, 75, 76, 77, 78, 79, 80, 82, 83, 86, 87, 88, 89, 90, 91, 92, 93, 96, 97, 98, 99] discussed a single intervention; 6 [47, 54, 81, 84, 85, 94] discussed multiple interventions related to the same health problem; and 7 [42, 45, 46, 56, 69, 70, 95] discussed issues related to the implementation of interventions associated with a specific health problem more generally. Regarding the issues interventions sought to address: 27 [42, 43, 44, 47, 48, 49, 50, 52, 54, 55, 58, 59, 60, 61, 63, 68, 69, 73, 82, 86, 87, 91, 93, 94, 95, 97] discussed behavioral health, mental health, or substance use interventions; 16 [45, 51, 56, 57, 62, 64, 67, 72, 76, 79, 81, 85, 88, 89, 96, 99] discussed public health or prevention interventions; 7 [53, 65, 74, 75, 83, 90, 92] discussed homelessness interventions (with aspects having overlap with both public health and behavioral health); 6 [41, 46, 66, 71, 78, 80] discussed medical, primary, or integrated care interventions; 4 [39, 40, 77, 84] were interventions in the area of parenting and/or child welfare; and 1 [98] was a criminal justice intervention.
We identified a total of eight constructs listed in Fig. 
2
. The table also includes the number of articles each construct was mentioned in and the number of times the construct was coded as a barrier or facilitator in these articles. We define each construct below and provide examples from the sampled articles.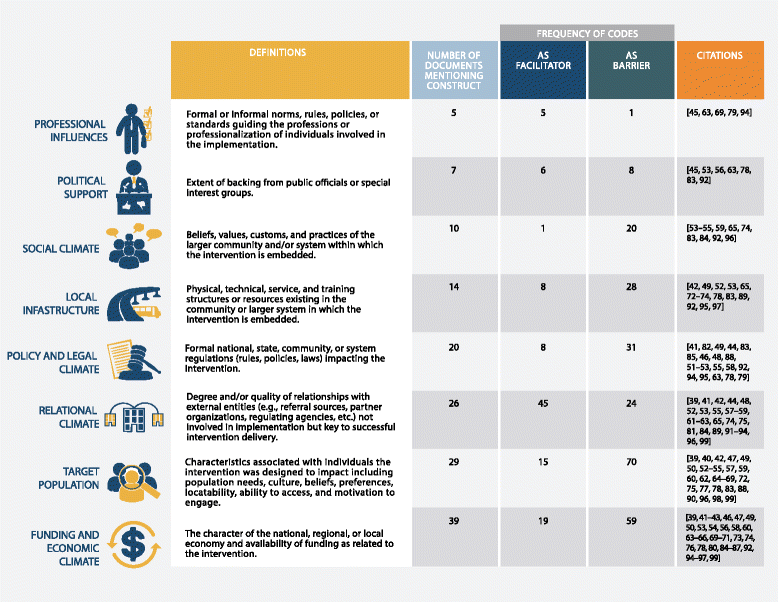 Discussion
To our knowledge, this is the first study to use a systematic review of empirical literature to identify external context factors documented to impact EBI implementation. While the large number of articles meeting our inclusion criteria suggest there has been a focus on the external context within the literature, the reality is that the majority of external context findings studies identified were the result of passive or exploratory endeavors, rather than purposeful research questions seeking to understand external context factors.
As demonstrated in Table 
1
, the external context constructs identified overlap somewhat, but not completely, with existing theoretical models and frameworks including: the CFIR [
3
], Exploration, Preparation, Implementation, Sustainment (EPIS) [
4
], Integrated Promoting Action on Research Implementation in Health Services (i-PARiHS; revised version of the original PARiHS) [
6
], and the Multi-level framework (MLF) predicting implementation outcomes [
5
]. We have chosen to focus on these frameworks in our discussion because they are highly cited and/or applied widely within the implementation literature.
Table 1
Comparison of constructs evidenced through literature review with external factor constructs in existing frameworks
|   | Consolidate Framework for Implementation Research (CFIR) [3] | Exploration, Preparation, Implementation, Sustainment (EPIS) [4]a | Integrated Promoting Action on Research Implementation in Health Services (i-PARiHS) [6]b | Multi-level framework (MLF) predicting implementation outcomes [5] |
| --- | --- | --- | --- | --- |
| Professional influences | -- | Interorganizational networks | -- | -- |
| Political support | -- | Sociopolitical; Client advocacy | -- | Political or social climate |
| Social climate | -- | -- | -- | Political or social climate |
| Local infrastructure | -- | -- | -- | Infrastructure |
| Policy & legal climate | External policies and incentives | -- | Policy drivers & priorities; incentives & mandates; regulatory frameworks | Public policies |
| Relational climate | Cosmopolitanism | Interorganizational networks | Interorganizational networks & relationships | -- |
| Target population | Patient needs and resources | Client advocacy | -- | -- |
| Economic & funding climate | -- | Funding | -- | Economic climate |
| No directly comparable construct or too broad to directly parallel to identified constructs | Peer pressure | Intervention developers; Leadership | Environmental (in) stability (definition unclear) | Physical environment |
While not any one of these four frameworks fully encapsulates the constructs identified through our review, each construct is represented in one way or another when the frameworks are considered in combination. As such, using only one of these frameworks as a guide to understanding the external context raises the risk that a key aspect of it might be overlooked. One potential reason for the inconsistent representation of our constructs across the existing frameworks is the context of these frameworks' developments. For instance, the CFIR, PARiHS, and MLF were developed to explain implementation in healthcare-specific settings, while EPIS was developed within the context of more social service-oriented programming [4, 5, 26, 100]. Furthermore, the revised i-PARiHS (for which the original version did not consider the external context [26]) is focused explicitly on the health system (as opposed to the broader community) as its external context [6]. Our approach, however, was broader in that it included multiple types of health-related interventions regardless of their setting (e.g., healthcare or social service).
Just as these individual frameworks did not completely capture our constructs, our review did not find evidence of all aspects of the outer context identified within them. While we did not come across any instances where external 'peer pressure', an aspect of the CFIR's 'outer setting', was discussed as having an impact on implementation, it is important to note this is considered a substantial motivator for the adoption of new practices within the organizational literature [13]. The reason the EPIS constructs 'leadership' and 'intervention developers' did not stand out as themes within our analysis is because we largely considered these to be aspects of the internal context. This is because (even if they are originally external to the organization) we understand their involvement with the implementation process to place them in a role that can be considered part of the organization. It is important to note the CFIR also does not consider leadership and intervention developers to be part of the external context, placing them instead in its 'inner setting' and 'intervention characteristics' domains respectively [101].
Additionally, the physical environment, which is part of the MLF that includes such aspects as weather, topography, and the condition of the built human environment [5], was not evidenced in our review. While distance between the intervention and the individual was sometimes cited as impacting access, this was discussed more as an issue having to do with transportation than the physical environment. It is possible the physical environment would have stood out as a construct in its own right if we had not restricted our review to interventions we were able to identify as EBIs. For instance, an article by Zarrett et al. [102], which was excluded from our review, discussed how weather variations posed problems for a school-based physical activity intervention that was largely facilitated outdoors. Likewise, Colon et al., [103] discussed quality of sidewalks as a barrier to a walking intervention targeting underserved African American communities. Restricting our review to EBIs also excluded a number of articles looking at interventions in developing countries where the physical environment may have played a more salient role during the implementation process. Broadening our criteria to look at other phases of implementation may have also impacted our results. For instance, the literature on scaling of interventions tends to more robustly consider the implementation context due to the need to develop partnerships and engage political support [104]. For instance, a synthesis of models and frameworks for scaling of public health interventions conducted by Milat et al. [105] identified active engagement of community members and political will as important elements of the scaling-up process. The lack of explicit focus on the external context within the literature impacted the quality of the data available for our analysis, as it often resulted in incomplete explanations through which external context factors impacted implementation. This was particularly the case with the quantitative studies in our sample, which would often list an external context factor such as 'policies' or 'funding' without any additional context or explanation.
Another difficulty we encountered during the analysis process was clearly defining the often-fuzzy boundaries between the external and internal context. As Damschroder et al. [
3
] note:
…the line between inner and outer setting is not always clear and the interface is dynamic and sometimes precarious. The specific factors considered 'in' or 'out' will depend on the context of the implementation effort. For example, outlying clinics may be part of the outer setting in one study, but part of the inner setting in another study. (p. 5)
Therefore, we had to make subjective value judgments as to where these boundaries lie given the information available within the article. Additionally, while we do point to the frequency of times a construct was mentioned as a facilitator or barrier, it is difficult to predict in which instances a construct will act as one or the other due to the contextual factors influencing their particular effects on an intervention [
106
]. For instance, political support may be desired when it is received from well-regarded individuals and better avoided when it comes from unpopular sources.
Despite our goal of establishing completely mutually exclusive categories, there is some minor overlap between constructs that could not be avoided. For instance, lack of public transportation is both a 'local infrastructure' issue and it creates a need for transportation assistance within the 'target population'. Issues related to funding were noted within both the 'policy and legal climate' and 'economic and funding climate', as policies often dictate what funding can be used for and create cumbersome processes attached to it. Furthermore, the 'policy and legal climate' can at times have direct impacts on 'professional influences' through regulations and 'local infrastructure' by prioritizing or de-emphasizing resources for development or sustainability. Finally, stigma existing in the larger 'social climate' can be internalized by members of the 'target population', thus leading to perceptions and beliefs that can impact acceptability of an intervention [107].
In addition to the above noted challenges, our choice to limit the timespan of articles analyzed for this paper to post-CFIR literature and to exclude gray literature may have also limited our results. However, degree of saturation in our themes (e.g., the extent to which adding new articles yielded no new information) and the extent of overlap they have with the frameworks considered in Table 1 does support the exhaustiveness of our review process [34]. Our choice to conduct a review of empirical literature also has strengths over the development of similar constructs, as the well-known and previously discussed frameworks were developed based on reviews of other models and theories [3, 4, 5], which may not have been based in empirical evidence themselves. Due to limitations in the studies reviewed, we were unable to determine any causal links between constructs and outcomes. Furthermore, our findings do not preclude the existence of other factors which may have impacted outcomes in these or other studies. The link between specific contextual factors and outcomes is one that is yet to be established in implementation science and is of utmost importance when seeking to develop and test effective implementation strategies [108]. It is our hope that the findings presented in this paper will be a first step in developing stronger operationalizations necessary to establish the impact of external context factors on implementaiton outcomes. Finally, it is possible our iterative approach may have failed to capture some relevant articles. Though, we do not consider this problematic considering our goal was the development of comprehensive themes through qualitative saturation, rather than an exhaustive identification of articles.
Conclusion
In summary, we identified eight constructs representing the external context through our integrative systematic review process. This list of constructs was more exhaustive than those proposed in any single one of the four implementation frameworks we compared them to. The incomplete representation of the external context within these frameworks is not meant to invalidate the usefulness of pre-existing theory. Indeed, existing implementation frameworks are incredibly useful guides that the external context constructs identified in this paper might be used in combination with depending on the needs of the individual study. Future work should seek to further operationalize the constructs identified for stronger measurement of the external context in an effort to better understand how and to what degree they impact the implementation process. Finally, additional work focusing on the external context as it relates to implementation of non-EBIs and low-resource settings has potential to evidence additional constructs.
Footnotes
1.

There was a large gap in time between this and the previous data collection stage because we were conducting preliminary analysis to inform our next steps.
Notes
Acknowledgements
We would like to thank our design interns Emily Abrams (designed Fig. 1) and Madison Anderson (designed icons used in Fig. 2), and design student Megan Catellier (designed Fig. 2). We would also like to thank Dr. Joshua Vest for his support and advice on this project.
Funding
Funding from the National Institute on Drug Abuse (NIDA; R34 DA036001) supported refinement of the study design, data collection, analysis, and interpretation, and writing of this manuscript. Opinioins expressed in this paper are those of the authors and do not necessarily represent the position of the funding organization.
Availability of data and materials
Data analyzed in this article are publicly available the databases discussed in our methods. A list of all articles screened in this review is available from the first author upon request.
Authors' contributions
DPW is principal investigator for the larger study and developed the research questions guiding this review, provided oversite of all stages of the review, and wrote the majority of the manuscript. ELA supervised the literature review process and assisted with the final analysis of the data. HC guided the development of the literature review method. SS and AM critically reviewed the manuscript for intellectual content, and SS also assisted in critically comparing our findings with existing frameworks to guide the discussion section. ELA, JJ, OIO, and JC conducted majority of screening and coding of articles and provided critical input into the development of the final constructs during this process. All authors reviewed and approved the manuscript prior to submission.
Ethics approval and consent to participate
Ethics approval was not required for this study, as no human subjects data were collected or used.
Competing interests
The authors declare that they have no competing interests.
Publisher's Note
Springer Nature remains neutral with regard to jurisdictional claims in published maps and institutional affiliations.
Copyright information
© The Author(s). 2018
Open AccessThis article is distributed under the terms of the Creative Commons Attribution 4.0 International License (http://creativecommons.org/licenses/by/4.0/), which permits unrestricted use, distribution, and reproduction in any medium, provided you give appropriate credit to the original author(s) and the source, provide a link to the Creative Commons license, and indicate if changes were made. The Creative Commons Public Domain Dedication waiver (http://creativecommons.org/publicdomain/zero/1.0/) applies to the data made available in this article, unless otherwise stated.