Implementation of surgical debriefing programs in large health systems: an exploratory qualitative analysis
Open Access
Research article
Part of the following topical collections:
Abstract
Background
The role of the "debrief" to address issues related to patient safety and systematic flaws in care is frequently overlooked. In our study, we interview surgical leaders who have developed successful strategies of debriefing within a comprehensive program of quality improvement.
Methods
Semi-structured interviews of four implementation leaders were performed. The observations, beliefs and strategies of surgical leaders are compared and contrasted. Common themes are identified related to program success and failure. Quality and safety researchers performed, coded and categorized the interviews and coordinated the analysis and interpretation of the results. The authors from the four institutions aided in interpretation and framing of the results.
Results
The debriefing programs evaluated were part of comprehensive quality improvement projects. Seven high-level themes and 24 subthemes were identified from the interviews. Themes related to leadership included early engagement, visible ongoing commitment and enforcement. Success appeared to depend upon meaningful and early debriefing feedback. The culture of safety that promoted success included a commitment to open and fair communication and continuous improvement.
There were many challenges to the success of debriefing programs. The loss of institutional commitment of resources and personnel was the instigating factor behind the collapse of the program at Michigan. Other areas of potential failure included communication issues and loss of early and meaningful feedback.
Conclusions
Leaders of four surgical systems with strong debriefing programs report success using debriefing to improve system performance. These findings are consistent with previously published studies. Success requires commitment of resources, and leadership engagement. The greatest gains may be best achieved by programs that provide meaningful debriefing feedback in an atmosphere dedicated to open communication.
Keywords
Checklist 
Debriefing 
Team training 
Crew resource management 
Implementation 
Surgery 
Quality improvement 
Abbreviations
US

United States

WHO

World Health Organization
Background
Since the publication of "To Err is Human" in 1999, medical error has been acknowledged as a major contributor to the burden of illness in the United States (US) [1]. Preventable complications in surgery contribute significantly to this burden. Over the last 17 years, the quality and safety of surgery in the United States has been addressed through several interventions. One prominent tool developed to improve patient safety is the World Health Organization (WHO) surgical safety checklist [2]. The WHO checklist is a communication tool that involves participation of the surgical team to review issues of surgical safety at three time points: at a sign-in prior to administration of the anesthetic, at a time-out prior to the incision and at a sign-out or "debrief" at the end of the case. Implementation of the WHO Checklist was associated with dramatically improved outcomes in an international trial published in 2009 [2]. Since the publication of these findings, the checklist has been broadly adopted and incorporated into US hospital accreditation with the expectation that this would lead to national improvement in surgical safety.
Despite a concerted, national effort, the burden of medical error in the US remains troublingly high [3]. Follow-up studies of the WHO surgical safety checklist were less promising than the initial trial, and the mandated use of the surgical checklist failed to move the needle of surgical morbidity and mortality within large health systems such as that in Ontario, Canada [4]. These findings suggest that strategies that reduce surgical morbidity within the controlled settings of a trial may fail in the complicated real world. Success or failure of the checklist in improving outcomes closely relate to meaningful compliance [5]. Despite widespread institutional reports of high compliance, audits of checklist use reveal that most hospitals fail to complete the checklist, with very few institutions completing a true team-based "debrief" or "sign out" at the end of the checklist [6, 7]. The potential role of the "debrief" to address issues related to individual patient safety and systematic flaws in care is almost always overlooked and undervalued [6, 8].
The "debrief" within a three-part surgical safety checklist is alternatively referred to as a "sign-out". These terms are used interchangeably in most checklists and within this paper. However, the use of the term "debrief" emphasizes additional communication beyond acknowledgement of the tasks performed by the nursing team at the end of the surgical case. This additional communication typically addresses safety, equipment and efficiency issues arising during the case and identifies opportunities for improvement.
In contrast to many hospitals that have struggled with checklist implementation, there are a few notable institutions have used the surgical checklist effectively to improve quality and safety and continue to do so. Many of these successful institutions have specifically focused on the debriefing aspect of the checklist to address systematic issues of safety, efficiency, and communication [9, 10]. In our study, we interview surgical leaders from four centers across the United States who have developed successful strategies of debriefing within a comprehensive program of quality improvement. We examine three institutions that have maintained these programs and one institution where this program has failed.
Through a thematic analysis of these interviews, we explore effective strategies, the role of leadership, barriers and facilitators, as well as contextual factors that present stumbling blocks and opportunities for medical leaders looking to improve system efficiency and strengthen the role of debriefing in their hospital.
Methods
This study was reviewed by the Harvard Ethics Board and judged to be exempt from ethics review.
Study design
This study presents a thematic analysis of interviews of surgical leaders at four US institutions. The observations, beliefs and strategies of surgical leaders as reflected in their statements are compared and contrasted. Common themes related to program success and failure are identified. Three quality and safety researchers who are not members of the institutions under study generated the study design, performed, coded and categorized the interviews and coordinated the analysis and interpretation of the results. The authors representing the four institutions aided in interpretation and framing of the results.
Selection of target hospitals
To identify four institutions, a series of searches of the grey literature through Google search engine, word of mouth, emails and phone calls as well as searches using medical search engines were performed. The aim of these searches was not to be exhaustive but rather to identify representative programs that had developed a debriefing protocol with a strategy of process improvement in mind. One of the four target hospitals (McLeod) was known to the lead authors of this study (MB, WB). This program was also asked to identify any additional programs they were aware of that had adopted a similar strategy for debriefing.
Four centers that are geographically and administratively distinct were identified: Beaumont (Michigan), McLeod (South Carolina), Madigan (Washington), Memorial Health (Florida). The programs in South Carolina, Washington and Florida reported ongoing success while the program at Michigan had initial success but ultimately failed.
Interviews
Medical and administrative leaders were contacted by both email and telephone at each site and asked if they would be willing to undergo a formal interview by telephone. We identified one key medical leader from each site.
A script for a semi-structured interview was created through an iterative process. An initial script was generated, piloted on quality and safety research colleagues and revised. The script was used as a guide for the interview but was not rigidly followed to allow for spontaneous discussion of elements not addressed within the script.
The areas of assessment that were targeted in the interviews were defined by two members of the research team (MB and WB). These included: motivation/rationale for the debriefing initiative, contextual factors, role of local leaders, implementation process, functionality, evolution/sustainability, buy-in and reinforcement. In addition, the impact of the debriefing strategy on process and safety outcomes, team-work and communication was assessed. Each interview was performed by telephone using a web-based recording program and transcribed.
Transcribed interviews were reviewed by the primary interviewer alongside the original recording to ensure accuracy.
Analysis
Using NVivo, a software program designed for qualitative analysis, the transcribed interviews were coded according to themes. These themes were identified through two-stage process including deductive themes based in part on the predetermined questions and inductive themes that emerged from the content of the interviews. Each line of transcribed text was reviewed for ideas, concepts and reflections which were categorized by thematic codes. Each new idea or concept was assigned to an existing thematic code or a new code was created. At the end of coding all the interviews, each interview was reviewed again to ensure consistent coding across interviews. Coding was performed by a single reviewer. After coding, code validation was performed by a second qualitative expert who reviewed the content and coding themes for consistency. If discrepancies in coding were determined, discussion among the authors was performed until consensus was achieved. The coded themes were reviewed and broad categories encompassing these themes were created.
Narratives were collected within thematic groupings. Common observations were reviewed and discussed by the research team including the clinician leaders who had been interviewed from each site. The elements that were commonly linked to success were categorized; the challenges encountered by each program were, likewise, categorized.
The program at Beaumont, Michigan, was examined as a separate case study. The threats to the success of the Michigan program that eventually lead to its collapse were identified.
How these threats might be prevented or mitigated were reviewed and are presented within the discussion.
All narratives are presented as verbatim. Any changes that are provided for clarification are presented in square brackets.
Results
The four implementation leaders interviewed had developed their strategies within four very different health systems.
Madigan is an Army Medical Center in Washington that performs roughly 10,000 surgeries a year and has 220 inpatient beds. Madigan is staffed by 54 surgeons, 12 anesthesiologists and 49 certified registered nurse anesthetists (CRNAs). Dr. Andrew Foster is Chief of Anesthesia at Madigan and was a physician leader who took on a primary role in creating and maintaining the debriefing program at Madigan.
Memorial Health is a large public health system in Southern Florida including five hospitals with a total of 1858 beds and 62 ORs staffed by 545 surgeons, 101 anesthesiologists and 53 anesthesia assistants as well as 112 CRNAs. Dr. Stanley Marks is a surgeon and Chief Medical Officer for Memorial Health, who developed a comprehensive approach to patient quality and safety that has been instituted across Memorial Health.
McLeod Health is a large private health system including seven hospitals in South Carolina. McLeod regional center completes 19,000 cases a year and has 489 beds. The OR is staffed by 125 surgeons, 12 anesthesiologists and 50 CRNAs. Dr. Michael Rose is an anesthesiologist and Vice President of Surgical Services at McLeod Regional Medical Center and has helped lead a state-wide initiative to improve Surgical Safety in South Carolina.
Beaumont is a large public health system including eight hospitals and performing more than 50,000 surgeries every year in Michigan. The system is staffed by 600 surgeons, 84 anesthesiologists and 145 certified registered nurse anesthetists. Dr. Robert Welsh is Vice Chief of Surgical Services at Beaumont Hospital- Royal Oak and developed the program of surgical debriefing for surfacing safety defects at Beaumont Hospital.
In analyzing the interviews of these leaders, seven high-level themes were identified with an additional 24 subthemes that fell within the high-level umbrella themes.
Figure 
1
illustrates the broad thematic categories as well as the subcategories.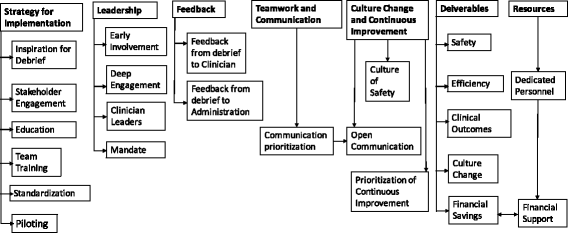 Discussion
Improving surgical safety through debriefing is a complex endeavor. Although the role of debriefing is acknowledged as an important part of surgical safety, debriefing is rarely performed in institutional audits of checklist compliance [5, 7]. We have examined four programs that have effectively instituted debriefing systems to improve patient safety and the overall effectiveness of the health system. The leaders of these systems have commonly identified strong executive leadership involvement, meaningful and early feedback and a culture of safety and continuous improvement as keys to their success. Each program recognizes ongoing threats to the success of their programs. These threats are those of resources (financial and personnel), the loss of meaningful and early feedback, and the perseverance of traditional hierarchies resulting in the failure to achieve fair and open communication. In the case of Michigan's debriefing program, a loss of resources was the catalyst to the eventual collapse of the debriefing program primarily when meaningful feedback was no longer provided to the surgical teams.
Debriefing is well-established in many high-acuity disciplines where it contributes to a culture of communication, reflection and continuous improvement. The American Heart Association strongly promotes the use of debriefing to improve the running of codes [15]. Studies of debriefing after codes demonstrate improved team communication as well as improved performance measures and clinical outcomes. [16, 17, 18, 19]. Similar results are seen when debriefing is applied to trauma care [17, 20]. The four interviewees in our study all pointed to numerous ways in which debriefing in surgery contributed to improved clinical care, patient safety, communication, attitudes and efficiency at their institutions. Although patient safety is the priority for each of these programs, the debriefing also offered an opportunity to improve performance measures related to process- expanding the potential value of the program and acting, in part, as a Trojan Horse to introduce important safety alongside those measures that improve the business-side of surgical systems. Published results from Madigan, Washington specifically show improvement in operating room efficiency [10] while the program at Beaumont found numerous communication and equipment issues that improved with the use of debriefing [9]. In institutional publications and presentations, the Memorial Health System in Florida reported improvements in communication, measures of satisfaction, teamwork and safety culture [14] while McLeod Health reported improvement in surgical mortality, a decrease in patient safety events and an improvement in measures of satisfaction and attitudes surrounding safety [13].
There is no simple answer as to why debriefing is not adopted routinely after surgical procedures. Qualitative studies through surveys and interviews suggest multiple reasons including logistical challenges and a perceived lack of value [6, 8]. The logistical challenges relate to the different times at which team members' roles conclude in surgical procedures and the competing requirements of circulating nurses who are frequently tasked with running the debriefing. The perception that debriefing lacks value relates to the fact that some elements are redundant, other elements may not be directly applicable to the care of the patient and issues arising in the debrief are not addressed or valued by the institution [8].
The lack of a strong culture of surgical safety likely contributes to the devaluing of the debriefing both by the institution and by the team members who directly participate in the care of the patient.
The interviewees from each of the four sites recognized that an immediate tangible value of the checklist would best ensure that the surgical team would participate in debriefing. Often this meant addressing concerns that impacted the teams' ability to perform its job efficiently in addition to other issues related to improving performance. The fact that issues of equipment and process could be corrected and the surgical team could experience the immediate benefits of participation, gave them a greater commitment to the process.
To improve the culture of surgical debriefing and create a meaningful debriefing process, interviewees acknowledged that the institutional approach should be broad-sweeping, targeting all levels of care and administration with a strong focus on empowerment of nurses and those members of the surgical team who have traditionally not had their voices heard. To create a system in which nurses are empowered, the focus needs to switch from individual performance to team success. In most situations, this requires an institutional culture change. Changing the culture of an institution requires a comprehensive strategy in which team training may play a critical role.
When quality and safety tools are applied without an institutional strategy for ongoing implementation, they are likely to fail. This can be seen in studies of surgical safety checklist that do not specifically involve implementation strategies [4, 21]. When the checklist is introduced as a tool to facilitate communication within a broader institutional strategy, the impact can be tremendous [22]. Programs that succeed in developing debriefing programs to improve surgical safety must remain committed to ongoing improvement and a commitment to communication.
There are many threats to the ongoing success. At Beaumont Hospital in Michigan, the loss of resources was devastating to the debriefing program as key positions were defunded. It is possible that if the executive administration valued the program more either economically or within a stronger institution-wide culture of safety, economic scarcity might not have had the same impact. Stanley Marks at Memorial Health in Florida reflected that the value of the program is so engrained within the institutional culture that it is not likely to be impacted by scarcity. But maintaining the institutional culture takes work. Even in programs like Memorial Health, Stanley Marks refers to the constant threat of degeneration into a "task" mentality.
Conclusions
The value of the debriefing systems established by four surgical centers in diverse settings across the United States is tremendous. Even in Beaumont, where the system failed, there remains a strong commitment by clinician leaders to re-establish the program. The fragility of these systems exposed by the collapse at Beaumont underlines the importance of strong executive involvement, a reliable system of meaningful feedback and prioritization of communication within a system designed to constantly improve.
Notes
Acknowledgements
The authors thank James Sachetta who helped to arrange and record interviews and Ali MacRobie for transcribing the interviews.
Funding
This project was done without funding support.
Availability of data and materials
All data generated or analyzed during this study are included in this published article [and its supplementary information files].
Authors' contributions
>MB Designed the study, developed the interview scripts, performed the interviews, coded the interviewer responses, analyzed the responses and generated the manuscript. NH Helped develop the interview scripts and the approach to data coding as well as data abstraction, aided in framing the results and revising the manuscript. AF, SM, MR, RW identified key themes and provided information from each of the four centers, they aided in interpreting and framing the results. Each author aided in manuscript revision. WB conceptualized the study and developed the study design. He aided in manuscript revision. All co-authors have reviewed the manuscript and approve of it in its final form.
Ethics approval and consent to participate
This study was reviewed by the Harvard Ethics Board and judged to be exempt from ethics review as it was judged to be "minimal risk" for participating subjects. Each participant was offered the opportunity for anonymity within the study but each participant asked that they be identified. Informed consent was obtained from all participants prior to being interviewed.
Consent for publication
Written informed consent including consent for publication of identifying information was obtained from all participants.
Competing interests
The authors declare that they have no competing interests.
Publisher's Note
Springer Nature remains neutral with regard to jurisdictional claims in published maps and institutional affiliations.
Copyright information
© The Author(s). 2018
Open AccessThis article is distributed under the terms of the Creative Commons Attribution 4.0 International License (http://creativecommons.org/licenses/by/4.0/), which permits unrestricted use, distribution, and reproduction in any medium, provided you give appropriate credit to the original author(s) and the source, provide a link to the Creative Commons license, and indicate if changes were made. The Creative Commons Public Domain Dedication waiver (http://creativecommons.org/publicdomain/zero/1.0/) applies to the data made available in this article, unless otherwise stated.