Systematic review of non-surgical treatments for early Dupuytren's disease
Open Access
Research article
Part of the following topical collections:
Abstract
Background
Dupuytren's disease is a common fibrotic disorder of the palm characterized by the development of progressive flexion deformities in the digits, leading to significant functional impairment. Surgical excision remains the most common treatment. However, this is only indicated in patients with established contractures rather than those with early disease. Early disease is generally characterized by the presence of palmar nodules with limited or no contracture of the fingers. The ideal treatment would be directed at patients with early progressive disease to prevent future deterioration. Various non-surgical treatment modalities have been described but there is currently no systematic assessment of the role and efficacy of these treatments in patients with early disease.
Methods
Using a PICOS analysis we reviewed publications of studies of patients with early disease who had received physical therapies, pharmacological treatment, or radiotherapy. Following PRISMA guidelines titles and abstract were screened using predefined criteria to identify those reporting outcomes specifically relating to the treatment of early disease. In the absence of a definition of early disease studies were included if early DD was described clinically, with digital contractures not exceeding 30°, Tubiana grades N to 1, and which reported identifiable data. Studies were excluded if data for early DD patients could not be extracted for analysis.
Results
In this systematic review, 26 studies were identified and analyzed to evaluate the effect of pharmacological therapy (n = 11), physical therapy (n = 5) and radiotherapy (n = 10) on early Dupuytren's disease. The studies comprised 20 case series, 1 cohort study with the remainder reporting case studies. All publications were graded level of evidence 4 or 5 assessed using the Oxford Centre for Evidence Based Medicine grading. Narrative descriptions of the data are presented.
Conclusions
Physical therapies were the most robustly assessed, using objective measures but the studies were under powered, providing insufficient evidence of efficacy. Intralesional steroid injection and radiotherapy appeared to lead to softening of nodules and to retard disease progression but lacked rigorous evaluation and studies were poorly designed. There is an urgent need for adequately powered double blinded randomized trials for this common disorder which affects 4 % of the population.
Trial registration
The protocol was registered (CRD42015008986 16 November 2015) with the PROSPERO international prospective register of systematic reviews.
Keywords
Dupuytren's disease 
Systematic review 
Pharmacological therapy 
Radiotherapy 
Physical therapy 
Background
Dupuytren's disease (DD) is a common fibroproliferative disorder of the hand affecting approximately 4 % of the general UK and US populations [1, 2]. The prevalence of DD in the general population increases with age and in a recent systematic review was estimated as 12 % in those aged 55 years, rising to 29 % in those aged 75 years in the general population in western countries [3]. The classic description of disease progression is the initial appearance of nodules, with subsequent formation of cords. This is followed by a final stage as the cords mature and irreversible digital contractures develop, resulting in significant impairment of hand function [4]. However disease progression is not inevitable, with only 30-50 % going on to develop progressive flexion deformities [5, 6] and that the course of DD may fluctuate over time [7].
One of the earliest classifications of Dupuytren's disease according to the histological appearance using optical microscopy [8] described 3 stages: proliferative, involutional and residual. Further sophistication was added by correlating histological appearance with the clinical findings and ultrastructural features [4]. This was extended by Lam [9] using electron microscopy to include the relative proportion of type III collagen based on the finding that earlier lesions have a higher proportion of type III collagen, which changes to a greater proportion of type I collagen at later stages of the disease.
One of the few groups to study tissues collected at all clinical stages of the disease also classified the disorder into 3 stages [
10
]:
I.

Early disease. Specimens comprised nodules from patients with no digital contracture. These showed proliferating spindle shaped cells surrounded by fine granulofibrillary material although there was no increased collagen deposition in the nodule.

 

II.

Active disease. Clinically these patients presented with palmar thickening and associated joint contracture, with the contracture noted by the patient as occurring on average over 3 years. The nodules comprised mainly of myofibroblasts, with very little intervening collagen. The nodules were associated with cords, which were relatively acellular.

 

III.

Advanced disease. These patients had progressive joint contracture for more than 3 years. Microscopic examination revealed relatively few cells that were elongated and embedded in stroma comprising a large amount of mature collagen fibers.

 
A study of surgically excised specimens from patients with digits flexed to 30° or greater and with functional impairment of the hand showed that even in this group nodules comprising aggregates mainly of myofibroblasts with interspersed inflammatory cells are embedded within the cords and anatomically lie adjacent to the flexed joint [11]. Furthermore, patients with more advanced deformities were less likely to have identifiable nodules, corresponding to the advanced stage described by Chiu et al. [10].
A number of clinical grading and staging systems that record the presence of palmar nodules, cords and the degree of digital flexion to reflect disease severity have been proposed [
8
,
10
,
12
,
13
,
14
,
15
,
16
,
17
,
18
,
19
] (Table 
1
).
Table 1
Clinical staging and grading systems for Dupuytren's disease
Author

Iselin (1951) [13]

Shaw (1951) [57]

Steinberg (1951) [18]

Luck (1959) [8]

Early (1962) [12]

Chiu and McFarlane (1978) [10]

Tubiana (1968) [17]

Tubiana: Keilholz modification (1996) [14]

Tubiana: Seegenschmiedt modification (2001) [15]

Grade or Stage

0: Small nodules, hand function not affected

1: Hands with a nodule in the palmar fascia not yet involving the skin and causing no contracture of the fingers

1: Fibrosis of palmar fascia without contractures

Proliferative stage: nodules in the palm and fingers

0: Palmar nodules

Early disease: nodules in the palmar fascia without digital contracture

N: Palmar nodule without presence of contracture

As Tubiana

As Tubiana

1: Nodules and cords in the palm and early contracture of MCPJ

2: Nodule in the fascia involving the skin but not causing finger flexion deformity

2: Contractures up to 135° toward the palm

Involutional stage: development of finger flexion contractures

1 point: total digital deformity of ≤60°

Active disease: nodular thickening with associated digital contracture

1: Total flexion deformity (TFD) between 0° and 45°

N/1: TFD 1–5

N/1: TFD 1–10

2: MCPJ contracture up to 30° and early PIPJ contracture

3: Nodule in the palm invading skin plus flexion contracture of one or more fingers

3: Contractures up to 90° toward the palm

Residual stage: cord development and finger contractures with joint changes

2 points: 61 to 120°

Advanced disease: Progressive joint contracture for more than 3 years with diffuse palmar fibrotic thickening

2: TFD between 45° and 90°

1: TFD 6–45

1: TFD 11–45

3: Contracture of IPJs more than 30°

4: Includes all stage 3 cases in which the secondary changes have occurred in the tendons or joints of one or more fingers.

4: Fibrosis of palmar fascia, with flexion deformities of the fingers beyond 90° toward the palm.

 

3 points: >120

 

3: TFD between 90° and 135°

As Tubiana

As Tubiana

4: Extreme digital flexion contracture. Sensory and circulatory disturbance

 
 
 
 
 

4: TFD greater than 135°

As Tubiana

As Tubiana
Currently there is no formal clinical definition of early disease and no widely accepted treatment. Expert opinion suggests that non-surgical treatments for DD are not effective in reversing or retarding disease progression [20] and are generally considered ineffective [21]. However, the evidence has not been systematically evaluated [22].
The mainstay of treatment for patients with established flexion deformities is surgery. Surgery is considered if a finger has lost 30° of metacarpophalangeal joint or any proximal interphalangeal joint extension [23]. Surgery is not advocated in early DD except when it is associated with persistent pain, especially at night or in the rare circumstances where a trigger finger requiring surgical release necessitates access to the A1 pulley deep to a DD nodule [24]. Furthermore, surgery undertaken during the more cellular, proliferative stage of the disease is considered to be associated with a higher rate of recurrence [25].
Methods
A systematic review was performed to determine the role and efficacy of non-surgical treatments for early DD and to provide an evidence base for the management of these patients. The search strategy and search terms were based on a Participants, Intervention, Comparison, Outcomes and Study (PICOS) design [26] (Additional file 1). A literature search was performed using controlled subject headings and free text terms for "Dupuytren's disease" and "non-surgical therapies". A broad range of terms covering pharmacological therapies, radiotherapy and physical therapies were used to formulate a comprehensive and inclusive search strategy for non-surgical therapies for early DD. The protocol was registered (CRD42015008986) with the PROSPERO international prospective register of systematic reviews [27].
Inclusion and exclusion criteria
Studies evaluating non-surgical treatment of adults with early DD where outcomes were monitored using patient reported outcome measures, physical measures, clinical assessment and clinical observation were included. Randomized and non-randomized controlled clinical trials, prospective and retrospective case series, case studies, conference abstracts and letters were eligible for inclusion. Studies comprising all stages of DD were scrutinized to extract data pertaining to early DD where possible. Early disease was defined as a baseline contracture of 30° or less at each affected digital joint or as a grade or description of palmar involvement with digital contracture of 30° or less.
Studies involving 2 or more digits on 1 hand were excluded if any digital contracture exceeded 30° indicating more advanced disease in the hand. Studies reporting treatment of later stage DD, recurrent DD or postoperative DD were excluded. Patients within studies who had received treatment previously for DD in the pertinent hand were excluded. There was no language restriction for eligibility for inclusion. There was no restriction regarding duration of post intervention monitoring (Additional file 2).
Search methods and identification of studies
Ovid Medline and Embase databases were searched from inception to October 2015. A total of 930 references, following removal of duplicates by both electronic and manual screening, were downloaded into a bibliographic software package (EndNote ×7). Three additional studies were identified from a personal bibliography. In total 97 studies were identified by title/abstract review applying the eligibility criteria after independent review by 2 authors (CB and DI or LV), resulting in 26 studies meeting the inclusion criteria (Fig. 
1
).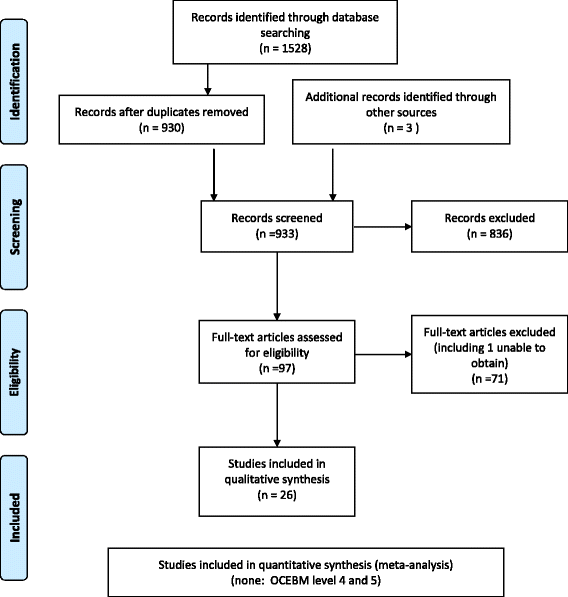 Where necessary, consensus was achieved by reviewing the full text by a fourth author (JN). Full texts of all studies were further reviewed by the same 2 authors (CB and DI or LV) to identify data specifically relating to early DD (Additional file 3).
Data collection and analysis
Data on study design, intervention, study dates, criteria used to identify early DD, number of early DD patients, number of total cohort, outcomes measured, baseline data and results were collected and tabulated on an Excel (Microsoft, Seattle) spreadsheet. Adverse events when reported were noted. Due to the heterogeneity of the studies and variability in the techniques used to analyse and report the data, pooled analysis or meta-analysis were not warranted and narrative descriptions of the data are presented. The quality of studies was assessed using the Oxford Centre for Evidence Based Medicine (OCEBM) levels of evidence criteria [28]. Risk of bias was assessed using GRADE guidelines, Cochrane Handbook for Systematic Reviews [29].
Results
Of the 26 studies that met the inclusion criteria, 11 pertained to pharmacological treatment [18, 30, 31, 32, 33, 34, 35, 36, 37, 38, 39], 5 to physical therapies [40, 41, 42, 43, 44] and 10 to radiotherapy [14, 45, 46, 47, 48, 49, 50, 51, 52, 53]. All included studies were observational and graded OCEBM level 4 or 5. The risk of bias for all studies was high. Three studies declared no conflict of interest [42, 51] or financial gain [31], one study declared grant funding from the Squibb Institute of Medical Research [18] and one study disclosed that cortisone was supplied by the National Research Council of Canada [30].
The studies comprised 20 case series [14, 18, 31, 33, 34, 36, 37, 40, 41, 42, 44, 45, 46, 47, 48, 49, 50, 51, 52, 53], 6 case studies [30, 32, 35, 39, 43] with 2 by 1 author [30], and 1 cohort study [38]. Only 4 publications described results for cohorts comprising exclusively of early DD patients [31, 46, 48, 49]. The remaining studies included early DD patients within cohorts of patients with more advanced disease.
Discussion
There are a range of treatments available for patients with advanced DD with digital contractures, including surgical excision of the diseased tissue, percutaneous needle fasciotomy and collagenase injection. However they all suffer from disadvantages. The ideal would be a treatment that prevents progression in the 30–50 % [5, 6] of at risk patients with early DD. A variety of treatments have been proposed for early DD but there is currently no clear evidence for their role and efficacy. This systematic review attempts to address this issue. However, it is clear that the evidence base is very weak, with all relevant studies identified as level 4 or 5 rated according to OCEBM and with a high risk of bias so that results of treatment are difficult to interpret. The high risk of bias in observational studies is due to a number of factors, particularly lack of control treatment, retrospective or unclear design and assessor bias, especially in small cohorts of patients. Publication bias, the increased likelihood of authors to write up positive results and of journals to publish positive results introduces further risk.
Conclusions
Given the limitations of treatments available for advanced digital contractures, the ideal treatment for patients with progressive DD would be at the early stage to prevent the development of flexion deformities [8]. Of the many treatments that have been tried over the years for early DD, only intralesional steroid injection or radiotherapy appear to offer some benefit. The studies reporting the effect of Intralesional steroids were confounded by the lack of a control group and potential assessor bias. The literature is divided on the efficacy of radiotherapy and effect on the course of early DD with some showing it is efficacious but others demonstrating little or no benefit. Unfortunately there is lack of objective evidence for efficacy of either intralesional steroid injection or radiotherapy and there is an urgent need for adequately powered double blinded randomized trials. Disease recurrence following treatment is infrequently reported in the reviewed studies. It is not clear how long recurrence should be monitored but a study of intralesional steroid injection [31] suggests that this may need to be in excess of 3 years.
For future studies investigating the effectiveness of non-surgical treatments of early DD, we would recommend the following:
A clear definition of early DD and a consensus on a definition of disease recurrence is also essential to allow comparison between studies.

All treatment outcomes should be measured using objective, reproducible methods, including:

1.

Goniometric measurement of extension and flexion of individual joints.

 

2.

A reliable and validated measure of nodule consistency and the role of tonometry, which has been used to assess Dupuytren's pre-and post-surgery [72], should be investigated.

 

3.

The use of ultrasound imaging to monitor change in nodule size.

 

4.

New disease specific Patient reported outcome measures (PROMs). These need to be developed to gain the patient's perspective in early disease and to monitor disease progression. PROMS have been developed and validated in advanced disease but these are unlikely to reflect the problems of patients with nodules with little or no contracture.

 

Studies should be well designed and adequately powered.

Safety should be reported and described in all studies.
Abbreviations
DD, Dupuytren's disease; EORTC, European Organization for Research and Treatment of Cancer; FDA, Food and Drug Administration; GRADE, Grades of Recommendation, Assessment, Development and Evaluation; Gy, Grays; LENT-SOMA, Late Effects Normal Tissue-Subjective Objective Management Analytic; Mg/mgs milligram/milligrams; NICE, National Institute for Health and Care Excellence; OCEBM, Oxford Centre for Evidence Based Medicine; PICOS, Participants Intervention Comparison Outcomes Setting; PRISMA, Preferred Reporting Items for Systematic Reviews and Meta-Analyses; PROMS, Patient Reported Outcomes Measures; PROSPERO, Prospective register of systematic reviews
Notes
Acknowledgments
We would like to thank K. Bull, Kennedy Institute of Rheumatology and E. Harriss, Bodleian Health Care Libraries, University of Oxford for their assistance with the literature search. We would also like to thank V. Gifford, A. Tucci, G. Ryzhakov, L. Lysakova, G. Pirgova, D. Geller and H. Lin for their assistance with screening and data extraction from the non-English publications.
Funding
C Ball and J Nanchahal are funded by The Health Innovation Challenge Fund.
D Izadi is funded by The Kennedy Institute of Rheumatology Trust.
L Verjee is in receipt of a grant from The Academy of Medical Sciences.
Availability of data and materials
All of the data are available within the manuscript and supplementary files.
Authors' contributions
CB and JN devised and participated in the review. CB, DI and LV participated in screening and data extraction. CB, JN and JC wrote and revised the manuscript. All authors read and approved the final manuscript.
Competing interests
All named authors declare that they have no competing interest with respect to the research, authorship, and/or publication of this article.
Consent for publication
Not applicable.
Ethics approval and consent to participate
Not applicable.
Copyright information
© The Author(s). 2016
Open AccessThis article is distributed under the terms of the Creative Commons Attribution 4.0 International License (http://creativecommons.org/licenses/by/4.0/), which permits unrestricted use, distribution, and reproduction in any medium, provided you give appropriate credit to the original author(s) and the source, provide a link to the Creative Commons license, and indicate if changes were made. The Creative Commons Public Domain Dedication waiver (http://creativecommons.org/publicdomain/zero/1.0/) applies to the data made available in this article, unless otherwise stated.