An observational study of immigrant mortality differences in Norway by reason for migration, length of stay and characteristics of sending countries
Part of the following topical collections:
Abstract
Background
Knowledge of mortality differentials in immigrant groups depending on their reason for migration, length of stay in host countries and characteristics of sending countries may be beneficial for policy interventions aimed to improve various immigrant groups' health and welfare.
Methods
We employed discrete-time hazard regression models with time-varying covariates to compare the death risk of immigrants to those of Norwegian-born natives using linked register data on the Norwegian population aged 25–79 during 1990–2015. More than 492,000 deaths occurred in around 4.6 million individuals. All analyses were adjusted for sex, age, calendar time and sociodemographic characteristics.
Results
Immigrants had an 11% survival advantage overall. Those immigrating due to work or education had the lowest death risk, whereas refugees had the highest death risk (albeit lower than that of natives). Death risks increased markedly with length of stay, and were most pronounced for those having spent more than 40% of their lives in Norway. Net of reason for migration, only minor differences were observed depending on Human Development Index characteristics of sending countries.
Conclusion
Independent of reason for migration and characteristics of sending countries, those who immigrate to Norway in adulthood appear to be particularly healthy. The higher death risk associated with prolonged lengths of stay suggests that disadvantageous 'acculturation' or stress factors related to the post-migration period may play a role in the long run. The health and welfare of long-term immigrants thus warrants further research.
Keywords
Acculturation 
Immigrant 
Healthy migrant 
Length of stay 
Mortality 
Norway 
Reason for migration 
Social causation 
Abbreviations
CI

Confidence interval

EU

European Union

HDI

Human Development Index

OR

Odds ratio

US

United States of America
Background
Migration has increased over the past decades, and a substantial number of people are currently residing outside their birth country. The health and welfare of migrants are thus relevant for health and welfare policies in host countries. Findings in this area are currently conflicting, in part because migrants comprise a heterogenous group in terms of age, sociodemographic background and length of stay. Furthermore, migrants' motives for relocation are different. As various host populations' health also vary, it is not surprising that comparisons show contradictory results.
Methods
Registry data from Statistics Norway were compiled for immigrants and Norwegian-born persons with two Norwegian-born parents (hereafter referred to as natives), age 25–79 years, registered as residents in Norway in (parts of) the period 1990 to 2015 (N = 4.6 million). The number of immigrants was 808,534. Yearly observations for each subject were constructed (N = 75 million). The average follow-up was 16.3 years: 17.8 years for the natives and 8.9 years for immigrants. The probability of all-cause death was analyzed using discrete-time models with time-varying and time-invariant covariates. Interaction terms between relevant immigrant characteristics were added to assess effect modification. The statistical significance level was set at 5%.
Statistics Norway defines immigrants as persons born abroad to two foreign-born parents and four foreign-born grandparents [19]. As such, immigrants have at some point immigrated to Norway. We included the time independent immigrant characteristics reason for migration (7 groups), HDI of sending countries (6 groups), and age at migration (8 groups), as well as the time-dependent characteristic length of stay (6 groups). As a robustness check because of the inherent relationship between age at migration and length of stay, we also looked at the share of life spent in Norway (4 groups).
Covariates that have been shown to vary with both immigrant characteristics and mortality were included in all models. Education was categorized as higher education (college/university) versus education limited upwards to high school. Annual changes were allowed for calendar period (1990–1994, 1995–1999, 2000–04, 2005–09 and 2010–15), five-year age groups (25–29, ..., 75–79 years), parenthood (yes / no) and marital status (never married, married, surviving spouse and divorced/separated).
A total of 6 different models were set up: 1) Immigrant vs. native; 2) Reason for migration; 3) Length of stay in Norway; 4) Age at migration; 5) Share of life spent in Norway; and 6) Sending countries grouped according to the most recent United Nations' measure of HDI (http://hdr.undp.org/en/composite/HDI).
Initially, all models were set up separately for men and women, since it is well known that male mortality is higher than female mortality. However, as it appeared that there were minimal differences in the relative death risks by sex and immigrant characteristics (see Table A1, Additional file 1), only combined estimates are presented below.
Results
A total of around 492,000 deaths were observed: 470742 among the natives and 21,429 among the immigrants. Because immigrants on average are younger than the natives, they constituted 10% of the subjects, 18% of the observations but only 4% of the deaths. As expected, there were more deaths among men (61%) than among women, but the sex distribution was the same for immigrants and natives.
Descriptive statistics on immigrants
Reason for migration was available for 77% of the non-Nordic immigrants in the sample, and among these refugee, family, labor and education accounted for 27, 25, 20 and 4% of the reasons, respectively. 'Other reasons' were quoted for 0.3% whereas the remaining 23% had an 'unknown reason' for immigration and was comprised almost exclusively (> 99%) of immigrants who had arrived in Norway prior to 1990. Family immigrants are a heterogenous group, and in some subanalyses they were thus divided into two groups: Family immigrants to refugees (22%) and family immigrants to others (the remaining).
Table 
1
portrays the distribution of immigrant characteristics. In terms of length of stay, immigrants who had resided 7–15 years in Norway comprised the largest group (26%), followed by immigrants with 16–30 years of residence (23%). Around 20% had resided < 3 years and 3–6 years, respectively. Around 10% had lived more than 30 years in Norway.
Table 1
Descriptive statistics for various immigrant characteristicsa
 

Deaths (21429)

Person-years (7.2 mill)

 

Number

Percent

Number

Percent

Reason for migration

 Refugee

3568

16.7

1.6 mill

22.0

 Family

1527

7.1

1.5 mill

20.5

 Labor

846

3.9

1.2 mill

16.4

 Education

81

0.4

252,181

3.5

 Other

80

0.4

19,185

0.3

 Nordic immigrants

7431

34.7

1.3 mill

18.6

 Unknown

7896

36.8

1.4 mill

18.9

Length of stay

  < 3 years

1294

6.0

1.5 mill

21.4

 3–6 years

1624

7.6

1.4 mill

20.1

 7–15 years

3220

15.0

1.9 mill

26.0

 16–30 years

5803

27.1

1.6 mill

22.5

 31–45 years

7005

32.7

604,610

8.4

  > 46 years

2483

11.6

117,609

1.6

Age at immigration

 Age < 3

123

0.6

52,955

0.7

 Age 3–6

135

0.6

91,905

1.3

 Age 7–15

604

2.8

337,066

4.7

 Age 16–18

601

2.8

274,292

3.8

 Age 19–30

8168

38.1

3.8 mill

53.3

 Age 31–45

7859

36.7

2.1 mill

29.7

 Age 46–60

2738

12.8

403,650

5.6

 Age > 60

1201

5.6

61,787

0.9

Human Development Indexb

 EU countries

5025

23.4

1.9 mill

26.4

 Other European countries

2109

9.8

795,466

11.0

 Low HDI (<  55)

1865

8.7

882,353

12.2

 Medium HDI (55–74)

2365

11.0

1.4 mill

18.7

 High HDI (≥ 75)

2634

12.3

941,577

13.1
The majority (53%) of immigrants migrated in young adulthood (age 19–30), followed by adults age 31–45 (30%). Only 7% immigrated as children (age < 16), and 4% as adolescents (age 16–18). The remaining 6% migrated after age 45.
Immigrants from 225 countries are represented in our sample. Just under one-fifth (19%) came from other Nordic countries, 26% from other EU countries and 11% from the remaining European countries. Countries outside Europe were categorized according to HDI: 13% represented high, 19% medium, and 12% low HDI countries.
Multivariate analyses
The impact of length of stay differs for refugees and education immigrants compared to family and labor immigrants (Fig. 4a). While the risk of death increases almost linearly with increasing length of stay for the former groups, there is a tendency to lower death risks with increasing lengths of stay for the latter groups. All migrants, regardless of the reason for migration, have a significantly lower death risk than that of natives if they have spent 15 years or less in Norway. Only long-term refugees have a significantly higher death risk.
Also, when we take age at migration into account, immigrants who migrate for education and labor have, by far, the lowest death risks. Their specific age at migration does not, however, appear to matter (Fig. 4b). The death risk of refugees who migrate during childhood (before age 16) is similar to that of natives. After that, their risk of death is below that of natives. The point estimates suggest that the risk of death increases almost linearly with increasing age at migration, up to age 60. However, the confidence intervals overlap. Also family immigrants who arrive during childhood (before age 19) have a similar death risk to that of natives. After this age, they have a lower death risk, decreasing with increasing age at migration. Also here, the confidence intervals largely overlap.
Interdependence between characteristics of sending countries and reason for migration
Multivariate results of the characteristics of sending countries are shown in Table A1 (Additional file 1). In short, there is less variation in mortality across sending countries as measured by HDI than across other immigrant characteristics (from OR 0.75 for medium HDI countries to OR 0.99 for low HDI countries). The impact of the HDI characteristics of sending countries does not appear to be linear.
Figure 
5
portrays estimates for the interaction between sending country characteristics in terms of HDI and reason for migration. Refugees from the EU countries comprise the only group with a statistically significant higher death risk than natives. When we examine this in more detail, we find that refugees from the former Soviet Union and other Eastern-European countries drive this result. Refugees from non-EU European countries have a similar death risk to that of natives, as is also the case for family immigrants from low HDI countries and education immigrants from non-EU European countries. All other groups have a statistically significant lower death risk than natives.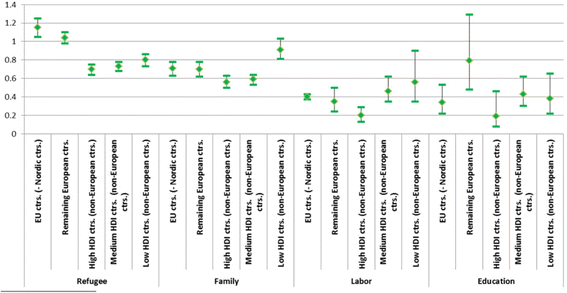 Discussion
Immigrants in Norway have lower all-cause mortality than natives, but their mortality differs depending on reason for migration, length of stay, and age at migration. As such, our findings are consistent with much international research. However, there are also some differences. In Norway, female and male immigrants have roughly the same relative survival advantage, in contrast to findings from for instance the US [20] and Denmark [10]. As the differences between male and female life expectancy in the host populations are roughly similar (4–5 years at birth) in the US, Denmark and Norway, and the ratios of male to female immigrants roughly equal (about 50%), we are unable to explain why our results differ from that of others. Consequently, sex differences are not discussed further.
Conclusion
Reason for migration appears to be an important indicator for later mortality, even when one takes sociodemographic characteristics and characteristics of sending countries into account. The low mortality of recent immigrants may suggest that it is the healthiest immigrants who move to Norway in adulthood, even when we account for reason for migration. At the same time, mortality increases with longer lengths of stay and/or shares of lives spent in Norway, perhaps indicating that immigrants in the long-term make adverse health adaptations that have a negative impact on their mortality. It may therefore seem that the various mechanisms that have been discussed here work simultaneously and affect immigrant mortality in different directions. Our study supports the need for research on immigrants' health and welfare from arrival in a host country, and over the life course as they get older and have more experience in their new host country.
Notes
Acknowledgements
The authors thank the reviewers for valuable criticisms and recommendations.
Funding
This study was funded by a grant from the Ministry of Justice and Public Security in Norway and the Norwegian Research Council (grant number 256678). The funding bodies did not take part in any phase of the study.
Availability of data and materials
The data that support the findings of this study are available from Statistics Norway, but restrictions apply to the availability of these data, which were used under license for the current study. The data are thus not publicly available, but an unidentified set may be requested from the corresponding author and with permission of Statistics Norway.
Authors' contributions
AS and MTD prepared and analyzed the data. AS, MTD, BNK and ED contributed in the design and the interpretation of findings, and in all phases of manuscript drafting. All authors read and approved the final manuscript.
Authors' information
AS is a Senior Researcher at Statistics Norway, focusing on inequalities in health, morbidity and mortality. She holds a PhD in community medicine. MTD is a Senior Advisor and responsible for immigration statistics at Statistics Norway. She holds detailed knowledge of the data sources used, including their strengths and weaknesses. BNK is a MD/PHD. She is a Researcher at the Norwegian Centre for Migration and Health (NAKMI), at the Norwegian Institute of Public Health (NIPH), and an Associate Professor at the Department of Global Health at the University of Oslo. ED is a MD/PhD with a specialization in Family Medicine. She is the Deputy Director of NAKMI, NIPH, and is an Associate Professor at the Department for Global Public Health and Primary Care at the University of Bergen.
Ethics approval and consent to participate
The data linkage and analyses have been conducted in accordance with the Norwegian 1989 Statistics Act, §3–1 c, conf. §§ 1–1 and 2–2, and has been approved by the Norwegian Board of Ethics. As only administrative data were used, the Norwegian Board of Ethics waived the need for informed consent. The research was carried out in compliance with the Helsinki Declaration.
Competing interests
The authors declare that they have no competing interests.
Publisher's Note
Springer Nature remains neutral with regard to jurisdictional claims in published maps and institutional affiliations.
Copyright information
© The Author(s). 2018
Open AccessThis article is distributed under the terms of the Creative Commons Attribution 4.0 International License (http://creativecommons.org/licenses/by/4.0/), which permits unrestricted use, distribution, and reproduction in any medium, provided you give appropriate credit to the original author(s) and the source, provide a link to the Creative Commons license, and indicate if changes were made. The Creative Commons Public Domain Dedication waiver (http://creativecommons.org/publicdomain/zero/1.0/) applies to the data made available in this article, unless otherwise stated.