FMLRC: Hybrid long read error correction using an FM-index
Part of the following topical collections:
Abstract
Background
Long read sequencing is changing the landscape of genomic research, especially de novo assembly. Despite the high error rate inherent to long read technologies, increased read lengths dramatically improve the continuity and accuracy of genome assemblies. However, the cost and throughput of these technologies limits their application to complex genomes. One solution is to decrease the cost and time to assemble novel genomes by leveraging "hybrid" assemblies that use long reads for scaffolding and short reads for accuracy.
Results
We describe a novel method leveraging a multi-string Burrows-Wheeler Transform with auxiliary FM-index to correct errors in long read sequences using a set of complementary short reads. We demonstrate that our method efficiently produces significantly more high quality corrected sequence than existing hybrid error-correction methods. We also show that our method produces more contiguous assemblies, in many cases, than existing state-of-the-art hybrid and long-read only de novo assembly methods.
Conclusion
Our method accurately corrects long read sequence data using complementary short reads. We demonstrate higher total throughput of corrected long reads and a corresponding increase in contiguity of the resulting de novo assemblies. Improved throughput and computational efficiency than existing methods will help better economically utilize emerging long read sequencing technologies.
Keywords
de novo assembly 
Hybrid error correction 
Long read 
Pacbio 
BWT 
FM-Index 
Abbreviations
BWT

Burrows-wheeler transform

ECET

Error correction evaluation toolkit

FMLRC

FM-index long read corrector, Pacbio: Pacific biosciences
Background
De novo genome assembly has benefitted dramatically from the introduction of so-called "long" read sequencing technologies. These technologies, such as SMRT sequencing by Pacific Biosciences (Pacbio) and nanopore sequencing platforms by Oxford Nanopore Technologies, produce reads typically 10s of kilobases instead of hundreds of bases. These reads can span repetitive or low-complexity regions of the genome previously unresolvable using only "short"-read next-generation sequencing. Unfortunately, the relatively high error rate of these long-read technologies introduces new informatics and analysis challenges. Effective and efficient methods are necessary to correct these errors in order to realize the potential of these long reads for whole genome assembly [1, 2, 3, 4].
As the size of long read datasets and genomes undergoing de novo assembly increases, the performance of hybrid long read correction and assembly methods becomes increasingly important. For genomes of more complex eukaryotes and mammals, the computational resources required for effective de novo assembly are staggering and difficult to coordinate. This is driven largely by the pairwise overlap step required by all modern long read assemblers. The time required to overlap these long reads with one another increases quadratically relative to the number of reads. While novel methods such as MHAP [5] and Minimap [6] aim to improve this, in practice, the computational time and memory required are often prohibitively expensive.
Pre-assembly correction dramatically simplifies the subsequent overlap and layout of long reads for assembly by reducing the variance that must be accounted for in the overlapping step. In particular, long reads having undergone error correction are likely to share much longer identical stretches that can be used to efficiently find confidently overlapping reads. Fundamentally, the longer and more accurate these corrections are, the more quickly and accurately the long reads can be assembled.
Long read correction algorithms can be broadly classified as either self-correction or hybrid correction algorithms. Self-correction algorithms correct long reads using only other long read sequences. Self-correcting algorithms, including Sprai [7], LoRMA [8], HGAP [1], and PBcR [3] align the long reads to each other and generate a consensus sequence. In order to generate an accurate consensus, these methods require relatively high coverage of long read sequence to overcome the high error rate. Unfortunately, the relatively high cost per accurate nucleotide for long-read sequencing technologies means that deep sequencing using only long reads is expensive.
In contrast, hybrid correction algorithms use short-read sequencing of the same sample to complement and correct the long reads. Short-read sequencing has fewer sequencing errors, costs less per base sequenced, and thus the cost per accurate nucleotide is much lower. Many hybrid error correction methods act similar to scaffolders in that they require the assembly of complementary short read data first, then alignment between long reads and short-read unitigs or contigs. These approaches, while reasonably effective, suffer from two classes of problems. First, they incur the same type of disadvantages a short-read only assemblies in that low-complexity and repetitive elements larger than the size of the short reads cannot be reliably resolved. When short reads are preassembled, this bias can "correct" long read with incorrect sequence, confounding assembly. Second, short read assembly followed by pairwise alignment/overlap of long reads with short-read contigs is often significantly slower than direct long-read error correction.
Hybrid correction algorithms include LoRDEC [4], ECTools [9], Jabba [10], CoLoRMap [11], and Nanocorr [12]. Other methods, including Cerulean [13], DBG2OLC [14], and hybridSPAdes [15] perform hybrid assembly of long- and short-read data but do not explicitly correct errors in the long-read sequences. These hybrid methods are often able to construct more accurate and contiguous assemblies than exclusively long-read assembly methods at substantially lower cost. ECTools [9] and Nanocorr [12] are based on the same underlying methodology, but designed for Pacbio and nanopore sequences, respectively. They perform a full alignment between short and long reads, but are currently deprecated and take prohibitively long to run for anything larger than microbial genomes, so they were not considered further.
For error correction or assembly methods to be useful for large, complex genomes that are biomedically or economically important, the key challenge is performing as accurate an assembly as possible, as quickly as possible, and using as few computational resources as possible. Current methods often require prohibitively large computational resources. Given that finding the appropriate parameters for an assembly is often an iterative process, these high computational costs are a barrier.
Methods
We introduce a new hybrid method for correcting errors in long-read sequences called FM-index Long Read Corrector (FMLRC). The main contribution of our method is the application of an FM-index built from a multi-string Burrows-Wheeler Transform (BWT) [16] of the short-read sequencing datasets. The FM-index enables arbitrary length k-mer searches through the dataset, allowing for FMLRC to retrieve k-mer frequencies from the short-read dataset in O(k) steps. Unlike other data structures, the length of k is not fixed during construction of the FM-index but is instead selected at run-time. As a result, FMLRC uses the FM-index to implicitly represent all de Bruijn graphs [17] of the short-read sequencing dataset. These de Bruijn graphs are then used to correct regions in the long reads that are not supported by the short-read sequencing dataset.
Two secondary contributions arise as a result of the first. FMLRC uses the single FM-index data structure to perform two correction passes over each read: first with a short
k
-mer and second with a longer
K
-mer. Secondly, the specific parameters of the correction algorithm are dynamically adjusted to match the
k
-mer frequencies for a given read at run-time. FMLRC takes as input a BWT of the short-read sequencing dataset. It constructs a single FM-index in memory that is shared across all processes. Each process individually corrects one read at a time by applying common de Bruijn graph correction methods (namely seed-and-extend or seed-and-bridge) using the shared FM-index. These de Bruijn correction methods require both a
k
-mer size and frequency thresholds to determine whether a
k
-mer is present in the graph. FMLRC dynamically adjusts these thresholds at run-time for each pass over a long read. A single process will correct the read using the implicit short
k
-mer de Bruijn graph and then the implicit long
K
-mer de Bruijn graph before writing the corrected result to disk. An overview of this approach is shown in Fig. 
1
.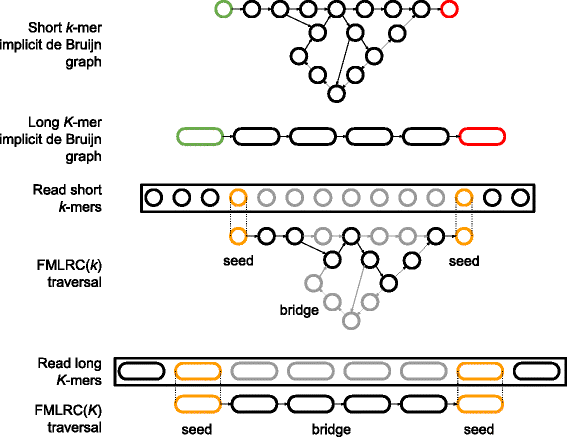 FMLRC is a publicly available C++ program1. The implementation requires construction of a BWT of the short-read dataset in the run-length encoded format of the msbwt package2.
Results
We evaluated the accuracy of our method using complementary long- and short-read datasets for three species: E. coli K12, S. cerevisiae W303, and A. thaliana Ler-0 (see "Availability of data and material" section). We compared the relative correction accuracy and computational performance of our method to several existing hybrid and long-read-only correction methods. We also assessed the effectiveness of our corrected reads for de novo assembly using a non-correcting assembler, Miniasm [6], and compared these data to several other state-of-the-art hybrid and long-read-only de novo assembly methods.
Correction accuracy
To evaluate FMLRC, we used the approach used by the Error Correction Evaluation Toolkit (ECET) [23] to calculate error correction sensitivity, specificity, and "gain" relative to a known reference genome (Sensitivity=TP/(TP+FN), Specificity=TN/(TN+FP), and gain=(TP−FP)/(TP+FN) where TP, TN, FP, and FN are true positives, true negatives, false positive, and false negative, respectively). We modified the published pipeline to work efficiently with long reads, but the statistics are computed in an similar manner. In particular, we aligned the original and corrected FASTA files to the corresponding reference genome for each organism using BLASR [22]. Using the original ECET implementation, which was designed for short-read sequences, specific loci in long reads could not be evaluated before and after error correction due to the high incidence of short insertions and deletions. Instead, we consider loci relative to the reference sequence to which each read aligned. A nucleotide is considered "correct" if it aligns properly to a single nucleotide in the read sequence. Loci in the reference sequence with mismatched or delected nucleotides in the read sequence are considered incorrect. Our evaluation code is available at https://github.com/txje/lrc_eval, including the computation of error correction statistics directly from BLASR's −m5 format alignments.
In addition to these statistics, we report the total aligned reads and properly aligned nucleotides. Again unlike short-read error correction, where every read is expected to align in full both before and after error correction, the number and span of long-read alignments may fluctuate and impacts the utility of a sequence dataset for downstream analysis. For example, error correction methods that agressively filter out low-quality sequences, such as Jabba [10], may report very high sensitivity and specificity, but do so by reporting and aligning only a subset of the input sequences.
In addition to evaluating FMLRC, we also evaluated the following hybrid correction methods using the same ECET pipeline: LoRDEC [4], Jabba [10], and CoLoRMap [11]. For completeness, we also included comparison to long-read-only methods: Canu [5], LoRMA [8], and Sprai [7]. For all tests, we ran LoRMA v0.4, LoRDEC v0.6 with options -k 21 -s 5, and Jabba with option -k 75 (as recommended in [10]). FMLRC was run with default parameters (-k 21 -K 59) for E. coli, S. cerevisiae, and A. thaliana. All other methods' parameters were left at their defaults.
Table 
2
shows accuracy metrics and resource usage for all compared methods. For
A. thaliana
and
S. cerevisiae
, FMLRC has the highest total corrected loci (true positives) and competitive gain and sensitivity. For
E. coli
, FMLRC corrects fewer loci than Jabba, but more total reads. As discussed above, methods with higher sensitivity and specificity - including LoRMA, Sprai, and Jabba - typically accomplish this by selectively reporting the highest-confidence corrected sequences. This kind of confidence filtering is possible after correction for most methods, but can negatively impact downstream assembly (see "
De novo assembly
" section).
Table 2
After aligning the corrected reads to a reference genome, sensitivity, specificity, and gain were computed
Method

Reads aligned

TP

FN

Sens.

Spec.

Gain

CPU (s)

Mem (GB)

E. coli K12

Canu

58982

657793

1571579

0.2951

0.9987

0.1482

17421

2.99

CoLoRMap

81485

5538038

35474190

0.1350

0.9998

0.1332

137777

23.06

FMLRC

81851

13562639

15069242

0.4737

0.9996

0.4689

11015

4.60

Jabba

75620

15553372

111609

0.9929

0.9999

0.9920

22922

63.87

LoRDEC

81138

3278911

36691424

0.0820

0.9998

0.0808

61305

2.08

LoRMA

81051

1135657

144161

0.8874

0.9999

0.8669

54240

45.72

Sprai

75532

463636

293039

0.6127

0.9999

0.5783

44302

33.53

S. cerevisiae W303

Canu

142765

1562542

5441239

0.2231

0.9992

0.1401

108175

3.33

CoLoRMap

210423

18901871

79065115

0.1929

0.9992

0.1857

2815200

45.49

FMLRC

211270

31849332

49204291

0.3929

0.9991

0.3829

68519

17.77

Jabba

223385

29893606

42670

0.9986

0.9999

0.9967

187968

367.92

LoRDEC

210151

8468872

96577493

0.0806

0.9997

0.0776

212495

3.56

LoRMA

204323

3063164

221583

0.9325

0.9999

0.9176

223358

49.52

Sprai

192670

2013269

3063751

0.3965

0.9996

0.3288

215261

49.52

A. thaliana Ler-0

Canu

574065

12002535

72017120

0.1429

0.9986

0.1030

1301971

10.92

CoLoRMap

1075381

170235345

2056204621

0.0765

0.9983

0.0737

6802359

106.08

FMLRC

1447042

442064624

1164804073

0.2751

0.993

0.2601

708910

16.26

Jabba

813495

320742341

2945173

0.9909

0.9968

0.9724

3641309

333.44

LoRDEC

1113617

78276025

2022520259

0.0373

0.9979

0.0337

1111800

3.42

LoRMA

903298

2217661

2778223

0.4439

0.9986

0.3715

17281259

70.28

Sprai

751684

18960255

30734331

0.3815

0.9996

0.3631

5996657

8.11
Performance
CPU and memory usage for each method are shown in Table 2. Performance tests were run on a homogenous cluster of 120 compute nodes, each with two Intel E2680 (2.5GHz) processors and 1Tb RAM. FMLRC requires less CPU time (including construction of the general-purpose BWT) than all other hybrid correction methods. On average, FMLRC's memory usage is among the most memory-efficient methods, including Canu and LoRDEC. The remaining hybrid error-correction methods, CoLoRMap, LoRMA, and Jabba, use significantly more memory and, especially in the case of Jabba (> 300GB) may prove prohibitive to run without significant computational infrastructure. Jabba, in particular, while producing comparable total true positives to FMLRC, required 2−5× as much CPU time and 15−20× as much memory.
De novo assembly
The ultimate goal of any long read correction algorithm is to provide better data for genomic analysis. We assessed the ability of our method to successfully complete assembly of simple and complex genomes and to compare its performance to other long-read error correction and
de novo
assembly methods. We assessed the methods listed in Table 
3
on the
E. coli
,
S. cerevisiae
, and
A. thaliana
datasets listed above. Our method, along with LoRDEC and Sprai, perform only read correction. We used Miniasm (
https://github.com/lh3/miniasm
r159 and Minimap
https://github.com/lh3/minimap
r124) to assemble the corrected reads from these methods. We used option −
Sw
5 for Minimap; all other parameters were left at their defaults. The straightforward approach to identity-based overlapping and graph layout used by Miniasm allows us to assess the effect of read correction on
de novo
assembly.
Table 3
Long-read and hybrid correction and assembly methods
| Method | Correction | Assembly | Preassembly | Citation |
| --- | --- | --- | --- | --- |
| Miniasm |   | Long-read |   | [6] |
| Canu | Long-read | Long-read |   | [5] |
| Sprai | Long-read |   |   | [7] |
| LoRMA | Long-read |   |   | [8] |
| hybridSPAdes |   | Hybrid |   | [15] |
| DBG2OLC |   | Hybrid | X | [14] |
| Cerulean |   | Hybrid | X | [13] |
| ECTools | Hybrid |   | X | [9] |
| LoRDEC | Hybrid |   |   | [4] |
| Jabba | Hybrid |   |   | [10] |
| CoLoRMap | Hybrid |   |   | [11] |
| Nanocorr | Hybrid |   |   | [12] |
| FMLRC | Hybrid |   |   | Our method |
All assemblies were run on a heterogeneous Linux-based cluster with more than 9600 cores and 48Gb-1Tb RAM per node. All jobs had a hard limit of 16 processes and 7 days wall-clock run time. For larger genomes such as A. thaliana, several methods, including hybridSPAdes and Cerulean, failed after exceeding these limits or exceeding 1Tb main memory. Canu is a modern fork of the Celera Assembler and consists of the basic PBcR correction method using the MHAP overlapper followed by assembly with HGAP. So we assess only the Canu pipeline as a whole.
Several of the methods took prohibitively long (> 1 week) or failed to assemble the
A. thaliana
genome. We analyzed completed assemblies using Quast v4.1 [
24
] with default parameters in Table 
4
. Percent error indicates the total of mismatched bases, insertions/deletions, and no-calls (Ns). As shown, FMLRC has comparable performance to other methods for
E. coli K12
. It also outperforms all methods except Canu in terms of N50 for
S. cerevisiae W303
. Although the continuity is often higher for Canu and other long-read consensus methods, these typically rely on high coverage of long reads and degrade in performance as coverage drops. These test datasets contain high (> 100×) coverage of both long and short reads. Furthermore, post-assembly polishing steps such as Quiver [
1
] and Nanopolish [
25
] are typically effective in reducing the assembly error from less than 1% to less than 0.01%.
Table 4
Long-read and hybrid correction assembly statistics
| Dataset | Method | # contigs | N50 | Genome fraction | Error rate |
| --- | --- | --- | --- | --- | --- |
| E. coli K12 | Canu + Miniasm | 1 | 4631922 | 99.832 | 0.00444 |
| Genome: 5Mb | CoLoRMap + Miniasm | 1 | 4723063 | 84.485 | 0.02322 |
| Pacbio: 450Mb | FMLRC + Miniasm | 1 | 4646838 | 99.757 | 0.00029 |
| Illumina: 3.4Gb | Jabba + Miniasm | 76 | 72751 | 92.923 | 0.00005 |
|   | LoRDEC + Miniasm | 1 | 4688727 | 97.504 | 0.00321 |
|   | LoRMA + Miniasm | 107 | 64214 | 89.871 | 0.00099 |
|   | Sprai + Miniasm | 1 | 4639974 | 99.989 | 0.00092 |
|   | Miniasm | 1 | 4783415 | 0.002 | 0.01333 |
|   | Canu | 2 | 4656585 | 99.998 | 0.00012 |
|   | hybridSPAdes | 2 | 4469733 | 99.967 | 0.0001078 |
|   | DBG2OLC | 2 | 4585967 | 98.210 | 0.00225 |
|   | Cerulean | 16 | 1258842 | 98.959 | 0.09500 |
| S. cerevisiae W303 | Canu + Miniasm | 36 | 729798 | 89.739 | 0.00521 |
| Genome: 12Mb | CoLoRMap + Miniasm | 23 | 766539 | 83.464 | 0.00761 |
| Pacbio: 1.3Gb | FMLRC + Miniasm | 32 | 771324 | 87.717 | 0.00175 |
| Illumina: 18Gb | Jabba + Miniasm | 186 | 62337 | 72.239 | 0.00008 |
|   | LoRDEC + Miniasm | 61 | 597849 | 85.563 | 0.00941 |
|   | LoRMA + Miniasm | 292 | 49850 | 74.632 | 0.00103 |
|   | Sprai + Miniasm | 39 | 561985 | 88.697 | 0.00193 |
|   | Miniasm | 29 | 566484 | 0.009 | 0.03738 |
|   | Canu | 26 | 777664 | 90.955 | 0.00068 |
|   | hybridSPAdes | 229 | 568823 | 87.303 | 0.00899 |
|   | DBG2OLC | 32 | 530806 | 0.067 | 0.03407 |
|   | Cerulean | 78 | 466556 |   | 0.03687 |
| A. thaliana Ler-0 | Canu + Miniasm | 2100 | 74153 | 81.844 | 0.01410 |
| Genome: 120Mb | CoLoRMap + Miniasm | 963 | 404022 | 60.225 | 0.01853 |
| Pacbio: 11Gb | FMLRC + Miniasm | 1923 | 57751 | 67.275 | 0.00401 |
| Illumina: 13Gb | Jabba + Miniasm | 1632 | 57307 | 62.796 | 0.00041 |
|   | LoRDEC + Miniasm | 2232 | 30229 | 43.088 | 0.01107 |
|   | LoRMA + Miniasm | 34 | 26316 | 0.361 | 0.00448 |
|   | Sprai + Miniasm | 1475 | 169744 | 91.070 | 0.00824 |
|   | Miniasm | 740 | 615512 | 0.003 | 0.03409 |
|   | Canu | 419 | 835253 | 96.123 | 0.00760 |
|   | DBG2OLC | 440 | 754404 | 87.477 | 0.00388 |
Discussion
Correction of errors in long read sequences using complementary short reads remains a popular method for increasing the utility of long read sequence, particularly since long read sequencing remains prohibitively expensive relative to standard NGS in many cases. While several methods exist for hybrid error correction and assembly [4, 9, 10, 11, 12, 13, 14, 15], these approaches sometimes limit the utility of corrected sequences for downstream assembly or other applications due to low throughput - they report only segments where very high accuracy can be achieved or clip and trim low confidence sequences. These produce very polished (accuracy in excess of 99%) sequence, but reduce the total number and size of sequences available for assembly. In practice, a balanced approach is necessary to retain the long-range information while increasing sequence accuracy to aid in pairwise overlapping of reads.
Our proposed method does not perform any clipping or trimming of long read sequences, but corrects errors using high-accuracy short read sequences, enabling more sensitive and specific overlap of reads during de novo assembly. While no method produces obviously better results across all assembly metrics, FMLRC exhibits high accuracy correction while maintaining high assembly contiguity for a range of genome sizes. Practically, our method is also computationally efficient whereas competitive methods such as Jabba take prohibitive computational resources for even moderately sized data sets.
Conclusion
Flexible "modular" approaches to de novo long read sequence assembly are becoming more popular with the introduction of efficient overlap and layout methods such as DALIGNER (https://github.com/thegenemyers/DALIGNER), MHAP [5], Minimap [6], and Miniasm [6]. Existing error correction methods including DBG2OLC [14], Cerulean [13], and hybridSPAdes [15] require preassembly of short read sequence and perform a variant of scaffolding using long read sequences. While this approach benefits from the high accuracy of short read sequence, it retains the biases inherent in assembly of short read sequences. In particular, it is often difficult or impossible to properly assemble low-complexity or repetitive sequences using only short reads [26].
To overcome these limitations, we developed FMLRC, a long read correction method that uses a multi-string BWT and FM-index to represent all de Bruijn graphs of a short read dataset. The method uses two passes to perform the correction: one with a relatively short k-mer and one with a longer K-mer. In each pass, unsupported sequences are identified in the long reads and the implicit de Bruijn graph identifies alternate, supported sequences from the short reads. These alternate sequences are then used to correct the original read.
We showed that FMLRC reliably corrects more loci than other methods while maintaining competitive gains, sensitivity, and specificity. Furthermore, FMLRC is more computationally efficient than any of the other hybrid error-correction methods evaluated. We further showed that using FMLRC as a preassembly error correction step in conjunction with existing overlap-layout assembly methods produces highly contiguous assemblies with competitive accuracy relative to existing hybrid and non-hybrid assembly methods.
Future work will include a specific cost-benefit analysis of the quantity of long- and short-read data required to effectively assemble genomes based on their size and repetitive structure. While previous work has been done in this area, FMLRC, as a more efficient method for hybrid correction of long reads, is expected to allow more effective de novo assembly with less long read data than previously possible. Future improvement and optimization of the FM-Index structure and bridging strategy could produce further speed and accuracy improvements over existing methods. In addition to a BWT with FM-index, it will be worth exploring the performance of other data structures, including novel variants of a de Bruijn graph that support multiple values of k [27, 28]. Our method is applicable to both Pacbio SMRT sequencing and nanopore sequencing datasets, however further parameter optimization may improve its accuracy and efficiency for nanopore sequences, which exhibit a slightly different error profile than Pacbio. In the long term, better integration of FMLRC error correction along with other tools for overlapping, layout, and consensus of long read sequencing data will help realize the goal of a fully modular and efficient de novo assembly process.
Notes
Acknowledgements
Computational resources were supported by UNC Research Computing (Killdevil and Longleaf clusters).
Funding
This work was supported in part by funding from the National Science Foundation (C.D.J., DEB-1457707), North Carolina Biotechnology Center (C.D.J., 2013-MRG-1110), University Cancer Research Fund (C.D.J.), Center for Genome Dynamics (L. M., NIGMS P50 GM076468), and Gastroenterology Basic Science Research Training Program (J.R.W., NIH/NIDDK T32DK007737-17S1).
Authors' contributions
JRW and CDJ conceived the study. JRW and JH designed the method, performed analyses, and wrote the manuscript. JH implemented the software. All authors read and approved the final manuscript.
Ethics approval and consent to participate
Not applicable.
Consent for publication
Not applicable.
Competing interests
All authors declare that they have no competing interests.
Publisher's Note
Springer Nature remains neutral with regard to jurisdictional claims in published maps and institutional affiliations.
Copyright information
© The Author(s) 2018
Open Access This article is distributed under the terms of the Creative Commons Attribution 4.0 International License (http://creativecommons.org/licenses/by/4.0/), which permits unrestricted use, distribution, and reproduction in any medium, provided you give appropriate credit to the original author(s) and the source, provide a link to the Creative Commons license, and indicate if changes were made. The Creative Commons Public Domain Dedication waiver(http://creativecommons.org/publicdomain/zero/1.0/) applies to the data made available in this article, unless otherwise stated.