Capturing the dynamic epigenome
Abstract
Traditional methods for epigenomic analysis provide a static picture of chromatin, which is actually a highly dynamic assemblage. Recent approaches have allowed direct measurements of chromatin dynamics, providing deeper insights into processes such as transcription, DNA replication and epigenetic inheritance.
Keywords
Histone Modification 
Fluorescence Recovery After Photobleaching 
Nucleosome Position 
Origin Recognition Complex 
Chromatin Protein 
These keywords were added by machine and not by the authors. This process is experimental and the keywords may be updated as the learning algorithm improves.
Chromatin and epigenetic control
A eukaryotic genome can produce many cell types with widely different morphologies and functions. Given that the diverse cell types of a multicellular organism all contain the same DNA, there must be information in addition to the DNA sequence itself that controls which genes are expressed in a particular cell type. This extra layer of information was termed 'epigenetic control' by Nanney in 1958 [1]. Epigenetic control in eukaryotes occurs in the context of nucleosome particles, which can occlude or allow access to DNA by the proteins that bind specific sequences and precisely regulate active processes, including transcription and replication. Understanding the molecular basis for epigenetic control is a central goal of chromatin research.
The eukaryotic genome is tightly wrapped by histones to form nucleosomes, which must be densely packed to fit within the confines of the nucleus, overall up to approximately 1 million-fold compaction of DNA relative to an extended double helix. Despite these tight constraints, nucleosomes must be able to allow the DNA sequences to be accessible to DNA-binding proteins and to the action of 'molecular machines' such as DNA and RNA polymerases, ATP-dependent nucleosome remodelers and topoisomerases. Nuclear organization involves multiple levels of chromatin packaging, including compartments, territories and self-organizing nuclear bodies, which might appear to be static at a gross cytological level, but which must be sufficiently dynamic to allow for access of regulatory factors to the DNA (Figure
1
). Although the precise nature of chromatin beyond the level of single nucleosomes is unclear [
2
], some principles are beginning to emerge, such as the fractal globule large-scale organization of chromosomes, which allows them to decondense and recondense without becoming entangled [
3
].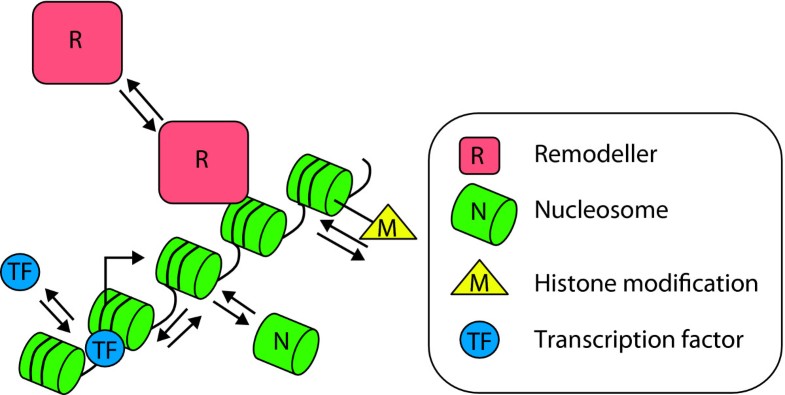 Nucleosome particles consist of around 150 bp of DNA wrapped around an octameric histone core containing two copies of each of the four core histone proteins (H2A, H2B, H3 and H4) [4, 5]. The properties of a nucleosome can be altered in various ways, including replacement of standard histones with specialized variant types, post-translational modification of histones, movement of the particle relative to the underlying DNA sequence, and partial or complete removal of histones from the DNA. The regulation of chromatin structure to expose or occlude a particular DNA segment is controlled by the dynamic interplay between sequence-specific DNA-binding proteins, histone variants, histone-modifying enzymes, chromatin-associated proteins, histone chaperones and ATP-dependent nucleosome remodelers [6]. Collectively, these factors provide instructions that direct the transcriptional output of the genome, but exactly how this information is imparted and transmitted through cell division is unclear. Approaches to understanding chromatin-based regulation have included the identification of factors involved and mapping of chromatin proteins and histone modifications across the genome [6, 7, 8]. These approaches have taught us much about the control of transcription in particular and have provided a conceptual framework for further research. However, these methods give only a static snapshot of chromatin, whereas chromatin is actually a dynamic assemblage in which proteins are constantly associating and dissociating [9]. Therefore, understanding chromatin-based regulation has required the development and application of techniques that can capture these dynamic processes. This review will focus on epigenome dynamics at the level of the nucleosome and will explore how emerging technologies that allow time-dependent measurements are yielding deeper insights into the regulation of various genomic processes and the inheritance of gene-expression states.
Defining the epigenome through chromatin-mapping studies
Much of our understanding of the epigenome and its influence on regulating gene expression has come from genome-wide analyses of steady-state chromatin composition combined with genetic and biochemical studies that enable functional interpretation of these maps. To elucidate the primary structure of chromatin, many groups have sought to identify the locations of all nucleosomes across the genome and to understand the factors that dictate their locations. A popular mapping approach is to digest chromatin with micrococcal nuclease, which preferentially cleaves the DNA between nucleosomes, and then to infer nucleosome positions by analyzing the pool of sequences protected by nucleosomes [10]. These studies have collectively shown that certain fundamental rules of nucleosome positioning are common to many eukaryotes. The Saccharomyces cerevisiae genome has a large number of well-positioned nucleosomes covering approximately 80% of the genome, whereas metazoan and plant genomes have a smaller percentage of well-positioned nucleosomes [11, 12, 13, 14, 15, 16]. However, all genomes examined show a characteristic distribution of nucleosomes around genes. There are often two well-positioned nucleosomes that flank the transcription start site (TSS) with a nucleosome-depleted region (NDR) in between [17]. Nucleosomes at the 5' ends of transcribed regions tend to be more precisely localized than those further downstream, and there is often another NDR at the 3' end [14, 18]. The overall landscape of nucleosome locations and relative occupancy at a point in time seems to be dictated in part by intrinsic DNA sequence preferences of the nucleosomes themselves, and also by the action of nucleosome-remodeling complexes and competition between nucleosomes and sequence-specific DNA-binding proteins such as transcription factors [19, 20, 21].
Chromatin is further differentiated by variations in the characteristics and composition of nucleosomes. Biochemical studies of histones have shown that they are heavily modified post-translationally through the addition of acetyl, methyl, phosphoryl and ADP-ribose groups, as well as peptides such as ubiquitin and SUMO. Mapping of these modified histones has revealed distinct patterns of localization across the genome, and this has led to insights into genomic processes, including transcription as well as DNA replication and repair. It has emerged that certain histone modifications tend to co-occur, and each 'mark' can be broadly categorized as being associated with either actively transcribed genes, silenced genes or transposons [6, 7, 8]. Within these categories there are modifications, such as acetylation, that alter the physical properties of nucleosomes directly, and others such as methylation that can create binding sites for other proteins that have specific effects on chromatin-based processes. In terms of function, acetylation of the nucleosomes around TSSs seems to be required to support transcription, presumably by loosening the interaction between histones and DNA, while conversely, the deacetylation of nucleosomes throughout the body of the gene appears to repress spurious antisense transcription by increasing histone association with the DNA [22, 23]. Chromatin modifications that are bound by specific effector proteins can either be involved in the repression of transcription, by mechanisms such as compaction of nucleosome arrays [24, 25], or they can support transcription, by recruiting chromatin-remodeling complexes, modifying enzymes or other complexes involved in elongation or splicing [26, 27]. Thus, histone modifications can affect access to DNA directly or indirectly, and also serve as a platform for the coordination of successive processes such as transcription and splicing [27].
Nucleosomes are also differentiated by the substitution of canonical histones with the universal variants H2A.Z and H3.3 [28]. These variants are replication-independent in their assembly, and so must be inserted by disruption of existing nucleosomes. H2A.Z is inserted by the Swr1 ATP-dependent nucleosome-remodeling complex into nucleosome cores by partial unwrapping and replacement of an H2A/H2B dimer with an H2A.Z/H2B dimer. To insert H3.3 into the central (H3/H4)2 tetramer, a nucleosome must be completely unwrapped, a process that amounts to dynamic eviction of the histone core and replacement with two dimeric units of H3.3/H4 [29]. H3.3 replacement requires a histone chaperone, such as HirA or DAXX, and various ATP-dependent nucleosome-remodeling complexes, including Chd1 and Atrx [30, 31, 32]. H2A.Z and H3.3 show partially overlapping distributions: H2A.Z is often enriched at the -1 nucleosome position relative to the TSS and in gene-body nucleosomes near the 5' end [33], whereas H3.3 is low in promoter nucleosomes and is enriched in essentially all gene-body nucleosomes, with its occupancy positively correlated with the level of transcription [34]. Nucleosomes containing H2A.Z but not H3.3 are relatively stable, whereas those that contain both variants may be prone to disassembly in vivo [35] (although not in vitro [36]). Unstable double-variant nucleosomes are found at TSSs and so may regulate exposure of promoter DNA [37]. Thus, both the replication-independent replacement of canonical histones with histone variants, and the altered properties of double-variant nucleosomes that sometimes result, indicate that the nucleosomes that package genes are inherently dynamic. The emerging picture of the epigenome is one in which the composition of chromatin in terms of histone modifications, variants and chromatin-associated proteins dictates the intrinsic stability of nucleosomes as well as their propensity to be disrupted or moved by chromatin-remodeling enzymes and the transcription machinery. In this way, access to the underlying DNA is regulated [38].
Measuring epigenome dynamics
Given the evidence that many regions of chromatin are in a state of flux, various approaches have been developed to measure chromatin dynamics directly by using tools such as microscopy, mass spectrometry (MS), immunoprecipitation of inducible tagged proteins, and metabolic labeling of newly synthesized proteins (Table
1
). The application of these methods has led to unexpected new insights into the regulation of various genomic processes such as transcription, DNA replication and the inheritance of patterns of gene expression.
Table 1
Comparison of methods for measuring chromatin dynamics
Method

Utility

Benefits

Drawbacks

Fluorescence recovery after photobleaching (FRAP)

Measurement of chromatin protein binding kinetics

1. Can be used for nucleosomes as well as other chromatin binding proteins

2. Allows observation of protein location within the nucleus

1. Cannot determine the specific genomic sites that are bound

2. Requires an epitope-tagged protein that may not behave exactly like the native form

MS-based kinetic methods

Measurements of histone modification kinetics

Can be used for nucleosomes as well as other chromatin-binding proteins

Cannot determine the kinetics at specific genomic sites

Inducible transgene-based methods

Measurement of nucleosome turnover kinetics as well as binding of other chromatin proteins

Can be used for nucleosomes as well as other chromatin-binding proteins

1. Requires an epitope-tagged protein

2. Time lag during induction limits time resolution

Recombination-induced tag exchange (RITE)

Measurement of nucleosome turnover kinetics as well as binding of other chromatin proteins

Can be used for nucleosomes as well as other chromatin-binding proteins

1. Requires an epitope-tagged protein that may not behave exactly like the native form

2. Time lag during recombination limits time resolution

Covalent attachment of tags to capture histones and identify turnover (CATCH-IT)

Measurement of nucleosome turnover kinetics

1. No transgenes or antibodies are required

2. Excellent time resolution

3. Can be used on many different cell types

Only (H3/H4)2 tetramer incorporation kinetics can be measured easily
Inheritance of chromatin states
A point of contention in the field of epigenetics is the basis of the inheritance of a chromatin state through cell division. One view is that histone modifications are informational, by virtue of a 'histone code' analogous with the genetic code [57]. However, it is now clear that nucleosomes are reconstituted from newly synthesized histones many times during a cell cycle, essentially erasing histone modifications and making it unlikely that the modifications themselves are capable of transmitting information [52]. An alternative hypothesis is that histone modifications and secondary effector proteins that recognize them collectively modulate the intrinsic stability of a given nucleosome as well as its propensity to be remodeled. These characteristics in turn determine how likely a nucleosome is to be disassembled or to change position, and thereby expose the underlying DNA to sequence-specific regulators that control genome output. Rather than constituting an informational code, histone modifications, variants, nucleosome remodelers and other chromatin-associated proteins could be considered as components of a dynamic system that regulates nucleosome turnover and, consequently, DNA exposure to sequence-specific regulators.
The perpetuation of gene-expression states during the cell cycle and through cell divisions may be based on a competition between the binding of sequence-specific regulators and the reassembly of nucleosomes onto a particular DNA segment [58]. For example, an active gene-expression state could be initiated and maintained by binding of an activator that brings along factors that promote nucleosome turnover to favor further activator binding. The active state could then be transmitted through cell division by a process based on the perpetuation of nucleosome turnover, which in some instances would be driven by the continued binding of activators, such as general transcription factors, through mitosis [59]. The silent state would then be inherited by default via silencing complexes that reduce nucleosome turnover through chromatin compaction [24], thereby reducing access of activators to DNA. Thus, nucleosome turnover would simply govern the level of exposure of a gene regulatory site and thereby determine whether the gene will remain active or silent during development [60].
Prospects for the future
New approaches to studying chromatin dynamics have made it clear that chromatin and its associated proteins are in a constant state of flux and are not as stable as once thought. Thus, chromatin dynamics need to be taken into account when interpreting ChIP and other static measures of the epigenome. The combination of static and dynamic mapping of chromatin features along with mechanistic studies has the potential to provide a deep understanding of the epigenome.
Although we are only beginning to understand the mechanisms that maintain the epigenome, it has become clear that chromatin dynamics play a central role in the regulation of genome function. We look forward to the development of new methods for measuring dynamics at each structural level of chromatin from the primary fiber to secondary folding and on to the three-dimensional arrangement of the genome in the nucleus. Continuing technological progress is needed to generate a mechanistic description of the relationship between chromatin dynamics and transcriptional regulation, as well as other genomic processes such as DNA replication, repair, and recombination. This will bring us closer to the holy grail of understanding how the epigenome programs the genome to give the specific patterns of gene expression that define a given cell type and how it allows the stable perpetuation of phenotype.
Notes
Acknowledgements
We thank Melissa Conerly and Paul Talbert for helpful suggestions on improving the manuscript. This work was supported by NIH grant 1R21DA025758 to SH, NIH Postdoctoral Fellowship 1F32GM083449 to RBD, and the Howard Hughes Medical Institute.
Copyright information
© BioMed Central Ltd 2010