Serum S100 as a marker of cerebral injury in acute liver failure (ALF) and during orthotopic liver transplantation (OLT)
Keywords
Public Health 
Blood Sample 
Liver Transplantation 
Emergency Medicine 
Liver Failure 
These keywords were added by machine and not by the authors. This process is experimental and the keywords may be updated as the learning algorithm improves.
Methods
After IRB approval blood samples were taken in 10 patients age 20-51 years with ALF. Blood was taken before OLT (A), during the anhepatic phase (B), 30 min after reperfusion (C), and on days 1 (D) and 4 (E) post-OLT. The blood was centrifuged and serum stored at -70°C. S100 was analysed using an immunoluminometric assay.
Results
Serum S100 (X ± SEM) was elevated prior to OLT (normal < 0.12 µg/l). By day 4 post-OLT S100 had fallen in all patients except one. This patient subsequently died.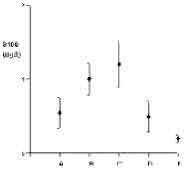 Conclusion
Serum S100 is elevated in ALF and encephalopathy. We observed a rise in S100 during OLT in these patients. The role of S100 as a marker of neuronal injury in ALF and OLT warrants further investigation.
Copyright information
© Current Science Ltd 1999