Clinical review: Use of helium-oxygen in critically ill patients
Abstract
Use of helium-oxygen (He/O2) mixtures in critically ill patients is supported by a reliable and well understood theoretical rationale and by numerous experimental observations. Breathing He/O2 can benefit critically ill patients with severe respiratory compromise mainly by reducing airway resistance in obstructive syndromes such as acute asthma and decompensated chronic obstructive pulmonary disease. However, the benefit from He/O2 in terms of respiratory mechanics diminishes rapidly with increasing oxygen concentration in the gaseous mixture. Safe use of He/O2 in the intensive care unit requires specific equipment and supervision by adequately experienced personnel. The available clinical data on inhaled He/O2 mixtures are insufficient to prove that this therapy has benefit with respect to outcome variables. For these reasons, He/O2 is not currently a standard of care in critically ill patients with acute obstructive syndromes, apart from in some, well defined situations. Its role in critically ill patients must be more precisely defined if we are to identify those patients who could benefit from this therapeutic approach.
Keywords
Chronic Obstructive Pulmonary Disease 
Chronic Obstructive Pulmonary Disease Patient 
Acute Respiratory Failure 
Noninvasive Positive Pressure Ventilation 
Status Asthmaticus 
These keywords were added by machine and not by the authors. This process is experimental and the keywords may be updated as the learning algorithm improves.
Abbreviations
COPD

chronic obstructive pulmonary disease

FEV1

forced expiratory volume in 1 s

He/O2

helium-oxygen

ICU

intensive care unit

NIPPV

noninvasive positive pressure ventilation

PEEPi

intrinsic positive end-expiratory pressure

WOB

work of breathing.
Introduction
Use of helium-oxygen (He/O2) mixtures in clinical practice is not a new concept. Before the advent of bronchodilatators, Barach [1, 2], in the early 1930s, advocated use of helium because of its respiratory benefits, particularly with respect to obstructive syndromes. Following a brief primer of the basic theory supporting use of He/O2 mixtures, this short review details its potential indications in critically ill patients, technical aspects, and costs associated with its administration.
Theoretical considerations
Helium is an odourless, colourless and biologically inert gas. Clinically, it is only its physical properties that are interesting and may be exploited. Helium is less dense but more viscous than air, oxygen, or nitrogen. Helium also has a high thermal conductivity [
3
,
4
]. Its physical properties relative to those of air, nitrogen and oxygen are summarized in the Table
1
.
Table 1
Physical properties of helium, nitrogen, oxygen and air at 20°c and 765 mmHg atmospheric pressure
|   | Density (ρ; g/l) | Viscosity (μ; micropoises) | Thermal conductivity (K; μcal/s/°K) |
| --- | --- | --- | --- |
| Helium | 0.1785 | 188.7 | 352 |
| Oxygen | 1.251 | 167.4 | 58 |
| Nitrogen | 1.429 | 192.6 | 58.5 |
| Air | 1.293 | 170.8 | 58 |
The physical properties of a gaseous mixture containing helium depend on the concentration of helium in the mixture. Because the density of helium is almost an order of magnitude less than that of oxygen or nitrogen, He/O
2
mixtures are always less dense than nitrogen-oxygen mixtures (Figure
1
). He/O
2
mixtures are also more viscous than nitrogen-oxygen mixtures, but this effect is less pronounced than that for density. Similar observations can be made with respect to thermal conductivity.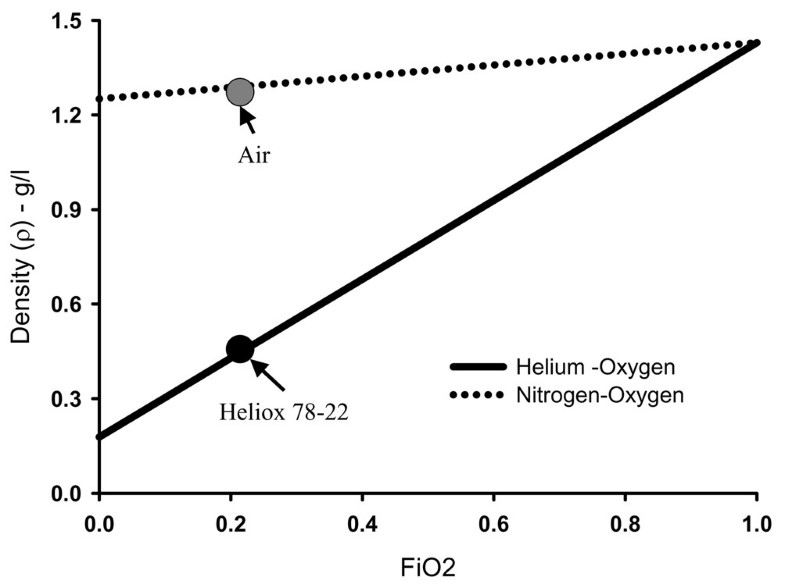 Consonant with the physical properties of helium, inhaling He/O2 will influence respiratory mechanics by altering gas convection in the airways. Gas enters the alveoli because of modification to the transpulmonary pressure gradient, which permits gas convection in the airways and renews the alveolar gas. Gas convection is highly dependent on airway resistances. The resistances of the airways mainly result from their anatomical configuration (diameter, number of connections and length), the physical properties of the inhaled gas and the flow rate. Human airways can be compared with pipes in which several types of flow patterns can be distinguished: laminar, turbulent and rough [3, 4, 5]. The crossing from one flow type to another is not instantaneous but rather occurs progressively. The flow that occurs between two flow types is referred to as 'transitional' [3, 4]. The flow type can be predicted based on the Reynolds number (R) [3]. This number, without physical dimension, corresponds to the ratio of the inertial forces to the viscous forces, and it is caculated as follows:
Where V is flow (ml/s), ρ is the gas density (g/l), r is the pipe radius (cm), and μ the gas viscosity (micropoises). A Reynolds number under about 2000 suggests a laminar type of flow, and a Reynolds number above 4000 suggests turbulent flow. Under physiological conditions the flow type in the upper airways is not laminar but is at best transitional and may even be turbulent. As the gas approaches the alveoli the flow becomes increasingly laminar because of the decreased gas flow.
The pressure necessary to generate a gas flow in pipes depends on the flow rate and on the flow type. If the flow type is laminar, then the relationship between pressure and flow may be defined as follows:
This is the classic Hagen-Poiseuille law. It shows that the pressure necessary to generate a given gas flow is proportional to the flow (V), the length of the pipe (l) and the gas viscosity (μ), and is inversely proportional to the radius (r) of the pipe to the power of four. Note that the loss of charge is proportional to the viscosity but not the gas density in the case of a laminar type flow [3, 4]. The term 8lμ/πr4 represents the resistance to gas flow for a laminar-type flow. In case of transitional or turbulent flow, the flow resistance becomes dependent on the density of the gas (ρ) [3, 4], as indicated by the following general equation developed by Wood and coworkers [6], which describes the pressure-flow relationship throughout the airway system:
ΔP = Kμ2-aρa-1
In this equation, K is a constant and the value of a varies between 1 and 2 as Reynold's number increases from very low to very high values. This equation allows for continuous modifications to flow type along the tracheobronchial tree [6]. Based on these equations, breathing He/O2 decreases the Reynolds number and favours laminar-type flow. Laminar flow is associated with lower resistance. In the case of turbulent-type flow, the use of He/O2 reduces resistance to flow.
In the clinic, breathing He/O2 can decrease the pulmonary resistance during inspiration and expiration. This decrease reduces the respiratory resistive work of breathing (WOB) and the energy cost of ventilation. Indications thus far identified for use of He/O2 mixtures are obstructive syndromes. Finally, He/O2 mixtures improve gaseous convection [4] in the case of obstructive syndromes, and so they can be used to improve aerosol delivery.
Cost and technical problems with the use of helium-oxygen mixtures
Equipment and costs
He/O2 is provided in tanks of various sizes. Tanks containing 50 l are most frequently used. They contain 78% helium and 22% oxygen, and are pressurized at approximately 200 bars. Some manufacturers provide a mixture that includes less helium (70% helium and 30% oxygen). The 50 l tank (78% helium/22% oxygen) costs approximately 200 euros. Air regulators can be screwed onto the tank and then connected to the ventilator or flow meter using the appropriate connectors. However, He/O2 regulators and flow meters are commercially available and should be used when possible. It is difficult to estimate the daily consumption of a patient because of heterogeneity in the conditions of use (spontaneous or mechanical ventilation), ventilator settings (in the setting of mechanical ventilation) and duration of use. In our experience in the setting of continuous use, daily consumption and cost vary between one and three tanks and from 200 to 600 euros, respectively. Based on the only available study in which a cost evaluation was done, that conducted by Jolliet and coworkers [32], the daily cost of He/O2 use amounted to US$69 ± 46 in the setting of discontinuous use during NIPPV. In that study, because of the reduced length of stay of decompensated COPD patients in the ICU with He/O2 use, total hospitalization costs were reduced by US$3348 per patient with He/O2. However, the findings of that study reflect the practice of short discontinuous trials of NIPPV, as were used in the participating centres, and so more prolonged use of He/O2 will incur greater costs.
Technical problems with mechanical ventilators
Only gaseous He/O2 with fractional inspired oxygen similar to that in air may be used clinically; this avoids any risk that a gas without sufficient oxygen will be administered. The physical properties of helium can interfere with mechanical ventilator functions such as gas mixing, inspiratory and expiratory valve accuracy, flow measurement, volume delivery, triggering and automatic leakage compensation. This has been evaluated in several reports of ventilator functioning with He/O2 in the ICU [55, 56, 57, 58].
The ventilator currently marketed that permits safe use of He/O2 for both invasive and noninvasive ventilation is the Avea™ ventilator (VIASYS Health Care, Conshohocken, Pennsylvania, USA). This ventilator can deliver He/O2 appropriately by changing a connector on the back panel. All volumes are automatically compensated with He/O2. Perino and coworkers [59] evaluated this ventilator in different modes in a lung model. They concluded that volume delivery is clinically acceptable with this ventilator. Ventilators designed specifically for NIPPV such as BiPAPVision™ Respironics, Pitsburgh, Pennsylvania, USA) are not accurate with He/O2 [60]. GE Healthcare recently developed the Aptaér™ heliox delivery system (GE Healthcare, Madison, Wisconsin, USA). The sole ventilatory mode available on this ventilator is the pressure support mode. It incorporates the Aeroneb™ Professional Nebulizer System (Aerogen Pro, Nektar Therapeutics, Moutain View, California, USA). The Aeroneb™ Professional Nebulizer System is an aerosol generator that creates a fine droplet, low velocity aerosol of specific particle size, with very low residual volume. Operation of the aerosol generator is independent of gas density or flow rate [61]. Little has been published on the performance of this device.
Finally, helium have a high thermal conductivity (352 μcal/cm/s/°K). This physical property explains why helium affects the hotwire flow sensors used in some ventilators. Humidification and warming of helium may cause problems, particularly during mechanical ventilation. To our knowledge there are no studies addressing this problem in the literature. The ideal technique for conditioning He/O2 (heated humidifier or heat-moisture exchanger) is not known. We use a heated humidifier. Less heat is lost during breathing because the thermal capacity of He/O2 is less than that of the same volume of air. If He/O2 is administered via a face mask, then the face may feel cool [62].
Hypothermia has been associated with hood administration of He/O2 to infants with bronchiolitis. Heat loss occurs if the body is surrounded by He/O2 rather than by air because heat conductance is the major factor in loss of heat from the skin [62].
Safe use of He/O2 requires specific equipment and investment. He/O2 is expensive and He/O2 tanks are relatively cumbersome for use out of a hospital. Because of the lack of high level evidence for use of He/O2 in clinical practice, many intensive care physicians do not wish to invest in the equipment necessary to use He/O2 except in certain centres for research purposes.
Conclusion
Reliable physical and physiological theories support the assertion that helium can improve ventilatory function, essentially by reducing the resistance of the airways, which is considered the main physiopathological element of obstructive syndromes. However, the level of evidence does not permit a formal recommendation to be made regarding the use of He/O2 in the ICU. Numerous questions remain unanswered concerning the use of He/O2 and must be addressed. For instance, which patients may benefit from He/O2 use, in the setting of COPD or asthma? Is He/O2 useful in combination with noninvasive mechanical ventilation or with aerosol delivery? What is the role of He/O2 in mechanically ventilated patients? Finally, what is the best delivery system for He/O2?
Until these questions are answered, the specific role for He/O2 as a therapeutic tool in the ICU remains to be defined.
Copyright information
© BioMed Central Ltd 2006