Early calorie-dense immune nutrition in haemodynamically compromised cardiac patients
Open Access
Poster presentation
Keywords
Transferrin 
Enteral Nutrition 
Acute Heart Failure 
Cardiac Patient 
Indirect Calorimetry 
These keywords were added by machine and not by the authors. This process is experimental and the keywords may be updated as the learning algorithm improves.
Introduction
The aims of present study were to test the hypothesis that early enteral nutrition (EN) with calorie-dense food supplemented with glutamine improves recovery of nutritional status in critically ill cardiac patients and to evaluate their resting energy expenditure (REE).
Methods
A prospective randomised study of 40 adult cardiac patients undergoing elective cardiopulmonary bypass surgery no more than 24 hours before eligibility assessment, complicated with acute heart failure syndrome. Patients were randomised to receive either standard isocaloric isonitrogenic early EN (standard group, n = 20) or immunomodulating early EN (immune group, n = 20). The daily energy target was set using REE measured by indirect calorimetry (CCM Express; Medgraphics, St. Paul, MN, USA). Serum prealbumin, transferrin, C-reactive protein, blood lactate and clinical characteristics were analysed.
Results
The actual REE was an average of 6.8 and 7.5 kcal/kg/day higher than the REE calculated using the Harris-Benedict equation and empiric approach (25 kcal/kg/day), respectively (Figure
1
). Early EN with immune formula was associated with higher levels of prealbumin concentration on the 14th day (0.13 ± 0.01 g/l and 0.21 ± 0.1 g/l;
P
= 0.04) and transferrin on the 3rd, 5th, 7th, and 14th day (
P
< 0.05) after surgery.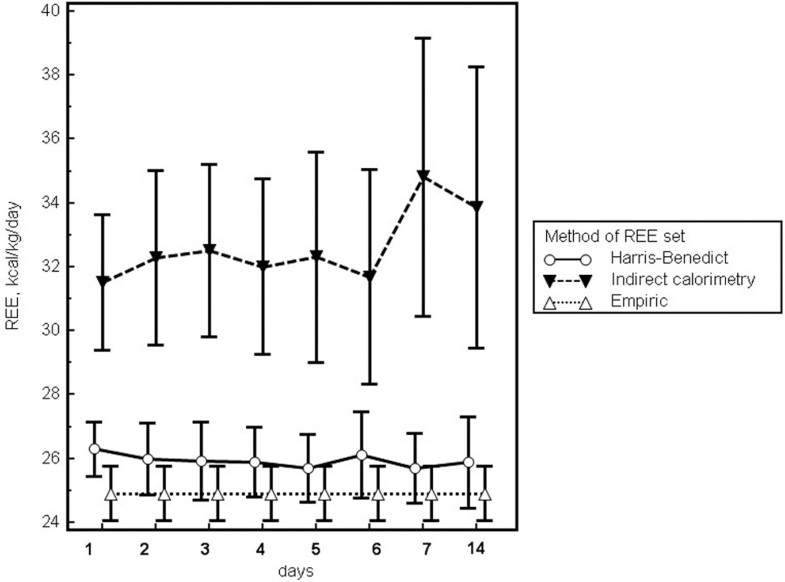 Conclusion
Haemodynamically compromised cardiac patients have increased REE, which in the absence of indirect calorimetry should be set at 30 kcal/kg/day. Early EN using a calorie-dense immune formula leads to better recovery of nutritional status as assessed by serum protein levels.
Copyright information
© Efremov and Lomivorotov; licensee BioMed Central Ltd. 2015
This article is published under license to BioMed Central Ltd. This is an Open Access article distributed under the terms of the Creative Commons Attribution License (http://creativecommons.org/licenses/by/4.0), which permits unrestricted use, distribution, and reproduction in any medium, provided the original work is properly cited. The Creative Commons Public Domain Dedication waiver (http://creativecommons.org/publicdomain/zero/1.0/) applies to the data made available in this article, unless otherwise stated.