Expression of mRNA levels of HLA-DRA in relation to monocyte HLA-DR: a longitudinal sepsis study
Open Access
Poster presentation
Keywords
Flow Cytometry 
Hospital Admission 
Blood Culture 
Sepsis Severity 
Longitudinal Data 
These keywords were added by machine and not by the authors. This process is experimental and the keywords may be updated as the learning algorithm improves.
Introduction
Decreased monocyte surface HLA-DR (mHLA-DR) measured by flow cytometry (FCM) is an independent marker of immunosuppression in sepsis. In a previous report we demonstrated that septic patients display a strong correlation between mHLA-DR and mRNA-levels of HLA-DRA in whole blood [1]. mRNA-based HLADR monitoring by PCR would improve the clinical usage and facilitate conduction of multicentre studies. The primary focus in this study was to evaluate the correlation between mHLA-DR and HLA-DRA at different time points during sepsis. In addition, we assessed the dynamic expression of both mHLA-DR and HLA-DRA, in relation to sepsis severity.
Methods
Study patients (n = 54) were included at day 1 to 2 after hospital admission if blood cultures turned positive. Repeated sampling at days 1 to 2, 3, 7, 14 and 28 was performed. mHLA-DR was monitored by FCM and HLA-DRA by quantitative RT-PCR. Mixed models for longitudinal data were used after logarithmic transformation to calculate the interactional effects of time and severity on HLA-DR expression.
Results
Correlation between mHLA-DR(FCM) and HLA-DRA(PCR) at day 1 to 2 (
R
= 0.78) and day 14 (
R
= 0.27). Both HLA-DR markers increased linearly on a log scale over time. The linear association was significantly different between the severe (
n
= 16) and nonsevere septic patients (
n
= 38) when measuring either mHLA-DR(FCM) or HLA-DRA(PCR). By pairwise comparison of means between the two severity groups, at every time point, the differences between groups were shown to be significant at days 1 to 2 and 3 when monitoring mHLA-DR(FCM) and at days 1 to 2, 3 and 7 for HLA-DRA(PCR) (Figures
1
and
2
).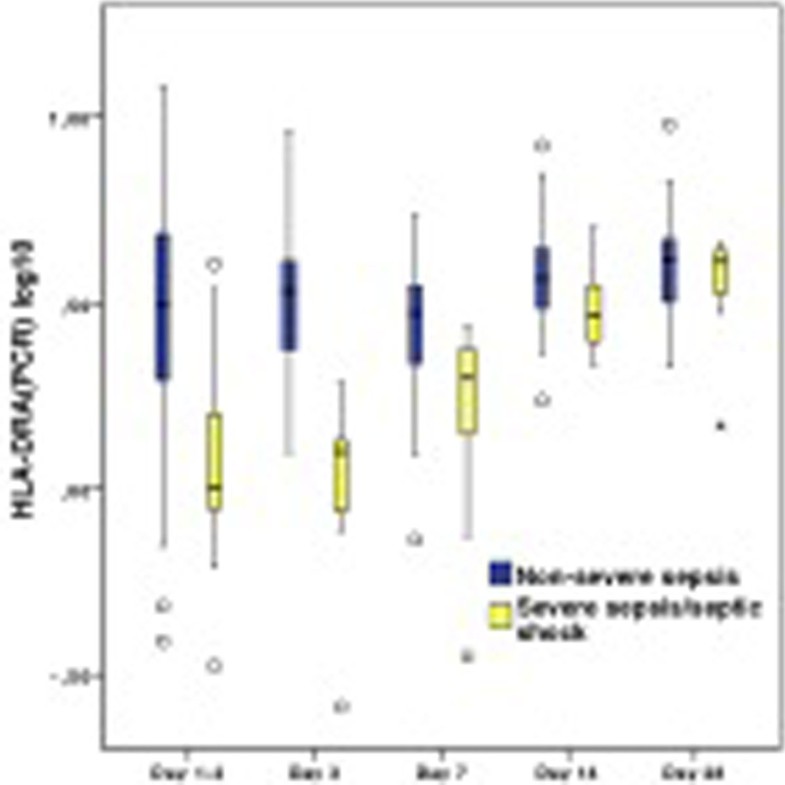 Conclusion
The correlation between flow cytometry and PCR-based HLA-DR monitoring is stronger in the early phase of sepsis. However, the linear associations over time, in relation to sepsis severity, display similar results for both HLA-DR markers. HLA-DRA(PCR) as a biomarker could be an alternative approach in monitoring immune status in sepsis but needs to be evaluated in relation to clinically relevant immunosuppression.
Copyright information
© Cajander et al.; licensee BioMed Central Ltd. 2015
This article is published under license to BioMed Central Ltd. This is an Open Access article distributed under the terms of the Creative Commons Attribution License (http://creativecommons.org/licenses/by/4.0), which permits unrestricted use, distribution, and reproduction in any medium, provided the original work is properly cited. The Creative Commons Public Domain Dedication waiver (http://creativecommons.org/publicdomain/zero/1.0/) applies to the data made available in this article, unless otherwise stated.