Implementation of an ICU follow-up clinic: outcomes and patient satisfaction after 1 year
Keywords
Public Health 
Mechanical Ventilation 
Emergency Medicine 
Retrospective Analysis 
Patient Satisfaction 
These keywords were added by machine and not by the authors. This process is experimental and the keywords may be updated as the learning algorithm improves.
Introduction
The aim was to analyse the outcomes and patient satisfaction of a recently implemented ICU follow-up clinic. These clinics are National Institute for Clinical Excellence recommended [1].
Methods
A retrospective analysis of prospective collected data from January to December 2012. The clinic is run monthly by an ICU consultant and a critical care outreach sister. Criteria to be invited to the clinic are mechanical ventilation ≥3 days. Patients filled an anonymous satisfaction survey after the clinic.
Results
Our attendance rate is 50% (26 patients), which is similar to other series reported in the literature. Those patients who attended the clinic required a longer length of mechanical ventilation (5.3 days vs. 7.1) and a longer length of stay in the ICU (7.6 vs. 13) and in hospital (14 vs. 28). We identified a wide range of physical and nonphysical morbidities on these patients (Figure
1
). We referred them to the appropriate specialities. Patients were very satisfied with this new service (Figure
2
).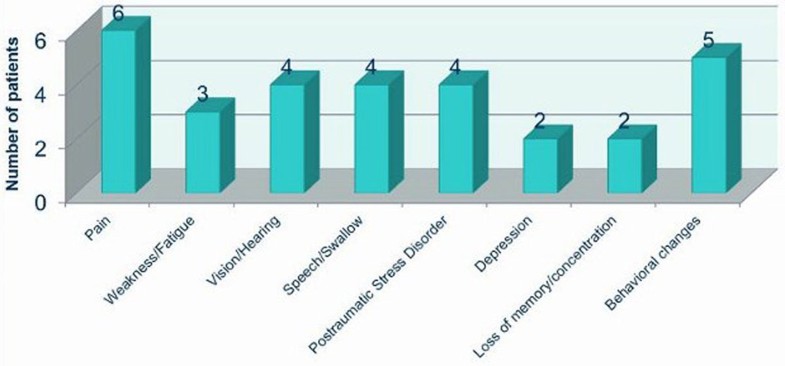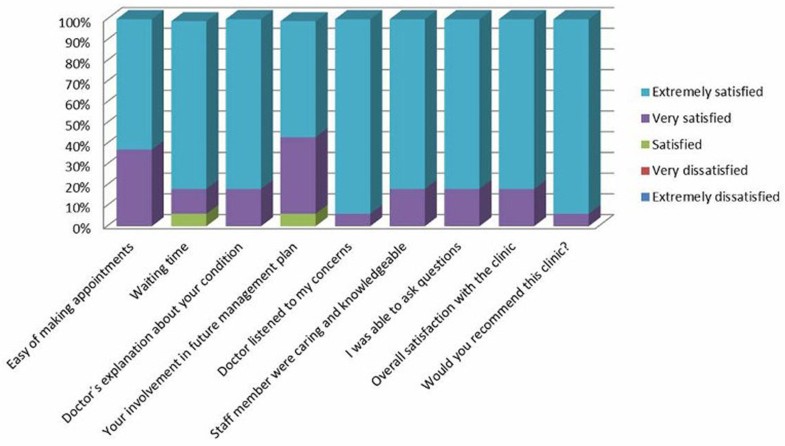 Conclusion
Our follow-up clinic has enabled us to identify a wide range of complications related to ICU admission and coordinate their future management. This clinic improved patient satisfaction.
Copyright information
© De la Cerda; licensee BioMed Central Ltd. 2013
This article is published under license to BioMed Central Ltd. This is an Open Access article distributed under the terms of the Creative Commons Attribution License (http://creativecommons.org/licenses/by/2.0), which permits unrestricted use, distribution, and reproduction in any medium, provided the original work is properly cited.