EV1000/VolumeView: a new device for a more reliable measurement of extravascular lung water index in patients with lung resections
Keywords
Lung Cancer 
Small Sample Size 
Observational Study 
Strong Correlation 
Emergency Medicine 
These keywords were added by machine and not by the authors. This process is experimental and the keywords may be updated as the learning algorithm improves.
Introduction
Hemodynamic monitoring is important in high-risk surgical patients in order to detect and correct circulatory instability, thereby improving outcome [1]. The extravascular lung water index (EVLWI) reflects pulmonary edema [2]. The new EV1000/VolumeView (Edwards Lifesciences) can accurately measure EVLWI corrected for the actual volume of lung parenchyma (EVLWIc). The aim of our study is to prove a stronger correlation between EVLWIc and PaO2/FiO2 compared with EVLWI in patients undergoing pulmonary resection.
Methods
A prospective observational study. Seven patients with lung cancer undergoing pulmonary resection were monitored using the EV1000 plathform. EVLWI was assessed by thermodilution at the following time points: after intubation (t1); during single-lung ventilation (t2); after lung resection (t3); after ICU admission (t4); 12 hours (t5) and 18 hours after ICU admission (t6). EVLWIc values were also collected at t3 and t4. PaO2/FiO2 was measured at the same time points.
Results
No significant correlation was found between EVLWI and PaO
2
/ FiO
2
(
r
= -0.3124,
P >
0.05), while a significant correlation was seen between EVLWIc and PaO
2
/FiO
2
(
r
= -0.528,
P
= 0.009; Figure
1
).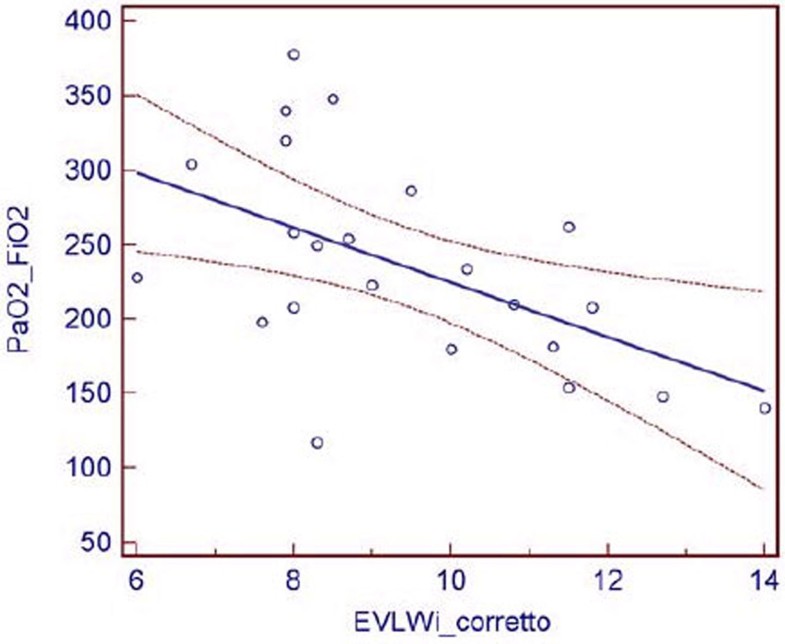 Conclusion
Despite the small sample size, this study shows that in patients undergoing pulmonary resection the EVLWIc is more strongly correlated to PaO2/FiO2 than EVLWI. Therefore, the EV1000 may be a valuable tool for more reliable hemodynamic monitoring in this subgroup of patients.
Copyright information
© Donati et al.; licensee BioMed Central Ltd. 2013
This article is published under license to BioMed Central Ltd. This is an Open Access article distributed under the terms of the Creative Commons Attribution License (http://creativecommons.org/licenses/by/2.0), which permits unrestricted use, distribution, and reproduction in any medium, provided the original work is properly cited.