Feasibility and effectiveness of prone position in morbidly obese ARDS patients: a case-control clinical study
Keywords
Public Health 
Body Mass Index 
Clinical Study 
Mechanical Ventilation 
Obese Patient 
These keywords were added by machine and not by the authors. This process is experimental and the keywords may be updated as the learning algorithm improves.
Methods
Morbidly obese patients (body mass index (BMI) ≥35 kg/m2) in PP with ARDS (PaO2/FiO2 ratio ≤200 mmHg) were matched to nonobese (BMI <30 kg/m2) ARDS patients in a case-control clinical study. The primary endpoints were safety and complications of PP; the second endpoints were the effect on oxygenation (PaO2/FiO2 ratio at the end of PP), length of mechanical ventilation and ICU stay, nosocomial infections and mortality.
Results
Between January 2005 and December 2009, 149 patients were admitted for ARDS. Thirty-three obese patients were matched with 33 nonobese patients. Median PP duration was 9 (6 to 11) hours in obese patients and 8 (7 to 12) hours in nonobese patients (
P
= 0.28). We collected 51 complications, of which 25 in obese patients and 26 in nonobese patients. The number of patients with at least one complication was similar across groups (
n
= 10, 30%). The PaO
2
/FiO
2
ratio (Figure
1
) increased significantly more in obese patients (from 118 ± 43 to 222 ± 84 mmHg) than in nonobese patients (from 113 ± 43 mmHg to 174 ± 80 mmHg,
P
= 0.03). Length of mechanical ventilation, ICU stay and nosocomial infections did not differ significantly, but mortality at 90 days was significantly lower in obese patients (27 vs. 48%,
P <
0.05).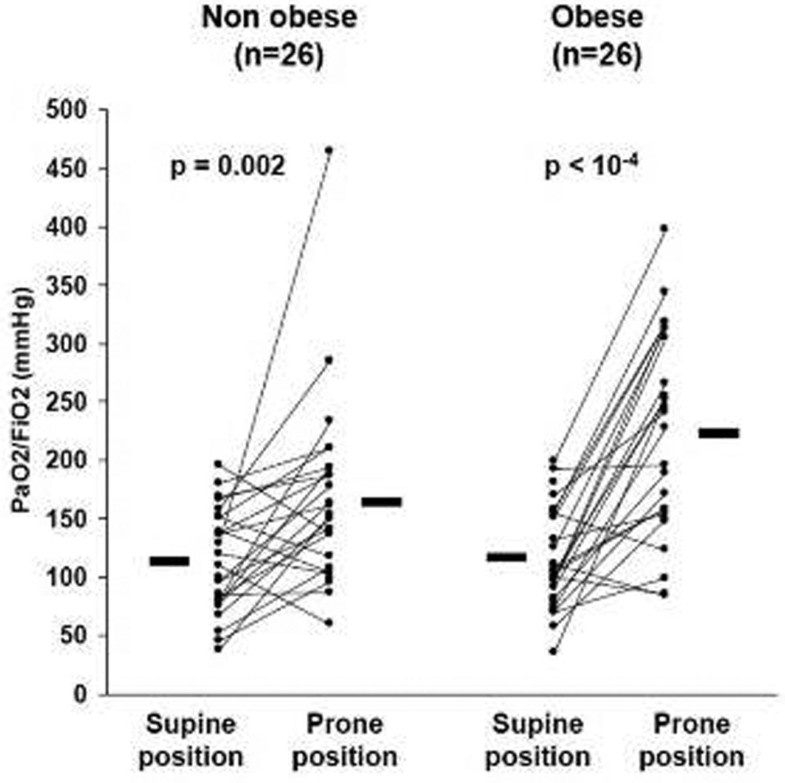 Conclusion
PP seems safe in obese patients and may improve oxygenation more than in nonobese patients. Obese patients could be a subgroup of ARDS patients who may benefit most from PP.
Copyright information
© De Jong et al.; licensee BioMed Central Ltd. 2013
This article is published under license to BioMed Central Ltd. This is an Open Access article distributed under the terms of the Creative Commons Attribution License (http://creativecommons.org/licenses/by/2.0), which permits unrestricted use, distribution, and reproduction in any medium, provided the original work is properly cited.