Role of leukocytes in the pathogenesis of acute kidney injury
Part of the following topical collections:
Keywords
Dendritic Cell 
Natural Killer Cell 
Acute Kidney Injury 
Proximal Tubule Epithelial Cell 
Injured Kidney 
These keywords were added by machine and not by the authors. This process is experimental and the keywords may be updated as the learning algorithm improves.
Abbreviations
AKI

acute kidney injury

ATN

acute tubular necrosis

CTLA

cytotoxic T-lymphocyte antigen

DC

dendritic cells

IFN

interferon

IL

interleukin

IPEX

immunodysregulation: polyendocrinopathy: enteropathy: x-linked

LAG

lymphocyte activation gene

MØ

IL-6-producing macrophages

MCP

monocyte chemotactic protein

NK

natural killer

NKT

natural killer T

PMNs

polymorphonuclear cells or neutrophils

RANTES

Regulated on Activation: Normal T Expressed and Secreted

ROS

reactive oxygen species

RRT

renal replacement therapy

TECs

tubule epithelial cells

TGF

transforming-growth factor

TNF

tumor necrosis factor

Tregs

regulatory T cells.
Introduction
Acute kidney injury (AKI) is a significant cause of morbidity and mortality in hospitalized patients, especially those who are critically ill. The mortality rate in patients with severe AKI requiring renal replacement therapy (RRT) can exceed 50% [1]. Numerous factors contribute to the development of AKI, including reductions in renal blood flow, actions of nephrotoxic drugs, cellular injury/death of proximal tubule epithelial cells, pro-inflammatory responses of renal endothelial cells, influx and activation of inflammatory leukocytes that further reduces renal blood flow through vascular congestion and promotes and extends injury to kidney parenchymal cells [2, 3]. The immune response in AKI involves cells of both the innate and adaptive immune systems. Although numerous studies have demonstrated the detrimental role of many different types of immune cells, recent reports have uncovered a protective and possibly therapeutic role of other immune cells in AKI. Studies in animal models of AKI have revealed that innate immune cells, such as neutrophils, macrophages, dendritic cells, natural killer (NK) cells and natural killer T (NKT) cells, and adaptive CD4+ T cells promote renal injury. Indeed, renal inflammation is a common feature of human AKI [4] and detailed analyses of biopsy samples from patients with AKI demonstrated the presence of mononuclear leukocytes (some CD3+ T cells) and neutrophils [5]. In contrast, CD4+FoxP3+ regulatory T cells (Tregs) can protect the kidney from ischemic and nephrotoxic injury in animal models. Understanding the immune mechanisms of renal injury and protection should yield new approaches to prevention and treatment of AKI. This review will summarize current knowledge on the role of the immune system in the pathogenesis of AKI.
Detrimental actions of pro-inflammatory leukocytes
Conclusion
The immune response to kidney damage during AKI is an important contributor to the prolonged lack of renal function and progression of kidney injury. This response is complex, involving numerous pro-inflammatory leukocytes which employ diverse effector mechanisms inside the kidney (Figure
1
). The response also involves an anti-inflammatory arm that protects the kidney from subthreshold insults, which is mediated by Tregs and possibly dendritic cells in some conditions (Figure
1
). In the future, it may be possible to prevent AKI or treat existing AKI by inhibiting the pro-inflammatory immune response to kidney injury and/or promoting the anti-inflammatory response through drugs or maneuvers that enhance Treg action or by direct administration of Tregs themselves.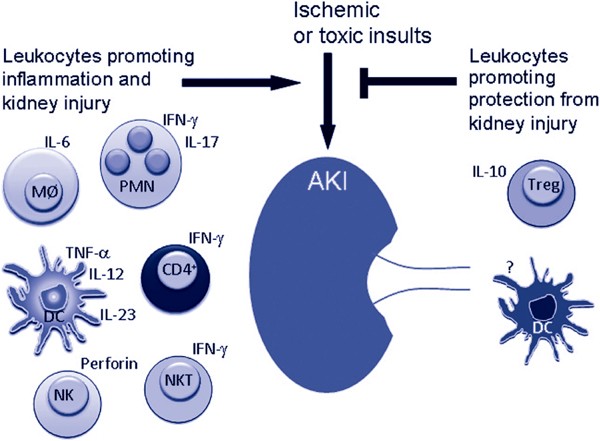 Copyright information
© Springer-Verlag Berlin Heidelberg. 2012
This article is published under license to BioMed Central Ltd. This work is subject to copyright. All rights are reserved, whether the whole or part of the material is concerned, specifically the rights of translation, reprinting, reuse of illustrations, recitation, broadcasting, reproduction on microfilm or in any other way, and storage in data banks. Duplication of this publication or parts thereof is permitted only under the provisions of the German Copyright Law of September 9, 1965, in its current version, and permission for use must always be obtained from Springer-Verlag. Violations are liable for prosecution under the German Copyright Law.