An international phase iii randomised trial on the efficacy of helium/oxygen during spontaneous breathing and intermittent non-invasive ventilation for severe exacerbations of chronic obstructive pulmonary disease (the E.C.H.O.ICUtrial)
Open Access
Poster presentation
Keywords
Chronic Obstructive Pulmonary Disease 
Spontaneous Breathing 
Intubation Rate 
Rehospitalization Rate 
Grant Acknowledgment 
These keywords were added by machine and not by the authors. This process is experimental and the keywords may be updated as the learning algorithm improves.
Introduction
Due to its reduced density, Helium/Oxygen (He/O2) reduces the work of breathing, intrinsic PEEP and hypercapnia more than Air/O2 during non-invasive ventilation (NIV) in COPD exacerbations [1, 2]. Two prospective, randomized multicenter trials were inconclusive in showing a benefit of He/O2 NIV on outcome (intubation, mortality, length of stay (LOS) in ICU) but were potentially underpowered [3, 4].
Objectives
To evaluate whether 72-hr continuous He/O2 during both spontaneous breathing and NIV is superior to Air/O2 in reducing NIV failure (intubation or mortality during ICU stay) in severe hypercapnic COPD exacerbations. Secondary outcomes included physiological parameters, duration of ventilation, ICU and hospital LOS, 6-month recurrence and rehospitalization rates.
Methods
Prospective, randomized multicenter (16 centers in 6 countries) trial, comparing the two gas mixtures for a maximum of 72 hours. Hypothesis was that He/O2 would reduce intubation rate from 25% to 15%, resulting in a total sample size of 670 patients. Spontaneous breathing and NIV were applied with specific devices for He/O2. Same ventilator was used in both arms.
Results
The trial was stopped prematurely for futility (low intubation rate reported by the adjudication committee). 445 patients were included (mean ± SD 68 ± 11 yrs; M:F 69:31%; BMI 26 ± 6 kg/m
2
; SAPS 3 49 ± 8; Resp rate (RR) 29 ± 6/min - PaO
2
75 ± 36 mmHg; PaCO
2
69 ± 16 mmHg; pH 7.30 ± 0.06 - intention-to-treat data set), with no baseline difference between He/O
2
vs. Air/O
2
. The primary outcome was negative (Figure
1
) and baseline pH was the only significant predictor of NIV failure. NIV failure occurred in the first 72 hours (while receiving the study treatment) in 58% of failures with He/O
2
and 84% with Air/O
2
(p = 0.97). RR (Figure
2
), pH, PaCO
2
and encephalopathy improved faster and with greater magnitude with He/O
2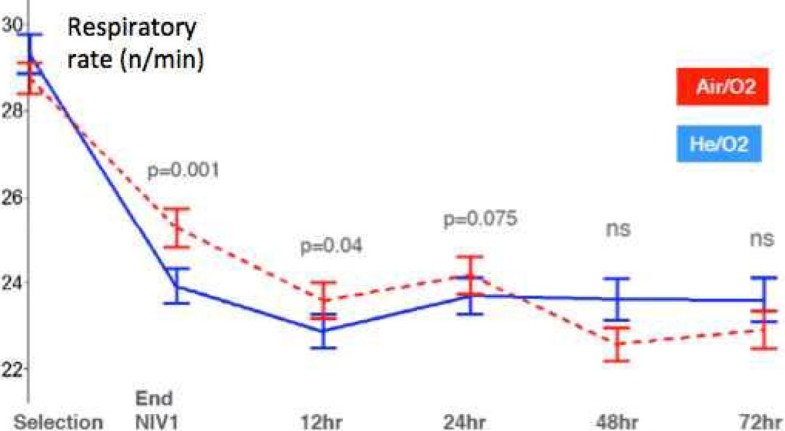 Conclusions
NIV failure rate was not reduced by He/O2 administered during NIV and spontaneous breathing for up to 72 hrs. Failure rate was low in both groups, reflecting the current efficacy of NIV in decompensated COPD. However, He/O2 led to improved physiological response, thus confirming previous results, and a shorter duration of invasive ventilation and ICU stay in patients with NIV failure.
Grant Acknowledgment
ClinicalTrials.gov Identifier: NCT01155310. Study funded by Air Liquide Healthcare.
Copyright information
© Jolliet et al.; 2015
This article is published under license to BioMed Central Ltd. This is an Open Access article distributed under the terms of the Creative Commons Attribution License (http://creativecommons.org/licenses/by/4.0), which permits unrestricted use, distribution, and reproduction in any medium, provided the original work is properly cited.