MOLGENIS catalogue
Open Access
Meeting abstract
Keywords
Genetic Analysis 
Data Model 
Open Source 
Level Data 
Data Element 
These keywords were added by machine and not by the authors. This process is experimental and the keywords may be updated as the learning algorithm improves.
Characterisation
Tool, biobanking, meta-data, data, miabis, open source.
Description
MOLGENIS/catalogue is a generic toolbox for building biobank and study catalogues and is used in BBMRI-NL, EU-BioSHaRE, EU-BioMedBridges, LifeLines, CTMM/TraIT, Durrer Center, PALGA NL pathology network. The catalogue can host four levels of information:
1)

Biobank/study descriptions using custom or MIABIS standard of BBMRI-ERIC format;

 

2)

Data schema/data dictionary of data elements;

 

3)

Aggregate data/sample availability counts and;

 

4)

Individual level data ready for analysis.

 
Increasingly bigger datasets are required for epidemiological and genetic analysis; hence it has become important to enable pooling of data from multiple biobanks. Therefore, the catalogue also comes with BiobankConnect, a tool to rapidly match data elements across studies and biobanks based on lexical matching and ontologies [
1
]. MOLGENIS/catalogue is build on the open source MOLGENIS platform [
2
] and offers pre-build components that allow users to upload data in a simple Excel format and supports any data model through a meta-data definition in the Excel file; to visualize the data in aggregated or tabular form; to share securely data through a comprehensive security model and to integrate data from different domains (Figure
1
).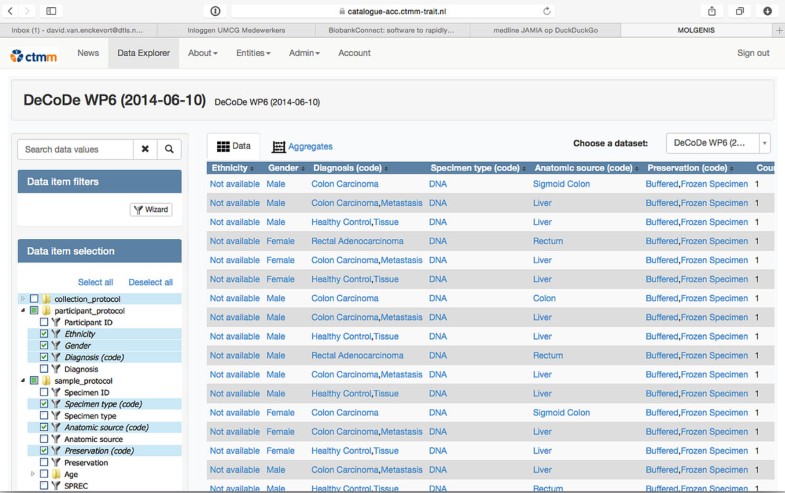 Status of development
Stable/production ready; version 1.2.0.
References
1.

Pang C, Hendriksen D, Dijkstra M, van der Velde KJ, Kuiper J, Hillege H, Swertz MA: BiobankConnect: software to rapidly connect data elements for pooled analysis across biobanks using ontological and lexical indexing. J Am Med Inform Assoc. 2014, epub ahead of print. doi: 10.1136/amiajnl-2013-002577

Google Scholar

2.

Swertz MA, Dijkstra M, Adamusiak T, van der Velde JK, Kanterakis A, Roos ET, et al: The MOLGENIS toolkit: rapid prototyping of biosoftware at the push of a button. BMC Bioinformatics. 2010, 11 (Suppl 12): S12-10.1186/1471-2105-11-S12-S12.

PubMedCentral

CrossRef

PubMed

Google Scholar
Copyright information
© Swertz et al; licensee BioMed Central Ltd. 2015
This article is published under license to BioMed Central Ltd. This is an Open Access article distributed under the terms of the Creative Commons Attribution License (http://creativecommons.org/licenses/by/4.0), which permits unrestricted use, distribution, and reproduction in any medium, provided the original work is properly cited. The Creative Commons Public Domain Dedication waiver (http://creativecommons.org/publicdomain/zero/1.0/) applies to the data made available in this article, unless otherwise stated.