Free-Wilson in the 21st Century – evolution of a versatile toolkit for SAR analysis
Open Access
Poster presentation
Keywords
21st Century 
Drug Discovery 
Chemistry Input 
Discovery Project 
Numerical Detail 
These keywords were added by machine and not by the authors. This process is experimental and the keywords may be updated as the learning algorithm improves.
When drug discovery projects are transferred, then rapidly assessing the available SAR in both overview and in numerical detail is a prerequisite for effective computational chemistry input. Following multiple company acquisitions, regular requirements for the approach has led to an effective and fast platform for Free-Wilson [
1
] based SAR review: in fact the utility is sufficient that it can for a useful reporting or project browsing tool for the busy modeller. Figure
1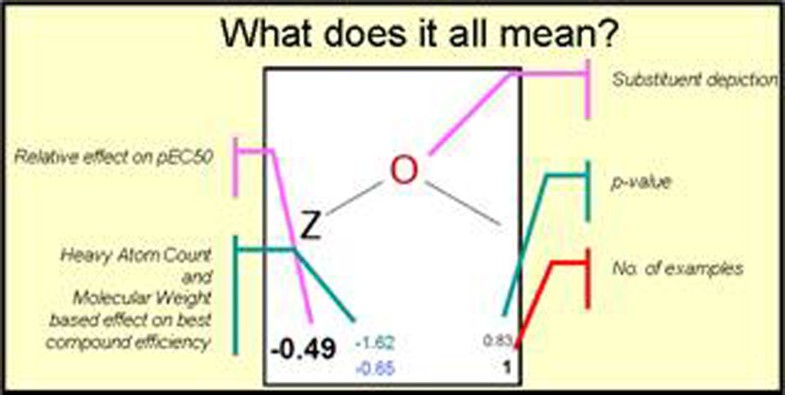 In this talk it is shown how a carefully crafted PDF report can be combined with "on the fly" Matched Molecular Pair [2] and other drill downs to provide a versatile platform for SAR exploration and presentation that is appealing and to medicinal chemists.
References
1.

Free SM, Wilson JW: A Mathematical Contribution to Structure-Activity Studies. J Med Chem. 1964, 7: 395-399. 10.1021/jm00334a001.

CrossRef

Google Scholar

2.

Leach AG, Jones HD, Cosgrove DA, Kenny PW, Ruston L, MacFaul P, Wood JM, Colclough N, Law B: Matched molecular pairs as a guide in the optimization of pharmaceutical properties; a study of aqueous solubility, plasma protein binding and oral exposure. J Med Chem. 2006, 49: 6672-6682. 10.1021/jm0605233.

CrossRef

Google Scholar
Copyright information
© Sherborne; licensee BioMed Central Ltd. 2011
This article is published under license to BioMed Central Ltd. This is an open access article distributed under the terms of the Creative Commons Attribution License (http://creativecommons.org/licenses/by/2.0), which permits unrestricted use, distribution, and reproduction in any medium, provided the original work is properly cited.