Helicobacter pylori: a poor man's gut pathogen?
Abstract
Helicobacter pylori is one of the human pathogens with highest prevalence around the world; yet, its principal mode of transmission remains largely unknown. The role of H. pylori in gastric disease and cancer has not been established until the end of the 20th century. Since then, its epidemiology has been extensively studied, and an accruing body of literature suggests that not all humans are equally at risk of infection by this gut pathogen. Here, we briefly review the different epidemiological aspects of H. pylori infection with emphasis on those factors related to human poverty. The epidemiology of H. pylori infection is characterized by marked differences between developing and developed countries, notably among children. In addition, congruent lines of evidence point out to socioeconomic factors and living standards as main determinants of the age-dependent acquisition rate of H. pylori, and consequently its prevalence. These data are alarming in the light of the changing global climate and birth rate, which are expected to change the demography of our planet, putting more children at risk of H. pylori and its complications for years to come.
Keywords
Pylorus Infection 
Pylorus Prevalence 
Congruent Line 
Refluxed Gastric Juice 
United Nations Secretariat 
These keywords were added by machine and not by the authors. This process is experimental and the keywords may be updated as the learning algorithm improves.
Introduction
Helicobacter pylori, formerly known as Campylobacter pyloridis then Campylobacter pylori, is one of the human pathogens with highest prevalence around the world; yet, its exact mode of transmission is still uncertain. This organism was isolated from the human stomach but has not been consistently isolated from any other niche, and thus the mechanism by which it colonizes the human stomach remains largely unknown.
H. pylori is a spiral, gram-negative, microaerophilic bacterium, which was established in 1982 by Robin Warren and Barry Marshall as the causative agent of gastritis and peptic ulcer [1, 2], a discovery that revolutionized gastroenterology. Before Warren and Marshall, the human stomach was believed to be a sterile area. Today, H. pylori is recognized as the most common cause of gastritis, which in turn leads to the development of more gastrointestinal complications such as peptic and duodenal ulcers. Additionally, the organism is classified as a class 1 carcinogen because of its causal relationship to gastric adenocarcinoma, one of the world's deadliest cancers [3, 4].
The previously underestimated clinical relevance of this rediscovered spiral bacterium quickly enticed microbiologists, epidemiologists, infectious disease specialists, and veterinarians to explore its physiology, genetics, epidemiology, and transmission. Such scientific activity was translated into more than 40,000 scientific articles about
H. pylori
in the past 20 years (Fig.
1A
). During these 20 years, the number of
H. pylori
-related articles in PubMed
http://www.ncbi.nlm.nih.gov/pubmed
became comparable to the number of articles about well-established pathogens such as
Staphylococcus aureus
and
Mycobacterium tuberculosis
(Fig.
1B
).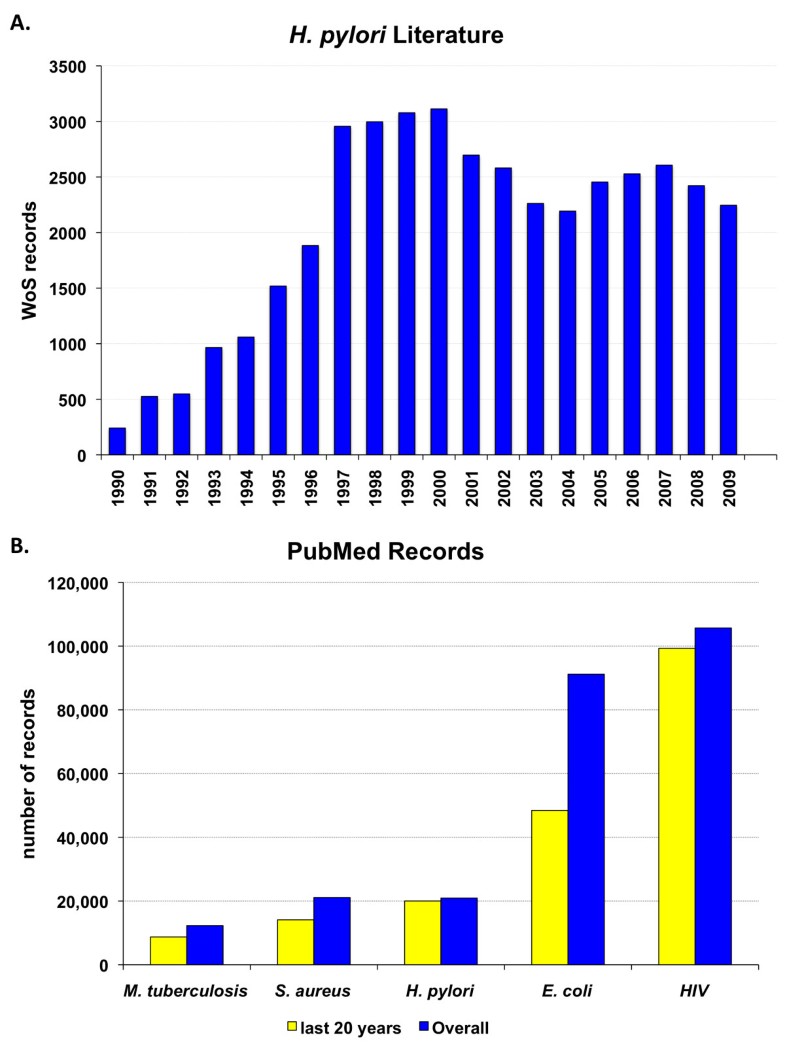 The growing attention given to H. pylori by academics and clinicians is not surprising since this pathogen colonizes more than half of the world's inhabitants [5], with an evident geographic variation in its epidemiology. This geographic variation is believed to be largely socioeconomically driven on both global and local scales. Other factors have also been reported to influence the incidence and prevalence of H. pylori, such as age, gender, genetic predisposition, ethnicity, educational level, and sanitation. Yet, the remarkably unequal burden of H. pylori-associated diseases on poorer communities and countries is the focus of this review article.
Epidemiology of H. pylori Infection
Prevalence of H. pylori infection
H. pylori is one of the most common bacterial infectious agents; it inhabits the stomachs of more than half of the world's population [5]. The prevalence of infection seems to mostly depend on the rate of acquisition (see below), but also on the rate of loss of infection [6] and the length of the persistence period between acquisition and loss [7]. Based on these factors, H. pylori prevalence differs from one country to another and may differ between different ethnic, social, or age groups within the same country [6, 8, 9, 10, 11].
Globally, the prevalence of
H. pylori
infection in developing countries is markedly higher than that in developed countries [
12
,
13
,
14
,
15
,
16
]. Moreover, the acquisition of
H. pylori
seems to occur at higher rates in developing countries [
7
,
9
]. A plethora of studies reported and emphasized these differences within and between countries (Table
1
).
Table 1
Prevalence of H. pylori infection in different populations of the world.
Country

N studied cases

Age range

(years)

Pre-valence

Ref.

Developing Countries 1 :

 
 
 
 

Bangladesh

181

20-44

92%

[95]

Brazil

 
 
 
 

- rural

40 (children)

< 20

77.5%

- rural

 

164 (adults)

20-90

84.7%

[96]

- urban

363

> 20

63.4%

[97]

- poor urban community

204

18-80

80%

[98]

Colombia (rural)

684

2-9

69%

[99]

China

 
 
 
 

- Southern China

1727

N/A

44.2%

[9]

- Hong Kong

397

36-65

58.6%

[100]

- Changle of Fujan

1456

 

80.4%

[100]

Egypt

 
 
 
 

- Alexandria (northern)

169 mothers

N/A

88%

 
 

169 children

< 1

13%

 
 
 

1.5

25%

[101]

- Cairo (central)

52

< 6

33%

 
 

56

> 6

60%

[102]

- Assiut (southern)

urban

N/A

87%

 
 

rural

N/A

40%

[103]

- poor urban area

schoolchildren

N/A

72.4%

[104]

India

238

3-70

79%

[13]

Mexico

11605

20-90

66%

[61]

Nepal (rural)

1142

4-93

56.8%

[69]

 

407

2 mo-12 yr

48%

[105]

Peru

104

0-17

50%

[70]

Russia

213

20-75

88%

[106]

- St. Petersburg 1995

307

2-19

44%

- St. Petersburg 2005

370

2-19

13%

[18]

Saudi Arabia

557

5-10

40%

[107]

 
 

> 20

70%

 

Taiwan

823

1-40+

54%

[78]

Developed Countries 1 :

 
 
 
 

Australia (urban Melbourne)

273

19-47

23%

[32]

Denmark

3589

30-60

25.9%

[108]

Germany (western)

260

18-61

39.2%

[60]

Israel (rural)

377

30-90

72%

[109]

Japan

4361

19-69

30%

[110]

Netherlands

254 (employees)

11-89

27.2%

[111]

New Zealand

579 workers:

40-64

56%

 

- Europeans

190

 

35.8%

 

- Maori

195

 

57.4%

 

- Pacific Islanders

194

 

73.2%

[64]

Spain

332

> 18

43%

[112]

- mountain

1782

 

54%

 

- coastal

154

 

30%

 

South Korea

161

20-75

75%

[113]

Switzerland

176 natives

10-20

7.3%

[81]

 

20 immigrants

 

30%

 

United Kingdom

 
 
 
 

- England

267 (healthy)

> 18

41%

[114]

 

467 (all males)

18-65

37.5%

[115]

- Northern Ireland

4742

12-64

50.5%

[116]

- South Wales

1796

45-59

70%

[117]

United States

 
 
 
 

- South Carolina

938 army recruits

17-26

26%

 
 

324 blacks

 

44%

 
 

47 Hispanics

 

38%

 
 

536 whites

 

14%

[66]

- California

556

20-39

27%

[67]

- Texas

246 blacks

15-80

70%

 
 

239 whites

 

34%

[59]
Incidence of H. pylori infection
The geographic differences in H. pylori prevalence have been attributed to the differential rate of acquisition of the bacterium during the first years of life [5, 6, 9, 17, 18]. In southern China, for example, the prevalence of H. pylori infection was shown to be significantly higher among Chinese subjects than that among Australians, a difference that was associated with the rate of acquisition of H. pylori under the age of ten years [9, 11].
Acquisition of H. pylori is decreasing in developed countries at a faster rate than in developing countries, likely because of the faster improvement in hygiene practices in the developed world [5, 19]. Moreover, infection during childhood in developed countries is not frequent [20, 21, 22, 23]. In the United States, for example, the incidence of infection among children younger than five years is less than 5%, and only about 10% of the population is infected by adolescence [20, 21]. By contrast, the incidence of H. pylori infection in the developing world is higher and occurs at younger age [22, 24]. By five years of age, about 50% of children in developing countries are already infected [12, 24], and the infection rates in adults can reach 90% or higher (Table 1).
Pounder and Ng classified the world into two groups according to the incidence of H. pylori infection [7]. Group One consisted of countries where the majority of children become infected with H. pylori during childhood, while chronic infection continues during adult life. These are mostly developing countries, e.g., Algeria, Nepal, South Africa, Saudi Arabia, Thailand, and Vietnam. In Group Two, mostly comprising developed countries, only a minority of children becomes infected during childhood, but the prevalence of infection rises with age during adulthood. Examples of Group Two countries are England, Finland, France, Japan, and the United States of America [7]. However, Pounder and Ng concluded their synthesis with an interesting question. Do the age-dependent prevalence data reflect that people in Group Two have more incidence of infection at older ages, or do the data rather reflect that the incidence of infection is declining in newer generations, which implies that the infected adults had been actually infected in their childhood [7]? This question was effectively answered later on, as longitudinal studies confirmed the birth cohort effect in the United States [6] and Russia [18], for example.
Transmission of H. pylori infection
Genetic and Environmental Determinants of H. pylori Epidemiology
Conclusion
The verdict: Is H. pylori a poverty-associated disease?
As with most infectious and non-infectious diseases, no one factor can be singled out as the major determinant of H. pylori incidence and prevalence. However, there is credible evidence that poverty-associated factors are major players.
The studies reviewed in this article show some evident differences in epidemiology between developing and developed countries, notably among children. However, we do not think that
H. pylori
prevalence is directly correlated with a country's overall wealth inasmuch as human poverty is not necessarily dependent on a country's gross domestic product (compare Fig.
2A
with Fig.
2B
). Instead, the effects of poverty on
H. pylori
infection are more pronounced between different communities, often located within the same country or region, but separated based on sanitation, overall hygiene, and standards of living. A good example is given in a recent study, conducted over 10 years, which showed that improved standards of living in Russia have substantially reduced
H. pylori
transmission [
18
].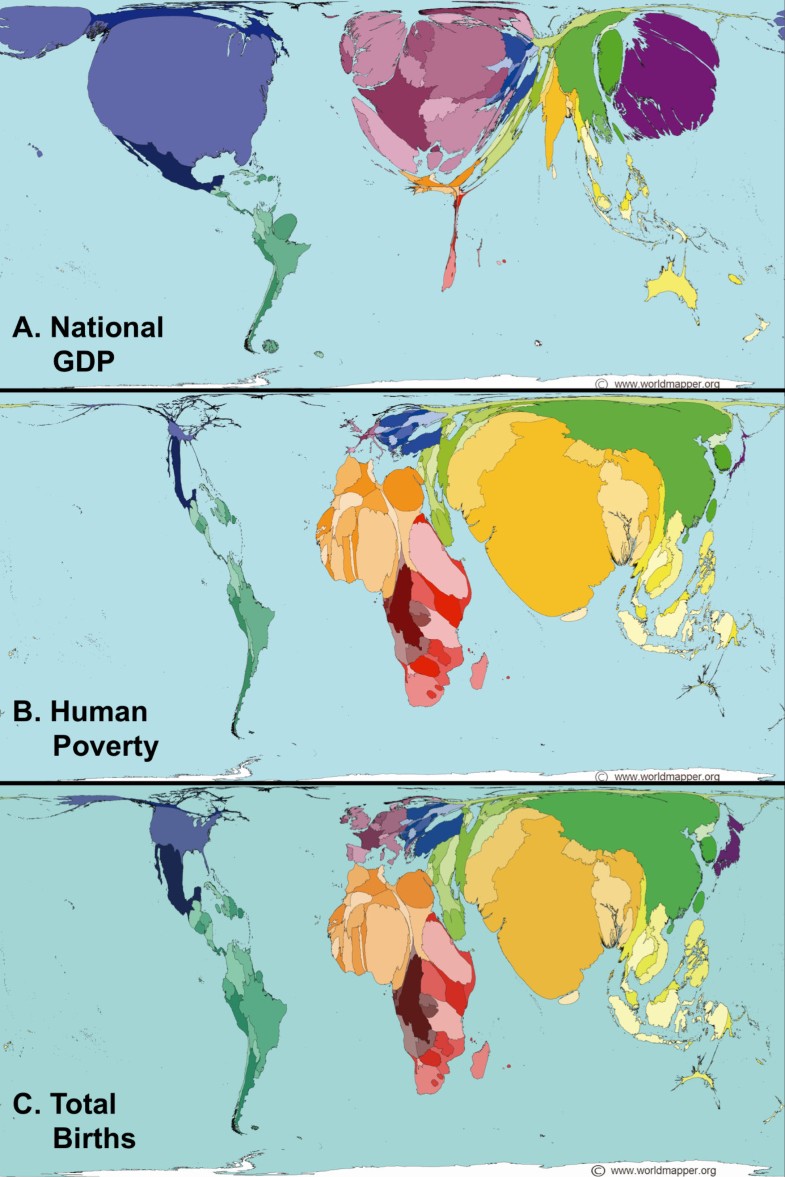 Outlook: Changing climate + changing demography + changing economy = redrawing the global map of H. pylori epidemiology
"Out of every 100 persons added to the population in the coming decade, 97 will live in developing countries." Hania Zlotnik, 2005 [85] (Hania Zlotnik is the director of the Population Division, Department of Economic and Social Affairs, United Nations Secretariat)
The last question we address in this review article is about the future of H. pylori epidemiology. The foreseeable future, unfortunately, does not seem very promising for the developing countries. Although H. pylori infection may eventually disappear from high-income countries even without intervention, as suggested by mathematical modeling [86], its prevalence is paradoxically expected to rise in low-income countries and communities [87]. The changing climate is expected to change the world's demography, resources, and clean water availability [88]. Combined, these factors have direct impact on living standards and hygiene, and are thus not likely to slow down the rate of H. pylori acquisition in developing countries [89]. If we add to these factors the unequal population growth (Fig. 2C), the uneven economic growth, and the rise in life expectancy all over the world, the picture gets dimmer. A likely scenario is that this combination of factors will translate into higher incidence of H. pylori infection in children, who, according to Hania Zlotnik, the director of the Department of Economic and Social Affairs-United Nations Population Division, will mostly be born and live in developing countries [85]. This higher incidence in children will lead to a rise rather than fall of H. pylori's worldwide prevalence, and consequently to higher risk of gastric cancer especially in the elder population of the developing world (which are expected to live longer than they do today without necessarily being healthier).
Because of this serious risk, researchers should combine efforts and seek efficient methods to prevent H. pylori-associated diseases [87] and perhaps to eradicate this chronic colonizer of half of the human race [90].
Authors' information
Mohammed Mahdy Khalifa is a graduate student at the Faculty of Pharmacy, Cairo University, Cairo, Egypt. He received his master's degree in microbiology and immunology in 2009. Radwa Raed Sharaf is an undergraduate student at the Faculty of Pharmacy, Cairo University, Cairo, Egypt. Ramy Karam Aziz is currently a lecturer of microbiology and immunology at the Faculty of Pharmacy, Cairo University, Cairo, Egypt and an adjunct faculty member at San Diego State University, San Diego, CA, USA.
Copyright information
© Khalifa et al; licensee BioMed Central Ltd. 2010
This article is published under license to BioMed Central Ltd. This is an Open Access article distributed under the terms of the Creative Commons Attribution License (http://creativecommons.org/licenses/by/2.0), which permits unrestricted use, distribution, and reproduction in any medium, provided the original work is properly cited.