By invitation only – the case for breast cancer screening reminders for women over 69 years
Abstract
Background
Breast cancer is the leading cause of cancer death in women in Australia. Early detection provides the best chance of reducing mortality and morbidity from the disease. Mammographic screening is a population health strategy for the early detection of breast cancer in Australia. Recruitment strategies such as regular advertising and biannual screening invitations are exclusively targeted at women aged 50 – 69 years. Even though they can participate, women 70 years or over are not invited or actively encouraged to undertake screening. Research has found that a routine letter of invitation increases the number of women participating in breast cancer screening.
Methods
Cancer data analysis and a literature and policy review was conducted to assess age specific breast cancer mortality rates and the legitimacy of rationale used to limit invitations for breast cancer screening to women younger than 70 years.
Results
The proportion of women over 69 years participating in the BreastScreen program is significantly less than rate of screening in the target age range (50–69 years). Evidence and data indicate that common justifications for limiting screening reminders to the target age range including life expectancy, comorbidities, effectiveness, treatment and cost are, for many women, unreasonable.
Conclusion
There is now sufficient data to support a change in the targeted upper age range for breast cancer screening to improve the existing suboptimal surveillance in women aged over 69 years.
Keywords
Breast Cancer 
Breast Cancer Screening 
Average Life Expectancy 
Female Breast Cancer 
Estimate Life Expectancy 
These keywords were added by machine and not by the authors. This process is experimental and the keywords may be updated as the learning algorithm improves.
Background
Breast cancer is the most common invasive cancer diagnosed in females in Australia and is the leading cause of cancer death in this group [1]. Age is the most important single risk factor for disease development and death rates increase consistently with advancing age [2]. In 2005, the death rate per 100,000 for women aged 40–44 years was 17.0 increasing to 66 per 100,000 in women aged 65–69 years and escalating to 182.0 deaths per 100,000 in women aged 85 years or over [2]. The annual number of years of potential life lost due to female breast cancer in Australia is over 32,000 [3]. Long life expectancy is regarded as an indicator of a successful society and an effective health care system [4].
Mammography has been demonstrated to reduce morbidity and mortality from breast cancer [5] through early disease detection, which, when managed effectively, leads to improved survival and less aggressive treatment [3]. At this time, mammography is the only accepted screening modality for breast cancer in average risk populations [6].
BreastScreen Australia is the national breast cancer screening program offering free mammography screening to asymptomatic women since 1991. A clear upper age limit has not been set for breast cancer screening in Australia; however, recruitment strategies are specifically targeted at women aged 50 – 69 years who are reminded to have a mammogram every two years via written invitations [7]. Women aged 40–49 and 70 years or over are not invited for screening, although they are able to participate [7]. Research has found that a routine letter of invitation increases the number of women participating in breast cancer screening [8, 9].
Methods
An examination of recent national cancer data was undertaken to assess age specific breast cancer mortality rates and a literature and policy review was conducted to assess the legitimacy of rationale used to limit invitations for breast cancer screening to women younger than 70 years of age.
Results
There has been a slow decline in the number of women older than 69 years participating in the national BreastScreen program over the past decade, with only 11% of women in this age group participating in 2004–5 [
3
]. This compares very poorly with participation rates of the targeted age range, which have steadily increased over the past decade and currently sit at almost 74% [
3
]. Figure
1
compares death rates from female breast cancer with BreastScreen participation rates, demonstrating that underscreening has a strong negative effect on breast cancer survival.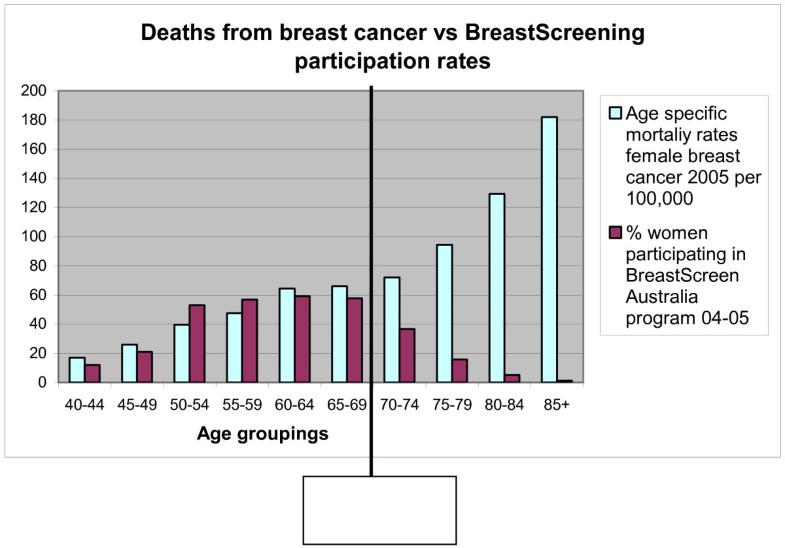 One reason given for targeting women 50–69 years for screening is that early detection in this age group offers women "a better chance of successful treatment and recovery" presumably, because of a higher likelihood of comorbid conditions, reduced treatment tolerance and shorter life expectancy in women above 69 years [10]. Another reason given is that most of the research showing mammographic screening effectiveness was conducted with women aged 50–69 years [10]. The national BreastScreen policy states that the age for screening will be "monitored and reviewed as new data become available" [5]. A program review is currently underway to assess the appropriateness of the existing BreastScreen Australia targeted age range [11].
Discussion
Detection of early stage breast cancers offers the potential for longer survival and enhanced quality of life for many women irrespective of age. There is a pressing need to assemble all relevant evidence, including community needs, with regard to breast cancer screening in the elderly and translate it into a cohesive policy.
We acknowledge that at policy level, making decisions around screening age is a complex process, but age alone should not be a criterion for discontinuing invitations to attend regular breast screening. Screening may not be suitable for all, as some women may have other health problems that would reduce the long-term benefit of screening or may choose not to screen for other reasons. For others, screening may provide some additional life years, that might otherwise be lost. Regardless of which position women take, the opportunity to weigh up the potential benefits and risks of mammography needs to be available to all if they so choose.
Decision-making aids, in conjunction with opportunities to discuss these decisions with their healthcare providers can assist women define their individual position around whether they wish to attend repeat screening. This information can be fed back to BreastScreen through an opt-off process, closing the loop on consumer involvement and improving public communication. Continuing the recall system, while providing realistic opportunities for women to examine benefit-harm tradeoffs would ensure that breast cancer screening remains equitable in all age groups and that beneficiaries can avail themselves of this service, fully informed of the consequences of their decisions.
Conclusion
With the growing number of older women in Australia, breast cancer will become an increasingly significant health concern, yet there is suboptimal surveillance of breast cancer in those aged over 69 years. Prompts to continue breast cancer screening are currently provided on the basis of chronological age alone. Continuing reminders after aged sixty nine and adopting a patient centred approach (which takes the form of an informed, shared, decision-making process between a woman and her medical practitioner) for individual decisions about screening is proposed.
Notes
Acknowledgements
The authors gratefully acknowledge the contribution of Dr Andrew Penman in providing comments and suggestions during the preparation of this paper.
Copyright information
© Saunders et al; licensee BioMed Central Ltd. 2008
This article is published under license to BioMed Central Ltd. This is an Open Access article distributed under the terms of the Creative Commons Attribution License (http://creativecommons.org/licenses/by/2.0), which permits unrestricted use, distribution, and reproduction in any medium, provided the original work is properly cited.