Emerging complexities of APOBEC3G action on immunity and viral fitness during HIV infection and treatment
Abstract
The enzyme APOBEC3G (A3G) mutates the human immunodeficiency virus (HIV) genome by converting deoxycytidine (dC) to deoxyuridine (dU) on minus strand viral DNA during reverse transcription. A3G restricts viral propagation by degrading or incapacitating the coding ability of the HIV genome. Thus, this enzyme has been perceived as an innate immune barrier to viral replication whilst adaptive immunity responses escalate to effective levels. The discovery of A3G less than a decade ago led to the promise of new anti-viral therapies based on manipulation of its cellular expression and/or activity. The rationale for therapeutic approaches has been solidified by demonstration of the effectiveness of A3G in diminishing viral replication in cell culture systems of HIV infection, reports of its mutational footprint in virions from patients, and recognition of its unusually robust enzymatic potential in biochemical studies in vitro. Despite its effectiveness in various experimental systems, numerous recent studies have shown that the ability of A3G to combat HIV in the physiological setting is severely limited. In fact, it has become apparent that its mutational activity may actually enhance viral fitness by accelerating HIV evolution towards the evasion of both anti-viral drugs and the immune system. This body of work suggests that the role of A3G in HIV infection is more complex than heretofore appreciated and supports the hypothesis that HIV has evolved to exploit the action of this host factor. Here we present an overview of recent data that bring to light historical overestimation of A3G's standing as a strictly anti-viral agent. We discuss the limitations of experimental systems used to assess its activities as well as caveats in data interpretation.
Keywords
Human Immunodeficiency Virus 
Human Immunodeficiency Virus Infection 
Drug Resistance Mutation 
Human Immunodeficiency Virus Replication 
Viral Fitness 
These keywords were added by machine and not by the authors. This process is experimental and the keywords may be updated as the learning algorithm improves.
The role of APOBEC3G in HIV restriction
APOBEC3G (A3G) is a recently discovered primate-specific member of the apolipoprotein B mRNA-editing enzyme, catalytic polypeptide-like editing complex family of cytidine deaminase enzymes with potential to inhibit propagation of the human immunodeficiency virus (HIV) [1, 2]. The APOBEC family includes eleven members in humans: activation-induced cytidine deaminase (AID), APOBEC1, APOBEC2, APOBEC3A-H, and APOBEC4 [3, 4]. These enzymes convert deoxycytidine (dC) to deoxyuridine (dU) in single stranded DNA (ssDNA) or RNA of human and viral genomes, thereby affecting a variety of physiological functions [5, 6, 7]. A3G was discovered through the study of heterokaryons generated between cells permissive and non-permissive to infection by virion infectivity factor (Vif)-deficient HIV that were used to determine the action of the HIV protein Vif [1, 8, 9]. A3G is primarily expressed in CD4+ T lymphocytes, macrophages, and dendritic cells, which are all the natural targets of HIV infection [2, 10, 11, 12, 13, 14]; although expression in other tissues may be induced by interferon(s) [15, 16, 17, 18]. A3G mutates dC in nascent viral minus strand DNA generated by reverse transcription [17, 18, 19, 20, 21, 22, 23, 24] and preferentially deaminates dC in signature trinucleotides (CCC, TCC) often referred to as hotspots [6, 19, 20, 21]. The resulting dUs can trigger DNA degradation through the action of DNA repair pathways, such as those involving uracil DNA glycosylase and apurinic-apyrimidinic endonuclease [25, 26]. For viral genomes that evade destruction, the consequent deoxyguanosine (dG) to deoxyadenosine (dA) substitutions in plus strand DNA can alter reading frames, introduce premature translation termination codons, and/or produce mutated viral proteins [7, 20, 21, 22, 23, 24, 25]. In addition, A3G can disrupt propagation of HIV by binding viral RNA, interfering with the DNA strand transfer acrobatics of reverse transcription, physically blocking reverse transcriptase (RT), and obstructing integration into the host cell genome [24, 26, 27, 28, 29, 30, 31]. A3G has been shown to block RT activity by decreasing tRNA priming, competing for binding to templates, restricting strand transfer during reverse transcription, and direct binding [28, 32, 33]. Beyond the reverse transcription stage, incorporation of dU into minus strand DNA of the HIV genome has been shown to interfere with synthesis of the complementary plus strand [23]. These findings initially led to the notion that A3G can inhibit viral propagation through pathways dependent or independent of its deamination activity; however, many studies supporting deaminase-independent activities utilized A3G overexpression. It has recently been appreciated that with low level A3G expression, which may be a more accurate representation of the physiological case, deaminase activity is required for viral restriction [34, 35, 36, 37, 38, 39]. While the relative contribution of deamination independent activities to viral restriction remains contentious, these may prove more relevant to the action of A3G in restricting endogenous non-long terminal repeat retrotransposons, such as long and short interspersed nuclear elements [40, 41, 42, 43, 44, 45]. The anti-retroelement activity of A3G may represent a host strategy to protect its genome from the deleterious effects of transposable elements. A possible mechanism could involve the binding of A3G to retroelements resulting in blockage of their mobility [46].
The recent expansion of a single APOBEC3 gene in mice to seven (APOBEC3A-H) in primates and the relatively high divergence within APOBEC3 enzymes in primates are evidence for immense evolutionary pressure on the locus suggested to possibly be concomitant with the emergence of modern lentiviruses [3, 4, 47, 48]. Conversely, the finding that the accelerated rate of A3G divergence predates modern lentiviruses, together with the lack of a clear correlation between human A3G polymorphisms and the progression of acquired immunodeficiency syndrome (AIDS), suggest that lentiviral pressure may be, at best, only partially responsible for expansion of the APOBEC3 locus [49, 50, 51, 52]. This manner of growth in host defence capacity can reciprocally drive co-evolution of highly adaptable viruses. In this regard, we highlight an emerging body of evidence suggesting that the activity of A3G may be partially subverted by HIV for its survival benefit. These data support a more complex scenario in which the initial perception of A3G as a strictly anti-viral agent may have been naïve.
Conclusions
Figure 
1
illustrates the various topics discussed herein with respect to the dual role of A3G in aiding the host or virus. As shown, there are clear instances when HIV can take advantage of A3G-induced mutation across a range of activity levels. Low mutation rates do not inactivate the viral genome and may in fact contribute to both drug resistance and immune escape. Conversely, HIV genomes suffering high mutation rates may be filtered out during viral replication to favor viral progeny with better fitness. Therefore, an ominous picture emerges wherein regardless of the action of A3G, HIV gradually gains the upper hand as a result of its fast replication rate and purifying selection processes that allow it to essentially optimize A3G mutation loads in progeny virions and better adapt to host defences and other selective pressures.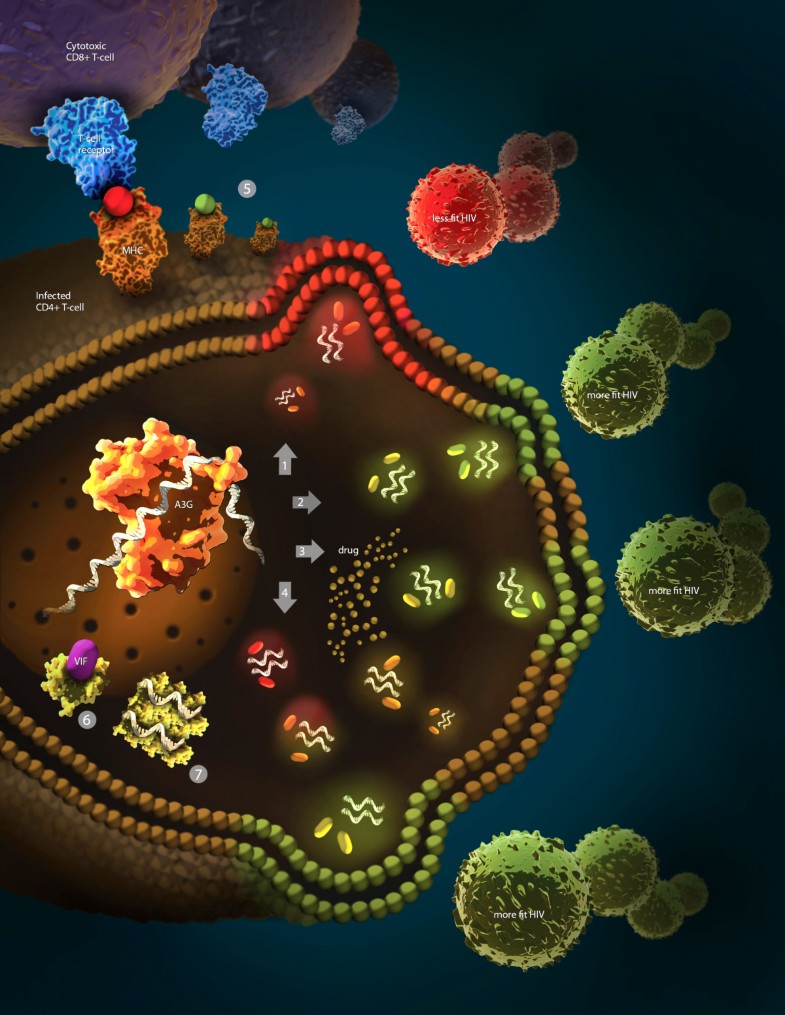 On the other hand, interpretation of studies examining the effect of A3G on the drug and CTL escape mutations in the HIV genome is subject to a major caveat. To date, studies identifying CTL escape or drug resistance mutations have been conducted using two general approaches: firstly, by searching for such mutations in clinical isolates; and secondly, by analyzing mutations in cell culture infection systems where A3G is expressed. We suggest that these types of studies are inherently biased towards generating the observed results and missing the bigger picture. In the first case, the virus pool obtained from infected individuals will inevitably be enriched for CTL and drug escape mutants as these have a replication advantage wherein virions harboring CTL or drug target motifs modified by A3G in a way that supports the opposite outcome (i.e. enhanced CTL recognition or increased drug susceptibility) would have been efficiently eliminated. Therefore, A3G could potentially create new or more immunogenic epitopes that have not yet been characterized. Furthermore, any suggestion that CTL escape is merely serendipitous neglects the point that a limited number of high quality escape epitopes are selected, as opposed to a large quantity of epitopes with low immune evading potential or substantial negative effects on viral fitness. HIV features a very economical propagation process in that the cost of having some genes manipulated is in-turn compensated for by a net effect favoring evasion of composite selective pressure. In the case of cell culture systems examining the role of A3G in generating drug resistance variants, the same caveat stands. That is, multiple drug resistance mutations have been identified and well characterized due to their prominence in patients. A3G-induced mutations that may conversely enhance drug susceptibility have not been identified because of their scarcity caused by more rapid elimination. Accordingly, we suggest that instances where A3G may in fact bestow the upper hand upon the host by generating mutations that enhance CTL recognition or drug susceptibility have likely been underestimated because of their inevitable transience. It is probable that the pro- and anti-viral activities of A3G are not mutually exclusive and that, at different points throughout HIV infection and in different patients, both scenarios unfold; however, the principles of purifying selection are active at the level of individual cells and that of the entire host organism, which buries the evidence of maladaptive A3G-imposed mutations beneath an avalanche of fast replicating adapted variants. While new experimental approaches are required to identify the relative proportion of both categories of A3G-induced mutations in an unbiased manner, the final outcome following multiple selection processes will determine the global impact of A3G mutations. Even if thousands of A3G-induced mutations favoring the host occur for a single mutation that favors HIV, the net advantage will be to HIV as long as one favorable mutation becomes incorporated into the circulating viral pool. Thus, the overall context within which A3G acts is probably just as relevant as the ratio of pro- versus anti-viral mutations. Resolution of this bigger picture will be critical in order to guide future therapeutic strategies centered on altering A3G activity.
Notes
Acknowledgments
ML is supported by a CIHR New Investigator award and a CIHR operating grant (MOP111132). MG is supported by CIHR operating grants (HOP-111725, HOP-93428) and catalyst grant (HC1-112568). Figure 1 was designed by Ms. Enid Hajderi, MScBMC, and ML. We are grateful to Ms. Enid Hajderi for creating the cover artwork and artwork for Figure 1.
Copyright information
© Monajemi et al.; licensee BioMed Central Ltd. 2012
This article is published under license to BioMed Central Ltd. This is an Open Access article distributed under the terms of the Creative Commons Attribution License (http://http://creativecommons.org/licenses/by/2.0), which permits unrestricted use, distribution, and reproduction in any medium, provided the original work is properly cited.