microRNAs in viral oncogenesis
Abstract
MicroRNAs are a recently discovered class of small noncoding functional RNAs. These molecules mediate post-transcriptional regulation of gene expression in a sequence specific manner. MicroRNAs are now known to be key players in a variety of biological processes and have been shown to be deregulated in a number of cancers. The discovery of viral encoded microRNAs, especially from a family of oncogenic viruses, has attracted immense attention towards the possibility of microRNAs as critical modulators of viral oncogenesis. The host-virus crosstalk mediated by microRNAs, messenger RNAs and proteins, is complex and involves the different cellular regulatory layers. In this commentary, we describe models of microRNA mediated viral oncogenesis.
Keywords
microRNA Expression 
Latency Associate Transcript 
Viral Integration 
microRNA Biogenesis 
Viral Oncogenesis 
These keywords were added by machine and not by the authors. This process is experimental and the keywords may be updated as the learning algorithm improves.
Background
Interest in the involvement of infectious agents in oncogenic transformation, and more so viruses, has been of historical importance, probably starting with Rous' discovery of filterable particles that could transmit avian sarcoma [1]. This was followed by the discovery of the role of other viruses in oncogenic transformation of eukaryotic cells. Subsequently, attempts were made to understand the molecular mechanisms of viral oncogenesis. A new field of noncoding RNA mediated regulation has emerged following the discovery of microRNAs, which are ~22 nucleotide long noncoding regulatory RNAs found in eukaryotes and viruses, and the unraveling of their critical roles in normal and abnormal biological processes including development, host-virus interaction and neoplasia [2]. These small endogenous noncoding RNAs are derived from introns or intergenic regions in the genome, many of which were previously thought to be 'junk DNA'. They are processed from hairpin forming precursors by a battery of cellular proteins. These small RNAs, in association with a ribonucleoprotein complex termed as the RNA Induced Silencing Complex, or RISC, mediate post-transcriptional regulation of gene expression. They do this by binding to the 3'UTR regions of the transcripts, harboring regions of imperfect complementarity. The biogenesis and action of microRNAs have been extensively reviewed [3, 4]. The role played by microRNAs in the defense of mammalian cells against virus infection has also been discussed recently [5, 6, 7].
MicroRNAs constitute a hitherto unexplored layer of genetic interactions between the virus and the host. The regulatory impact of microRNAs is huge because a single microRNA can regulate multiple transcripts and multiple microRNAs can regulate a single transcript. This is very similar to transcriptional regulatory networks. Models of microRNA in host-virus cross-talk have been reviewed recently [
8
,
9
]. The recent discovery of microRNAs encoded by a number of viruses, including many human oncogenic viruses, has attracted renewed interest in the molecular mechanism of viral oncogenesis. This novel regulatory layer, mediated by microRNAs, has a far-reaching impact on the latency and pathogenesis of viruses, including the mechanism of virus induced cancers. The molecular role of microRNAs in viral oncogenesis may be diverse, ranging from viral encoded microRNAs to virus encoded suppressors of RNA interference. Cancer itself is multifactorial, wherein deregulation at multiple levels culminates in the global regulatory derangement, thereby making molecular oncogenesis an enigma. In this review we discuss, in light of recent reports, the various possible mechanisms and/or models of host-virus interactions culminating in oncogenesis mediated by microRNAs. Figure
1
provides a simplistic overview of the role of microRNAs in viral oncogenesis. Challenges in the field and future perspectives are also discussed.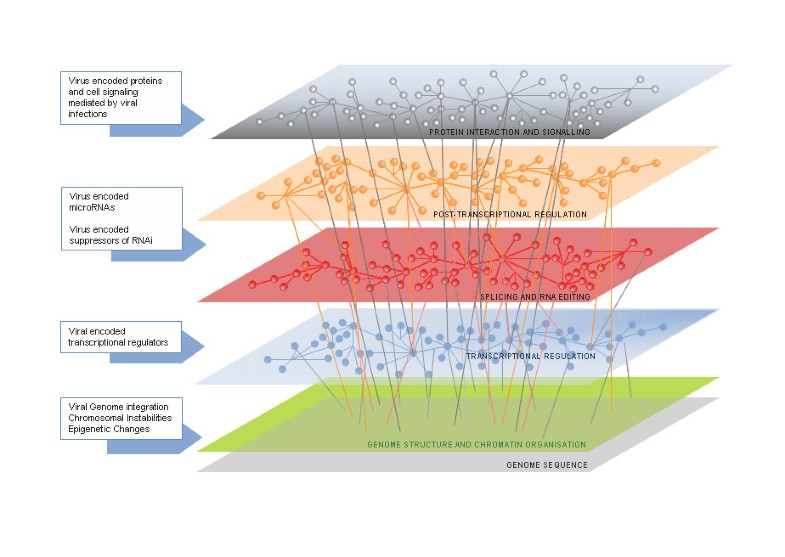 Here, we survey host-virus crosstalk culminating in oncogenesis encompassing five major models: (1) viral microRNAs and their effects, (2) viral integration and its effects on host and viral microRNAs, (3) virus induced genetic instabilities, (4) virus mediated suppression of RNA interference, and (5) Virus induced epigenetic changes.
Notes
Acknowledgements
The authors thank Prof. Samir Brahmachari and other members of RNA@IGIB for stimulating discussions. The authors also thank the reviewers for insightful comments which considerably enriched the manuscript. The authors acknowledge the Council for Scientific and Industrial Research (CSIR), India for funding support (Project code OLP4301).
Copyright information
© Scaria and Jadhav; licensee BioMed Central Ltd. 2007
This article is published under license to BioMed Central Ltd. This is an Open Access article distributed under the terms of the Creative Commons Attribution License (http://creativecommons.org/licenses/by/2.0), which permits unrestricted use, distribution, and reproduction in any medium, provided the original work is properly cited.