Immunogenetics of Hashimoto's thyroiditis
Abstract
Hashimoto's thyroiditis (HT) is an organ-specific T-cell mediated disease. It is a complex disease, with a strong genetic component. To date, significant progress has been made towards the identification and functional characterization of HT susceptibility genes. In this review, we will summarize the recent advances in our understanding of the genetic input to the pathogenesis of HT.
Keywords
Major Histocompatibility Complex 
Human Leukocyte Antigen 
Major Histocompatibility Complex Class 
Human Leukocyte Antigen Class 
Thyroid Autoimmunity 
These keywords were added by machine and not by the authors. This process is experimental and the keywords may be updated as the learning algorithm improves.
Introduction
Hashimoto's thyroiditis (HT) is one of the most common human autoimmune diseases responsible for considerable morbidity in women [1]. It is an organ-specific T-cell mediated disease that affects the thyroid, and genetics play a contributory role in its complexity. To date, significant progress has been made in identifying and characterizing those genes involved in the disease. In this review, we will summarize recent advances in our understanding of the genetic contribution to the pathogenesis of HT.
Epidemiology and clinical features of Hashimoto's thyroiditis
Goitrous autoimmune thyroiditis, or Hashimoto's thyroiditis is a common form of chronic autoimmune thyroid disease (AITD). The disorder affects up to 2% of the general population [2] and is more common in older women and ten times more frequent in women than in men [3]. In the NHALES III study, performed in the USA, the prevalence of subclinical and clinical hypothyroidism was 4.6% and 0.3% respectively [4]. Another US epidemiological study, the Whickham survey, showed the prevalence of spontaneous hypothyroidism to be 1.5% in females and less than 0.1% in males [5]. These prevalence rates are similar to those reported in Japan [6] and Finland [7]. A significant proportion of patients have asymptomatic chronic autoimmune thyroiditis and 8% of woman (10% of woman over 55 years of age) and 3% of men have subclinical hypothyroidism [8]. According the data of the 20-year follow-up to the Whickham survey cohort, the risk of developing overt hypothyroidism is four times higher in women aged between 60 and 70 years than for women between 40 and 50 years of age [1].
Subclinical hypothyroidism is characterized by an increase in serum thyrotropin (TSH) whilst serum levels of thyroxine (T4) and triiodothyronine (T3) remain normal. The overt disease is defined by the dramatic loss of thyroid follicular cells (thyrocytes), hypothyroidism, goitre, circulating autoantibodies to two primary thyroid-specific antigens, thyroglobulin (Tg), thyroid peroxidase (TPO), and lowered concentrations of serum TSH and T4 [9]. Histological and cytological features of HT include a dense thyroidal accumulation of lymphocytes, plasma cells and occasional multinuclear giant cells. The epithelial cells are enlarged, with a distinctive eosinophilic cytoplasm, owing to increased number of mitochondria [10].
HT has been shown to often coexist with other autoimmune diseases such as type 1 diabetes (T1D), celiac disease, rheumatoid arthritis, multiple sclerosis, vitiligo, etc [11, 12, 13, 14]. HT can also be expressed as part of an autoimmune polyendocrine syndrome type 2 (APS-2), which is usually defined by the occurrence of two or more of the following: Addison's disease (always present), AITD and/or type 1 diabetes [15], in the same patient.
In common with probably all autoimmune disorders, the harmful interaction between internal (genetic) and external (environmental and endogenous) factors is required to initiate Hashimoto's disease (Fig.
1
). Environmental triggers of HT include iodine intake [
16
,
17
], bacterial and viral infections [
18
,
19
], cytokine therapy [
20
] and probably pregnancy [
21
,
22
]. The role of dietary iodine is well defined in epidemiological studies [
23
,
24
] and in animal models [
25
,
26
,
27
] and seems to be the most significant environmental factor to induce thyroiditis.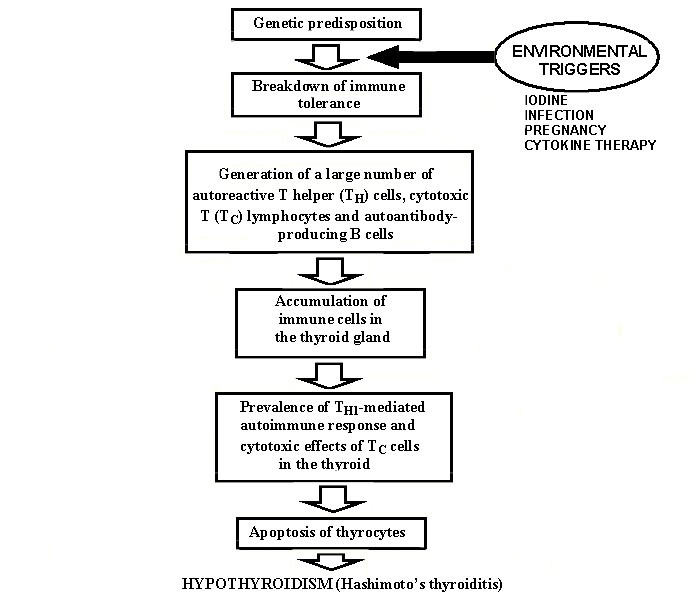 Pathogenesis of Hashimoto's thyroiditis
Autoimmunity in Hashimoto's thyroiditis
The development of the autoimmune failure of the thyroid is a multistep process, requiring several genetic and environmental abnormalities to converge before full-blown disease develops (Fig.
2
). At the onset of disease, major histocompatibility complex (MHC) class II-positive antigen-presenting cells (APC), particularly dendritic cells, and different subclasses of macrophages, accumulate in the thyroid [
28
,
29
]. APC present thyroid-specific autoantigens to the naïve T cells, leading to activation and clonal expansion of the latter. Thus, the initial stage of the disease is followed by a clonal expansion phase and maturation of autoreactive T and B lymphocytes in the draining lymph nodes.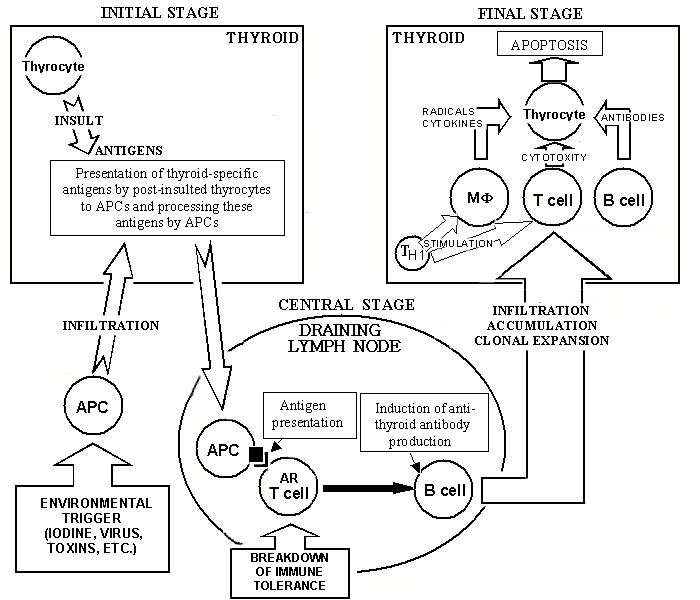 In autoimmune thyroditis animal models, genetically determined immune defects have been suggestively linked to the breakdown of immunological self-tolerance that results in the presentation of host autoantigens and expansion of autoreactive lymphocyte clones. These immune defects are associated with the presence of particular MHC class II haplotypes, but other immune and immune regulatory genes (i.e., CTLA-4 and others) are also involved [30, 31, 32].
Breakdown of the immune tolerance might occur in several ways including interrupting central tolerance (e.g. deletion of autoreactive T cells in the thymus), defects in maintaining peripheral tolerance (e.g. activation-induced T-cell death and suppressing activity of regulatory T lymphocytes) and anergy (e.g. the expression of MHC class II molecules on non-professional APC). Animal models genetically predisposed to develop an autoimmune disease, and patients with AITD, showed a lack of, or a deficiency in, a subpopulation of regulatory T cells with suppressive function [33, 34, 35].
The mechanisms, whereby autoreactive T cells escape deletion and anergy, and become activated, remain uncertain. There is evidence that the thyroid cell itself, by "aberrantly" expressing MHC molecules, can play the role of "non-professional " APS and present disease-initiating antigen directly to the T cells [36, 37]. The concept of aberrant MHC class II expression was supported by studies in mice. They developed a type of Graves' Disease (GD) after being injected with fibroblasts coexpressing MHC class II and the TSH receptor (TSHR). TPO antibody production was induced after injection with fibroblasts coexpressing class II molecules and TPO [38, 39].
Iodine is a necessary component of normal thyroid hormonogenesis. Incorporation of iodine into thyrosine residues of Tg leads to the formation of mono-iodotyrosine and di-idothyrosine derivates that subsequently undergo an oxidative coupling event resulting in the producing of T3 and T4. Iodine can promote antithyroid immunity in a number of ways. Several studies suggest that iodination of Tg is crucial for recognition by Tg-reactive T cells [40, 41]. Iodine excess can affect the Tg molecule directly, creating new epitopes or exposing "cryptic" epitopes. It has been demonstrated that a highly iodinated thyroglobulin molecule is a better immunogen than Tg of low iodine content [41, 42]. Therefore, highly iodinated Tg may facilitate antigen uptake and processing by APC. Additionally, high doses of iodine were shown to directly affect macrophages, dendritic cells, B and T lymphocytes, resulting in stimulation of macrophage myeloperoxidase activity, acceleration of the maturation of dendritic cells, increasing the number of circulating T cells and stimulating B cell immunoglobulin production [25]. Excessive amounts of iodide ion are rapidly oxidized by TPO, thereby generating excessive amounts of reactive intermediates such as hypoiodous acid and oxygen radicals. These oxidative species damage thyrocyte cell membrane by oxidation of membrane lipids and proteins causing thyrocyte necrosis [43]. The state of severe iodine deficiency itself namely leads to a lowering of thyroid autoimmunity and an immunodeficient state in autoimmune-prone BB-DP rats. This hampers the autoreactcive T-cell generation and autoantibody production [25]. A lower degree of Tg iodination also makes this molecule less antigenic [42].
An influx of dendritic cells and macrophages to the thyroid may occur as a consequence of inflammatory events in the gland. Early non-specific necrosis of thyrocytes due to toxins (i.e. iodine, etc.), and perhaps viral or bacterial infection, can attract these cells to the thyroid. Moreover, these immune cells are normal constituents of the thyroid that are able to regulate the growth and function of thyrocytes via interleukin-1 (IL-1) and IL-6-mediated pathways [44].
A central phase of HT is characterized by the recognition of presented autoantigens by the lymphocytes, followed by an apparent uncontrolled production of autoreactive CD4+ T cells, CD8+ cytotoxic T cells and immunoglobulin G (IgG) autoantibodies. Initially, the production of self-reactive cells and autoantibodies occurs in the draining lymph nodes (Fig. 2). Later, the lymphoid tissue often develops directly in the thyroid gland itself. This tissue is generally very well organized, with cords of anti-Tg-antibody-producing plasma cells in the periphery. It is usually non-destructive and shows a peaceful co-existence with adjacent thyrocytes.
Thyroglobulin, the main protein synthesized in the thyroid, serves both in the synthesis and in the storage of thyroid hormones. Human Tg molecules contain at least four thyroid hormone synthesis sites from the iodinated tyrosine residues at positions 5, 2553, 2567 and 2746 [45]. The hormone synthesis sites and the iodine content of Tg play an important role in its autoantigenicity [40]. Tg is one of the major autoantigens in thyroid autoimmunity and serologic studies have shown that there are at least 40 antigenic epitopes on human Tg [16, 46]. Tg-antibodies are detected in almost all patients with AITD [47]. Anti-thyroglobulin antibodies were also reported in up to 27% of normal individuals [48]. However, numerous studies have clearly shown that the epitope recognition pattern of the natural anti-Tg antibodies is differented from that of AITD-associated anti-Tg antibodies. Most studies have demonstrarted a restricted epitope recognition pattern of AITD subjects by anti-Tg antibodies, in contrast to polyclonal reactivity observed with anti-Tg antibodies from healthy individuals [49, 50]. Human or mouse Tg immunization induces experimental autoimmune thyroiditis (EAT) in mice [51]. The EAT induction is HLA-dependent implying an interaction between the Tg molecule and the MHC glycoproteins [52]. In addition, alterations to Tg could explain interactions between genetic and environmental factors in the aetiology of HT.
Thyroid peroxidase is another significant autoantigen in the thyroid of patients affected with HT and AITD. This enzyme catalyses the oxidation of iodine to an iodinating species that forms iodotyrosines in a Tg molecule and subsequently iodotyronines [53]. TPO antibodies are heterogeneous. To date, around 180 human TPO anribodies have been cloned and sequenced. This allows for the possible identification of major features of the TPO-directed antibodies repertoire during AITD. In Graves' disease patients, heavy chain VH domains of anti-TPO antibodies preferentially use D proximal IGHV1 genes. IGHV3 genes, mainly located in the middle of the immunoglobulin heavy chain gene (IGH) cluster on chromosome 15q11, characterize HT patients more frequently. A large proportion of the anti-TPO heavy chain VH domain comes about following a VDJ recombination process that uses inverted D genes [54, 55].
Autoantibodies against other thyroid-specific antigens such as thyrotropin receptor and sodium iodide symporter were also found in serum of HT patients. However, these antibodies occur at low frequency and do not appear to contribute any diagnostic power for HT [56, 57].
In a final, destructive step of Hashimoto's thyroiditis, the autoreactive T cells diffusely accumulate in large numbers and infiltrate thyroid parenchyma (Fig. 2). In the BB-DP rat model, T-helper type 1 (TH1)-mediated mechanisms involving production of IL-12, tumor necrosis factor-α (TNF-α) and interferon-γ play a major role in the destruction of thyrocytes, rather than TH2 type mechanisms directed by IL-4 and IL-10 [58]. The infiltration of activated scavenger macrophages into the thyroid follicles, thus destroying the thyroid cells, is compatible with TH1-mediated mechanisms [59]. Fas and Fas ligand (FasL) expression was higher in rats with lympholytic thyroiditis indicating a role of these apoptotic molecules in thyrocyte death [60].
Apoptosis in Hashimoto's thyroiditis
Autoimmune responses against specific antigens are primary determinants in thyroid autoimmunity. Other molecular mechanisms including cell apoptosis may play a role in determining the opposite phenotypic outcomes of AITD such as thyroid destruction in HT and thyroid hyperplasia in GD. T-helper lymphocytes produce cytokines that influence both immune and target cells at several levels. The predominance of TH1 or TH2 cytokines might regulate thyrocyte survival through the induction of pro-apoptotic and anti-apoptotic proteins. TH1-mediated mechanisms lead to thyrocyte depletion in Hashimoto's thyroiditis through the involvement of death receptors and cytokine-regulated apoptotic pathways [61, 62].
The normal thyroid gland has been shown to act as an immune privileged site having carefully regulated mechanisms of cell death and self-protection against attack by infiltrating activated T-cells induced by apoptosis [63, 64]. Cell apoptosis occurs in the normal thyroid at a low level. As new thyrocytes are produced, old cells are destroyed in order to maintain normal thyroid volume and function. Deregulation of apoptosis, which is weakly determined by genetic susceptibility, can lead to destructive processes. Initiation of an out-of-control apoptotic mechanism in thyroid cells may be caused by various non-genetic injuries that affect expression of apoptosis inhibitor molecule Bcl-2 or membrane ligand FasL [65]. Thyrocytes from HT thyroid glands are able to hyperproduce Fas and FasL on their surfaces thus inducing fratricide apoptosis [66]. IL-1β, abundantly produced in HT glands, induces Fas expression in normal thyrocytes, the cross-linking of Fas resulting in massive thyrocyte apoptosis. This can play a role in the progression of Hashimoto's thyroiditis [67].
Immune-mediated apoptosis of thyrocytes is directed by CD8+ cells. Receptors on the target cell are triggered by lymphocyte ligands and/or released soluble factors are delivered to the target cell [68]. Receptors involved in immune-mediated apoptosis include the TNF R1 receptor, the Fas receptor and death receptors DR3 and DR4, whereas soluble mediators include substances such as perforines and TNF [68, 69, 70].
The common apoptotic pathway consists of subsequent activation of specific intracellular proteases known as caspases. These caspases are themselves activated by specific proteolytic cleavage or may be activated by cleavage performed by other caspases. The caspase cascade ultimately induces enzymes that progressively destroy the cell and its genetic material, finally lead to cell death. The apoptosis, or programmed cell death, can be initiated by binding death ligands, such as TNF, TNF-related apoptosis-induced ligand (TRAIL) and FasL, to the cell surface. This in turn starts intracellular signal cascading of caspases [71].
Several apoptosis signalling pathways, initiated by molecules such as FasL and TRAIL, have been shown to be active in thyrocytes and may be involved in destructive thyroiditis [72]. Fas-mediated apoptosis seems to be a general mechanism of cell destruction in AITD. In GD patients, reduced levels of Fas/FasL and increased levels of antiapoptotic molecule Bcl-2 favour thyroid cell survival and apoptosis of infiltrating lymphocytes. In contrast, the regulation of Fas/FasL/Bcl-2 expression in HT can promote thyrocyte apoptosis through homophylic Fas-FasL interactions and a gradual reduction in thyrocyte numbers leading to hypothyroidism [61].
Thus, the rate of thyrocyte apoptosis dictates the clinical outcome of thyroid autoimmunity. Though rare in normal thyroid, it markedly increases during HT, but not in GD. Therefore, regulation of thyrocyte survival is a crucial pathogenic determinant.
Genetics of Hashimoto's thyroiditis
Conclusion
AITD can be initiated in individuals genetically predisposed to AITD by non-genetic (environmental) triggers such as dietary iodine, infection, pregnancy, cytokine therapy (Fig. 1). This interaction leads to different clinical phenotypes of thyroid autoimmunity such as Graves' disease, Hashimoto's thyroiditis or production of thyroid antibodies. HT and GD are two distinct but related clinical outcomes of AITD. It seems that both thyroid diseases have common pathogenic mechanisms as their initial steps including breakdown of the immune tolerance and accumulation of T lymphocytes in the thyroid gland.
Sequence variants of CTLA-4, associated with increased levels of the soluble form of this immune costimulator and with stability of CTLA-4 mRNA, could play a crucial role in the earliest stages of AITD (i. e. breakdown of self-tolerance and surviving autoreactive T lymphocytes). This role might be sufficient to regulate subsequent steps in the development of autoimmune responses to the production of thyroid autoantobodies [167].
Environmental factors (particularly, iodine intake and infection) could cause insult of the thyrocyte followed by abnormal expression of MHC class I and class II molecules, as well as changes to genes or gene products (such as MHC class III and costimulatory molecules) needed for the thyrocyte to become an APC [255]. In this stage, a modulating role of sequence variants of HLA class II molecules could become pivotal in binding and presenting thyroid antigenic peptides derived from Tg, TPO and TSHR. Genetic variations in Tg, and probably in TSHR and other thyroid-specific genes, might be responsible for generating an autoimmune response.
In later stages, thyroid autoimmunity could be switched towards GD or HT. GD is characterized by TH2-mediated switching of thyroid-infiltrating T cells. These induce the production of stimulating anti-TSHR antibodies by B cells and anti-apoptotic mechanisms that lead to clinical hyperthyroidism. In HT, preferential TH1 response initiates apoptosis of thyroid cells and results in clinical hypothyroidism [22].
It is clear that a number of loci and genes determine genetic predisposition to HT, with varying effects. These loci could be unique to HT or general for both HT and GD. Several whole-genome scans showed results suggesting that there is significant shared susceptibility to HT and GD [130, 131, 134, 135]. This is also supported by the frequent coexistance of both diseases in affected families [74, 133]. Preliminary data suggest that shared genetic susceptibility involves both immune regulatory (i. e. CTLA-4 and HLA) and thyroid-specific genes (i.e. Tg). These genes are not responsible for the determination of pathogenic mechanisms of thyroid autoimmunity distinct for HT and GD. It remains unclear which susceptibility genes are specifically involved in the HT pathogenesis.
The CD40 gene, an important immune modulator, appears to act as a GD-specific susceptibility gene. The gene is located within the 20q11 locus and shows significant linkage to GD, but not to HT, in UK Caucasians [74, 130, 131, 256, 257]. Subsequent analysis found the CD40 gene to be associated with GD [258]. However, this finding needs to be independently confirmed in other population samples.
A probable susceptibility gene that could direct switching towards GD or HT is thought to be located within the 5q31 locus, which is linked to AITD and contains a cytokine gene cluster. Different sets of cytokines are known to regulate switching to TH1 or TH2 type mechanisms [58]. There may be two susceptibility genes, each of which uniquely contributes to the development of HT- or GD-specific pathogenesis. The IL-4 promoter [T(-590) C] polymorphism also appears to be associated with GD, but not with HT [199]. IL-4 mediates TH2 type mechanism, which can lead to hyperthyroidism [259].
Another HT-specific susceptibility gene(s) may be an apoptotic gene. Apoptosis of thyroid follicular cells is the hallmark of HT and might be the primary cause of death of thyrocytes compared to T cell-mediated cytotoxity [69].
Thus, it is necessary to identify additional susceptibility genes and disease-associated polymorphisms in apoptotic genes in AITD- and HT-linked loci by using a fine mapping approach and high-density panels of SNPs. Further functional analysis and search for correlations between genotype and phenotype will help to evaluate the role of these genes in the development of autoimmune thyroid disease. Susceptibility genes interact with thyroid autoimmunity [62, 130], and the level of these interactions could affect disease severity and clinical expressions. The molecular mechanisms of these interactions is unknown. However, significant progress has been made in identifying susceptibility genes to HT and AITD along with intriguing findings regarding the functional characterization of disease-associated polymorphisms. These should stimulate further studies towards the in-depth understanding of the mechanisms by which these genes contribute to thyroid autoimmunity.
Copyright information
© Chistiakov; licensee BioMed Central Ltd. 2005
This article is published under license to BioMed Central Ltd. This is an Open Access article distributed under the terms of the Creative Commons Attribution License (http://creativecommons.org/licenses/by/2.0), which permits unrestricted use, distribution, and reproduction in any medium, provided the original work is properly cited.