Molecular regulation of pancreatic stellate cell function
Abstract
Until now, no specific therapies are available to inhibit pancreatic fibrosis, a constant pathological feature of chronic pancreatitis and pancreatic cancer. One major reason is the incomplete knowledge of the molecular principles underlying fibrogenesis in the pancreas. In the past few years, evidence has been accumulated that activated pancreatic stellate cells (PSCs) are the predominant source of extracellular matrix (ECM) proteins in the diseased organ. PSCs are vitamin A-storing, fibroblast-like cells with close morphological and biochemical similarities to hepatic stellate cells (also known as Ito-cells). In response to profibrogenic mediators such as various cytokines, PSCs undergo an activation process that involves proliferation, exhibition of a myofibroblastic phenotype and enhanced production of ECM proteins. The intracellular mediators of activation signals, and their antagonists, are only partially known so far. Recent data suggest an important role of enzymes of the mitogen-activated protein kinase family in PSC activation. On the other hand, ligands of the nuclear receptor PPARγ (peroxisome proliferator-activated receptor γ) stimulate maintenance of a quiescent PSC phenotype. In the future, targeting regulators of the PSC activation process might become a promising approach for the treatment of pancreatic fibrosis.
Keywords
Pancreatic Fibrosis 
Chronic Pancreatitis 
Stellate Cell 
Hepatic Stellate Cell 
Troglitazone 
These keywords were added by machine and not by the authors. This process is experimental and the keywords may be updated as the learning algorithm improves.
Review
Excessive production of connective tissue molecules forming the extracellular matrix (ECM) is a pathological process relevant to diseases of many organ systems, including liver, lung, kidney, bowel and pancreas. The resulting fibrosis frequently leads to a progressive loss of specific organ functions. In the past two decades, fibrogenesis has been intensively studied by a large number of laboratories, and a great deal of scientific information has been accumulated regarding the pathogenesis of fibrosis in various organs. Until a few years ago, pancreatic fibrosis, however, remained an exception: although known for a long time as a central pathological feature of both chronic pancreatitis and pancreatic cancer [1, 2], its cellular and molecular basics remained obscure. This situation has changed significantly since the identification of a fibroblast-like cell type in the pancreas with close similarities to hepatic stellate cells (HSCs; also called Ito cells) [3, 4], the predominant source of ECM in the fibrotic liver [5, 6]. In the meantime, it has become increasingly clear that these stellate cells of the pancreas (named pancreatic stellate cells; PSCs) are the principle effector cells in pancreatic fibrosis. In the following sections, I will focus on (I) the current understanding of the role of PSCs in fibrogenesis, (II) extracellular signals involved in PSC activation, (III) intracellular mediators of activation signals in PSCs, (IV) future directions of research, and (V) activated PSCs as a target for antifibrotic therapies.
Conclusions
PSCs play a crucial role in pancreatic fibrogenesis (Figure
1
). Ethanol metabolites and cytokines such as PDGF and TGF-β are key activators of PSCs. The intracellular regulation of PSC activation is incompletely characterized. MAP kinase signaling cascades are involved in the transduction of activation signals, while PPARγ ligands induce a quiescent PSC phenotype. The recent progress in the understanding of the cellular and molecular basics of pancreatic fibrosis will facilitate the development of therapeutic strategies to inhibit pancreatic fibrosis.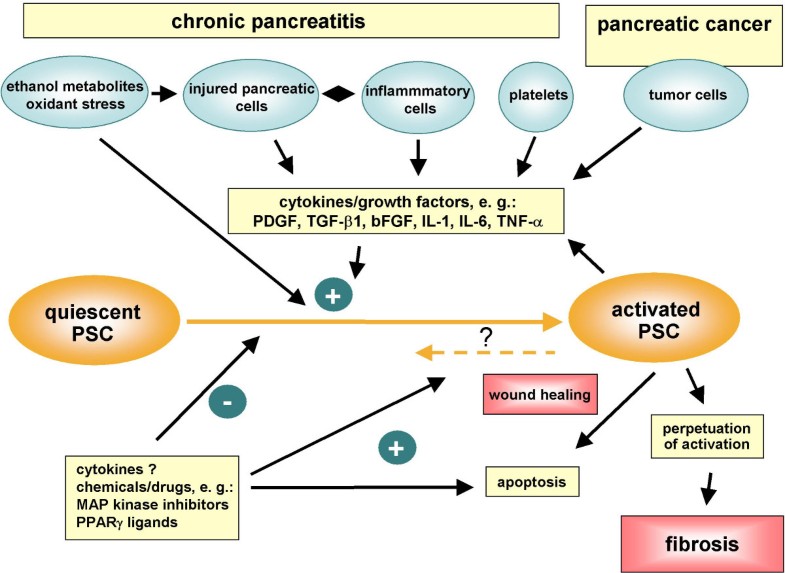 Notes
Acknowledgement
This work was supported by a grant from the Bundesministerium für Bildung und Forschung (01ZZ0108).
Copyright information
© Jaster; licensee BioMed Central Ltd. 2004
This article is published under license to BioMed Central Ltd. This is an open-access article distributed under the terms of the Creative Commons Attribution License (http://creativecommons.org/licenses/by/2.0), which permits unrestricted use, distribution, and reproduction in any medium, provided the original work is properly cited.