Increasing the demand for childhood vaccination in developing countries: a systematic review
Open Access
Systematic review
Abstract
Background
Attempts to maintain or increase vaccination coverage almost all focus on supply side interventions: improving availability and delivery of vaccines. The effectiveness and cost-effectiveness of efforts to increase demand is uncertain.
Methods
We performed a systematic review of studies that provided quantitative estimates of the impact of demand side interventions on uptake of routine childhood vaccination. We retrieved studies published up to Sept 2008.
Results
The initial search retrieved 468 potentially eligible studies, including four systematic reviews and eight original studies of the impact of interventions to increase demand for vaccination. We identified only two randomised controlled trials. Interventions with an impact on vaccination uptake included knowledge translation (KT) (mass media, village resource rooms and community discussions) and non-KT initiatives (incentives, economic empowerment, household visits by extension workers). Most claimed to increase vaccine coverage by 20 to 30%. Estimates of the cost per vaccinated child varied considerably with several in the range of $10-20 per vaccinated child.
Conclusion
Most studies reviewed here represented a low level of evidence. Mass media campaigns may be effective, but the impact depends on access to media and may be costly if run at a local level. The persistence of positive effects has not been investigated. The economics of demand side interventions have not been adequately assessed, but available data suggest that some may be very cost-effective.
Keywords
Measle 
Knowledge Translation 
Vaccination Coverage 
Vaccine Coverage 
Childhood Vaccination 
These keywords were added by machine and not by the authors. This process is experimental and the keywords may be updated as the learning algorithm improves.
List of abbreviations used
CHW

Community health worker

FVC

Full vaccine coverage

KT

Knowledge Translation.
Background
Routine childhood vaccination is an important prevention strategy with largely proven impact. The WHO claimed that, in 2001, childhood vaccination prevented 61% of deaths from measles, 69% of tetanus deaths, 78% of pertussis deaths, 94% of diphtheria deaths and 98% of polio deaths [1].
Despite this impressive potential, childhood vaccination coverage is stagnating or even deteriorating in some areas in South Asia and large parts of Africa [2]. Responses to the deteriorating coverage have focussed almost entirely on supply side improvements, including the development of new vaccines and extension of existing delivery services [3, 4]. Much less is known about what increases demand for vaccination and the uptake from the users' perspective. A recent systematic review of 60 studies of evidence on improving routine vaccination programs in developing countries found only three studies that increased demand for vaccination [5].
In preparation for a cluster randomised trial of knowledge translation (KT) in the Balochistan province in Pakistan [6], we reviewed the literature on efforts to stimulate demand for routine childhood vaccination. The trial aimed to increase the demand for vaccination without relying on improvements or extension of the health services offered by the government.
Methods
We developed an a priori protocol. Initial literature scans identified published systematic reviews of the childhood vaccination literature. Two reviewers (BS, DH) scrutinized these to identify relevant studies, and these were included in the review. We then searched for primary studies published since 2004 (the most recent literature update from existing reviews) using MEDLINE, POPLINE, ECONLIT, EMBASE, CINAHL and the Cochrane Library. We did citation searches on relevant articles using SCOPUS up to the end of September 2008. Search terms varied by database (details are available from the authors) and included vaccin*, immuni*, econom*, cost*, benefit* 'developing countries' and the names of countries that are categorised as 'low income' by the World Bank. We did not limit the searches by study type. These searches yielded 71,796 citations between 2004 and 2008.
Combinations of search terms identified a smaller number of potentially relevant titles from each database: MEDLINE (335), EMBASE (106), and CINAHL (27). There was considerable overlap between the retrieval lists for these databases. Two readers (BS, DH) examined all titles and identified 12 articles describing community-based interventions that might increase the demand for childhood vaccination (see Figure
1
).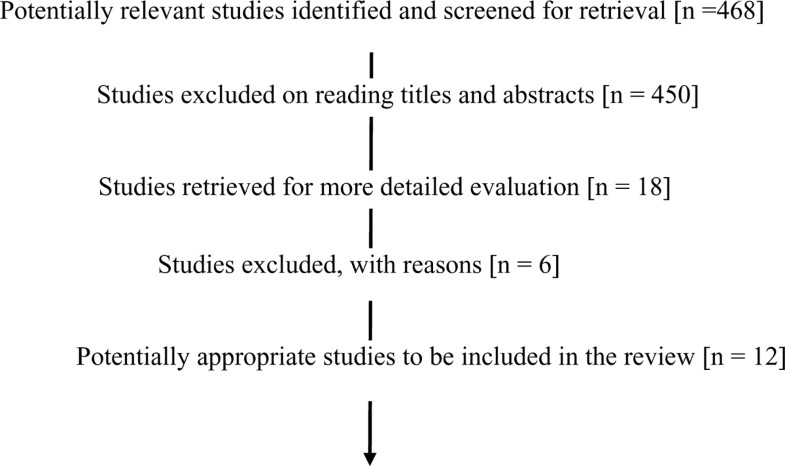 We excluded studies of exclusively supply side initiatives and those from developed countries. We included evaluation of national vaccination campaigns and the impact of community health workers when reports included a description of activities that seemed designed to increase demand for childhood vaccination. We evaluated studies on media campaigns, focus groups and microfinance programs and incentives. We also included studies containing cost data, and those from developing countries. Two authors (BS, DH) read the full text copies of reports of these studies.
Where interventions described a clear communication strategy we attempted to categorise it as 'knowledge transfer' - a unidirectional process where research is conceptualized and conducted, and the results are then made available to the end-users - or 'knowledge translation', a process that involves active and conscious participation of knowledge translators and knowledge recipients - in this case the parents of children. We confined our literature retrieval to studies that provided quantitative estimates of the impact of 'demand side' interventions. If they used mixed methods, including qualitative techniques, they were included; but we did not extract or evaluate qualitative data. We sought studies with the highest levels of methodological rigour, following an evidence based approach [7]. In the case of published systematic reviews and meta-analyses we assessed methodological quality using the AMSTAR, a validated instrument [8, 9]. We conducted formal assessment of randomised trials using the SIGN 50 instrument [10]. However, the broad range of the other study types required an informal approach to quality assessment and precluded any attempt at data pooling (meta-analysis).
Discussion
Our searches, including published systematic reviews and original studies, retrieved only eight published reports of controlled evaluations of the benefits and costs of interventions designed to increase demand for routine childhood vaccination. All of these studies showed some increases in uptake of vaccination, indicating that improvements of 10 to 20% are readily achievable.
The main approaches exemplified by these studies were knowledge transfer and provision of incentives and collateral-free credit. Having reviewed this body of data our main conclusion is that, despite their potential, and some encouraging results, interventions to increase demand for routine childhood vaccination have not been adequately investigated.
From a quantitative evidence based perspective, the level of evidence represented in the studies reviewed here is generally low, with a reliance on 'before and after' designs, employing repeated cross sectional surveys or retrieval of routinely collected data. It should be noted that the survey methods employed in some of these studies were of high quality and some authors made adjustments for variables that might act as confounders. However, the lack of concurrent control groups leaves most studies open to the possibility of 'order effects' (such as contemporaneous improvements in service provision) as an explanation for the findings. Attributing cause and effect is therefore difficult. This is disappointing, as the effect sizes seen in some studies were quite substantial. Furthermore, the variety of interventions and the lack of rigorous evaluations precluded any attempt to compare the effectiveness of the different approaches.
Thus, despite the crucial importance of the topic, interventions that increase demand for vaccination have received little research attention, in comparison with service enhancement approaches to increase vaccination coverage. Strategies that depend on use of the mass media do not lend themselves to evaluation by controlled trials as one cannot easily randomise exposure. They will not be effective if families are unable to access mass media - for instance in rural and remote areas. There is also the real issue of how long any effects of such campaigns last. To date, follow up times have been brief. We can speculate that the effects of mass media campaigns (on their own) will not last long compared with interventions that use education and reinforcement to engender basic changes in community attitudes to routine childhood vaccination.
Of course, the major challenge is to achieve such a sustained change. In our view this probably requires a shift from 'knowledge transfer' to 'knowledge translation', as defined in the Methods section. In this review we found no true example of an intervention that met the definition of 'knowledge translation'. But a realistic middle ground could be the type of village level discussions that we trialled in Pakistan [6]. This was facilitated by trained and paid fieldworkers with roll-on of the discussion after the team had left. In the Pakistan example, the main impact was anticipated from the social networking that followed the "paid intervention", in the form of three visits and discussions with opinion makers.
As illustrated in the studies reviewed here, demand side interventions can involve interventions that do not rely primarily on translation of knowledge. Collateral-free loans to women lead to empowerment and can result in collective actions, which can free up resources and overcome financial and logistical barriers to childhood vaccination. In this review the study by Loevinsohn [20] found in Nicaragua that food might provide an incentive to mothers to bring their children for vaccination. However, it is also likely that provision of food frees up other household resources and makes it easier for parents to organise vaccination visits. So it is equivalent to a financial payment.
The data on cost effectiveness were sparse, but indicated that demand side interventions are sometimes capable of providing incremental cost effectiveness ratios of less than $1 per additional fully vaccinated child. However, these low figures are very context specific as shown by the mass media campaign in Bangladesh [18, 19] where the cost effectiveness ratios were between $30 and $40 per additional vaccinated child with local media campaigns, because of their higher net costs and lower coverage. There are many difficulties in attributing costs accurately to field activities. For instance, in volunteer based door-to-door interventions, like those in Mozambique, most of the true cost is absorbed by the volunteers, making the sustainability and reproducibility of the intervention questionable.
There are a number of important limitations in our work. One weakness of our review is that we did not update the extensive grey literature review undertaken by Batt and others (2004) [14]. This was a matter of resources - Batt and colleagues relied on an extensive series of interviews with key informants and we were unable to reproduce these. However, the grey literature reported in the systematic reviews included here was up-to-date and reflected complex interventions aimed at strengthening health systems, rather than the demand-side interventions reported in the published literature [14].
The work reported here was very much an update of previous reviews - and therefore depends on the foundational work done by others. Another limitation of our work was the impossibility of doing a meta-analysis, so we are left to present disaggregated results in the form of a narrative.
The overriding limitation of the review is the sparseness of the literature on increasing the demand for vaccination; this is of concern given the importance of the topic. To provide sustained effects demand side interventions will have to be integrated with other system-wide approaches and will not work unless procurement and supply are also addressed adequately.
Conclusion
In the case of childhood vaccination, demand side interventions have been poorly investigated in developing countries. Even accepting the difficulties of carrying out research in this field, the available studies contribute only low levels of quantitative evidence. Recognising these limitations, the published studies reviewed here reported positive results, some claiming quite large increases in demand for childhood vaccination. However, the limited methodologies precluded any attempt to compare and contrast the effectiveness of different approaches. Mass media campaigns may be effective, but this will depend on access to media and may be costly if run at a local level. The studies reviewed here do not provide information on the duration of positive effects of mass media campaigns. The cost-effectiveness of demand side interventions has not been adequately assessed, but based on limited data some may prove to be very cost-effective.
Notes
Acknowledgements
This work was carried out with the aid of a grant from the International Development Research Centre (IDRC), Ottawa, Canada, as part of the Canadian International Immunization Initiative Phase 2 (CIII2). This initiative is a project of the Global Health Research Initiative (GHRI). The authors thank Linda Devore at the Institute for Clinical and Evaluative Sciences, Toronto for designing the search strategy and conducting the literature search.
This article is published as part of BMC International Health and Human Rights Volume 9 Supplement 1, 2009: The fallacy of coverage: uncovering disparities to improve immunization rates through evidence. The Canadian International Immunization Initiative Phase 2 (CIII2) Operational Research Grants. The full contents of the supplement are available online at http://www.biomedcentral.com/1472-698X/9?issue=S1.
Table 3
Methodological quality of systematic reviews and randomised trials primary studies included in this study.
| Systematic review | AMSTAR | Quality Score (Percent of maximum) | Primary study | SIGN 50* | Percent quality |
| --- | --- | --- | --- | --- | --- |
| Pegurri et al 2004 [3] | 1. No | 18% | Brugha 1996 [22] | 6/10 | 60% |
|   | 2. No |   |   |   |   |
|   | 3. Yes |   |   |   |   |
|   | 4. No |   |   |   |   |
|   | 5. No |   |   |   |   |
|   | 6. No |   |   |   |   |
|   | 7. Yes |   |   |   |   |
|   | 8. No |   |   |   |   |
|   | 9. Can't answer |   |   |   |   |
|   | 10. No |   |   |   |   |
|   | 11. No |   |   |   |   |
| Batt 2004 [14] | 1. No | 27% | Andersson 2008 [6] | 6/10 | 60% |
|   | 2. No |   |   |   |   |
|   | 3. Yes |   |   |   |   |
|   | 4. Yes |   |   |   |   |
|   | 5. No |   |   |   |   |
|   | 6. No |   |   |   |   |
|   | 7. Yes |   |   |   |   |
|   | 8. Can't answer |   |   |   |   |
|   | 9. Can't answer |   |   |   |   |
|   | 10. No |   |   |   |   |
|   | 11. No |   |   |   |   |
| Haines 2007 [15] | 1. No | 18% |   |   |   |
|   | 2. No |   |   |   |   |
|   | 3. Yes |   |   |   |   |
|   | 4. yes |   |   |   |   |
|   | 5. No |   |   |   |   |
|   | 6. No |   |   |   |   |
|   | 7. No |   |   |   |   |
|   | 8. No |   |   |   |   |
|   | 9. No |   |   |   |   |
|   | 10. No |   |   |   |   |
|   | 11. No |   |   |   |   |
| Ryman 2008 [5] | 1. No | 36% |   |   |   |
|   | 2. No |   |   |   |   |
|   | 3. Yes |   |   |   |   |
|   | 4. Yes |   |   |   |   |
|   | 5. No |   |   |   |   |
|   | 6. Yes |   |   |   |   |
|   | 7. Yes |   |   |   |   |
|   | 8. No |   |   |   |   |
|   | 9. Can't answer |   |   |   |   |
|   | 10. No |   |   |   |   |
|   | 11. No |   |   |   |   |
Copyright information
© Shea et al; licensee BioMed Central Ltd. 2009
This article is published under license to BioMed Central Ltd. This is an Open Access article distributed under the terms of the Creative Commons Attribution License (http://creativecommons.org/licenses/by/2.0), which permits unrestricted use, distribution, and reproduction in aided the original work is properly cited.