Systematic review: Effects, design choices, and context of pay-for-performance in health care
Open Access
Research article
Abstract
Background
Pay-for-performance (P4P) is one of the primary tools used to support healthcare delivery reform. Substantial heterogeneity exists in the development and implementation of P4P in health care and its effects. This paper summarizes evidence, obtained from studies published between January 1990 and July 2009, concerning P4P effects, as well as evidence on the impact of design choices and contextual mediators on these effects. Effect domains include clinical effectiveness, access and equity, coordination and continuity, patient-centeredness, and cost-effectiveness.
Methods
The systematic review made use of electronic database searching, reference screening, forward citation tracking and expert consultation. The following databases were searched: Cochrane Library, EconLit, Embase, Medline, PsychINFO, and Web of Science. Studies that evaluate P4P effects in primary care or acute hospital care medicine were included. Papers concerning other target groups or settings, having no empirical evaluation design or not complying with the P4P definition were excluded. According to study design nine validated quality appraisal tools and reporting statements were applied. Data were extracted and summarized into evidence tables independently by two reviewers.
Results
One hundred twenty-eight evaluation studies provide a large body of evidence -to be interpreted with caution- concerning the effects of P4P on clinical effectiveness and equity of care. However, less evidence on the impact on coordination, continuity, patient-centeredness and cost-effectiveness was found. P4P effects can be judged to be encouraging or disappointing, depending on the primary mission of the P4P program: supporting minimal quality standards and/or boosting quality improvement. Moreover, the effects of P4P interventions varied according to design choices and characteristics of the context in which it was introduced.
Future P4P programs should (1) select and define P4P targets on the basis of baseline room for improvement, (2) make use of process and (intermediary) outcome indicators as target measures, (3) involve stakeholders and communicate information about the programs thoroughly and directly, (4) implement a uniform P4P design across payers, (5) focus on both quality improvement and achievement, and (6) distribute incentives to the individual and/or team level.
Conclusions
P4P programs result in the full spectrum of possible effects for specific targets, from absent or negligible to strongly beneficial. Based on the evidence the review has provided further indications on how effect findings are likely to relate to P4P design choices and context. The provided best practice hypotheses should be tested in future research.
Keywords
Effect Finding 
Smoking Cessation Outcome 
Incentive Size 
Independent Practice Association 
Contextual Mediator 
These keywords were added by machine and not by the authors. This process is experimental and the keywords may be updated as the learning algorithm improves.
Background
Research into the quality of health care has produced evidence of widespread deficits, even in countries with extensive resources for healthcare delivery[1, 2, 3, 4]. One intervention to support quality improvement is to directly relate a proportion of the remuneration of providers to the achieved result on quality indicators. This mechanism is known as pay-for-performance (P4P). Although 'performance' is a broad concept that also includes efficiency metrics, P4P focuses on clinical effectiveness measures as a minimum, in any possible combination with other quality domains. Programs with a single focus on efficiency or productivity are not covered by the P4P concept as it is commonly applied.
Current P4P programs are heterogeneous with regard to the type of incentive, the targeted healthcare providers, the criteria for quality, etc. Several literature reviews have been published on the effects of P4P and on what works and what does not. In the summer of 2009, a meta-review performed in preparation for this paper identified 16 relevant reviews of sufficient methodological quality, according to Cochrane guidelines[5, 6, 7, 8, 9, 10, 11, 12, 13, 14, 15, 16, 17, 18, 19, 20]. However, several new studies have been published in the last five years, which were not addressed.
Previous reviews concluded that the evidence is mixed with regard to P4P effectiveness, often finding a lack of impact or inconsistent effects. Existing reviews also reported a lack of evidence on the incidence of unintended consequences of P4P. Despite this, new programs continue to be developed around the world at an accelerated rate. This uninformed course risks producing a suboptimal level of health gain and/or wasting highly needed financial resources.
This paper presents the results of a systematic review of P4P effects and requisite conditions based on peer-reviewed evidence published prior to July 2009. The settings examined are medical practice in primary care and hospital care. The objectives are: (1) to provide an overview of how P4P affects clinical effectiveness, access and equity, coordination and continuity, patient-centeredness, and cost-effectiveness; (2) to summarize evidence-based insights about how such P4P effects are affected by the design choices made during the P4P design, implementation and evaluation process; and (3) to analyze the mediating effect on P4P effects stemming from the context in which a P4P program is introduced. Contextual mediators under review include healthcare system, payer, provider and patient characteristics.
Methods
Figure
1
presents a flow chart of the methods used. Detailed information on all methodological steps can be consulted in Additional file
1
. Two reviewers (DDS and PVH) independently searched for pertinent published studies, applied the inclusion and exclusion criteria to the retrieved studies, and performed quality appraisal analyses. In case of non-corresponding results, consensus was sought by consulting a third reviewer (RR). Comparison of the analysis results of the two reviewers identified 18 non-corresponding primary publications out of 5718 potentially relevant primary publications (Cohen's Kappa: 99.7%). As with previous reviews, we did not perform a meta-analysis because the selected studies had a high level of clinical heterogeneity[
14
].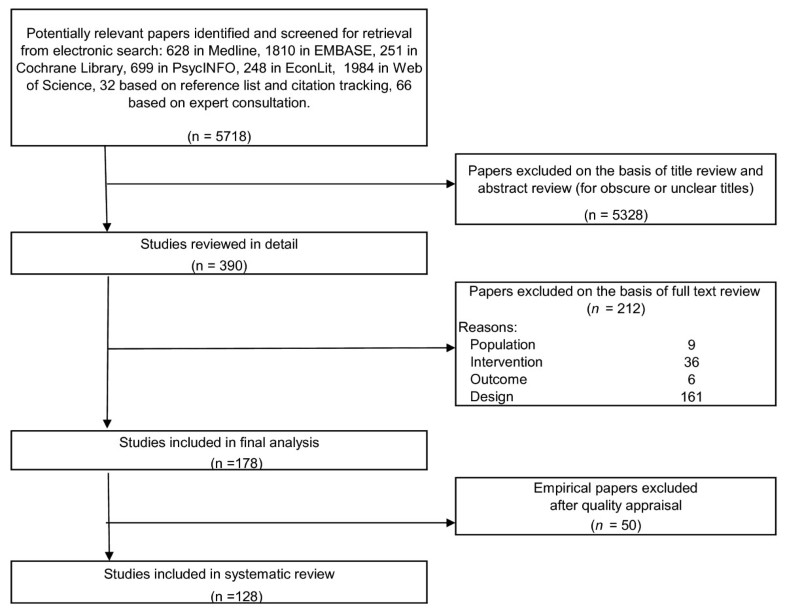 Medline, EMBASE, the Cochrane Library, Web of Science, PsychINFO, and EconLit were searched. The concepts of quality of care, financial incentive, and a primary or acute hospital care setting were combined into a standardized search string using MeSH and non-MeSH entry terms. We limited our electronic database search to relevant studies of sufficient quality published from 2004 to 2009 or from 2005 to 2009, based on the database period covered in previous reviews. These reviews and all references of relevant publications were screened and forward citation tracking was applied without any time restriction. More than 60 international experts were asked to provide additional relevant publications.
The inclusion and exclusion criteria applied in the present review are described in Table
1
.
Table 1
Definition of inclusion and exclusion criteria
Inclusion criteria

Exclusion criteria

Participants/Population

Healthcare providers in primary and/or acute hospital care; being a provider organization (hospital, practice, medical group, etc.); team of providers or an individual physician

Patients as target group for financial incentives; providers in mental or behavioral health settings, or in nursing homes

Intervention

The use of an explicit financial positive or negative incentive directly related to providers' performance with regard to specifically measured quality-of-care targets and directed at a person's income or at further investment in quality improvement; performance measured as achievement and/or improvement

The use of implicit financial incentives, which might affect quality of care but are not specifically intended to explicitly promote quality (e.g., fee-for-service, capitation, salary); the use of indirect financial incentives that affect payment only through patient attraction (e.g., public reporting)

Comparison

No inclusion criteria specified for relevance screening

No exclusion criteria specified for relevance screening

Outcome

At least one structural, process, or (intermediate) outcome measure on clinical effectiveness of care, access and/or equity of care, coordination and/or continuity of care, patient-centeredness, and/or cost-effectiveness of care

Subjective structural, process, or (intermediate) outcome perceptions or statements that are not measured quantitatively using a standardized validated instrument; a single focus on cost containment or productivity as targets

Design

Primary evaluation studies published in a peer-reviewed journal or published by the Agency for Healthcare Research and Quality (AHRQ), the Institute of Medicine (IOM), the National Health Service Department of Health or a non-profit independent academic institution

Editorials, perspectives, comments, letters; papers on P4P theory, development and/or implementation without evaluation
To evaluate the study designs reported in the relevant P4P papers, we composed an appraisal tool based on nine validated appraisal tools and reporting statements: two had generic applicability,[21, 22] three examined RCT design studies,[23, 24, 25] one examined cluster RCT design studies,[26] one examined interrupted time-series design studies,[27] three examined observational cohort studies,[24, 28, 29] and one examined cross-sectional studies[29].
For all relevant studies, we appraised ten generic items: clear description of research question, patient population and setting, intervention, comparison, effects, design, sample size, statistics, generalizability, and the addressing of confounders. If applicable, we also appraised four design-specific items: randomization, blinding, clustering effect, and number of data collection points. Modeling and cost-effectiveness studies were appraised according to guidelines from the Belgian Federal Health Care Knowledge Centre (KCE) and the International Society for Pharmacoeconomics and Outcomes Research (ISPOR)[30, 31].
The following data were extracted and summarized in evidence tables: citation; country; primary versus hospital care; health system characteristics; payer characteristics; provider characteristics; patient characteristics; quality goals and targets; P4P incentives; implementing and communicating the program; quality measurement; study design; sampling, response, dropout; comparison; analysis; effectiveness evaluation; access and/or equity evaluation; coordination and/or continuity evaluation; patient-centeredness evaluation; cost-effectiveness evaluation; co-interventions; and relationship results with regard to health system, payer, provider, and patient. An overview of data extraction is provided in Additional file 2.
Results
The first two sections provide the description of studies and the overview of effect findings, independent from design choices and context. Afterwards the latter are both specifically addressed.
Discussion
This review analyzed published evidence on the effects of P4P reported in the recent accelerating growth of P4P literature. Previous reviews identified a lack of studies, but expected the number to increase rapidly [5, 9, 10, 12, 14, 135]. The publication rate as described for the last 20 years illustrates this evolution. About two additional years have been covered as compared to previous reviews [7, 13, 16, 17, 136, 137]. Seventy nine studies were not reviewed previously. One factor which likely contributed to the difference in study retrieval is the focus of some reviews on only one subset of medical conditions (e.g. prevention) [16, 18, 20], on one setting [13] or one study design [10]. Our review purposely focused on both primary care and hospital care without a restriction on medical condition. Furthermore, the difference in retrieval number is related to the search strategy itself. If one for example omits to include 'Quality and Outcomes Framework' (QOF), one fails to identify dozens of relevant studies.
The use of multiple study designs to investigate P4P design, implementation and effects is at present well accepted in literature [7, 9, 12, 14]. Compared to previous reviews this paper adds the use of cross sectional survey studies to summarize contextual relations. As stated by other authors using similar quality appraisal methods, the scientific quality of the evidence available is increasing [12]. The vast majority of identified studies was not randomized (only nine were) and roughly 75 studies were either cross-sectional or employed a simple before-and-after design. However, as the evidence-base continues to grow, conclusions on the effects of P4P can increasingly be drawn with more certainty, despite the fact that the scientific quality of current evidence is still poor.
In terms of set up and reporting of P4P programs our review draws its results from studies showing an evolution from small scale, often single element, to broader programs using multidimensional quality measures, as was previously described [7, 135]. Underreporting of key mediators of a P4P program remains a problem, but has recently improved for information on incentive size, frequency, etc. Combined with a larger number of studies this enables a stronger focus on the influence of design choices and on the context in which P4P results were obtained.
As is typical for health service and policy interventions, reported effects are nuanced. Magic bullets do not exist in this arena [5, 7, 9, 12]. However, published results do show that a number of specific targets may be improved by P4P when design choices and context are optimized and aligned. Interpretation of effect size is dependent on the primary mission of P4P. When it functions to support uniform minimal standards, P4P serves its purpose in the majority of studies. If P4P is intended to boost performance of all providers, its capability to do so is confirmed for only a number of specific targets, e.g., in diabetic care.
Negative effects, in terms of less quality improvement compared to non P4P use, which were first reported in the review paper by Petersen et al (2006) [14], are rarely encountered within the 128 studies, but do occur exceptionally. Previous authors also questioned the level of gaming [7, 135], and possible neglecting effects on non- incentivized quality aspects [14, 135]. The presence of limited gaming is confirmed in this review, although it is only addressed in a minority of studies. Its assessment is obscured by uncertainty of the level of gaming in a non P4P context as a comparison point. As the results show, a few studies included non- incentivized measures as control variables for possible neglecting effects on non P4P quality targets. Such effects were absent in almost all of these studies The results of one study suggest the need to monitor unintended consequences further and to refine the program more swiftly and fundamentally when the target potential becomes saturated[35]. It is too early to draw firm conclusions about gaming and unintended consequences. However, based on the evidence, there may be some indications of the limited occurrence of gaming and a limited neglecting effect on non-incentivized measures. Positive spillover effects on non-incentivized medical conditions are observed in some cases, but need to be explored further[36].
Equity has not suffered under P4P implementation and is improving in the UK[37, 38, 39, 40, 41, 42, 43, 44, 45, 46, 47, 48, 49, 50, 51, 52, 53, 54, 55, 56, 57, 58, 59, 60, 61, 62, 63, 64]. Cost-effectiveness at the population level is confirmed by the few studies available[75, 76, 77, 78]. Further attention should be given, both in practice and research, to how P4P affects other quality domains, including access, coordination, continuity and patient-centeredness.
Previous reviews mentioned a few contextual variables which should be taken into account when running a P4P program. Examples are the influence of patient behaviour on target performance [
9
,
10
] and the difference between solo and group practices in P4P performance [
12
]. Our review has further contributed to the contextual framework from a health system, payer, provider and patient perspective. Program development and context findings, which related P4P effects to its design and implementation within a cyclical approach, enable us to identify preliminary P4P program recommendations. As Custers et al (2008) suggested, incentive forms are dependent on its objectives and contextual characteristics [
8
]. However, considering the context and goals of a P4P program, six recommendations are supported by evidence throughout the 128 studies:
The following recommendations are theory based but at present show absent evidence (no. 1) or conflicting evidence (no. 2 and 3):
1.

Timely refocus the programs when goals are fulfilled, but keep monitoring scores on old targets to see if achieved results are preserved.

 

2.

Support participation and program effectiveness by means of a sufficient incentive size. As noted by other authors, there is an urgent need for further research on the dose-response relationship in P4P programs [5, 7, 9, 10, 12, 13, 14, 135, 136]. This is especially important, because although no clear cut relation of incentive size and effect has been established, many P4P programs in the US make use of a remarkably low incentive size (mostly 1 to 2% of income) [20, 135, 136]. Conflicting evidence does not justify the use of any incentive size, while still expecting P4P programs to deliver results.

 

3.

Provide quality improvement support to participants through staff, infrastructure, team functioning, and use of quality improvement tools. See also Conrad and Perry (2009)[136].

 
More recent studies, after the time frame of our review, have confirmed our findings (e.g. to focus on individual providers as target unit [138]) or provided new insights. Chung et al (2010) reported in one randomized study that the frequency of P4P payment, quarterly versus yearly, does not impact performance[139]. These studies illustrate that a regular update of reviewing P4P effects and mediators is necessary.
Some limitations apply to the review results. First, there were restrictions in the search strategy used (e.g. number of databases consulted). Secondly, although quality appraisal was performed, and most studies controlled for potential confounders, selection bias cannot be ruled out with regard to observational findings. However, an analysis of randomized studies identified the same effect findings, when assessed on a RCT only inclusion basis.
Thirdly, publication bias is likely to impact the evidence-base of P4P effectiveness and data quality bias may make the comparison of results across P4P programs problematic[140].
Fourthly, behavioural health care and nursing home care were excluded from the study as potential settings for P4P application.
Fifthly, the large degree of voluntary participation in P4P programs might lead to a self selection of higher performing providers with less room for improvement (ceiling effect). This could induce an underestimation of P4P effectiveness in the general population of providers.
Finally, P4P introduces one type of financial incentive, but does not act in isolation. Other interventions are often simultaneously introduced alongside a P4P program, which might lead to an overestimation of effects. Furthermore, the fit with non financial and other payment incentives, each with their own objectives, could be leveraged in a more coordinated fashion [6, 8, 12, 14]. Current P4P studies only provide some pieces of this more complex puzzle.
Conclusions
Based on a quickly growing number of studies this review has confirmed previous findings with regard to P4P effects, design choices and context. New effect findings include the increasing support for positive equity and cost effectiveness effects and preliminary indications of the minimal occurrence of unintended consequences. The effectiveness of P4P programs implemented to date is highly variable, from negative (rarely) or absent to positive or very positive. The review provides further indications that programs can improve the quality of care, when optimally designed and aligned with context. To maximize the probability of success programs should take into account recommendations such as attention for baseline room for improvement and targeting at least the individual provider level.
Future research should address the issues where evidence is absent or conflicting. An unknown dose response relationship, mediated by other factors, could preclude many programs from reaching their full potential.
Notes
Acknowledgements
We are grateful to the Belgian Federal Healthcare Knowledge Center (KCE) for the study funding and methodological advice. We also thank all contributing international experts for the provision of additional relevant material. Finally, we thank the external reviewers for their useful comments and suggestions.
The KCE offered methodological advice on the design and conduct of the study, and on the collection, management and analysis of the data. The funding organization played no role in the interpretation of the data, and in the preparation, review, or approval of the manuscript.
Copyright information
© Van Herck et al; licensee BioMed Central Ltd. 2010
This article is published under license to BioMed Central Ltd. This is an Open Access article distributed under the terms of the Creative Commons Attribution License (http://creativecommons.org/licenses/by/2.0), which permits unrestricted use, distribution, and reproduction in any medium, provided the original work is properly cited.