Systematic review of clinical decision support interventions with potential for inpatient cost reduction
Open Access
Research article
Part of the following topical collections:
Abstract
Background
Healthcare costs are increasing rapidly and at an unsustainable rate in many countries, and inpatient hospitalizations are a significant driver of these costs. Clinical decision support (CDS) represents a promising approach to not only improve care but to reduce costs in the inpatient setting. The purpose of this study was to systematically review trials of CDS interventions with the potential to reduce inpatient costs, so as to identify promising interventions for more widespread implementation and to inform future research in this area.
Methods
To identify relevant studies, MEDLINE was searched up to July 2013. CDS intervention studies with the potential to reduce inpatient healthcare costs were identified through titles and abstracts, and full text articles were reviewed to make a final determination on inclusion. Relevant characteristics of the studies were extracted and summarized.
Results
Following a screening of 7,663 articles, 78 manuscripts were included. 78.2% of studies were controlled before-after studies, and 15.4% were randomized controlled trials. 53.8% of the studies were focused on pharmacotherapy. The majority of manuscripts were published during or after 2008. 70.5% of the studies resulted in statistically and clinically significant improvements in an explicit financial measure or a proxy financial measure. Only 12.8% of the studies directly measured the financial impact of an intervention, whereas the financial impact was inferred in the remainder of studies. Data on cost effectiveness was available for only one study.
Conclusions
Significantly more research is required on the impact of clinical decision support on inpatient costs. In particular, there is a remarkable gap in the availability of cost effectiveness studies required by policy makers and decision makers in healthcare systems.
Keywords
Clinical decision support 
Clinical costs 
Cost effectiveness 
Hospital care 
Emergency medical care 
Health information technology 
Background
Healthcare costs are increasing rapidly and at an unsustainable rate in many countries. In the United States, inpatient care is the single largest contributor to national health expenditures, accounting for 31.5% of $2.7 trillion dollars of health expenditures in 2011 [1]. As such, inpatient care is a significant driver of increased health spending. In 2011, the annual spending on hospital care in the U.S. grew 4.3% as compared to 3.9% growth in overall health expenditures [1]. Contributing to the importance of addressing inpatient costs is the fact that reducing these costs has the potential to financially benefit inpatient healthcare organizations regardless of reimbursement models. Traditional episode-of-care payment systems (for example, Medicare's inpatient prospective payment system), bundled payments systems, and comprehensive payment systems (embodied in accountable care organizations) are all examples of reimbursement models under which healthcare organizations stand to benefit from reducing inpatient costs [2].
Clinical decision support (CDS) represents a promising approach to both improving outcomes and decreasing costs [3]. Several past systematic reviews have examined outcomes related to clinical decision support systems in the inpatient setting, but few have focused on the impact of CDS on inpatient costs specifically [4, 5, 6, 7, 8, 9]. One review published in 2006 evaluated cost as an outcome [10]. However, that review was focused on health information technology (IT) in general rather than CDS specifically. Moreover, it only included studies published through January 2004. A second, more recent review on CDS included cost outcomes but was limited to studies with a randomized trial design [11]. The design and timing of these two reviews potentially excluded relevant CDS intervention trials. In particular, non-randomized research designs are commonly used to evaluate CDS interventions.
Given the importance of limiting the growth of inpatient costs and the potential benefit of CDS, we sought to (i) inclusively identify promising interventions that could serve as models for more widespread implementation and to (ii) identify gaps in the literature warranting further research. As such, we systematically reviewed both randomized and non-randomized trials of CDS systems with the potential to reduce inpatient or emergency department (ED) costs.
Methods
Data source
Using a search strategy adapted from a previous systematic review [7], we searched MEDLINE through July 18, 2013. The latest search was performed on that date. We used a combination of the following search terms: decision support systems, clinical; decision-making, computer-assisted; computerized decision support; reminder systems; guideline adherence; and medical informatics. Details of the search strategy are available in Appendix I. Search results were limited to human subjects and the English language.
Inclusion and exclusion criteria
We defined a CDS system as a system designed to directly aid in clinical decision making, in which characteristics of individual patients are matched to a knowledge base for the purpose of presenting patient-specific assessments or recommendations to clinicians [4]. Inclusion criteria were as follows: peer-reviewed primary manuscript; clinical trial of a CDS system in an inpatient or emergency department (ED) setting; and use of either cost or a proxy measure for cost (e.g., length of stay; see Data Extraction section for full list) as an outcome metric. Of note, we opted to include studies in an ED setting, as these costs often become part of inpatient costs because many ED patients are admitted to the hospital. Exclusion criteria were as follows: non-English manuscript; or use of CDS in the control group.
Study selection
Titles and abstracts from retrieved references were evaluated by a single reviewer to determine potential inclusion eligibility. The full texts of studies that appeared to be potentially eligible were then evaluated by the same reviewer. Final inclusion determinations were made using the full texts. In cases where a study's inclusion status was unclear upon review by the primary reviewer, the authors jointly reviewed the study and made a consensus decision.
Data extraction
Data extraction was performed by a single reviewer using a standardized form. Any issues involving uncertainty were resolved through author consensus. For each article that met inclusion criteria, data were extracted on setting, trial design, intervention, and trial results. Setting was assigned as one of three categories: ED, ICU, or hospital. A hospital setting typically included inpatient wards, but could also include a combination of wards, ED, ICU, or surgical settings. Trial design was assigned based on categories defined by the Cochrane Effective Practice and Organization of Care Group [12]. Design categories included randomized controlled trials (RCTs), non-randomized controlled trials (NRCTs), controlled before-after studies (CBA), and interrupted-time-series studies (ITSs).
Abstracted trial results included outcomes with potential cost saving implications, whether costs were directly measured, whether there was a statistically and clinically significant improvement in cost or in a proxy measure, and whether the study could be considered a cost effectiveness study. Specifically, measures with potential cost saving implications consisted of direct cost measures or other proxy measures with cost ramifications. Proxy cost measures included length of stay, readmission rates, resource utilization metrics (e.g., imaging studies), adverse events, and process measures correlated with adverse events. A change in a cost or proxy measure was decided a priori to be the primary outcome measure. Clinical significance of results was determined by author consensus. To be considered a cost effectiveness study, the study must have accounted at least for the personnel costs included in developing and deploying the intervention. For commercial CDS systems, at least the cost of licensing the software must also have been considered.
Data analysis
Extracted data were analyzed and presented in table form and narrative summary. Additionally, significant themes, trends, and patterns were noted and discussed. To better understand the potential relationship between study outcomes and potential explanatory factors, Fisher's exact test of independence was conducted with the independent variable being a statistically and clinically significant improvement in an actual or proxy cost measure. One of the potential explanatory variables examined was study quality, with CBA trials and NRCTs conducted at single sites distinguished from studies that utilized more rigorous study designs. Other potential explanatory variables examined included study setting and clinical domain. For the purposes of this analysis, clinical domains with two or fewer studies were combined into a single category. A p-value of < 0.05 was considered statistically significant.
Results and discussion
The literature search returned a total of 7,663 unique references. 7,500 references were excluded after screening of titles and abstracts. We reviewed 163 full-text articles, of which 78 [
13
,
14
,
15
,
16
,
17
,
18
,
19
,
20
,
21
,
22
,
23
,
24
,
25
,
26
,
27
,
28
,
29
,
30
,
31
,
32
,
33
,
34
,
35
,
36
,
37
,
38
,
39
,
40
,
41
,
42
,
43
,
44
,
45
,
46
,
47
,
48
,
49
,
50
,
51
,
52
,
53
,
54
,
55
,
56
,
57
,
58
,
59
,
60
,
61
,
62
,
63
,
64
,
65
,
66
,
67
,
68
,
69
,
70
,
71
,
72
,
73
,
74
,
75
,
76
,
77
,
78
,
79
,
80
,
81
,
82
,
83
,
84
,
85
,
86
,
87
,
88
,
89
,
90
] met criteria for inclusion in the review (see Figure 
1
). Characteristics of these studies are summarized in Additional file
1
: Table S1.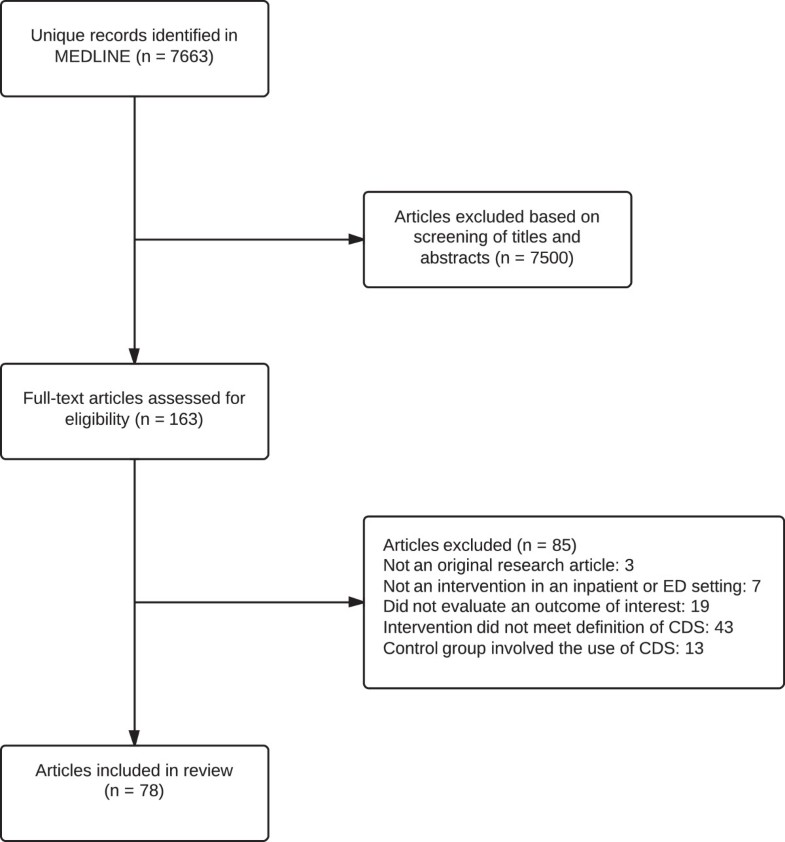 Conclusions
Health IT, and CDS in particular, has been touted for many years as a highly promising strategy for improving clinical care and "bending the cost curve" [94, 95]. However, more recent analyses have found that health IT systems such as EHR systems are not having the anticipated benefits in cost reduction [96, 97]. This study adds to these concerns that the potential benefits of health IT and CDS are not well grounded in empirical evidence, with only ten studies directly measuring costs and only one actually measuring cost-effectiveness of CDS for inpatient cost reduction.
As healthcare organizations continue to rapidly adopt health IT, leadership within those organizations must decide how to best use limited resources. Presumably, the potential cost savings associated with intervention candidates is a major factor in making those decisions. However, as a discipline, informatics does not appear to be meeting the needs of these healthcare decision makers with regard to CDS, as we have not been providing sufficient, rigorous data related to the cost benefits of CDS interventions in the inpatient setting. Further research with specific attention to cost implications of CDS systems in the inpatient setting is clearly needed.
Appendix I
Search strategy details
1.

exp Decision Support Systems, Clinical/

 

2.

Decision Making, Computer-Assisted/

 

3.

"computerized decision support".mp.

 

4.

 

5.

 

6.

 

7.

 

8.

 

9.

limit 8 to (english language and humans)

 
Authors' information
CLF was an Air Force flight surgeon and is currently a post-doctoral fellow in biomedical informatics. All authors are physicians, and BEB and KK are faculty members in biomedical informatics.
Notes
Acknowledgments
The authors would like to thank Polina V. Kukhareva, MPH for assisting with the statistical analyses.
Funding
This study was funded in part by National Library of Medicine training grant T15-LM07124 (CLF) and the University of Utah Department of Biomedical Informatics (KK and BEB).
Copyright information
© Fillmore et al.; licensee BioMed Central Ltd. 2013
This article is published under license to BioMed Central Ltd. This is an open access article distributed under the terms of the Creative Commons Attribution License (http://creativecommons.org/licenses/by/2.0), which permits unrestricted use, distribution, and reproduction in any medium, provided the original work is properly cited.