Design and evaluation of a treatment programme for Spanish adolescents with overweight and obesity. The EVASYON Study
Open Access
Study protocol
Abstract
Background
The prevalence of overweight and obesity (OW/OB) among adolescents worldwide has increased since the 60 s. Spain has reached one of the highest OW/OB prevalence rates among adolescents from European countries. The aim of this methodological paper is to describe the design and evaluation in the EVASYON study (Development, implementation and evaluation of the efficacy of a therapeutic programme for adolescents with OW/OB: integral education on nutrition and physical activity).
Methods/Design
The EVASYON was planned by a multidisciplinary team to treat OW/OB in Spanish adolescents. The EVASYON is a multi-centre study conducted in 5 hospitals in 5 Spanish cities (Granada, Madrid, Pamplona, Santander and Zaragoza) and two hundred and four OW/OB Spanish adolescents were recruited for this intervention. The treatment was implemented for approximately one-year follow-up. The adolescents were treated in groups of a maximum of 10 subjects; each group had 20 visits during the treatment period in two phases: intensive during the first 2 months (1st to 9th visits), and extensive during the last 11 months (10th to 20th visits). In order to assess the efficacy of the treatment, 8 dimensions were measured: diet; physical activity and fitness; eating behaviour; body composition; haematological profile; metabolic profile; minerals and vitamins; immuno-inflammatory markers. Moreover, genetic polymorphisms were also determined.
Discussion
The treatment programme developed in the EVASYON study was designed as a national pilot study to be implemented as an effective treatment for adolescents with OW/OB into the Spanish Health Care Service.
Keywords
Physical Activity 
Sedentary Behaviour 
Eating Disorder 
Handgrip Strength 
Spanish Adolescent 
These keywords were added by machine and not by the authors. This process is experimental and the keywords may be updated as the learning algorithm improves.
Background
Adolescence is characterized by important changes in body size and composition. Obesity started to appear as a public health problem in the last decades of the 20th century [1]; currently acquiring epidemic dimensions. Obesity is a multifactorial condition, with many biological, genetic, social and environmental influences affecting its development [2, 3]. In most cases, obesity is the result of inappropriate eating behaviour, which is becoming a major dietary, psychological and social problem in developed countries [4]. A great deal of recent literature has focused on inadequate eating and physical activity patterns, especially TV watching and other types of sedentary behaviour [5, 6]. However, the development of overweight in adolescence may depend on the prevalence of many other obesigenic risk factors [7], such as ethnicity and socioeconomic status [8, 9, 10, 11, 12]. As a result, overweight leads to adverse short-term consequences during childhood, such as psychosocial problems, and long-term results have also been reported during adulthood [13, 14].
Overweight prevalence among adolescents around the world has increased since the 1960s. Approximately 14-15% of all 15-yr-old youngsters in the United States may be classified as obese [15]. Similarly, a dramatic increase in the prevalence of overweight and obesity among children and adolescents in the European Union (EU) has occurred in the last 20 years. About 30% of European children are overweight and approximately one quarter of them is obese [16]. Overweight and obesity prevalence rates in Spanish adolescents were similar to those observed in other European countries such as Greece, Portugal, England or Belgium [17, 18]. However, obesity prevalence in some countries seems to be levelling-off [19, 20, 21]. This could be explained, in some cases, because obesity prevalence was already very high; but, in other cases, it could be due to the national public health efforts showing promising positive results. In spite of these figures and to be the prevention the first public health strategy to fight against obesity, we cannot forget the huge rates of overweight children and adolescents who must be treated.
It is widely accepted that treating childhood overweight is an important contribution to the multilevel response to the obesity epidemic [2]. Effective treatment for most obese children and adolescents remains elusive. Management protocols involving behaviour modifications, family support, and lifestyle changes are difficult to put into practice and may require the input of multi-disciplinary professional teams [22, 23]. In fact, lifestyle changes require a high degree of motivation and active participation from the adolescents and their relatives [1]. Weight-loss programmes in children and adolescents have shown a full range of results. Isolated (e.g. physical activity, sedentary behaviours, diet) and combined programmes have been investigated with relevant findings [24, 25, 26]. Overall, combined programmes tend to be more effective in children and adolescents because beneficial modifications are kept for long-term. On the other hand, medication or surgical interventions in these ages have been considered as a possibility in extreme cases.
The main aims of the EVASYON study (Development, implementation and evaluation of the efficacy of a therapeutic programme for adolescents with overweight and obesity: integral education on nutrition and physical activity) were: 1) to develop a treatment programme including education on nutrition and physical activity, 2) to implement this programme for one year in Spanish adolescents with overweight and obesity and 3) to evaluate its efficacy.
For comparative and popularization purposes with previous and future studies, the aim of this paper was to describe the design and evaluation methods during the EVASYON study.
Methods/Design
Study design and sample size estimation
The design of the EVASYON Study is an interventional study in a cohort of overweight and obese adolescents aged 13 to 16 years. Despite the lack of control group, we aim to assess the determinants of the treatment effectiveness.
In order to estimate the sample size, we considered the results obtained in the AVENA study, a multicenter evaluation of the nutritional status of Spanish adolescents [27], showed that body fat reached the greatest variance among anthropometrical variables [17] and was thus considered as the main variable in the EVASYON study. In order to achieve a 2.7% reduction between the estimated mean and the sampling mean with a statistical power equal to 90% and an alpha risk of 0.05, one hundred and fifty-three participants were necessary, being the rest of the variables correctly described and included for this sampling size. The sampling size was increased by 25% to avoid a reduction of the statistical significance of the results due to possible dropouts. The current study included a nutritional treatment and an educational programme on diet, nutrition concepts and physical activity. Two hundred and four Spanish male and female adolescents aged 13-16 years with overweight and obesity, were the target population to be treated at 5 paediatric units in 5 hospitals from 5 different Spanish cities (Granada, Madrid, Pamplona, Santander and Zaragoza). A pilot study was previously carried out including 6 participants from each hospital. This pilot study allowed us to harmonize nutrition, psychology and physical activity interventional protocols. Moreover, preliminary measurement procedures were tested in this pilot group of adolescents.
Before starting the EVASYON programme, a screening was performed of all candidates. Several inclusion criteria were defined to homogenize sample characteristics. Inclusion criteria in the EVASYON programme are shown in Table
1
. The EVASYON treatment programme has been conducted in small groups from 9 to 11 patients. Therefore, each hospital involved in the current study had to manage at least 5 intervention groups including the pilot study. The treatment programme was carried out in each group during approximately one year including twenty visits within two specific stages (Figure
1
): 1) Intensive intervention (9 visits): participants visited the hospitals weekly for 2 months. Paediatricians explained the patients several motivational strategies, life and time management strategies including physical activity recommendations or sleep time, nutritional advice, family involvement, etc. In this stage, one-week objectives were defined; 2) Extensive intervention (11 visits): participants visited the hospital monthly during 11 months. In this stage, objectives for the adolescents were to be accomplished in one month's time.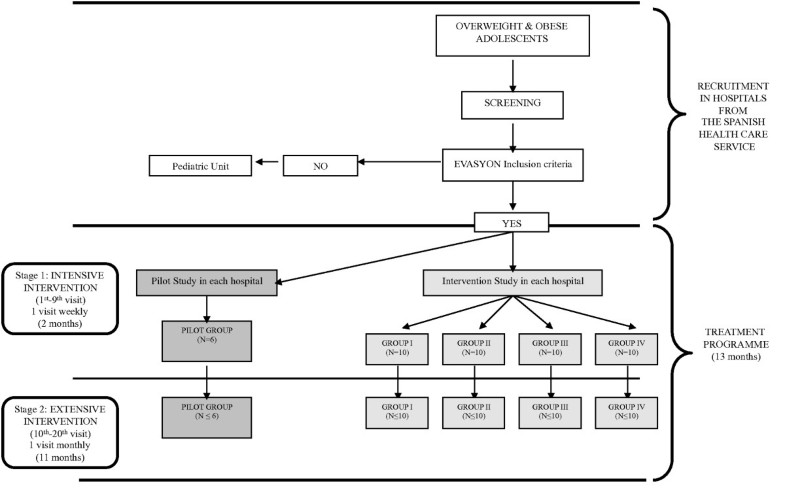 Table 1
Inclusion and exclusion criteria in the EVASYON study
| Inclusion criteria | Exclusion criteria |
| --- | --- |
| 1. To be 13-16 years aged | 1. To consume any pharmacological treatment |
| 2. To be overweight or obese in agreement with Cole's criteria [49] | 2. Anorexia, bulimia or other eating disorder diagnosis, except binge eating disorder |
| 3. To be Spanish or to have been educated in Spain |   |
| 4. Do not suffer other diagnosed disease |   |
Assessment during follow-up
Nine measurement categories were assessed: 1) Diet; 2) Physical activity and health-related physical fitness; 3) Psychological profile; 4) Body composition; 5) Haematological profile; 6) Biochemistry and metabolic profiles; 7) Mineral and vitamin profile; 8) Immunological profile; 9) Genetic profile.
All the parameters of each measurement category, excluding genetic profile were assessed at least at four points (Figure
2
): baseline (visit 1), at the end of the intensive intervention (visit 9), at mid point of the extensive intervention (visit 13), and at the end of the EVASYON treatment programme (visit 20).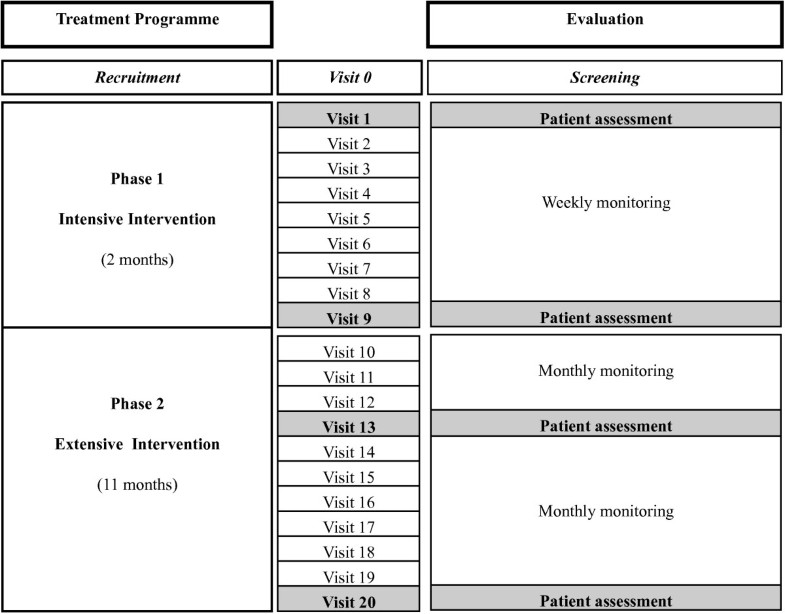 Ethical aspects
This project followed the ethical standards recognized by the Declaration of Helsinki (reviewed in Hong-Kong in September 1989 and in Edinburgh, Scotland in 2000) and the EEC Good Clinical Practice recommendations (document 111/3976/88, July 1990), and current Spanish legislation regulating clinical research in humans (Royal Decree 561/1993 on clinical trials). The study was approved by the Ethics Committee of each hospital that participated in this project and by the Ethics Committee of the Spanish Council for Scientific Research (CSIC). The study was explained to the participants before starting, and the volunteers, parents or tutors signed an informed consent.
Data confidentiality
Access to the database was restricted to the researchers that participated in this study. Therefore, the information obtained in the study was considered as confidential, although the sanitary authorities have full access rights for inspection purposes.
Statistical Analysis
The studied parameters are treated considering some fixed variability factors: gender, age, tanner, BMI classification [49]. Attendance, parent's presence and events are considered as random variability factors. Quality control includes a double data entry procedure in the data base.
Firstly, an assessment of missing data and the identification of potential outliers are carried out. The statistic processes is as follows:
1) Univariate descriptive analysis, study of data distribution, basic statistics such as central and dispersion values. The interrelationship among variables is assessed by studying the correlation coefficients on the basis of their distribution and their association to those groups defined upon random and fixed factors. Pair comparison tests with previous analysis of the homogeneity of variance are used. Chi-Squared tests and exact probability calculations are also performed to study the relationship among qualitative variables.
2) General lineal models for each point in time and as a function of time (longitudinal data analysis). Multivariate models are used from different perspectives: classical regression models and continuous or categorical principal component analysis are used to describe multivariate interrelationship among selected variables. Also, multivariate analyses are used to predict the intervention success at a selected period of time and at the end of the study by variables that measure the health improvement of the patients.
The analysis of the data will be done using the statistical packages SPSS and SAS.
Discussion
The EVASYON study develops, for the first time in Spain, a multidisciplinary treatment programme for adolescents with overweight and obesity that is aimed at all possibly involved areas of the individual, such as dietary habits, physical activity and cognitive and psychological profiles, in order to prevent the development, in an immediate future and in the long term, of chronic diseases associated with obesity such as diabetes, hypertension, cardiovascular diseases, metabolic syndrome, etc. Health-related researchers who participate in this study expect that the programme, once its efficacy has been proved, may be applicable in any hospital or clinic from the Spanish System of Health with a multidisciplinary group consisting of paediatricians, endocrinologists, psychiatrists, psychologists, physical activity specialists and dieticians.
The EVASYON study is essentially characterized for being a multidisciplinary and multicentre project. Thus, both the assessment of the efficacy and the protocols of the treatment have been developed by professionals in each of the specific fields: psychology, nutrition, physical activity, fitness, paediatrics, body composition, genetics, immunology and biochemistry. Moreover, the study has been conducted in 5 hospitals from 5 Spanish cities, respectively (Madrid, Santander, Zaragoza, Pamplona and Granada). Adaptation of the protocol for 5 different hospitals had as principal advantage that the treatment programme potentially will be easier to implement in any healthcare centre of the Spanish Health Care Service.
Nonetheless, organizing a single educational treatment for all the centres and the assessment protocols was a complex process. Training workshops for all the EVASYON members, who were going to take part in the programme and in the assessment, were conducted to unify criteria and to test the methodologies presented in this article before beginning the study. One pilot group in each hospital served to solve starting-up problems in the treatment programme, doubts, human and technical resources and coordination with adolescents and their families. Some decisions were also made in the workshops on how to send blood samples, protocols of physical fitness test to carry out in hospitals, possible postbariatric surgery or follow-up of participants after the study ended.
The EVASYON study has both strengths and weaknesses. Several strengths that the EVASYON study presents are as follows: 1) the sample size achieved of 204 adolescents with overweight and obesity provides an acceptable statistical power to conduct multivariable analysis (e.g. sex, maturation status, compliance or not compliance of the educational therapeutic programme). Few studies performed in clinical settings have recruited, to our knowledge, a greater number of participants than the EVASYON study [24, 25, 26] the duration of the therapeutic programme is a one-year follow-up, which will make possible to observe long-term changes resulting from the intervention. In addition, it may reveal the differences that result between the intensive stage of the treatment and the extensive stage as reported in previous studies [50]; 3) The EVASYON study includes the most complete and comprehensive assessments of the effectiveness of a weight loss programme in the individual's physical and psychological health status. The 9 assessment categories represent a multitude of variables that will be evaluated throughout the study for being able to determine the most effective aspects of the intervention, and in which dimensions the effect of the intervention was the strongest one.
The EVASYON study also involves weaknesses that must be taken into account: 1) the study does not include a control group of overweight or obese adolescents. This makes it difficult to understand the progress, maintenance or deterioration of the baseline health of participants. Strong weight loss studies with educational therapeutic programme based on physical activity and nutrition have included control groups [51] or not [52]; 2) an important dropout due to the duration of the study was detected in participants and their families. Studies such as the one by Savoye et al. [51] include 209 subjects who were initially, recruited; 60% of the whole sample completed 6 months of treatment and only 53% completed 1-yr follow-up, obtaining therefore 47% loss of the adolescent participants during the study; 3) together with the loss of participants during the follow-up time, it also caused a loss of assessments. Participants and their families claimed the following reasons: forgetfulness, exam periods, inability to move a family member together with the adolescent, discouragement.
Initiatives as the EVASYON study contribute to the development of the Spanish Strategy for Nutrition, Physical Activity and the Prevention of Obesity (NAOS Strategy) initiated in 2005 by the Ministry of Health and Consumer Affairs [53]. The NAOS Strategy has as main aims to improve healthy eating and to increase physical activity levels. Therefore, informative campaigns, agreements with public and private institutions, voluntary working agreements, educational programmes and supporting health promotion initiatives are some of the activities carried out as part of the NAOS Strategy to invert the rate of obesity in Spanish population with special focus on children. The NAOS Strategy is in the line of the Global Strategy on Diet, Physical Activity and Health approved by the World Health Organization (WHO) in 2004 [54].
In summary, the EVASYON study is an interventional study assessing the effectiveness of an educational therapeutic model in physical activity and nutrition in Spanish adolescents with overweight and obesity. The EVASYON programme attempts to be a national pilot study that may be implemented as a method of treatment of obesity in adolescents into the Spanish Health Care Service. This multidisciplinary and multicenter study assesses changes in participants for approximately 1-year follow-up over 8 dimensions: 1) diet, 2) physical activity and health-related physical fitness, 3) psychology, 4) body composition, 5) haematology, 6) biochemical and metabolic profiles, 7) mineral and vitamin profiles, and 8) immunology profile. Genetic profile was also assessed for examining the influence of gene-environmental interactions on obesity.
Notes
Acknowledgements
The authors would like to thank the Spanish Ministry of Health and Consumption (Carlos III Institute of Health. FIS. Grant PI 051579). D. Martínez-Gómez receives a predoctoral fellowship from the Spanish Ministry of Education and Science (AP2006-02464). M.A. Puertollano owned a research contract ("Juan de la Cierva") from the Spanish Ministry of Education and Science. The EVASYON study has received the award from AESAN (Spanish Agency for Food Security and Nutrition) from the Spanish Ministry of Health and Consumption to the best applied research project in 2009.
EVASYON Study Group
Coordinator: Marcos A.
Local clinical treatment teams and researchers (Principal Investigators are bolded);
Granada: Campoy C., López-Belmonte G., Delgado M., Martín-Matillas M., Aparicio V., Carbonell A., Agil A., Silva D.R., Pérez-Ballesteros C., Piqueras M.J., Chillón P., Tercedor P., Martín-Lagos J.A., Martín-Bautista E., Pérez-Expósito M., Garófano M., Aguilar M.J., Fernández-Mayorga A., Sánchez P.; Madrid: Marcos A., Wärnberg J., Puertollano M.A., Gómez-Martínez S., Zapatera B., Nova E., Romeo J., Díaz E.L., Pozo T., Morandé G., Villaseñor A., Madruga D., Muñoz R., Veiga O.L., Villagra A., Martínez-Gómez D., Garcia R.M., Vaquero M.P., Pérez-Granados A.M., Navas-Carretero S.; Pamplona: Martí A., Azcona C., Moleres A., Rendo T., Marqués M., Miranda M.G., Martínez J.A.; Santander: Redondo-Figuero C., García-Fuentes M., DeRufino P., González-Lamuño D., Amigo T., Lanza R., Noriega M.J.; Zaragoza: Garagorri J.M., Moreno L.A., Romero P., De Miguel P., Rodríguez G., Bueno G., Mesana Ma.I., Vicente G., Fernández J., Rey-López P., Muro C., Tomás C.; Data management and statistical analysis: Wärnberg J., Calle M.E., Barrios L.
Copyright information
© Martinez-Gomez et al; licensee BioMed Central Ltd. 2009
This article is published under license to BioMed Central Ltd. This is an Open Access article distributed under the terms of the Creative Commons Attribution License (http://creativecommons.org/licenses/by/2.0), which permits unrestricted use, distribution, and reproduction in any medium, provided the original work is properly cited.