Coronary heart disease policy models: a systematic review
Open Access
Research article
Abstract
Background
The prevention and treatment of coronary heart disease (CHD) is complex. A variety of models have therefore been developed to try and explain past trends and predict future possibilities. The aim of this systematic review was to evaluate the strengths and limitations of existing CHD policy models.
Methods
A search strategy was developed, piloted and run in MEDLINE and EMBASE electronic databases, supplemented by manually searching reference lists of relevant articles and reviews. Two reviewers independently checked the papers for inclusion and appraisal. All CHD modelling studies were included which addressed a defined population and reported on one or more key outcomes (deaths prevented, life years gained, mortality, incidence, prevalence, disability or cost of treatment).
Results
In total, 75 articles describing 42 models were included; 12 (29%) of the 42 models were micro-simulation, 8 (19%) cell-based, and 8 (19%) life table analyses, while 14 (33%) used other modelling methods. Outcomes most commonly reported were cost-effectiveness (36%), numbers of deaths prevented (33%), life-years gained (23%) or CHD incidence (23%). Among the 42 models, 29 (69%) included one or more risk factors for primary prevention, while 8 (19%) just considered CHD treatments. Only 5 (12%) were comprehensive, considering both risk factors and treatments. The six best-developed models are summarised in this paper, all are considered in detail in the appendices.
Conclusion
Existing CHD policy models vary widely in their depth, breadth, quality, utility and versatility. Few models have been calibrated against observed data, replicated in different settings or adequately validated. Before being accepted as a policy aid, any CHD model should provide an explicit statement of its aims, assumptions, outputs, strengths and limitations.
Keywords
Coronary Heart Disease 
Probabilistic Sensitivity Analysis 
Coronary Heart Disease Incidence 
Lipid Research Clinic 
Coronary Heart Disease Death 
These keywords were added by machine and not by the authors. This process is experimental and the keywords may be updated as the learning algorithm improves.
Abbreviations
CHD

Coronary heart disease

AMI

Acute myocardial infarction

CABG

Coronary artery bypass graft

MI

Myocardial infarction

LYG

Life years gained

PTCA

Percutaneous transluminal coronary angioplasty
Background
Improving population health through effective interventions remains a fundamental challenge for policy makers. Decision-makers at the population and individual levels each need to choose the 'best intervention' for a specific health problem. However, limitations on resources, time and information can make this decision process difficult. This is particularly true for cardiovascular disease, its diversity of manifestations and wealth of effective interventions are potentially complex and confusing. Assessing the potential population benefit of a health intervention requires consideration of many elements including disease prevalence and population characteristics, effectiveness and cost [1]. Clinical trials will never provide all the answers, particularly since their study groups are restricted with inclusion and exclusion criteria; therefore generalisation is always an issue [2]. Weinstein has usefully defined a model as, "a logical mathematical framework that permits the integration of facts and values to produce outcomes of interest to clinicians and decision makers" or, alternatively as: "an analytical methodology that accounts for events over time and across populations based on data drawn from primary or secondary sources"[3].
Models have been increasingly used in policy making and resource allocation, because they permit policy makers to simulate the effects of different scenarios within a population[4] and hence examine future policy options.
An appropriate model for coronary heart disease (CHD) could thus potentially allow users to simultaneously consider all the key issues when evaluating diverse options for intervention.
A remarkably wide variety of CHD policy models exist. Some simply consider risk factors alone[5], while others include selected cardiovascular treatments[1, 6, 7] secondary prevention such as cholesterol lowering treatment[8] or estimates of general practice workload [9]. However, model construction and development is complex and difficult. Thus, few CHD models have attempted a comprehensive consideration of all standard treatments and all major risk factors[10]. Furthermore, the variable quality and utility of different models may not always be appreciated.
In this paper we have systematically reviewed and evaluated the strengths and limitations of existing CHD policy models. Critiquing and providing a comprehensive overview of all CHD models is a challenging task. Although it is useful to have a broad summary of the similarities and differences of models, it is virtually impossible to capture the complexity and subtlety of a range of models in a single paper. However, this paper represents our best efforts, and will hopefully serve as an overview and introduction to this complex field. It will also provide sources and routes to further information on specific models.
Methods
For this systematic review, we defined a CHD policy model as any mathematical tool that may help to explain or predict the outcome of CHD interventions: specific treatments or cardiovascular risk factor changes or the implementation of a new strategy at a population level.
Search strategy
A search strategy was developed, piloted and run in MEDLINE and EMBASE electronic databases on 12th May 2003, supplemented by screening reference lists of relevant articles and reviews. Electronic searching within the databases included 'coronary heart disease or synonyms' and 'model or synonyms' as key words. Both key words and MeSH headings were used (Appendix 1) [see Additional file 1]. The search strategy was validated using ten key papers already known to the authors; all ten papers were captured by the search strategy. The search initially identified 4,531 articles and checking the references identified a further 17. All the records were imported to 'Reference Manager'. By checking the titles and abstracts for the terms 'model', 'coronary heart disease' or 'population', the number of articles was reduced to 275. Two reviewers (BU, SC) independently checked the titles and abstracts of all papers initially identified, and then independently screened the articles for inclusion and appraisal. Agreement between the two reviewers was good (Kappa = 0.76).
Inclusion and exclusion criteria
Any CHD modelling study was included if it reported on a key outcome (deaths prevented, life years gained, prevention cost, treatment cost, mortality, prevalence, incidence or disability) in a defined population (community, region or country). Models were excluded if they simply described animals, cell lines, clinical series, cohorts or estimates of individual risk. Decision analytic models were also not included in this review since they mostly focused on clinical decision making in individuals, rather than population benefits.
Figure
1
illustrates the flowchart for the search and review process. Excluded articles are listed in Appendix 4 [see
Additional file 1
]. In total, 75 articles were included for critical appraisal and 200 articles were excluded.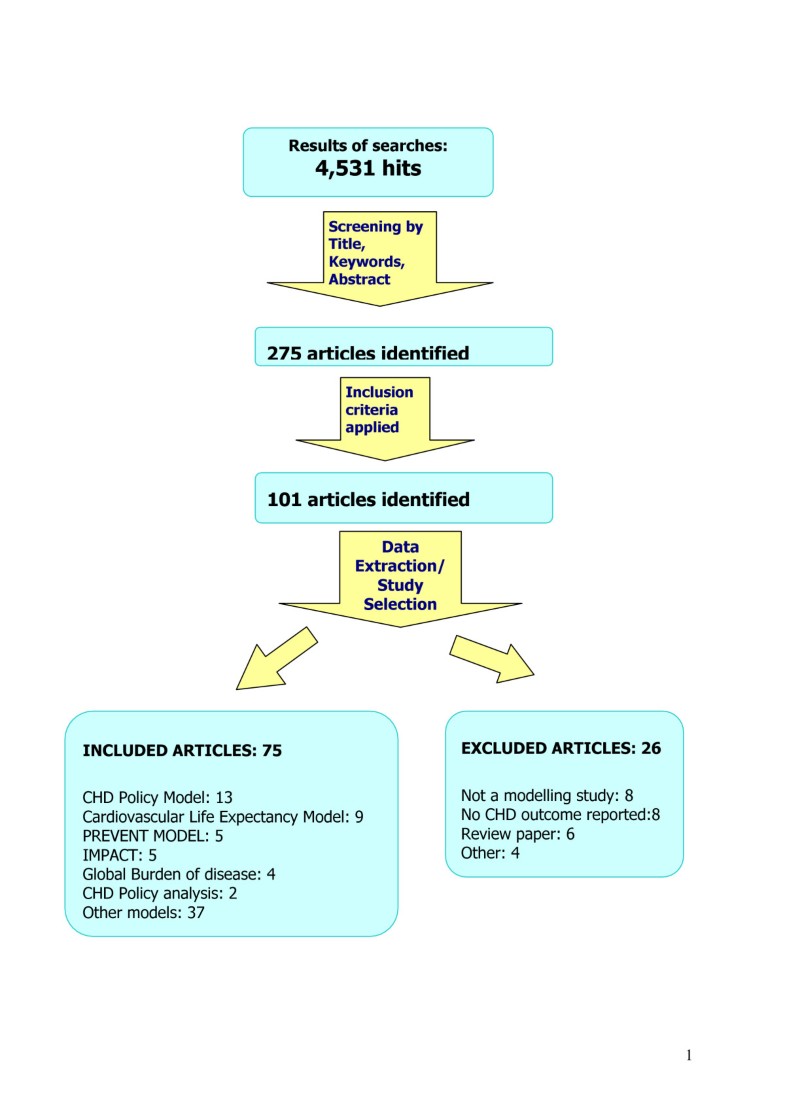 Data extraction and assessment of model quality
A pre-piloted form was used for data extraction (Appendix 2) [see Additional file 1]. Articles were categorised according to the specific models that they described. Each paper was then critically appraised by two reviewers using explicit quality criteria. There are no universally accepted lists of appropriate quality criteria for model papers. However reviews by Weinstein [11], and Edwards [12], and recent guidelines from the International Society for Pharmacoeconomics and Outcomes Research (ISPOR) [3] have suggested useful quality criteria. Using these sources [3, 11, 12], we created, piloted and refined a grading system, based on sensitivity, validity and transparency of the model (Appendix 3) [see Additional file 1].
Quality measures
Papers were evaluated on the basis of whether a sensitivity analysis was carried out, the validity was checked, data quality was reported, illustrative examples were provided, assumptions stated, if model was potentially available to the reader (transparency), and if potential limitations such as assumptions, confounding, lag times and competing causes were specified or discussed. The model evaluation was based on authors' reporting on that specific item in the related articles. A model was considered as comprehensive if it included multiple coronary heart disease categories, and a range of treatments and major risk factors.
Limitations of the review
Our search was limited to English language articles or abstracts. Publication bias can be an issue since our search was mostly based on electronic search of biomedical databases. The grey literature was not formally searched; however, we contacted key people who were working in this field.
Results
From 4,531 initial papers, a total of 75 articles describing 42 different CHD policy models were finally included (Figure
1
). Each was originally used to address one or more specific health policy questions and all were based on large populations. Due to space restrictions, we present here details of the six principal CHD policy models, which generated more than one publication that selected for this review (Table
1
). Critical appraisals of all 75 papers and all 42 models (including 6 models presented here) are provided in Appendix 3 [see
Additional file 1
].
Table 1
Summary of the six principal CHD policy models
Name of the model (Author)

Type of model

Model setting & Study population(s)

Risk factors included

Disease groups & treatments included

Outcomes

Sensitivity analysis

Validation

Strengths and limitations

CHD Policy Model (Weinstein and Goldman)

State transition Markov Model

USA, Men and Women aged 35–84

Smoking, total cholesterol, DBP and weight to estimate CHD risk using Framingham Equations

Angina, AMI, sudden death, post MI, CABG, PTCA

Specific treatments considered in different studies eg statins, aspirin, beta-blockers etc

Number of deaths prevented, LYG, CHD incidence (number of arrests, angina, AMI), CHD prevalence, CHD mortality, cost per life year

In the initial model none. Subsequently papers reported one way sensitivity analysis

Model was calibrated using 1986 mortality data.

Validity: Model estimates were compared with 1990 observed-92–98% fit reported.

First policy model rather basic.

Steadily refined since then.

Many papers in high impact journals

PREVENT (Gunning-Scheppers)

Cell based

Netherlands; Denmark, England

Depending on the purpose aged <65

Smoking, cholesterol, hypertension, obesity, physical activity, alcohol

None

Number of deaths prevented, life years gained

One way, different scenarios

Not checked

Mainly a primary prevention model. Developed and adopted in several different populations.

CHD Life Expectancy Model (Grover et al)

Life table analysis-Markov model from 1998 onwards

Canada, Adult men and women, age group not clear

Smoking, total cholesterol, DBP, glucose intolerance, age

Did not consider CHD disease categories but treatments can be considered for primary prevention

Years of life saved, cost per life year saved, years of life without CHD symptoms

One-way

Calibrated

This model uses hypothetical cohorts of participants. In most of the papers, time and the specific population are not clear.

CHD Policy Analysis (Sanderson and Davies)

Micro simulation

England and Wales,

Up to 85 years. Men and women

Smoking, cholesterol, systolic blood pressure

Angina (stable and unstable), AMI, postMI, CABG, PTCA None

Deaths prevented, morbidity prevented, CHD & non-cardiac deaths, unstable angina admissions, investigations, angiograms, PTCA, CABG

 

No validation reported

Separate risk factor and treatment components. Future model may include secondary prevention treatments. No sensitivity analyses yet. Model fit appears better for men than women.

IMPACT (Capewell, Critchley and Unal)

Spread-sheet

Scotland, England & Wales, New Zealand.

Initially men and women aged 45–84. IMPACT Model for England and Wales includes 25–84

Initially smoking, cholesterol, blood pressure – then also obesity, diabetes and physical activity and deprivation

This model is comprehensive and considers all principal CHD categories and over 20 specific CHD treatments

Deaths prevented or postponed, life years gained.

Multi way sensitivity analysis using Analysis of extremes method.

Estimated falls in CHD mortality were compared with observed falls over specific time period stratified by age and sex.

Considers all major effective treatments available for CHD and all major risk factors.

Data quality adequate, used trial and meta-analyses: National population statistics and results from representative studies

Global Burden of Disease (Murray and Lopez)

Population attributable risk method

World divided into eight geographic regions

M-F all ages

Malnutrition, poor water, unsafe sex, alcohol, tobacco occupation, hypertension, physical activity, illicit drugs, and air pollution

None

Disability adjusted life years (DALYs)

Multi-way sensitivity analysis-discounting and age weighting

None

A comprehensive and global model for WHO strategies. Well documented and described. CHD is included, and modelled as caused by tobacco use, hypertension and physical inactivity, and reduced by alcohol.

Data quality: Extremely variable depending on the region
Discussion
This is the first comprehensive systematic review of CHD policy models. Previous reviews were restricted to a particular type or application [44, 45, 46]. The increasingly wide use of CHD modelling has thus far resulted in few attempts to evaluate model quality. We therefore aimed to systematically assess the quality of the modelling methodology rather than simply comment on the reported results.
A wide variety of CHD policy models have been developed with over 70 publications now available. CHD models have become more complex and comprehensive as a result of improving computer technology and wider usage[10]. Although, on the surface many of the models may appear similar, one must remember that they were often originally designed to address very different policy questions.
In general, the quality of the models has also improved over time so that more recent papers tend to explicitly report assumptions, limitations and sensitivity analyses.
Quality criteria assessing for publications are well described, especially for randomised controlled studies[47]. However, there are no widely accepted quality criteria for modelling papers in general nor specifically for CHD policy models. We therefore first had to develop an evaluation framework using logical quality criteria including sensitivity analyses, validity, and comprehensive reporting of assumptions and limitations (Appendix 3) [see Additional file 1]. These criteria explicitly reflect the main quality components suggested in the recent ISPOR Guideline [3].
Models can allow a large amount of evidence to be considered simultaneously, by combining and integrating into a coherent whole different types of data from controlled trials, routine surveillance and expert consensus[10]. Models have been extensively used in policy making and resource allocation, since they permit policy makers to examine future options, or to simulate the effects of different scenarios within a population [4]. However, improved technology potentially increasingly enables practitioners and policy-makers to use these models without necessarily understanding the inherent assumptions or data limitations [10].
Models require considerable data input. The data sources therefore need to be appropriate and credible. However, the availability of comprehensive high quality data remains a problem. The data are therefore usually obtained from a variety of sources including clinical trials, meta-analyses, surveys, clinical databases and registries, medical records, audits, routine statistics, official tariff lists for health care resource use and Delphi panels (to elicit expert opinion)[48]. Every CHD modelling paper should therefore explicitly report and critically discuss data quality, methodological limitations and the assumptions used to address these deficiencies. However, few of the papers reviewed here did so.
Uncertainties about data are a perennial problem in modelling studies. Sensitivity analyses are therefore essential to quantify the degree of uncertainty. In general, CHD models have only recently started to report sensitivity analyses [14, 40, 49]. The most common approach is where one or more parameters of an evaluation are varied across a plausible range[50]; 95% confidence intervals can easily be included. One-way sensitivity analysis(where only one parameter is changed at a time while the others retain their base-case specifications) is obviously less rigorous than multiway-sensitivity analysis(where more than one parameter is changed at the same time). However, multiway sensitivity analyses remain very uncommon [6, 10, 37]. Lately, the use of probabilistic sensitivity analysis has been suggested alongside with traditional sensitivity analyses. Probabilistic sensitivity analyses offer the opportunity to make statistical statements about the impact of parameter uncertainty in models. Although, this approach has been criticized for its arbitrariness in choosing the statistical distribution it may be used more often in the future [51]. Probabilistic sensitivity analysis was not used in any of the reviewed models in this paper.
Implications for policy and practice
Many of the papers included in this systematic review failed to provide sufficient detail to allow thorough evaluation of the model used. This obviously constrained our systematic review. When assessing the quality of a model, one should ideally consider the system being modelled, the model structure, the elements included and excluded, the probable effects of existing trends in mortality and risk factors and the model assumptions-both explicit and implicit[
3
,
4
]. The description of the model should be sufficiently detailed so that the model can be replicated mathematically. Therefore modeling papers should include some basic information on models listed in Table
2
. If the validity of a model cannot be checked, it simply represents a "black box" rather than a useful tool. More extensive validation studies thus represent a priority for future research. Although most of the models have potential to predict future trends depending on how the model is populated, the methodological challenges are considerable, and there is substantial need for further research and development.
Table 2
Suggestions for future papers reporting on CHD policy models
A CHD modelling paper should explicitly report and discuss;
-Aims of the project
-Structure and methods of the model
-Data quality (data availability, how up to date, comprehensive, any gaps in certain population groups or interventions). Reasons for selecting or excluding specific data sources
-Methodological limitations
-The assumptions used to address these deficiencies
-Sensitivity analyses (one-way or preferably multi-way)
-Whether the validity of the model was checked (with real observational data or with other models)
-Replication of the model in different populations
-Model results and comparisons with other studies
-Social and economic policy implications of model outcomes
Suggestions for future research
Finally, although this review focussed on CHD models, many of the issues are generic. Some findings may therefore be cautiously generalisable when modelling other diseases or interventions.
Conclusion
In conclusion, CHD models offer a potentially valuable tool for policy development. However, existing models vary widely in their depth, breadth and quality. Few models have been calibrated, replicated or validated against minimum quality criteria. Before being accepted as a policy aid, any model should explicitly include a statement of its aims, assumptions, outputs, strengths and limitations.
Notes
Acknowledgements
BU was funded by the NHS Executive North West Research and Development Directorate as a Research Training Fellow. All the expenses for this review and manuscript preparation were paid through this fellowship.
SC and JC were employed by the University of Liverpool when the review was carried out.
Copyright information
© Unal et al; licensee BioMed Central Ltd. 2006
This article is published under license to BioMed Central Ltd. This is an Open Access article distributed under the terms of the Creative Commons Attribution License (http://creativecommons.org/licenses/by/2.0), which permits unrestricted use, distribution, and reproduction in any medium, provided the original work is properly cited.