Application of community phylogenetic approaches to understand gene expression: differential exploration of venom gene space in predatory marine gastropods
Open Access
Research article
Part of the following topical collections:
Abstract
Background
Predatory marine gastropods of the genus Conus exhibit substantial variation in venom composition both within and among species. Apart from mechanisms associated with extensive turnover of gene families and rapid evolution of genes that encode venom components ('conotoxins'), the evolution of distinct conotoxin expression patterns is an additional source of variation that may drive interspecific differences in the utilization of species' 'venom gene space'. To determine the evolution of expression patterns of venom genes of Conus species, we evaluated the expression of A-superfamily conotoxin genes of a set of closely related Conus species by comparing recovered transcripts of A-superfamily genes that were previously identified from the genomes of these species. We modified community phylogenetics approaches to incorporate phylogenetic history and disparity of genes and their expression profiles to determine patterns of venom gene space utilization.
Results
Less than half of the A-superfamily gene repertoire of these species is expressed, and only a few orthologous genes are coexpressed among species. Species exhibit substantially distinct expression strategies, with some expressing sets of closely related loci ('under-dispersed' expression of available genes) while others express sets of more disparate genes ('over-dispersed' expression). In addition, expressed genes show higher dN/dS values than either unexpressed or ancestral genes; this implies that expression exposes genes to selection and facilitates rapid evolution of these genes. Few recent lineage-specific gene duplicates are expressed simultaneously, suggesting that expression divergence among redundant gene copies may be established shortly after gene duplication.
Conclusions
Our study demonstrates that venom gene space is explored differentially by Conus species, a process that effectively permits the independent and rapid evolution of venoms in these species.
Keywords
Expression Divergence 
Conus Species 
Terminal Branch 
Artefactual Sequence 
Venom Composition 
These keywords were added by machine and not by the authors. This process is experimental and the keywords may be updated as the learning algorithm improves.
Abbreviations
mRNA

Messenger RNA

cDNA

Complementary DNA

NRI

Net related index

NTI

Nearest taxon index

MPD

Mean phylogenetic distances

MNTD

Mean nearest taxon distances

MGD

Mean genetic distance

MNGD

Mean nearest gene distance

NGI

Nearest gene index

dN

Non-synonymous substitutions per non-synonymous site

dS

Synonymous substitutions per synonymous site

ω

dN/dS.
Background
Gene regulation shapes inter- and intraspecific phenotypic variation and affects organismal responses to changes in environmental conditions [1]. Vast phenotypic and behavioral differences among closely related species can be attributed to differences in gene regulation [2, 3, 4, 5, 6]. Gene expression variability also facilitates individuality of organisms and phenotypic differences among individuals with identical genotypes [7]. Differences in gene expression patterns can be viewed as differential exploitation of 'gene space' (i.e., all protein-coding genes) [8]. Diversity and quantities of messenger RNA (mRNA) transcripts of genes in the gene space reflect the functional and adaptive roles of the gene products and represent organismal responses to environmental perturbations in real-time [1].
Gene families are important components of genomes; expression divergence of members of gene families contributes to interspecific differential expression [9, 10, 11, 12]. Venoms of many organisms are composed of various potent toxins that are encoded by many gene families, and Lluisma et al. [13] suggested that these organisms differentially explore these 'venom gene spaces' (i.e., the combinations of toxin-coding genes in the genome of each species). In particular, some species may fully explore this space (e.g., express a disparate set of available loci), while others may focus within a specific region of the space. This hypothesis stems from observations that numbers and combinations of expressed venom genes differ among species of predatory marine gastropods (Conus species) and that genes expressed in certain species do not appear to be random subsets of available genes [13].
Predatory marine snails of the genus Conus utilize venoms that include a variety of peptide neurotoxins (conotoxins or conopeptides) that are encoded by various large gene superfamilies and target diverse sets of ion channels and neuronal receptors in prey [14]. Venom composition varies dramatically among and within Conus species [15, 16, 17, 18], which, in part, derives from the dynamics of conotoxin gene family evolution through extensive gene turnover and rapid evolution [19, 20]. Previous studies revealed the importance of differential expression in interspecific divergence of venoms based on analyses of conotoxin gene transcripts [21, 22, 23, 24, 25]. In addition, closely related species tend not to express orthologous counterparts, a phenomenon that contributes to interspecific differences in venom composition [23].
Without knowledge of the genomic composition of venom gene space, it is difficult to differentiate transcriptional variation of single genes from lineage-specific gene duplication/loss, especially under scenarios of extensive turnover of conotoxin gene families [19]. Previous descriptions of genomic profiles of A-superfamily loci of four closely-related species, C. lividus, C. sanguinolentus, C. diadema and C. quercinus, [19] provide a great opportunity to examine expression patterns of members of this gene family in these species. A-superfamily genes encode α-conotoxins that are selective blockers of nicotinic acetylcholine receptors and characterized by a signature cysteine backbone of "CC(X)mC(X)nC" [26]. A-superfamily genes possess a highly conserved prepro region (the N-terminus of the translated prepropeptide that is cleaved from the mature toxin following translation) and a fairly conserved 3' untranslated region that together flank the toxin-coding region [26, 27]; the conserved nature of these regions makes it possible to retrieve most if not all members of this superfamily from venom duct transcripts through amplification of cDNA with 'universal' primer pairs designed within these regions.
Here we evaluated patterns of conotoxin gene expression of four closely-related
Conus
species and determined how these species differentially exploit their venom gene space. Differential exploration of the venom gene space was inferred previously by Lluisma et al. [
13
] from observations of the presence/absence of specific sets of gene transcripts in the venom duct expression profiles of
Conus
species, without knowledge of the presence/absence of those genes in the genomes of these species. Here we propose a new approach that takes into account the evolutionary history of gene families to quantitatively evaluate expression patterns of members of a gene family that encode part of the venom gene space. This approach is applicable to other non-venom-related multi-gene families to test modes of evolution of gene expression profiles among species. Our approach was developed from community phylogenetic methodologies [
28
,
29
,
30
] and classifies patterns of gene family expression into three states: "over-dispersion" (expression of a non-random set of phylogenetically distantly-related gene members), "under-dispersion" (expression of a non-random set of closely related genes) and "neutral" (expression of a random set of genes; Figure 
1
). Details about this approach are described in the Methods section.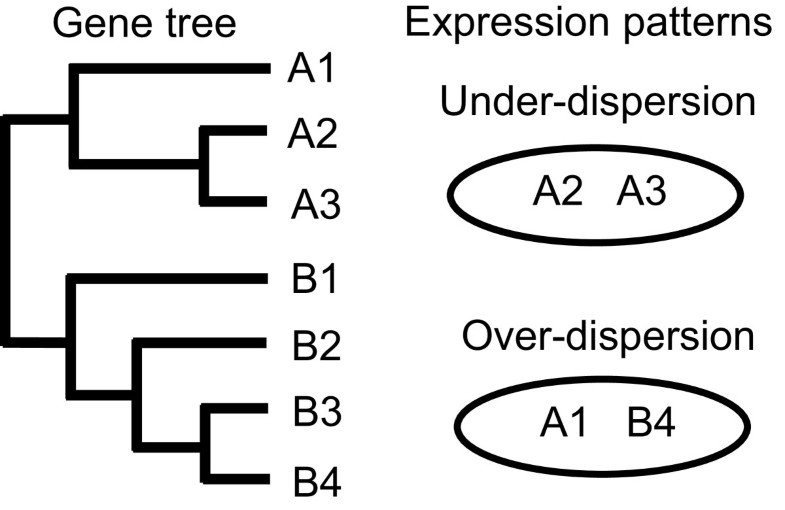 We also examined the selectivity of expressed genes and the role of expression in the evolution of gene families, as well as the relationship between gene duplication and expression divergence. Gene duplication plays an important role in the development of expression patterns of members of a gene family. For example, gene duplication promotes expression divergence of gene copies [31] that affects the retention and functionalization of redundant gene duplicates [32, 33]. Divergence in expression of paralogous genes is positively correlated with ages of genes [34], and is likely affected by changes of cis- and trans-regulatory elements [35, 36, 37]. Closely-related paralogs show equivalent or less resemblance in patterns of expression than distantly-related genes [38], and divergence in gene expression can be rapidly established among young duplicates [34]. Is this pattern (i.e., the rapid establishment of expression divergence of paralogous genes) also applicable to A-superfamily conotoxin genes? To address these themes, we obtained expression profiles of A-superfamily from venom duct transcripts of four Conus species, compared the results with genomic compositions of this gene family in each species, statistically evaluated phylogenetic structures of gene expression among species, and assessed patterns of expression and neutrality of gene duplicates.
Discussion
We investigated patterns of interspecific variation in expression of A-superfamily conotoxin genes in venom ducts and strategies of gene expression of four closely related Conus species. Results revealed a remarkable pattern of partial and differential expression of conotoxin genes among and within species and that species exhibit a variety of expression patterns including over-dispersed and under-dispersed expression of gene families. Our study demonstrates that variation in gene expression patterns, combined with the rapid evolution of toxin-coding gene sequences, has contributed to tremendous differences in venom composition among species.
Partial and differential expression of conotoxin genes among species
Only a subset (less than 50%) of A-superfamily genes that were previously found in the genomes of the four target species were expressed in the individuals we examined. This phenomenon, in part, may be related to the functional fates of these genes. For example, genes that were not expressed may be pseudogenized or in the process of pseudogenization, but this scenario seems unlikely because the majority of unexpressed genes appear to encode functional α-conotoxins [19]. Alternatively, conotoxin genes may perform different roles during ontogeny such that some genes are up-regulated or exclusively expressed in juvenile or subadult developmental stages (Chang and Duda under review); environmental and physiological conditions may affect conotoxin gene expression as well.
Based on the expression patterns detected, A-superfamily conotoxin genes appear to be differentially regulated among species. There is only very little to no overlap in expressed genes among species, even between sister species that diverged very recently (Table 2). Limited coexpression of orthologous conotoxin genes among species has also been inferred for other Conus species [20, 23]. This pattern suggests that differential expression of conotoxin genes is a prevalent mechanism in generating venom diversity among Conus species. Although intraspecific variation in venom composition has been observed in several Conus species [16, 17, 18], this variation appears to be much less than levels of interspecific divergence in gene expression.
Expression patterns and applicability of a community phylogenetics approach to study gene expression
Results from the community phylogenetic approach show that Conus species employ different strategies in exploiting their venom gene space. Expression patterns of C. lividus and C. quercinus are not significantly different from random (Table 3). Nonetheless, results for both C. sanguinolentus and C. diadema are significantly nonrandom; this implies that C. sanguinolentus expresses an under-dispersed assortment of genes while C. diadema more fully explore their venom gene space (i.e., exhibits over-dispersed expression) (Table 3). The community phylogenetics approach proves to be effective in detecting differences in expression patterns among species and is applicable to evaluation of modes of expression of other multi-gene families.
Under-dispersed gene expression patterns are associated with cases when genes originating from recent duplications are more likely to be expressed than distantly related paralogs, and vice versa. Sister species (e.g., C. lividus and C. sanguinolentus) tend to express genes that originated from relatively recent duplication events, while genes expressed by C. diadema and C. quercinus appear to have originated from more ancient duplications. In terms of functional diversities of these genes, if the functional disparity of toxins is associated with their sequence disparity, C. diadema (which exhibits a significantly over-dispersed expression pattern) produces toxins that are likely to be more functionally diverse than the other species. Different patterns of gene expression among species may also be affected by the numbers of genes expressed by each species, as the species exhibiting over-dispersed expression, C. diadema, coincidently expressed fewer genes than the species exhibiting under-dispersed expression (Table 1). These observations imply that the functional diversities of venoms can be achieved through expression of few genes that encompass more complete sampling of venom gene space or expression of many genes that more fully explore subsections of this space which might permit opportunities for fine-tuning the subfunctions of venom components.
The significantly non-random patterns of gene expression in two species and the difference in expression strategies among Conus species imply that conotoxin gene expression is affected by selection. We detected strong selection on the contemporaneously expressed genes that exhibit a significantly larger ω value than non-expressed ones (Table 4 and Additional file 3: Table S1). This implies that expression affects gene evolution by differentially regulating exposure of genes to selection. The lower values of ω for unexpressed genes suggest that these genes may be turned off or down-regulated permanently. Otherwise, selection may be highly variable through time (e.g. during ontogeny) such that genes that are switched off temporarily are subject to different levels/types of selection.
On the other hand, expression strategies used by each species may be shaped by interspecific divergence in selective forces. Interspecific differentiation of expression may be affected by genetic drift and selection [50]. The significantly non-random patterns of gene expression in some species (Table 3) and lack of coexpression of orthologous genes between species (Additional file 3: Figure S1A) imply that variation in conotoxin gene expression is not solely due to drift. Because conotoxins are primarily used for predation, interspecific differences in selection pressures likely stem from differences in the diversity and composition of prey of Conus species. Previous studies demonstrate that allelic variation of conotoxin genes is positively correlated with dietary diversity [51], and suggest that gene turnover is associated with dietary breadth of species [19]. C. lividus and C. sanguinolentus possess broader diets than the other two species [19], a pattern that is possibly related to differences in numbers of expressed conotoxin genes in the venoms of these species. In addition, the significantly over-dispersed gene expression observed for C. diadema (Table 3), a pattern that is disparate from those of the other species, may be related to geography (C. diadema occurs in the eastern Pacific, while the other species occur in the Indo-West Pacific) and the communities of prey that this species encounters.
Expression divergence of gene duplicates
Because no significant differences in dS or ω were detected among categories of expression in three of the four Conus species, expression divergence of conotoxin genes does not appear to be closely associated with divergence time or the rates of evolution of these genes. As an exception, the average dS value of C. lividus is significantly smaller for genes that are differentially expressed than for unexpressed genes (Additional file 3: Figure S1). This implies that paralogous genes that are differentially expressed are younger than pairs of paralogs that are unexpressed simultaneously. Expression divergence is also positively associated with heightened rates of evolution of these genes in this species: average ω values of differentially expressed genes are significantly greater than those of unexpressed genes.
Previous studies present contradictory results concerning the association between expression divergence and sequence differences in coding regions (as an approximation to divergence time): positive correlations were detected in model organisms such as yeast [34, 36] and human [52], but not in Arabidopsis thaliana [53]. We found that relationships between expression divergence and divergence time differ among species, and such an association was only detected for C. lividus. Gene duplication heightens the probability of expression divergence of paralogous genes [31], but expression divergence and sequence distances are only coupled within a short timeframe after duplication [34, 38, 52]. Here we found that inparalogs of C. lividus, C. sanguinolentus and C. diadema are either not coexpressed or coexpressed at different levels (Figure 2; Additional file 3: Figure S1B). These results imply that expression divergence is established for inparalogs and recent paralogs and support the notion proposed by Gu et al. [34] that expression divergence can be rapidly fixed in recent gene duplicates. Differential expression contributes to the eventual retention and evolution of gene duplicates because mutations in the unexpressed gene copies, temporarily unexposed to purifying selection, accumulate through time. Beneficial mutations, combined with positive selection facilitate the rapid evolution and neofunctionalization of these genes. Admittedly, our approach did not incorporate information on actual expression levels and the arbitrary division of genes into non-numerical categories of expression (see Methods) may affect the ability to detect differences in these levels.
Conclusion
We demonstrated partial and differential expression of venom genes among Conus species, and supported the idea that species differentially explore their venom gene space through over- and under-dispersed expression of the available repertoire of A-superfamily genes that is present in the genome of each species. Expressed genes are subject to strong positive selection, and expression divergence of gene duplicates appears to be established at an early stage. Extensive gene duplication and selection facilitate variation in gene expression and rapid evolution, combinations of which lead to interspecific divergence in venom composition. Our approach of examining patterns of gene expression proves to be effective in evaluating the differential exploration of the venom gene space, and can be widely utilized for investigation of patterns of gene family expression among species.
Authors' information
DC obtained her PhD in Ecology and Evolutionary Biology from the University of Michigan in 2012, under supervision of the senior author TFD, and also obtained a Master's degree in Statistics simultaneously. Her dissertation is on the evolution and expression of gene families, using conotoxin genes of predatory marine snails Conus as the study system. She is currently a postdoctoral research fellow at the University of California, Santa Cruz, where she is investigating ancient DNA, phylogeography of the extinct megafauna and evolutionary genomics of horse domestication. She is specialized in evolutionary genomics, molecular ecology, phylogeography, bioinformatics and statistical modeling.
TFD is an Associate Professor in the Department of Ecology and Evolutionary Biology and an Associate Curator of Mollusks at the Museum of Zoology at the University of Michigan, Ann Arbor. He obtained his PhD from Harvard University in 1999, and worked as a postdoctoral fellow at the Smithsonian Tropical Research Institute and University of Washington before he began his position at the University of Michigan. He investigates themes in marine invertebrate zoology, evolutionary genetics, molecular ecology, population genetics, phylogenetics and biogeography, with a special focus on marine molluscs. Much of his research program focuses on the evolutionary history of cone snails and conotoxin genes.
Notes
Acknowledgements
We thank J-P Bingham from the University of Hawaii for providing venom duct samples of C. quercinus. We acknowledge colleagues at the University of Michigan, including Jianzhi Zhang, Taehwan Lee, Earl Werner, Lori Isom and Wenfeng Qian, and Gang Chen at the University of Rhode Island, as well as the editor and two anonymous reviewers for their valuable comments on our manuscript. This study is supported by EEB Block Grants from Rackham Graduate School of University of Michigan awarded to DC and an NSF research grant (IOS-0718379) awarded to TFD.
Copyright information
© Chang and Duda; licensee BioMed Central Ltd. 2014
This article is published under license to BioMed Central Ltd. This is an Open Access article distributed under the terms of the Creative Commons Attribution License (http://creativecommons.org/licenses/by/2.0), which permits unrestricted use, distribution, and reproduction in any medium, provided the original work is properly credited.