Evidence for a high mutation rate at rapidly evolving yeast centromeres
Open Access
Research article
Part of the following topical collections:
Abstract
Background
Although their role in cell division is essential, centromeres evolve rapidly in animals, plants and yeasts. Unlike the complex centromeres of plants and aminals, the point centromeres of Saccharomcyes yeasts can be readily sequenced to distinguish amongst the possible explanations for fast centromere evolution.
Results
Using DNA sequences of all 16 centromeres from 34 strains of Saccharomyces cerevisiae and population genomic data from Saccharomyces paradoxus, I show that centromeres in both species evolve 3 times more rapidly even than selectively unconstrained DNA. Exceptionally high levels of polymorphism seen in multiple yeast populations suggest that rapid centromere evolution does not result from the repeated selective sweeps expected under meiotic drive. I further show that there is little evidence for crossing-over or gene conversion within centromeres, although there is clear evidence for recombination in their immediate vicinity. Finally I show that the mutation spectrum at centromeres is consistent with the pattern of spontaneous mutation elsewhere in the genome.
Conclusions
These results indicate that rapid centromere evolution is a common phenomenon in yeast species. Furthermore, these results suggest that rapid centromere evolution does not result from the mutagenic effect of gene conversion, but from a generalised increase in the mutation rate, perhaps arising from the unusual chromatin structure at centromeres in yeast and other eukaryotes.
Keywords
Gene Conversion 
High Mutation Rate 
Mutation Spectrum 
Meiotic Drive 
Centromere Locus 
These keywords were added by machine and not by the authors. This process is experimental and the keywords may be updated as the learning algorithm improves.
Background
Centromeres form the points at which the spindle attaches to DNA to ensure its proper segregation during cell division. This function is conserved from yeast to humans, and yet centromeres evolve rapidly [1, 2, 3, 4, 5, 6, 7, 8]. Indeed, some have proposed that rapid centromere evolution could drive speciation [1, 6, 8]. More specifically, Henikoff et al [1] propose that because centromeres and the genes encoding their associated proteins are essential and more rapidly evolving than other DNA, their divergence is more likely than other DNA to result in genetic incompatibilities in hybrids following reproductive isolation.
Why would centromere sequences that are essential to proper chromosome segregation be evolving so fast? Most types of centromere are not defined by their DNA sequence [8], so a trivial explanation is that their rapid evolution is simply a consequence of low levels of selective constraint. However, there is growing evidence that centromeres evolve more rapidly even than selectively unconstrained parts of the genome [5, 6], requiring more complex scenarios to explain this paradox of centromere evolution.
Several hypotheses have been put forth to explain fast centromere evolution. First, centromere sequences may act as selfish elements in the asymmetric meioses of female plants and animals [1, 8]. Under this model of meiotic drive ("centromere drive"), centromere sequences have the potential to mutate in such a way that new alleles could bias their own segregation into an egg, and so centromeres evolve rapidly as a result of repeated selective sweeps as such alleles drive to fixation [1, 8]. Alternatively, gene conversion could lead to the diversification of repeats [9] and thus facilitate rapid centromere evolution since most centromeres are repetitive [10, 11]. Thirdly, centromeres may simply suffer a higher rate of mutation than other parts of the genome [5].
While rapid centromere evolution is observed in a diversity of species [
3
,
4
,
5
,
6
,
7
,
8
], alternative theories cannot explain rapid centromere evolution equally well in all eukaryotes. For example, yeasts have symmetric meioses, and thus there is no obvious advantage to meiotic drive [
2
,
12
]. Likewise, the point centromeres of
Saccharomyces
yeasts are short, with their rapidly evolving core (CDEII) spanning a non-repetitive region of only 80-90 bp (Figure
1
). Thus, gene conversion involving repetitive DNA cannot directly explain rapid centromere divergence in yeasts. However, gene conversion is mutagenic in yeast [
13
], and so a high rate of gene conversion induced mutation may explain rapid evolution even in yeast centromeres.
Saccharomyces
yeasts therefore offer a powerful system with which to resolve the different forces governing fast centromere evolution.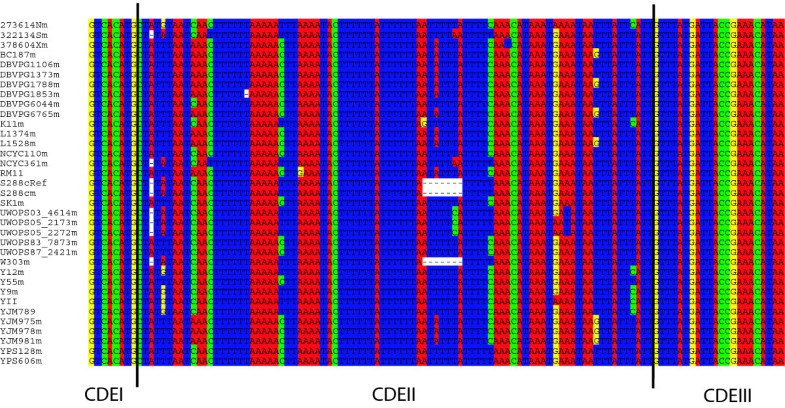 In this study I address the causes of rapid centromere evolution in yeast by resequencing all point centromeres from 32 strains of Saccharomyces cerevisiae and studying published genomic data [14] for these strains and a further 34 strains of Saccharomyces paradoxus, to show that centromere evolution is rapid in both species. Using the population genetic data for S. cerevisiae, I test for the signatures of natural selection or recombination expected under meiotic drive or gene conversion models of rapid centromere evolution. I also estimate the mutation spectrum at centromeres and compare it with the spectra expected under spontaneous mutation [15] or mutagenic gene conversion [13]. Evidence presented here suggests that rapid centromere evolution in S. cerevisiae is due to a generalised increase in the mutation rate and not due to recombination or meiotic drive.
Discussion
This study extends the past finding that S. paradoxus shows rapid evolution in five centromeres [5] to all centromeres of this species and to a second species with point centromeres, S. cerevisiae (Figure 1, Tables 1 and 2, Figures S1 and S2). S. cerevisiae is an especially useful species in which to study the cause of rapid centromere evolution because its point centromeres are easy to sequence and patterns of recombination and mutation within its genome are exceptionally well characterised [13, 15, 23, 25, 26]. The population and comparative analyses of centromere DNA sequences presented here lead to the conclusion that rapid centromere evolution is caused by a generalised increase in the mutation rate and not by meiotic drive or recombination.
Under the meiotic drive theory of rapid centromere evolution, we expect low polymorphism within centromeres. Point centromeres, the one type of centromere where this is easily and accurately assayed, show the opposite pattern; high diversity within species or populations (Table 1, Table 2). This is the case for at least three populations of S. cerevisiae (Table 2) and one population of S. paradoxus (Table 1, [5]). Whether levels of divergence or polymorphism are measured, CDEII seems to evolve 3 or 4 times faster than selectively unconstrained DNA (Tables 1 and 2). High levels of polymorphism suggest that rapid centromere evolution is not the result of the sweeps of natural selection predicted by meiotic drive. The exceptionally high levels of polymorphism seen here, and the constant level at which centromere polymorphism or divergence is increased relative to other parts of the genome, are expected if high mutation at centromeres causes their rapid evolution.
The proteins that bind to animal and plant centromeres also contain rapidly evolving regions, and this could be because of positive selection for mutations that suppress meiotic drive of centromeres during female meiosis [1, 27]. In contrast, there is no such evidence of positive selection in the centromere binding proteins of yeast [27], and this is consistent with a high mutation rate as a mechanism for rapid centromere evolution in yeast. If there is no evidence for compensatory mutations in yeast centromere binding proteins, then perhaps this implies that the rapid divergence of CDEII sequences has no functional consequences. Experimental replacement of CDEII sequences with random sequence of the same length and base composition does however appear to increase rates of segregation distortion in S. cerevisiae [17]. Therefore it is possible that the high mutation rate at yeast centromeres has functional consequences, but these could only contribute to yeast speciation under a simple Dobzhansky-Muller model [28]: centromeres diverge so that they are no longer bound by their associated binding proteins, as opposed to a meiotic drive model for speciation [1, 27] in which meiotic drive at centromeres and its suppression by centromere binding proteins leads to post-zygotic reproductive isolation.
Recent evidence suggests that gene conversion at centromeres could contribute to rapid centromere evolution in maize [10], leading to the proposal that this force could generally explain rapid centromere evolution in eukaryotes [10, 11]. The findings of the study in maize came as a surprise, since it has long been thought that recombination is suppressed at centromeres [29], and this has been confirmed in yeast [30] and other species [11, 31, 32]). Using population data in yeast and some of the same approaches used for maize [10], I find evidence for recombination very close to centromeres though not within them (Table 3, see Additional file 1, Table S2, Table S3). A number of recombination events may have occurred close to CEN2 (Table 3), where a double-stranded break hotspot is also predicted [25]. High-resolution genome-wide mapping of the crossover and non-crossover events from a large number of meioses in S. cerevisiae also shows that crossovers sometimes occur close to centromeres, but not within them, and that gene conversion does not occur close to centromeres at all [26]. The absence of a detectable signature of recombination events within centromeres, together with the lack of an obvious mechanism by which gene conversion would increase diversity in non-repetitive point centromeres, suggests that gene conversion does not lead to rapid centromere evolution, at least in the way proposed in maize.
Gene conversion is mutagenic [13], so even if the signatures of gene conversion have been obscured in yeast centromeres, perhaps their high mutation rate does result from high rates of gene conversion as a result of this mutagenicity, if not as a result of the products of recombination. Analysis of the mutation spectrum at S. cerevisiae centromeres, suggests this too is not the case. The mutation spectrum in CDEII is more like that seen genome-wide and in wild-type strains in studies of spontaneous mutation than it is like the spectrum expected specifically under gene conversion (Table 4). Thus the rapid evolution of yeast centromeres may not rely on the action of a specific DNA repair system like that involved in gene conversion.
In summary, it appears that a generalised increase in the mutation rate is responsible for the rapid evolution seen at point centromeres, and this is not the result of gene conversion as recently proposed [10]. Given that rapid centromere evolution occurs in a broad range of eukaryotes [3, 4, 5, 6, 7, 8], it is possible that high mutation rates could also contribute to the rapid evolution of other eukaryotic centromeres.
Apart from rapid evolution, another general characteristic of centromeres is that their DNA is wound round a histone specific to centromeres, CENH3 [8]. This leads to a nucleosome structure that is fundamentally different at centromeres compared to other parts of the genome [8, 33, 34]. There is evidence in yeast, human and fish that rates of evolution are higher in DNA that is bound in canonical nucleosomes than in flanking linker regions [35, 36, 37, 38]. In addition, experimental studies on S. cerevisiae and human show increased mutation rates at nucleosomes because DNA repair proteins have reduced access to DNA once DNA is packaged on histones [39, 40], so this may explain the elevated evolutionary rates observed for DNA in nucleosomes [36, 37]. It may be especially difficult to unwind DNA from a relatively rare histone variant, such as CENH3, with an unusual nucleosome structure, and this could lead to inefficient DNA repair at centromeres. Similarly, the subtelomeres of S. cerevisiae show accelerated base-pair substitution and also have a non-canonical chromatin structure [41]. The alternative conformation of chromatin at centromeres may be necessary for centromere inheritance in the case of regional centromeres or more generally for centromere function [33], but may also expose centromere DNA to higher rates of mutation and sequence evolution.
Conclusions
In this work I present a complete dataset of sequences for all 16 centromeres in 34 strains of the model yeast species, Saccharomyces cerevisae, including more than 400,000 nucleotides of centromeric DNA sequence. Using population genetics theory and methods to test for the past effects of natural selection and recombination at centromeres, I rule these forces out as major contributors to rapid centromere evolution in yeast. Moreover, as S. cerevisiae is also a model for the study of mutation, I compare the mutation spectrum at centromeres to those expected under different modes of DNA repair. These analyses collectively support a model of high mutation rate, rather than meiotic drive or gene conversion, as being the principal force driving rapid centromere evolution in yeast. Yeast centromeres are simpler than those of plants or animals and yet they have several characteristics in common with them, such as rapid centromere evolution and an unusual chromatin structure. The results from this study imply that other eukaryotes, such as animals and plants, probably also suffer a high rate of spontaneous mutation at their centromeres.
Notes
Acknowledgements
I thank Casey Bergman, Justin Fay, Catherine Millar and Alan Moses, and six anonymous reviewers for helpful discussion, and comments on the manuscript. I am also grateful to Casey Bergman for providing the TE annotation used in this study. Sandra Taylor and Viranga Tilakaratna performed DNA extractions and PCRs used in generating the S. cerevisiae centromere data. This work was supported by the Natural Environment Research Council through a NERC Fellowship [grant number NE/D008824/1] (http://www.nerc.ac.uk). The funders had no role in study design, data collection and analysis, decision to publish, or preparation of the manuscript.
Copyright information
© Bensasson; licensee BioMed Central Ltd. 2011
This article is published under license to BioMed Central Ltd. This is an Open Access article distributed under the terms of the Creative Commons Attribution License (http://creativecommons.org/licenses/by/2.0), which permits unrestricted use, distribution, and reproduction in any medium, provided the original work is properly cited.