MiRNAs in cancer therapy: focusing on their bi-directional roles
Abstract
MicroRNA (miRNA) dysregulation is causal in most, if not all, cancers. They silence the gene's expression by modulating messenger RNA (mRNA) through employing translational repression or degradation. MiRNA has the ability to target various genes, which involve various significant signaling pathway in cancer cells, to control cancer development and progression. As a result, manipulating miRNA expression levels for cancer therapy seems an attractive and novel therapeutic approach. However, certain miRNAs, which possess the bi-directional roles, could promote cancer cells growth, but also enhance T-cell immunity. Therefore, miRNA-based therapy could also kill T cells and other lymphocytes, ultimately resulting in promoting cancer growth, which makes miRNA-based cancer therapy process with caution. In this view, we will focus on these miRNAs with the bi-directional roles, and discuss their potential effects to cancer therapy. Ultimately, identified and dissected the miRNAs crossing both T-cell-mediated anti-tumor immunity and tumor cell growth will prove vital for the design of more effective and safer strategies for cancer therapy.
Keywords
microRNA 
T-cell immunity 
Cancer therapy 
Bi-directional roles 
Abbreviations
ACT

Adoptive cell transfer

CTL

CD8+ cytotoxic T lymphocytes.

CTLA-4

Cytotoxic T-lymphocyte antigen-4

MiRNA or miR

microRNA

mRNA

Messenger RNA

OncomiRs

Oncogenic miRNAs

TEM

Tumor microenvironment

Tregs

Regulatory T cells

UTR

Untranslated region
Introduction
MicroRNAs (miRNAs, miRs) are short (approximately 22 nucleotides), non-coding regulatory RNAs and post-transcriptionally regulate gene's expression by binding to the 3′-untranslated region (UTR) of complementary target mRNA, causing either mRNA translation inhibition or mRNA instability [1, 2]. As crucial modulators, miRNAs participate in various biological processes such as development, differentiation, proliferation and survival, and distorted miRNAs expression and regulation has been implicated in many diverse pathologies especially in cancer [1, 3]. The vast majority of miRNAs are deregulated in most, if not all, cancers, for example, lung cancer, breast cancer and colorectal carcinoma and so on [4, 5, 6, 7]. Based on their functional activities, many of these miRNAs are divided in two groups: oncogenic miRNAs (oncomiRs) or tumor-suppressive miRNAs [8]. Generally, oncomiRs are overexpressed in neoplastic or cancerous lesions, leading to down-regulating their target mRNA with an anti-cancer role such as the miR-17-92 [9]. Tumor-suppressor miRNAs, by contrast, are under-expressed in cancers; an example of this is the miR-34 family in colorectal cancer, targeting e.g. FGFR1, INHBB and AXL [10]. When oncomiRs or tumor-suppressor miRNAs are inhibited or over-expressed, respectively, cancer cell phenotype (proliferation, metastasis, drug resistance and /or survival) may be markedly reduced. Mounting evidences have revealed that suppression of oncomiRs could inhibit cancer development and progression [11]. Thus, miRNAs have become one of the most attractive and promising targets for therapeutic intervention in cancer today.
However, miRs also play a significant role in innate and adaptive immune responses. Our immune system has evolved to kill altered-self cells with high specificity throughout the whole body, and T-cell-mediated immune responses controls cancer immunosurveillance and cancer elimination [12]. Several studies have demonstrated that various levels of T-cell immunity are regulated by specific miRNAs [13, 14]. These miRNAs participate in generic cell biological processes in T-cell's response to different signals, such as proliferation, differentiation and function. Interestingly, recent studies reveal that both T-cell activation and cancer development may share some miRNAs [15, 16]. Hence certain miRNAs have been shown to be oncogenic in most cancers, but also display the function of tumor elimination by regulating T-cell-mediated anti-tumor immune response [17, 18]. As a result, targeting miRNA strategy deployed to inhibit cancer cell growth often eliminates T cells and other lymphocytes. Reversely, the approaches aimed to activate T cells by delivering miRNAs inhibitors or mimics may ultimately turn out to promote cancer cell proliferation in practice. The fact that the bi-directional roles of miRNAs is not a surprise due to the large number of genes modulated by a particular miRNA [19, 20]. Therefore, focusing only tumor cell growth and ignoring their effects on T-cell proliferation and function when miRNAs as cancer therapeutics may represent an oversimplification that must be scrutinized in all cancer related miRNAs therapy studies with care. To date, this issue has been ignored, and few studies have directly tested its potential causes.
Cancer progression is not solely a function of the cancer cells themselves, but also of the cellular components and physical factors within the tumor microenvironment (TEM), leading to evading T-cell mediated immune surveillance and elimination [
8
]. In addition, miRNAs may have significantly influences on T-cell proliferation and function. Hence, it is necessary to consider the influence of miRNAs to both T cells and cancer cells themselves when testing miRNAs from a therapeutic standpoint. This view should take into account the bi-directional roles of miRNAs in both tumor cells and T cells in cancer therapy, not just the effects of the miRNAs that are specific to the cancer cells themselves. Here, we present several examples of when a miRNA exerts an oncogenic or tumor suppressive effect on the cancer cells themselves but an anti-cancer or pro-cancer effect by regulating T-cell-mediated anti-tumor immune response, or vice versa (summarized in Fig.
1
).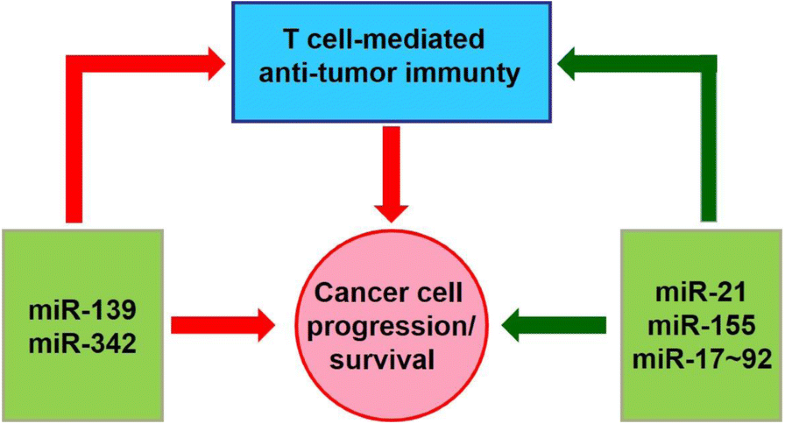 Bi-directional roles of miRNAs in cancer cells and T cells
The effect on cancer therapy of their bi-directional roles
As a novel therapeutic option, regulatory miRNAs to retard cancer development and progression even eliminate cancer are attracting more and more attention [65]. However, their bi-directional roles may be an obstacle for miRNA-based therapies to clinical treatment. Restoring miRNA function using a synthetic miRNA (for tumor suppressor miRNAs) or suppressing the activity of a miRNA by anti-miRNA oligonucleotides (for oncogenic miRNAs) could inhibit cancer cells proliferation, metastases and so on, but they could also affect the anti-tumor function of immune cells especially T cells, in tumor microenvironment. Hence delivering miRNA mimics or anti-miRNAs into cancer tissues may not exert their anti-tumor effect, possible because miRNAs suppression or over-expression in tumor cells to retard tumor growth is neutralized by the inhibition of the function of the T cell-medicated anti-tumor immunity by the targeting miRNAs strategy, for example, anti-miR-21 approach [15]. To overcome the barrier, efforts should be made to develop novel and specifically targeted systems to tumor cells to avoid the influence of miRNAs to T cell-medicated anti-tumor immunity [66].
In addition, manipulating miRNAs for T cells to improve the anti-tumor activity of adoptively transferred tumor-reactive T cells should be a more promising approach for miRNA-based cancer therapies. It has been proved to be effective that T cells could be isolated, treated with miRNAs mimics or anti-miRNAs oligonucleotides and then reintroduced into tumor-bearing animals [67]. MiRNAs could improve adoptive T cell immunotherapy from the following aspects: (1) boosting TCR sensitivity, some miRNAs could regulates TCR signaling by targeting key inhibitory phosphatases (DUSP10 or PTPN2) to promote T cell activation such as miR-21 and miR-155 [14]; (2) enhancing T cell fitness, overexpressing miR-17~92 in anti-EGFRvIII CAR-modified T cells could enhance their anti-tumor activity [68]; (3) augmenting effector functions, miR-139 and miR-342 inhibition could promote T cell effector functions [64].
Conclusions
Adoptive cell transfer (ACT)-based immunotherapy, especially microRNA-based redirected tumor-reactive T cells, has shown promise as a potentially curative means for patients with advanced cancer. Although some miRNAs (miR-21 and miR-155 and so on) have dual roles in tumor progression, they are also key regulators of T cell activation, proliferation and effector functions, which are all important factors involving the therapeutic outcome of ACT-based immunotherapy. Meanwhile, miRNA-based therapy offers some advantages over other gene engineering strategies and protein-target-based immune modulation, for example, miRNAs could target multiple molecules simultaneously, and manipulating a single miRNA could rebuild T cell behavior and bypass the need for complex transcriptional reprogram. Lastly, due to their small size, miRNA mimics and inhibitors could be easily integrated into existing multicistronic TCR and CAR platforms. Therefore, a further understanding of the role that miRNAs play in T cell fate and behavior is driving us closer to the prospect of safe and effective miRNA-based redirected T cell therapies.
In addition, the complexity of cancer development and progression make development a cancer therapeutic approach need to think about the effects to both cancer cells and tumor-associated T cells, especially miRNA-modulating therapies. Targeting miRNAs could simultaneously effect on many genes expression and even certain key signaling pathways, which participate in both T-cell proliferation and cancer development, such as NF-κB and Akt pathways. Hence, this phenomenon is really possible that miRNA-based therapy ultimately results in promoting cancer growth. Depending on the balance between modulation of miRNAs in cancer cells and the effects of the miRNAs on T-cell-mediated anti-cancer immunity, the miRNAs may produce an overall net anti-cancer or net pro-cancer effects. Preclinical trials show lots of miRNAs with significantly potential in cancer therapy, but these data are mainly from miRNAs-modulated tumor cells using in vitro and immunocompromised xenograft models, and eliminate the effects of miRNAs to T-cell-mediated anti-cancer immune response. To then end, we strongly recommend the use of immunocompetent mouse models in preclinical trials of potential miRNA therapeutics to give consideration to our body immune system and cancer cells themselves. Therefore, identified and dissected the miRNAs crossing both T-cell immunity and cancer cell growth is of the utmost importance, as there is currently plenty of excitement in the administration of exogenous miRNAs mimics and miRNAs inhibitors for controlling cancer growth. Such studies may be necessary and urgent in driving miRNA-based therapeutics from preclinical trials to clinical practice.
Notes
Acknowledgments
Not applicable.
Funding
This seminar was supported by the National High Technology Research and Development Program of China (2014AA020707), the National Natural Science Foundation of China (31271013, 51173076, 51503232, 91129712 and 81102489), the Program for New Century Excellent Talents in University (NCET-13-0272).
Availability of data and materials
Not applicable.
Authors' contributions
W. H., J. Z. and L. D. conceived this seminar. W. H., J. X. and Z. H. wrote the manuscript. All authors read and approved the final manuscript.
Ethics approval and consent to participate
Not applicable.
Consent for publication
Not applicable.
Competing interests
The authors declare that they have no competing interests.
Publisher's Note
Springer Nature remains neutral with regard to jurisdictional claims in published maps and institutional affiliations.
Copyright information
© The Author(s) 2019
Open AccessThis article is distributed under the terms of the Creative Commons Attribution 4.0 International License (http://creativecommons.org/licenses/by/4.0/), which permits unrestricted use, distribution, and reproduction in any medium, provided you give appropriate credit to the original author(s) and the source, provide a link to the Creative Commons license, and indicate if changes were made. The Creative Commons Public Domain Dedication waiver (http://creativecommons.org/publicdomain/zero/1.0/) applies to the data made available in this article, unless otherwise stated.