Detect accessible chromatin using ATAC-sequencing, from principle to applications
Abstract
Background
Chromatin accessibility is crucial for gene expression regulation in specific cells and in multiple biological processes. Assay for Transposase Accessible Chromatin with high-throughput sequencing (ATAC-seq) is an effective way to reveal chromatin accessibility at a genome-wide level. Through ATAC-seq, produced reads from a small number of cells reflect accessible regions that correspond to nucleosome positioning and transcription factor binding sites, due to probing hyperactive Tn5 transposase to DNA sequence.
Conclusion
In this review, we summarize both principle and features of ATAC-seq, highlight its applications in basic and clinical research. ATAC-seq has generated comprehensive chromatin accessible maps, and is becoming a powerful tool to understand dynamic gene expression regulation in stem cells, early embryos and tumors.
Keywords
Chromatin accessibility 
Tn5 transposase 
ATAC-seq 
Promoter 
Enhancer 
Abbreviations
AML

Acute myeloid leukemia

ATAC-see

Assay for Transposase Accessible Chromatin with Visualization

ATAC-seq

Assay for Transposase Accessible Chromatin with high-throughput sequencing

CRISPR

Clustered regularly interspaced short palindromic repeats

DNase-seq

Deoxyribonuclease I hypersensitive sites sequencing

FAIRE-seq

Formaldehyde-Assisted Isolation of Regulatory Elements

MNase-seq

sequencing of Micrococcal Nuclease sensitive sites

PAHs

Polycyclic aromatic hydrocarbons

PBS

Phosphate-buffered saline

SLE

Systemic Lupus Erythematosus
Background
In eukaryotic cells, chromatin is a basic hereditary unit, which consists of DNA, histone proteins and other genetic materials, and regulates cell type-specific gene expression [1, 2]. Chromatin, as a dynamic nuclear structure, is transcriptionally active in the interphase, and is relatively inactive in the metaphase in a cell cycle [3]. Regulation of transcription is a dynamic interaction between chromatin structure and recruitment of numerous transcription factors to the enhancers, upstream activator sequences, and proximal promoter elements. These transcription factors recruit RNA polymerase to the core promoter for productive transcription [4].
In general, the regulatory elements selectively localize in the accessible chromatin, which is crucial to transcriptional regulation [
5
]. Although transcription factor occupancy is not necessarily positively correlated with chromatin accessibility [
6
], the maintenance of accessible chromatin configurations requires binding of transcription factors to activate target genes [
7
] (Fig. 
1
a). On the other hand, condensed chromatin, known as closed chromatin, restricts binding of transcription factors and transcriptional regulators to the promoter and/or enhancer, which results in gene silencing [
8
,
9
,
10
] (Fig.
1
a). Moreover, chromatin accessibility is a substantial part of epigenetic regulation, which is marked by DNA methylation and histone modification [
11
]. Environmental pollution factors, such as polycyclic aromatic hydrocarbons (PAHs), can affect DNA methylation [
12
,
13
]. Therefore, chromatin accessibility, which can be modified by some environmental and pathogenic factors, indicates positions of nucleosome and regulatory regions such as enhancers, reflects precise regulations of cell behaviors, and implies dynamic physiological processes or disease conditions [
14
,
15
,
16
,
17
,
18
,
19
].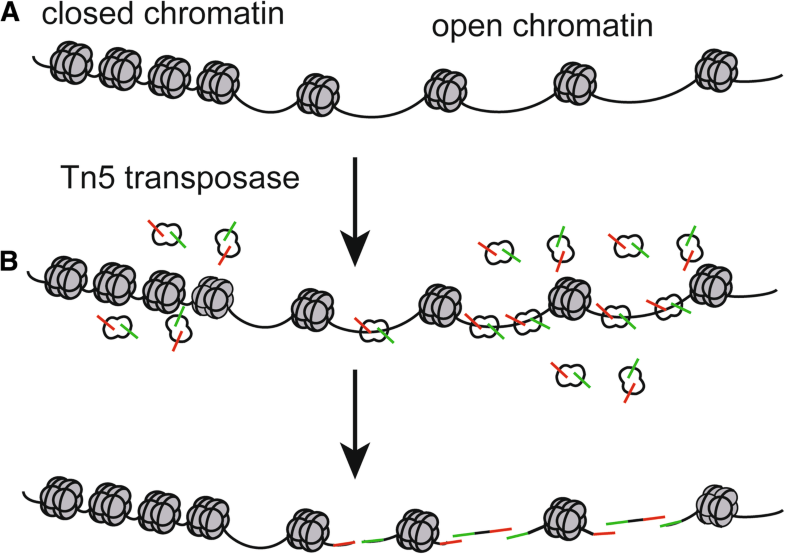 Changes of the chromatin structure occur at specific ribozyme accessibility sites that are associated with transcriptional initiation or some specific DNA structures such as specific hypersensitive sites [20]. These sites in DNA double strands can be digested by DNA enzyme I (DNase I), which reflects the accessibility of chromatin [21]. The hypersensitive sites, mostly in the promoter region, are related to gene expression [22]. To reveal accessible chromatin regions in real time and at a genome-wide level, a method named Assay for Transposase Accessible Chromatin with high-throughput sequencing (ATAC-seq) was developed and quickly applied in various studies of gene expression. ATAC-seq utilizes the Tn5 transposase and the transposable DNA as adapters, which allows the adapter introduced into the accessible chromatin [19].
Here we summarize the principle of the ATAC-seq method, highlight its usage in understanding basic transcription programs in specific cell types of humans and mice, and in revealing genetic reasoning of human diseases.
Summary of the ATAC-seq method
Conclusion
ATAC-seq uses high-throughput sequencing approach to identify all active regulatory sequences in the genome using a small amount of cells. ATAC-seq has been widely used in the acquisition of open chromatin regions and transcription factor binding sites to reveal a real time profile of chromatin accessibility. It has been rapidly applied and accepted to investigate gene expression dynamics in stem cells, early embryos, and various tumors, and even to detect potential biomarkers. Taking advantage of optimization of ATAC-seq methodology to simplify the experimental procedure and to reduce the cost, ATAC-seq should soon have a broader usage in basic research and clinical diagnostics.
Notes
Acknowledgments
We thank members of the Sun laboratory for their valuable discussions and advice.
Authors' contributions
Wrote the paper: YS and TS, Edited paper: NM and TS. All authors read and approved the final manuscript.
Funding
This work was supported by China Postdoctoral Science Foundation (2017 M622053) and the National Natural Science Foundation of China (81471152 and 31771141).
Ethics approval and consent to participate
Not applicable.
Consent for publication
Not applicable.
Competing interests
The authors declare that they have no competing interests.
Copyright information
© The Author(s) 2019
Open AccessThis article is distributed under the terms of the Creative Commons Attribution 4.0 International License (http://creativecommons.org/licenses/by/4.0/), which permits unrestricted use, distribution, and reproduction in any medium, provided you give appropriate credit to the original author(s) and the source, provide a link to the Creative Commons license, and indicate if changes were made. The Creative Commons Public Domain Dedication waiver (http://creativecommons.org/publicdomain/zero/1.0/) applies to the data made available in this article, unless otherwise stated.