Current treatment strategies for patients with advanced gastroenteropancreatic neuroendocrine tumors (GEP-NETs)
Open Access
Review article
Abstract
Background
Neuroendocrine tumors (NETs) are rare neoplasms, with an estimated annual incidence of ~ 6.9/100,000. NETs arise throughout the body from cells of the diffuse endocrine system. More than half originate from endocrine cells of the gastrointestinal tract and the pancreas, thus being referred to as gastroenteropancreatic NETs (GEP NETs). The only treatment that offers a cure is surgery, however most patients are diagnosed with metastatic disease, and curative surgery is usually not an option.
Since the majority of patients are not candidate for curative surgery, they can be offered long-term systemic treatment, for both symptomatic relief and tumor growth suppression. Evidence based treatment options include somatostatin analogues, everolimus (an mTOR inhibitor), sunitinib (a tyrosine kinase inhibitor), peptide receptor radionuclide therapy (PRRT), chemotherapy, etc., alone or combined with cytoreductive procedures (surgery or liver directed procedures). However, there is an increasing need for novel therapies. Other treatment options being investigated are immunotherapy and epigenetic assessment that may lead to more personalized interventions. Following first line therapy with somatostatin analogues, there is no clear information to date indicating a preferred treatment sequence, and therefore the treatment approach should be individualized based on each NET patient characteristics.
Conclusions
NET patients are increasingly diagnosed throughout the world, usually with metastatic disease and requiring systemic therapy. We believe that each patient should be therefore thoroughly evaluated and individually discussed by a multidisciplinary and dedicated NET-expert team, updated with all treatment options including ongoing clinical trials, and before selecting the proper treatment sequence.
Keywords
Treatment 
Neuroendocrine tumor 
Background
Neuroendocrine tumors (NETs) are rare neoplasms, with an estimated annual incidence of 6.9/100,000, arising from cells of the diffuse endocrine system [1], mainly dispersed throughout the digestive system and respiratory tract. More than half arise inside the gastrointestinal tract and the pancreas and are referred to as gastroenteropancreatic NETs (GEP NETs) [2].
Most NETs grow slowly over the years, and their symptoms are related to tumor mass (non-functioning, NF-PNETs); however, in about 30%, symptoms related to the hypersecretion of hormones from the tumor may occur (functioning, F- PNETs). F-PNETs may secret insulin, glucagon, gastrin, vasoactive intestinal polypeptide, etc., with clinical pictures as by hormonal hypersecretion (hypoglycemia, hyperglycemia, peptic ulcers, secretory diarrhea, etc.), and may require systemic treatment for both tumor and symptom control, when not resectable [3]. Histo-pathologically, most GEP NETs are well-differentiated tumors and are divided into grade 1 (G1, with a Ki67 proliferation index of ≤3%), and grade 2 (G2, with a Ki67 proliferation index between 3 and 20%). A smaller percentage are represented by grade 3 (G3) tumors with a Ki67 greater than 20% [4]. However, it is believed that within the G3 group, the biological behavior of tumors with a Ki67 index between 20 and 55% is less aggressive than tumors with a Ki67 index above 55% [3].
Most neuroendocrine tumors typically express high levels of somatostatin receptors, therefore making the somatostatin receptor imaging a useful tool for the diagnosis and staging of the disease in these patients (Fig.
1
). It is recommended to use Ga-68 DOTATATE PET/CT imaging whenever available, as it shows a higher sensitivity and specificity for detecting NETs compared with In-111 DTPA-octreotide, and other conventional imaging [
5
].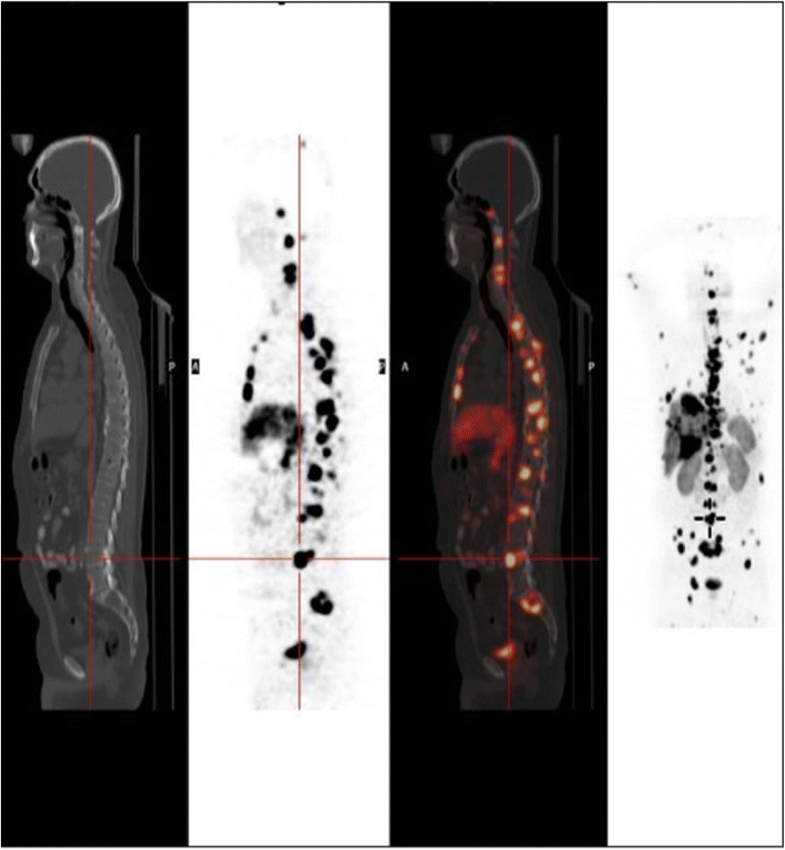 Because of their marked heterogeneity, the treatment of NETs is challenging, and a multidisciplinary approach is mandatory for maximizing patient prognosis and survival.
The only curative treatment for NETs is surgery. However, most NETs are diagnosed when the disease is advanced and metastatic, and as such are not amenable to curative surgery, which leads to the need for systemic therapies.
In the present manuscript, we thoroughly summarize the treatment options for patients with advanced G1&G2 GEP-NETs, to date.
Conclusions
In general, surgery is the first line treatment for localized neuroendocrine tumors, and it should be considered for palliation in metastatic or bulky disease. Evidence based treatments used recently for advanced G1 and G2 GEP NETs include somatostatin analogues (SSAs), the mTOR inhibitor everolimus, the tyrosine kinase inhibitor sunitinib, PRRT, and liver targeted therapies for localized unresectable disease (Table
1
). For symptom control in advanced disease, SSAs are the mainstay of therapy, followed by the addition of telotristat ethyl in patients with uncontrolled carcinoid syndrome and other treatment modalities according to specified disease characteristics (Fig. 
2
) [
67
].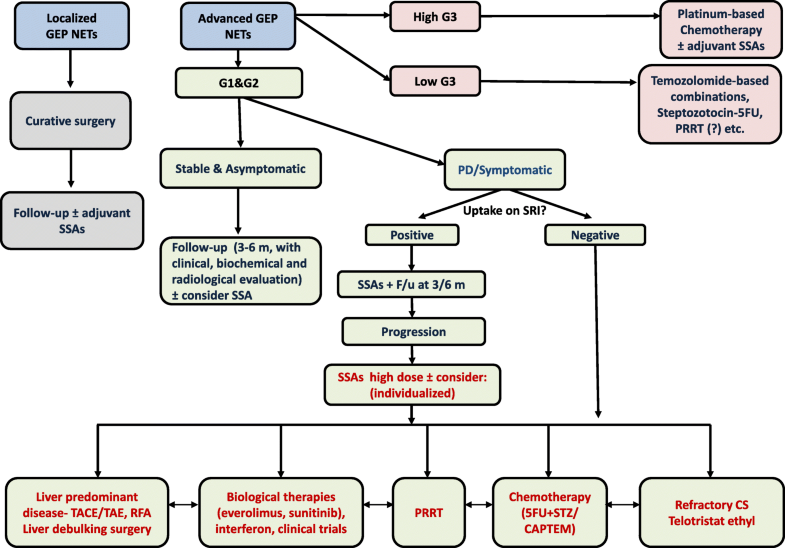 Since traditional treatments usually induce tumor stabilization for limited length of time, there is a great effort in developing novel approaches to overcome treatment-related resistance in patients with advanced and progressive NETs. The relatively small number of patients included in clinical studies, as well as the relatively slow course of the disease, make it difficult to evaluate the response rates for new therapies and their influence on survival. There are still many unmet needs in the therapeutic arsenal of NETs (e.g., the optimal sequencing of treatment modalities, exploration and validation of different biomarkers, etc). However, new insights into molecular alterations of neuroendocrine tumors should eventually improve the understanding of their complexity, facilitating a personalized approach and a successful treatment for each NET patient, in the near future.
Notes
Authors' contributions
Dr. IU and Dr. S G-G have equally contributed to the search of the literature, and the design and the writing of this manuscript. Both authors read and approved the final manuscript.
Ethics approval and consent to participate
Not applicable.
Consent for publication
Not applicable.
Competing interests
The authors declare that they have no competing interests.
Publisher's Note
Springer Nature remains neutral with regard to jurisdictional claims in published maps and institutional affiliations.
Copyright information
© The Author(s). 2018
Open AccessThis article is distributed under the terms of the Creative Commons Attribution 4.0 International License (http://creativecommons.org/licenses/by/4.0/), which permits unrestricted use, distribution, and reproduction in any medium, provided you give appropriate credit to the original author(s) and the source, provide a link to the Creative Commons license, and indicate if changes were made. The Creative Commons Public Domain Dedication waiver (http://creativecommons.org/publicdomain/zero/1.0/) applies to the data made available in this article, unless otherwise stated.