Vaccinia virus-mediated cancer immunotherapy: cancer vaccines and oncolytics
Abstract
Cancer vaccines and oncolytic immunotherapy are promising treatment strategies with potential to provide greater clinical benefit to patients with advanced-stage cancer. In particular, recombinant vaccinia viruses (VV) hold great promise as interventional agents. In this article, we first summarize the current understanding of virus biology and viral genes involved in host-virus interactions to further improve the utility of these agents in therapeutic applications. We then discuss recent findings from basic and clinical studies using VV as cancer vaccines and oncolytic immunotherapies. Despite encouraging results gleaned from translational studies in animal models, clinical trials implementing VV vectors alone as cancer vaccines have yielded largely disappointing results. However, the combination of VV vaccines with alternate forms of standard therapies has resulted in superior clinical efficacy. For instance, combination regimens using TG4010 (MVA-MUC1-IL2) with first-line chemotherapy in advanced-stage non-small cell lung cancer or combining PANVAC with docetaxel in the setting of metastatic breast cancer have clearly provided enhanced clinical benefits to patients. Another novel cancer vaccine approach is to stimulate anti-tumor immunity via STING activation in Batf3-dependent dendritic cells (DC) through the use of replication-attenuated VV vectors. Oncolytic VVs have now been engineered for improved safety and superior therapeutic efficacy by arming them with immune-stimulatory genes or pro-apoptotic molecules to facilitate tumor immunogenic cell death, leading to enhanced DC-mediated cross-priming of T cells recognizing tumor antigens, including neoantigens. Encouraging translational and early phase clinical results with Pexa-Vec have matured into an ongoing global phase III trial for patients with hepatocellular carcinoma. Combinatorial approaches, most notably those using immune checkpoint blockade, have produced exciting pre-clinical results and warrant the development of innovative clinical studies. Finally, we discuss major hurdles that remain in the field and offer some perspectives regarding the development of next generation VV vectors for use as cancer therapeutics.
Background
Humankind has accumulated a rich and extensive clinical experience with vaccinia virus (VV) due to its successful use as a smallpox vaccine. Since the late 1980s, investigators have been harnessing recombinant DNA technology, to explore the utility of recombinant VV and other poxviruses as expression vectors for the purpose of active immunization in the setting of cancer and infectious disease [1]. VV vectors have been extensively studied in pre-clinical tumor models and in many clinical trials for treatment of patients with advanced-stage solid cancers. Despite low rates of objective clinical responses, investigators have learned many important lessons, allowing for the evolution of improved strategies for application in the future [1]. VV has also been systematically explored as an oncolytic virus (OV) over the past 20 years. Among the three oncolytic VVs tested in cancer patients, Pexa-Vec showcases the clinical development of such an OV and is currently being evaluated in a global phase III clinical trial for patients with hepatocellular carcinoma (HCC).
These are indeed exciting times for cancer immunotherapy, as the field is rapidly progressing, fueled by consistent evidence of therapeutic efficacy and durable clinical benefit amongst a subset of treated patients [2, 3, 4]. Cancer vaccines and oncolytic immunotherapy represent some of the most promising immunotherapy regimens. Many classic cancer vaccines have utilized non-replicating viruses as vectors to express tumor antigens and/or immune-modulatory molecules [1]. OVs function to kill cancer cells and associated stromal cells through multiple mechanisms, leading to DC-mediated activation of protective anti-tumor immunity. In 1999, Toda et al. demonstrated that an oncolytic herpes simplex virus was capable of inducing specific anti-tumor immunity via a process that they termed as an "in situ cancer vaccine" [5]. We and others have reviewed the concept of using OV as a unique type of cancer vaccine [6, 7] and the likely superior benefits that would be associated with integrating OVs into combination immunotherapies for improving objective clinical response rates [8, 9].
Biology of vaccinia virus
Poxviruses are comprised of two subfamilies containing at least 46 species: Chordopoxvirinae (those infecting vertebrates) and Entomopoxvirinae (those infecting insects) [10]. VV, the species of interest in this review, is a member of the orthopoxvirus genus of the Chordopoxvirinae subfamily. As smallpox vaccination became widespread throughout the world over the past 200 years, research- and clinical-centers have produced and maintained viruses in different ways, resulting in differential viral characteristics, pathogenicity and host ranges (i.e. different strains of virus). VV has a linear, double-stranded DNA genome approximately 190 kb in length, which encodes about 200 genes. Physically, the virus particle is the shape of a brick, averaging 270 × 350 nm in size.
The entire VV life cycle occurs within the cytoplasm of mammalian cells (Fig. 
1
). Cell entry occurs by virion fusion with the host cell membrane [
11
]. VV contains an outer envelope as well as an internal membrane and incorporates enzymes required for initiation of viral transcription post-infection. Viral transcription can be classified into three stages - early, intermediate, and late – with each increment involving its own specific promoters and transcription factors [
12
]. In the early phase, enzymes and other components needed for the process of early transcription are contained within the viral core along with viral genomic DNA [
12
]. A DNA-dependent RNA polymerase is also contained within the viral core, leading to the synthesis of early messenger RNA. Translation of this RNA yields early stage proteins involved in the uncoating of viral DNA, DNA replication, and transactivation of intermediate mRNA. While initial RNA transcripts can be detected within 20 min, the entire replication cycle is complete within approximately 1 h. VV replication and progeny assembly take place exclusively in the cytoplasm of infected cells at discrete foci in endoplasmic reticulum (ER)-enclosed cytoplasmic mini-nuclei [
13
], known as "poxvirus factories". VV replication utilizes the origin of DNA replication located near the end of the genome through the leading/lagging strand replication mode [
14
]. In this regard, VV activates cytoplasmic ATR early during infection and before genome uncoating, which promotes VV genome replication [
15
]. Intermediate mRNA is then expressed and encodes for late transactivators, leading to late mRNA synthesis. Late proteins include structural proteins for membrane formation and early transcription factors, which are incorporated into new progeny virus particles. The hijacking of the host translation apparatus inside the virus factories by the virus contributes to enhanced viral replication and to the suppression of host protein synthesis, thereby facilitating viral subjugation of infected cells [
16
]. In fact, virus induces a profound cytopathic effect soon after viral entry, as the early viral enzymes completely shut down host cell functions. Between 4 and 6 h after infection, host protein synthesis is almost completely inhibited, facilitating the efficient expression of viral genes and viral replication. Remarkably, approximately 10,000 copies of the viral genome are made within 12 h post-infection [
17
].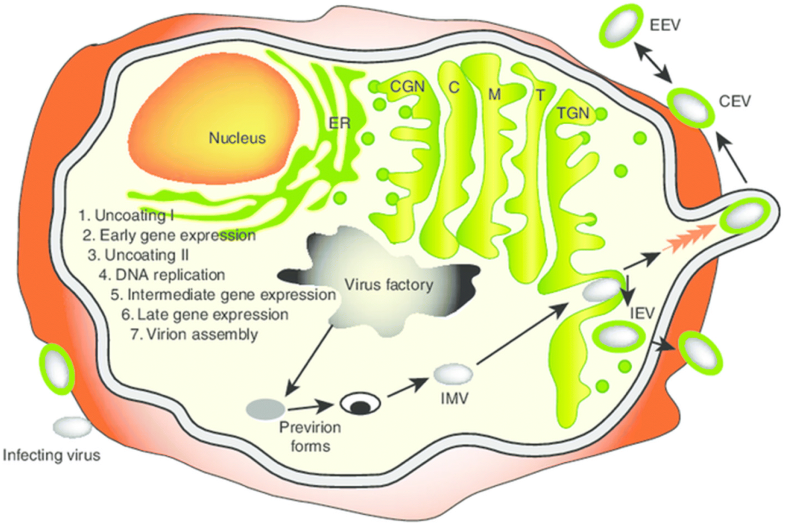 Several key viral genes, proteins, and molecular and cellular mechanisms are involved in productive viral infection, replication, virion assembly, and the spreading of progeny viruses. Viral entry into cells is mediated by an entry-fusion protein complex consisting of eight viral proteins: A16, A21, A28, G3, G9, H2, J5 and L5 [14]. All eight proteins that make up the entry-fusion complex are conserved in all poxviruses, suggesting non-redundant functions and an evolutionarily-conserved entry mechanism. VV possesses two infectious forms: the intracellular mature virus (IMV) and the extracellular enveloped virus (EEV), also referred to as the MV and EV forms, respectively. It is intriguing to note that attachment to the cell surface differs between IMV and EEV. The IMV form contains several other proteins in its outer envelope, including A17L, A27L, and D8L [18], which likely modulate viral attachment. A27L mediates VV interaction with cell surface heparan sulfate [19, 20], with viral infection inhibited by up to 60% in the presence of soluble heparin [19]. The EEV form is responsible for cell-to-cell spread and long-range transmission of VV in vivo [21]. EEV-specific proteins are encoded by the genes A33R, A34R, A36R, A56R, B5R, and F13 L [10, 18].
The first stage in the formation of infectious particles is the development of viral crescents composed of lipid and viral proteins, with recent evidence suggesting the ER as the origin [22]. These crescents then coalesce into immature virus that lack infectivity. Immature virus becomes IMV by condensation of the core and processing of core proteins. IMV is transported to sites where it becomes wrapped with two additional membrane layers derived from components scavenged from the trans-Golgi network. These membranes are modified by the inclusion of virus-encoded proteins. These wrapped, intracellular, enveloped viruses traffic along microtubules to the cell surface, where the outer membrane fuses with the plasma membrane, thus exposing the viruses on the cell surface. IMV particles are transported to the cell periphery on microtubules, where they fuse with the plasma membrane to form cell-associated enveloped virus (CEV). Two intracellular enveloped virus (IEV)-specific proteins, F12 L and A36R, along with cellular microtubules (as motors), mediate IEV transport to the cell periphery [23].
Upon reaching the plasma membrane, VV switches from microtubule-dependent transport to the formation of actin tails required for cell-to-cell spread of virus [24]. This process is dependent on phosphorylation of the EEV protein A36R, a process mediated by multiple families of tyrosine kinases [24, 25, 26]. The EEV form may play a role in the rapid spread of VV and its wide host range. The A34R protein helps to maintain the virus particle on the cell surface. The WR strain exists almost exclusively as a cell-associated virus [27], while the IHD-J strain produces quantitatively more of the EEV form of the virus [28]. Further studies show that the A34R gene from the IHD-J strain is responsible for increased EEV production, with a codon mutation (K151E) sufficient to transfer a comet-forming phenotype to the WR virus [29]. Our recent data suggest that a single mutation, K151E, in the A34R protein results in an increase in both EEV release and total progeny virus production from infected cancer cells [30].
VV has evolved three intriguing mechanisms to promote viral spread. The first one is for cell-to-cell spread. Viral protein F11 promotes cell-to-cell spread by acting as a scaffold, using its PDZ domain to unite myosin IXa and RHOA, which inhibits RHOA signaling and ultimately promotes viral spread [31]. The other two mechanisms are for distant spread. One is the production and release of the EEV form [32], while the other is the repulsion of superinfecting virions [33]. Smith et al. recently showed that VV spreads across one cell every 75 min, four-fold faster than its replication cycle permits. The authors found that newly infected cells express two surface viral proteins (A33 and A36) that mark cells as infected and, via exploitation of cellular machinery, induce the repulsion of superinfection virions towards uninfected cells. During this process, protein B5 on the membrane of the EEV particle is required for repulsion of superinfection virions [34]. Improved strategies taking advantage of these unique mechanisms may further improve therapeutic viral spread.
In summary, genetic manipulations of the viral genome may lead us to advances in the development of next generation VV vectors for implementation in cancer therapies.
Conclusion and perspectives
Numerous studies have now shown that VVs and other poxviruses have limited therapeutic efficacy as cancer vaccines when used alone. In fact, this limited efficacy has been a general concern for the whole field of cancer vaccines in the past. Sub-optimal vaccine design and an immunosuppressive TME are the root causes for the inability of the immune system to mediate cancer eradication [168, 169]. As such, key areas for improvements in viral vector design must include the consideration of strategies to reverse the immunosuppressive TME. Therefore, one exciting area of research will be further improvements of poxvirus vectors. Table 1 lists over 20 candidate genes for genetic engineering to improve viral vector immunogenicity. However, it is important to note that even though increased immunogenicity of the virus will be advantageous to its use as a cancer vaccine, this represents a major disadvantage to an oncolytic virus, as the increased immune response to the virus will lead to premature clearance of the vector, thus reducing oncolytic potency. Thus, strategies need to be carefully planned when it comes to developing new recombinant poxvirus as a pure cancer vaccine vector or as an OV, which represents a special type of cancer vaccine.
It is worth pointing out again that VVs and other OVs could serve as excellent platforms for multimodal cancer therapeutics [8, 170]. They can be armed not only with genes for immune-stimulating, anti-angiogenic, and prodrug therapy, but also with reporter genes for imaging and serial therapeutic monitoring. VVs have been investigated in combination with chemo-, radio-, and other immunotherapeutic modalities. Some of these rational combinations have led to exciting therapeutic results in preclinical studies and warrant further clinical testing in human patients. Pexa-Vec combined with sorafenib in a global phase III trial for HCC showcases such a promising development.
A number of hurdles remain that limit the widespread use of oncolytic VV, just as is the case for other OVs [171, 172]. The first impediment is the limited efficiency of delivering OV to and propagating it throughout the entire tumor lesion, as well as, the ability to infect disseminated cancer cells over distance. In this regard, the EEV form of the virus may provide a tool to overcome such a hurdle, by evading clearance and permitting infect of distant tumor sites. A second hurdle involves the need to develop systemic antitumor immunity to impact disseminated disease, which typically evolves over time [173]. Third, recent evidence suggests that microbiota play an important role not only in the initiation, progression, and dissemination of a variety of cancers, but also in patient responsiveness to interventional immunotherapies, including immunogenic tumor cell death-inducing chemotherapies and immune checkpoint blockade. Currently, we have little knowledge for the potential role of microbiota in host responsiveness to VV or other OV-mediated cancer therapy. Finally, over 200 genes are encoded by the viral genome of VV, yet the functions of half of these genes remains unknown. Therefore, further understanding of the biology of the virus and viral gene functions is expected to improve our ability to manipulate these viruses to optimize their safety and efficacy when applied as cancer vaccines and/or oncolytic immunotherapies. In summary, despite these technical speed-bumps, the future of VV for use in cancer vaccines and oncolytic immunotherapies appears bright, especially when integrated in the setting of rational combination approaches that favor protective over regulatory immunity.
Notes
Acknowledgements
We thank Christine Burr for critically reviewing and editing the manuscript.
Funding
This work was supported by internal funds from the University of Pittsburgh and by National Institutes of Health grants 1R01 CA155925, R21CA205727-01, and 1R01CA168912.
Availability of data and materials
Not applicable.
Authors' contributions
ZSG collected and read relevant papers and designed and drafted the manuscript. WJS polished the whole manuscript. All other authors made suggestions for the manuscript. All authors read and approved the final manuscript.
Ethics approval and consent to participate
Not applicable.
Consent for publication
Not applicable.
Competing interests
ZSG and DLB serve as scientific advisors to ICell Kealex Therapeutics. DLB has financial interest with SillaJen Biotherapeutics. Pexa-Vec, a product discussed in this review, is manufactured by SillaJen. All other authors declare no conflict of interest.
Publisher's Note
Springer Nature remains neutral with regard to jurisdictional claims in published maps and institutional affiliations.
Copyright information
© The Author(s). 2019
Open AccessThis article is distributed under the terms of the Creative Commons Attribution 4.0 International License (http://creativecommons.org/licenses/by/4.0/), which permits unrestricted use, distribution, and reproduction in any medium, provided you give appropriate credit to the original author(s) and the source, provide a link to the Creative Commons license, and indicate if changes were made. The Creative Commons Public Domain Dedication waiver (http://creativecommons.org/publicdomain/zero/1.0/) applies to the data made available in this article, unless otherwise stated.