Organoid technology in disease modelling, drug development, personalized treatment and regeneration medicine
Abstract
Organoid technology bridges the gap between conventional two-dimensional cell line culture and in vivo models. The near-physiological technology can virtually recapitulates organ development and human diseases, such as infectious diseases, genetic abnormality and even cancers. In addition, organoids can more accurately predict drug responses, and serve as an excellent platform for drug development, including efficacy evaluation, toxicity testing and pharmacokinetics analysis. Furthermore, organoids can also be exploited to explore the possible optimized treatment strategies for each individual patient. Besides, organoid technology is a promising strategy for regeneration medicine and transplantation use, which can overcome the deficiency in the supply of healthy donor tissues and inherent immunological rejection through establishing isogenic organoids from minuscule amounts of patient biopsies. Collectively, organoids hold enormous potential for clinical applications and bring basic research closer to clinical practice. In this review, we described common organoid lines, summarized the potential clinical applications, and outlined the current limitations.
Keywords
Organoids 
Development 
Infectious diseases 
Genetic diseases 
Cancer 
Drug development 
Precision medicine 
Regeneration medicine 
Abbreviations
ALDH

aldehyde dehydrogenase

AR

androgen receptor

AT1

alveolar type 1

BCL2

B cell CLL/lymphoma 2

CagA

cytotoxin associated gene A

Cas9

CRISPR-associated protein 9

CF

cystic fibrosis

CFTR

cystic fibrosis transmembrane conductance regulator

CK19

cytokeratin 19

CRISPR

clustered regularly interspaced short palindromic repeats

DISC1

disrupted in schizophrenia 1

DMEM

Dulbecco's modified Eagle's medium

EGF

epidermal growth factor

EGFR

epidermal growth factor receptor

ESCs

embryonic stem cells

FGF4

fibroblast growth factor 4

HCV

hepatitis C virus

HPS1

Hermansky–Pudlak syndrome 1

hPSCs

human pluripotent stem cells

iHIOs

induced human intestinal organoids

iPSCs

induced pluripotent stem cells

LBO

lung bud organoids

NEUROG3

neurogenin 3

OTX2

orthodenticle homeobox 2

PDX1

duodenal homeobox 1

PIK3CA

phosphatidylinositol-4,5-bisphosphate 3-kinase catalytic subunit alpha

PTEN

phosphatase and tensin homolog

SOX2

sex determining region Y-box 2

ZIKV

zika virus

25HC

25-hydroxycholesterol

3D

three-dimensional

5-FU

5-fluorouracil
Background
Two-dimensional cell line culture and animal models have long been exploited to study embryonic development and human diseases. However, diverse drawbacks make these conventional models to be suboptimal. For instance, cell lines display the inability in modeling immune system, stromal components and organ specific functions as well as the gradual loss in genetic heterogeneity of original cells after many passages [1]. Animal models possess different structures and physiology [2] as well as experience species-specific organ development and pathogenesis [3].
During the past decades, organoid technology, an innovative three-dimensional (3D) model, has risen rapidly and become more and more prevalent among researchers. Organoids are 3D tissues in miniature in vitro, which are specific to the parent counterparts in vivo [
4
]. These amazing 3D constructs, which can be established from embryonic stem cells (ESCs), induced pluripotent stem cells (iPSCs), adult stem cells and even tumor cells in 3D culture system (Fig. 
1
), contain multifarious cell types of original organs and mimic the derived organs in both architecture and function to a great degree [
5
].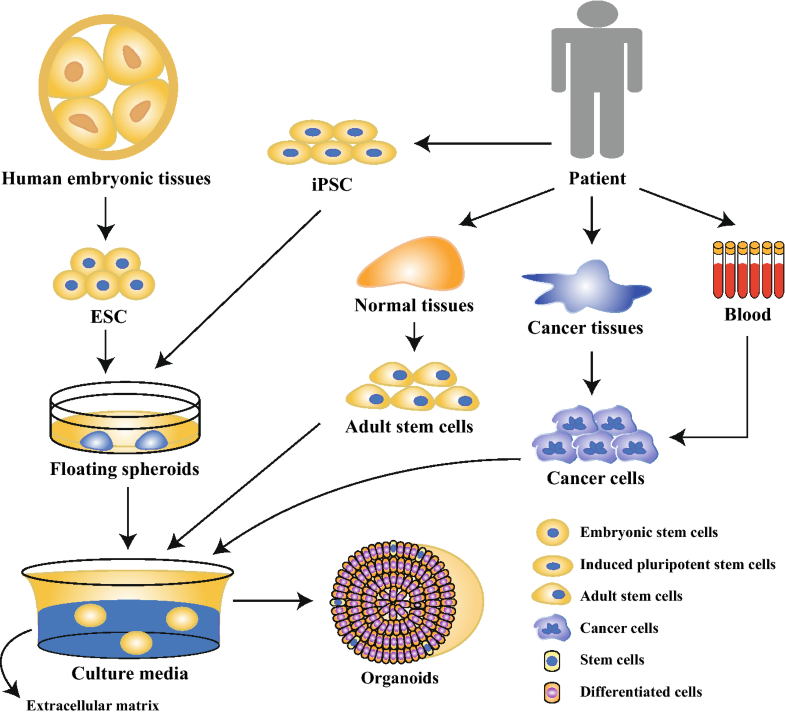 Up to now, healthy organoids have been developed successfully from various organs, such as lung [
6
,
7
,
8
], gastric [
2
], intestinal [
9
], liver [
10
], pancreas [
10
,
11
], kidney [
12
,
13
,
14
,
15
], prostate [
16
] and brain [
17
,
18
]. Apart from healthy organoids, organoid biobanks of multiple human cancers have also been established efficiently, including gastrointestinal cancer [
19
,
20
], liver cancer [
21
], breast cancer [
22
] and bladder cancer [
23
]. Organoid technology demonstrates tremendous potential for fundamental research and clinical applications (Fig. 
2
). Firstly, organoids can be employed to model and study organ development [
24
] and human diseases, as exemplified by genetic conditions [
25
,
26
], infectious diseases [
27
,
28
] and tumors [
29
,
30
]. Secondly, organoids can be exploited as an excellent platform to evaluate drug efficacy [
31
] and toxicity [
32
], ultimately promoting drug development. Thirdly, precision medicine might be another pivotal branch of organoid technology by accurately predicting drug responses [
33
] and guiding to make optimized treatment strategies for each patient individual. Finally, organoids show regeneration potential after transplantation to animals [
34
,
35
], signifying that it can serve as an alternative approach to tissue replacement strategy for irreversibly progressively diseased or non-functional organs.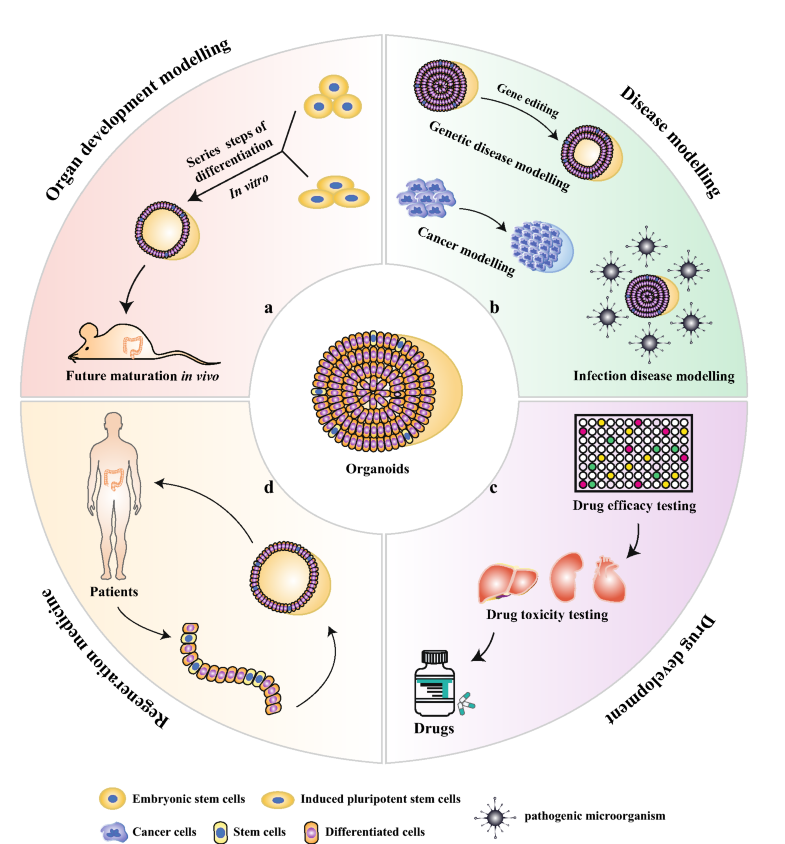 In this review, we describe diverse organoid types and focus on potential applications, including organ development, disease modeling, drug development, precision medicine and regeneration medicine. Finally, we outline the current limitations of this amazing technology.
Current organoid technology
Multiple types of organoids have been efficiently established in specific 3D culture system, including lung organoids [
6
], gastric organoids [
36
,
37
], intestinal organoids [
9
], liver organoids [
38
], pancreatic organoids [
39
], prostate organoids [
16
] and brain organoids [
40
]. The distinct culture components for diverse organoids were displayed in Table 
1
.
Table 1
Culture systems of multiple organoids
Organoid type

Sources

Culture components

Ref.

Lung

Lung alveolar epithelial cells (together with lung fibroblasts)

Matrigel

SAGM medium with all additives except epinephrine (Y27632 was added during the first 2 days. Wnt3A, FGF7, FGF10, XAV939 and CHIR99021 were added after the first 2 days)

[6]

Gastric

hPSCs

Matrigel

Advanced Dulbecco's modified Eagle's medium (DMEM)/F12 with N2, B27, l-glutamine, HEPES, penicillin/streptomycin and EGF (Retinoic acid and Noggin were added for the first 3 days)

[36]

Lgr5+ stem cells

Matrigel

Advanced DMEM/F12 with N2, B27, N-acetylcysteine, Gastrin, and EGF, R-spondin-1, Noggin, FGF10 and Wnt3A (Y-27632 was added for the first 2 days, and Exendin 4 was added for the differentiation of enteroendocrine lineage)

[37]

Intestinal

ESCs and iPSCs

Matrigel

Advanced DMEM/F12, N2, B27, l-glutamine, HEPES, penicillin–streptomycin, EGF and Noggin

[9]

Liver

iPSCs

Matrigel

Hepatocyte culture medium supplemented with dexamethasone, oncostatin M, hepatocyte growth factor and SingleQuots

[38]

Pancreas

Pancreatic progenitor from hPSCs

Matrigel

MCDB131, glucose, sodium bicarbonate, FAF- bovine serum albumin, l-glutamine, l-ascorbic acid, FGF2, Y27632, insulin–transferrin–selenium–ethanolamine, nicotinamide, FGF10, glucose, indolactam V and the transforming growth factor β-receptor inhibitor SB431542

[39]

Prostate

Luminal and basal prostatic epithelial lineages

Matrigel

Advanced DMEM/F12, penicillin/streptomycin, GlutaMAX and Hepes, B27, N-acetylcysteine, EGF, the transforming growth factor-beta inhibitor A-83-01, Noggin, R-spondin-1, dihydrotestosterone, nicotinamide, FGF2, FGF10, SB202190 and prostaglandin E2 (Y-27632 is added when passaging with TrypLE)

[16]

Brain

ESCs

Matrigel

Advanced DMEM/F12, FGF2, insulin, Shh signaling inhibitor, bone morphogenetic protein, Y-27632, SB431542, FGF19 and stromal cell-derived factor 1

[40]
Application of organoid technology
Current limitations
Current organoid technology still represents an imperfect version. Firstly, organoids only contain epithelial layer without tissue microenvironment, such as immune system and nervous system [86]. Secondly, fully maturation to adult organs or tissues is a bottleneck required to be addressed. Thirdly, another limitation is the dependence on the extracellular matrix Matrigel or basement membrane extract of current organoids, which is produced from mouse tumor lines and thus might be unsuitable for human. Matrigel could also hamper drug penetration and be adverse to the potential of organoids in drug screens. Fourthly, culture medium needs to be further refined for long-term expansion of some organoids. Fifthly, growth factors or molecular inhibitors in culture medium might have some effects on drug responses of organoids. Further efforts will be urgently exerted to solve these problems.
Conclusion
In spite of current limitations, this promising organoid technology holds great potential in accurately modelling organ development and human diseases, and it can serves as an extraordinary platform for therapy response-prediction, drug development and personalized medicine. Furthermore, organoid technology represents an excellent alternative for transplantation use. Future efforts will doubtless improve this novel tool for clinical application.
Notes
Authors' contributions
HX performed the selection of literature, drafted the manuscript and prepared the figures. YJ, SQ and WZ collected the related references. QC and KW carried out the design of this review and revised the manuscript. All authors read and approved the final manuscript.
Acknowledgements
Not applicable.
Competing interests
The authors declare that they have no competing interests.
Availability of data and materials
Not applicable.
Consent for publication
Not applicable.
Ethics approval and consent to participate
Not applicable.
Funding
This work was supported by the National Natural Science Foundation of China (Nos. 81572608, 81874120 and 81672984), and supported by Wuhan Science and Technology Bureau (No. 2017060201010170).
Publisher's Note
Springer Nature remains neutral with regard to jurisdictional claims in published maps and institutional affiliations.
Copyright information
© The Author(s) 2018
Open AccessThis article is distributed under the terms of the Creative Commons Attribution 4.0 International License (http://creativecommons.org/licenses/by/4.0/), which permits unrestricted use, distribution, and reproduction in any medium, provided you give appropriate credit to the original author(s) and the source, provide a link to the Creative Commons license, and indicate if changes were made. The Creative Commons Public Domain Dedication waiver (http://creativecommons.org/publicdomain/zero/1.0/) applies to the data made available in this article, unless otherwise stated.