Applications of mesenchymal stem cell technology in bovine species
Abstract
Mesenchymal stem cells (MSCs) have received a great deal of attention over the past 20 years mainly because of the results that showed regeneration potential and plasticity that were much stronger than expected in prior decades. Recent findings in this field have contributed to progress in the establishment of cell differentiation methods, which have made stem cell therapy more clinically attractive. In addition, MSCs are easy to isolate and have anti-inflammatory and angiogenic capabilities. The use of stem cell therapy is currently supported by scientific literature in the treatment of several animal health conditions. MSC may be administered for autologous or allogenic therapy following either a fresh isolation or a thawing of a previously frozen culture. Despite the fact that MSCs have been widely used for the treatment of companion and sport animals, little is known about their clinical and biotechnological potential in the economically relevant livestock industry. This review focuses on describing the key characteristics of potential applications of MSC therapy in livestock production and explores the themes such as the concept, culture, and characterization of mesenchymal stem cells; bovine mesenchymal stem cell isolation; applications and perspectives on commercial interests and farm relevance of MSC in bovine species; and applications in translational research.
Keywords
Mesenchymal stem cells 
Cell culture 
Pluripotent 
Livestock 
Cow 
Cattle 
Biotechnology 
Cellular therapy 
Regenerative medicine 
Translational research 
Abbreviations
ASCs

Adult (somatic) stem cells

AT

Adipose tissue

AT-MSC

Adipose tissue-derived MSC

BM-MSC

Bone marrow-derived MSC

CFU-F

Fibroblastic colony-forming units

CO2

Carbon dioxide

ECM

Extracellular matrices

ESC

Embryonic stem cells

FBS

Fetal bovine serum

iPS

Induced pluripotent stem cells

lfcinb

Lactoferricin

MSC

Mesenchymal stem cell

NSP-MSC

Nasal septum-derived MSC

OA

Chronic osteoarthritis

TGF-β1

Transforming growth factor β

UC-MSC

Umbilical cord-derived MSC
Background
Stem cell biology has been a very active field over the past decade. The number of studies has increased significantly, and this has been accompanied by breakthroughs in several areas in the field. Stem cell therapy has rapidly advanced prospects for personalization of therapy, tissue engineering, and chronic and regenerative disease mitigation. In human and veterinary research, stem cells derived from adult tissues are promising candidates for disease treatment, specifically for their plasticity, their low immunogenicity, and their high anti-inflammatory potential [1]. In addition, mesenchymal stem cells (MSCs) characteristically produce bioactive mediators and adhesion molecules that help to inhibit scar formation and apoptosis, increase angiogenesis, and stimulate intrinsic progenitor cells to regenerate their functionality [2, 3]. Stem cell therapy offers potential solutions for a variety of chronic diseases for which current pharmacologic therapy does not provide effective treatment [4] as well as for some surgical procedures. In addition, an exciting new step in cellular therapy is the use of MSC for immune modulation [5].
Veterinary regenerative medicine research has focused principally on companion and sport animals, but a critical reading of published findings, combined with select papers published in livestock species, allows us to generate valuable insights into the future of regenerative medicine applications in animal husbandry. Among all domesticated species, cows have crucial importance in the economics of the livestock industry, with 69.6 million tons of meat and 811 million tons of milk produced worldwide in 2017 [6, 7]. There are several medical conditions, such as mastitis, lameness, and fracture that can reflect negatively on meat and milk production as well as on reproductive efficiency in cattle. For cattle with high economic or genetic potential, these losses pose significant costs to the owner, who is therefore willing to employ expensive and effective treatments [8]. In this review, we discuss the importance of stem cell technology in bovine species in order to address disease and injury with both animal welfare and economic benefits.
The nature of mesenchymal stem cells
The term "stem cell" emerged in the nineteenth century, describing mitotically quiescent primordial germ cells capable of regeneration of a variety of tissues [9]. Stem cells are defined by their ability to self-renew and by their potential to differentiate into functional cells under appropriate conditions [10]. In animals, two classes of stem cells have been identified: embryonic stem cells (ESC) and adult (somatic) stem cells (ASC) [11], which include mesenchymal stem cells, hematopoietic stem cells, and tissue-specific stem/progenitor cells [12].
MSCs are responsible for tissue turnover; therefore, when tissue repair is necessary, these cells can be stimulated to proliferate and differentiate, resulting in their presence in many [10], if not all [2], tissues. In addition, MSCs display important features that render them valuable for cell therapy and tissue engineering such as their low immunogenicity, high anti-inflammatory potential [1], ability to modulate innate immune responses [5], bioactive mediation and adhesion capacity to inhibit scar formation and apoptosis, increased angiogenesis, and stimulation of intrinsic progenitor cells to regenerate their functionality [3]. Due to their clinically relevant characteristics, MSCs have received more attention than the other ASC types.
During early embryogenesis, the trophectoderm differentiates into extraembryonic tissues, while the inner cell mass of the embryo, populated by embryonic stem cells, gives rise to the embryo itself, thus being able to differentiate into all cell types that form the body [11]. In contrast, it was a generally held belief that MSCs have restricted differentiation ability, being able to differentiate into mesenchymal lineages only. In the early 2000s, some discussion took place regarding the veracity of the definition of mesenchymal stem cells, concerning their potential to differentiate into non-mesenchymal lineages and whether the differences that seemed to exist between ESC and MSC had narrowed to a point that it was questionable whether they existed at all [13]. In 2002, it was shown that bone marrow-derived cells expressed some pluripotent markers, such as Oct-4, Rex-1, and SSEA; were able to differentiate into three germ layers in vitro; and when injected into an early blastocyst, were able to contribute to all organs [14]. The number of studies investigating the pluripotent ability of MSC has grown recently, and many researchers have reported cells derived from bone marrow [15, 16], adipose tissue [17], ovarian tissue [18, 19], placenta [20], and uterus [21] that express pluripotent markers. MSCs derived from several different species, including bovine, have been shown to differentiate into mesodermal, endodermal, and ectodermal lineages [16, 22]. A relevant clinical difference between ESC and MSC is that MSCs do not form teratomas when injected in vivo [14, 17], which is favorable for their clinical use.
Rigorous evaluation of the differentiation capacity of MSC is a critical step in the solidification of support for their redefinition as pluripotent. In order to study the functionality of MSC, experiments were performed to evaluate the transdifferentiation of MSC in vivo. Studies have shown the ability of MSC to transdifferentiate into various types of skin cells, islet-like cell clusters, and renal epithelium cells [23, 24, 25]. These three studies are just a few examples of the considerable amount of data that has been collected over the past decade supporting the transdifferentiation potential of MSC when transplanted in vivo. Considering these results together, MSCs have been proven to functionally differentiate into three germ layers. If MSCs express pluripotent markers and have the ability to differentiate in vitro into three germ layers and transdifferentiate in vivo into three germ layers, perhaps there is a lack of precision concerning terminology in some papers when they are called multipotent.
Mesenchymal stem cell culture
Cell culture begins after mechanical or enzymatic disaggregation of the original tissue and can be performed under various conditions such as in an adhesive layer, a solid substrate, or in a suspension culture. It is well established that MSCs adhere to plastic substrate culture plates [26], a characteristic condition of MSC that arises after tissue disaggregation. Disaggregation is achieved by proteolytic enzyme digestion that is very effective at isolating cells from a tissue; however, it also has the potential to damage them. According to Gazit [10], MSC derived from adipose tissue can be easily isolated after enzymatic treatment with collagenase. This enzyme is the most frequently used for isolation of MSC due to its ability to cleave collagen connections [27]. The optimum concentration of the enzyme, the incubation time, and the temperature must be carefully monitored during isolation [28].
Different protocols have been used to isolate, expand, and characterize MSC. One common protocol, based on cell adherence to the plastic during the first 48–72 h of culture, is effective, though typically results in a heterogeneous population of cells [19, 29, 30]. To select a homogenous or a desirable population of MSC, more stringent isolation protocols have been proposed. These include the use of different cell culture media [31], cell sorting [15, 32, 33], and cell adherence to the plastic during the first 3 h of culture [18, 19].
MSCs have the capacity to expand several times in culture, maintaining their growth potential and plasticity, with a doubling time which is variable according to the tissue and initial plating density [34]. Each time that the cells fill the flask culture area, they need to be enzymatically removed from the flask for further re-cultivation, a process defined as cell passage [35].
In order for the cells to become able to survive, proliferate, and differentiate in vitro, the culture system must emulate the in vivo conditions of the cells' original tissue [36]. The cells must be maintained in an incubator with 5% CO2, which facilitates pH maintenance in the culture medium [37], at the physiological temperature optimal for the donor species.
Supplementation of the medium should be performed to mimic in vivo conditions in order to sustain cell growth. Fetal bovine serum (FBS) is used in the cell culture medium as a source of growth factors and a vital nutrient, which supports expansion and attachment of MSC to the culture plate [38]. The use of antibiotics is important to prevent contamination, and it is necessary to evaluate the type of contamination that cells may be exposed to and potential toxicity of the dose when choosing which antibiotic to use. The most commonly used antibiotics are penicillin and streptomycin, making an effective and relatively non-toxic combination at the concentrations of 100 U/mL and 100 mg/mL, respectively [28].
Mesenchymal stem cell characterization
Stem cells are defined by their ability to self-renew and by their potential to differentiate into functional cells under the right conditions [
10
]. Different protocols have previously been reported regarding the isolation, characterization, and expansion of MSCs. Generally, MSCs express CD105, CD73, and CD90 and lack the expression of hematopoietic markers such as CD45, CD34, CD14 or CD11b, CD79α or CD19, and HLA-DR surface molecules [
26
]. However, MSCs from different species do not express all the same markers [
39
]. Additionally, it has been demonstrated that MSCs isolated from different tissues express different markers and have different plasticity [
40
]. A summary of MSC surface markers in different species can be found in Table 
1
.
Table 1
Cell surface markers in different species
Cell surface markers

Species

References

Positive

Negative

CD105, CD73, CD90

CD45, CD34, CD14, CD19, HLA-DR

Human

[26]

STRO-1, CD44, CD90, CD105

CD73, CD45, CD34

Canine

CD105, CD90, CD44

CD34, MHC II

Equine

[42]

CD29, CD166, CD105, CD73, CD44, CD90

CD45, CD34

Bovine
Canine MSCs, for example, have been shown to be positive for the markers STRO-1 and CD44 and negative for CD73, a classic human MSC marker [41]. Later, when MSC molecular markers from canine adipose tissue and ovarian tissue were compared, it was found that both derived cell types expressed CD44, CD90, and CD105; however, ovarian MSC-derived cells expressed higher levels of OCT4 than adipose-derived cells [18].
In equine species, MSCs from bone marrow (BM-MSC), adipose tissue (AT-MSC), and umbilical cord (UC-MSC) were compared with respect to their immunophenotypic characterization and differentiation potential. It was shown that all three sources of MSC expressed CD105, CD90, and CD44; however, UC-MSC had lower expression of CD90 than the other sources. Interestingly, BM-MSC and AT-MSCs showed faster in vitro differentiation than UC-MSC [42].
In humans, BM-MSC, AT-MSC, and UC-MSC were compared and demonstrated to express varying levels of certain MSC markers, including lower expression of CD90 and higher expression of CD105 by UC-MSC than the other sources [43], similar to the results found in equine species. Human adipose tissue-, bone marrow-, umbilical cord blood-, and nasal septum (NSP-MSC)-derived cells were compared with regard to their pluripotency markers. It was shown that AT-MSC had the highest expression of Sox2, Klf4, and Lin28 but the lowest of Oct4 and cMyc genes. Meanwhile, BM-MSC had more expression of Nanog and cMyc and the lowest expression of Rex1. UC-MSC and NSP-MSC had more expression of Rex-1 and Oct4, respectively [44].
Regarding bovine species, some characterization has taken place, as shown in Fig. 
1
. Bovine MSCs derived from different tissues have been shown to be positive for mesenchymal markers related to adhesion such as CD29, CD166, CD105, surface enzymes such as CD73, receptors such as CD44, and glycoproteins such as CD90 [
1
,
16
,
22
,
45
,
46
,
47
,
48
]. Interestingly, bovine MSC also expressed pluripotency markers such as OCT4, SOX2, and NANOG [
1
,
16
,
21
,
45
,
46
], supporting the idea that MSCs have the potential to be pluripotent and differentiate into three germ layers, which was previously shown by the successful differentiation of bovine MSC into osteoblasts, lipoblasts, hepatocytes, islet cells, and neurocytes [
22
].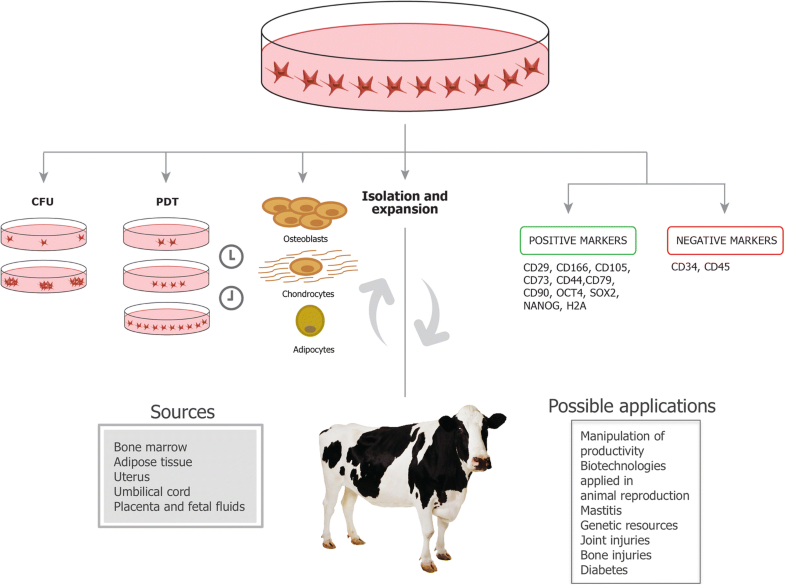 Regardless of the cell source or isolation procedure, MSC should express CD105, CD73, and CD90 and lack the expression of hematopoietic markers such as CD45, CD34, CD14 or CD11b, CD79α or CD19, and HLA-DR surface molecules, as established by the International Society for Cellular Therapy as the minimum criteria for MSC characterization in humans [26]. These are used as de facto criteria in other species as well. Currently, there are no specific criteria for mesenchymal stem cell characterization in cattle. Future challenges include defining a standard characterization protocol of MSC in this species. Despite the lack of commercial antibody availability for cattle, PCR can be used for the study of MSC molecular profile. For translational medicine, a complete evaluation of different sources of MSC needs to be performed, in order to evaluate similarities between human and bovine MSC.
Sources of bovine mesenchymal cells
Therapeutic delivery of mesenchymal stem cells
To achieve the best response after cell therapy, the general health of the patient, time of cell application, cell type, delivery route, and number of applications must be considered [35]. Following stem cell derivation, cell expansion is needed for subsequent transplantation into the patient [61]. In addition, cryopreservation of these cells can provide a ready source of abundant autologous stem cells [62]. Cryopreservation of bovine MSC may be achieved successfully with no change in the characteristics between fresh and thawed cells [48]. The delivery of the cell preparation should take place rapidly in order to avoid changes in cell viability and to prevent biological contamination of the cells [61]. Moreover, it has been suggested that early administration of stem cells is presumed to be more advantageous than attempting treatment when fibrous scar tissue has already been formed [63].
The most effective delivery method depends on the condition that is being treated. Intravenous administration is possible due to the ability of MSC to migrate across the endothelium and home to injured tissues [10, 39]. However, cells can become trapped in the lungs [39]. Thus, direct injection to the injured tissue provides a more convenient method [64], aiming a high concentration of MSC at the injury site without the risk of cell migration to other sites in the body [10]. In cases in which relevant structural defects are present, such as segmental bone, articular cartilage, and soft tissue defects, the cells need to be delivered by a carrier in order to have a substrate to control cell adhesion as well as the location of the cells in vivo, and to form a template for the formation of new tissue [64]. Recently, decellularized tissue has proven to be a promising option for scaffold construction [65]. The bovine model in particular has an advantage when compared to smaller animal models such as mice, due to the larger quantity of tissue to be decellularized, providing a much closer analogy to human conditions for eventual translational applications in organ construction and tissue engineering [66].
Bovine mesenchymal stem cell therapy
Potential of the bovine model for improvements to human health
The use of domestic animals as models has an essential role in narrowing the gap between translational research and clinical practice [99]. In regenerative medicine, the greatest advantage of using these models is to answer questions regarding the benefits and potential risks of stem cell treatments [100]. Each treatment needs to be tested in animal models, outlining human phenotypes, such as the size of the organs and more similar physiology [100]. Once the safety and efficacy of the treatment are proven, it can be applied in human therapy [100, 101]. The traditional model used for stem cell biology is the mouse, mainly because of its low cost, rapid reproduction, and ease of genetic modification [100]. Despite these advantages, the mouse model fails to precisely reproduce certain human diseases [100, 102]. Additionally, mice have a short lifespan, small body size, and different physiology when compared to humans [102]. Moreover, it is difficult to mimic the complexity of genetically heterogeneous human populations when studies are done with small groups of inbred mice [103]. To effectively study regenerative medicine and make the jump from the laboratory to human health applications, different animal models need to be used, allowing for better and more complete evaluations of cell-based therapies. In order to achieve this goal, it is important to select the most appropriate animal model, considering both size and experimental tractability, for example, ease of surgical manipulation, abundance of blood and tissues, efficiency of cloning, and feasibility of xenotransplantation [99]. Generally, larger animals are a better choice of model than mice for this purpose, specifically because they have a longer life span, which enables longitudinal studies, and because their physiological parameters are closer to those of humans [100]. Moreover, large animal species are more appropriate for mimicking human clinical settings due to their anatomy and physiology [99, 104].
The increase of genetic information can lead to new and more effective methodologies for the elimination or treatment of factors that negatively impact human health, such as cancer, cardiovascular disease, low birth weight, and infertility [99]. An important advantage of using cattle as a model is the possibility to study genetic and environmental influences on animal production and human disease [105]. The cattle genome contains a minimum of 22,000 genes, of which approximately 80% are shared with humans [106]. Due to these advantages over the mouse model, it is clear that more widespread adoption of the bovine model would have positive consequences for human health. In the field of tissue engineering, large animal models represent a promising tool that allows for the translation of novel experimental scaffolds into clinical practice [107].
An important advantage of large animals in tissue engineering is the fact that they provide large amounts of tissue that, after decellularization, can be used as scaffolds with similar organ size to that of humans as proven, for example, with the bovine placenta [66]. In order to elucidate physiological processes important to human health, the bovine model can be used for the study of reproduction regarding aging, physiology, gametogenesis, and infertility, as well as for bone structure formation, fat deposition, altitude and heat tolerance, hematopoiesis, leukemia, tuberculosis, xenotransplantation, gene therapy, and stem cells [99].
Although the use of a large animal model confers considerable advantages for translational applications, there are also some drawbacks that are important to consider when making a choice of model for an experiment. The major disadvantages of bovine models include the expenses of animal care, facility maintenance, necessity of veterinary support, and lesser availability of antibodies, probes, and reagents. However, due to the fact that they are more appropriate to mimic human scenarios than rodent models, these studies are essential to justify the risks and costs of clinical trials [108]. Research done in less translatable models such as mice necessitates repetition in more applicable organisms, leading to additional costs and delays developing critically needed therapies.
One example is stroke, which affects more than 795,000 people every year in the USA, costing $34 billion each year, frequently leaving victims permanently and severely disabled [109]. Current drug therapies are unable to regenerate lost tissue functionality, merely ameliorating the symptoms of the disease. Over the past 20 years, a number of promising studies have been published demonstrating the potential of MSC therapy to achieve recovery of the injured tissue, as reviewed in 2016 [110]. However, the vast majority of these studies have not been in translatable models, leading to a lack of progress towards new human therapies. With this in mind, future studies should focus on large animal models in order to evaluate the responses and safety of MSC therapy and advance the progress towards translational results. The ability to regenerate the damaged tissue suggests superior results to traditional therapies, and likely at a lower cost. The profound improvement in patient outcomes suggested by a potential switch to regenerative therapies for stroke victims provides just a single advantageous example of the many diseases in which cell therapies would vastly improve standards of care. This improvement would also, importantly, be accompanied by a significant reduction in the cost of treatment. On average, a stem cell treatment costs $5000 [111], so to treat 795,000 people per year would cost approximately $4 billion per year, resulting in massive savings in healthcare spending when compared to current therapies. Also noteworthy here is that cell therapies are still in their nascency and will likely continue to become less expensive as protocols are more completely developed and refined.
One potential area for cost reduction is an improved culture and transplantation methods. For example, the recently developed capacity to select a homogenous population of MSC without the necessity of cell sorting, accomplished through the selection of only the most adherent cells, can reduce the cost of cell production, not only because there is no need for expensive equipment and antibodies but also because in the first passage, a population is already selected, thereby reducing the cost of cell culture [19]. Additionally, it is known that bovine cells, when cultured at a higher density, can lead to less time and cost before transplantation [112].
It has been suggested that the National Institutes of Health could provide a national consortium of core laboratories with large animal models, facilitating the scientific community's use of the models and furthering efforts to develop cell therapy and translation into human therapies [108]. This would provide a great improvement over the current, over-the-counter system, in which individual researchers are required to connect with individual livestock owners to arrange experiments. The opportunity to use cattle for regenerative medicine purposes may increase the efficiency of human therapy and reduce costs and work around the ethical issues of human clinical trials. Additionally, cell therapy in cattle creates the opportunity for producers to improve their production by applying cell-based therapy to their own animals, as previously discussed.
As discussed in this review, bovine mesenchymal stem cells have the potential to be differentiated into all three germ layers and can contribute to a large amount of studies in different areas of medicine that can be implemented in translational medicine, including bone and joint injuries, immunomediated diseases, type 1 diabetes, musculoskeletal disorders, infertility, and mastitis. Regenerative medicine and translational research need to interact in order to achieve an interdisciplinary perspective, investigating new insights into traditional clinical therapy and benefiting human and animal health.
Conclusion
The fact that stem cell technology has developed significantly in non-bovine species creates both interest and background knowledge for the advancement of similar techniques in livestock. Mesenchymal stem cells are considered a promising source of cells for regenerative medicine. Initial interest in MSC was sparked decades ago due to both their inherent ethical appeal versus ESC and their suitability for laboratory work, resulting from the rapid cell culture and expansion that can take place after enzymatic disaggregation of tissue. This initial interest was compounded by revelations of diverse and medically relevant physiological effects such as their ability to proliferate in situ, modulate immune responses, and promote angiogenesis. Their potential clinical applicability and the scientific effort subsequently directed towards them were later expanded greatly when experiments proved that MSC could differentiate into cell types from all three germ layers, a typical minimum criterion for a cell type to be considered pluripotent. A potential reclassification of MSC as pluripotent is supported by results observed in bovine studies, which demonstrated again the ability of MSC to differentiate into all three germ layers and also showed them to display a gene profile consistent with pluripotency. The use of the bovine model for translational medicine has been shown to be advantageous, especially due to its abundance of biological material and similar size, anatomy, and physiology when compared to the traditional model. Isolation of bovine MSC has been performed from different tissues; however, the cells seem to express different markers according to the isolated tissue. More studies are needed to clarify species-specific protocols for bovine applications, in particular, because of the lack of availability of specific commercial antibodies. Additionally, their differentiation potential and clinical response need to be further investigated. It is clear from the information presented in the preceding articles that the ongoing development of bovine cell therapy shows promise for both veterinary clinicians and the livestock industry, especially for conditions that can result in loss of production from animals, such as mastitis and musculoskeletal disorders. The use of mesenchymal stem cells is an important tool both in the treatment of degenerative diseases and the improvement of functional recovery from traumatic injury. In addition, MSCs have the potential to be used to manipulate productivity in the cattle industry and to be used in nuclear transfer and also represent a tool for the preservation of valuable genetic resources. The lack of published studies and available clinical data in cows indicates both a deficiency and an opportunity of economic interest in this field of research. The next step will be to apply bovine MSC in clinical trials and evaluate the response of the animals as well as the economic impact of the techniques.
Notes
Acknowledgements
This work was supported by grants from FAPESP and CAPES. The authors would like to thank Isabella C. Godoy for her assistance with the graphic design of Figure 1.
Funding
This work was supported by grants from São Paulo Research Foundation (process n° 2015/26818-5) and Coordination for the Improvement of Higher Education Personnel.
Availability of data and materials
Data sharing not applicable to this article as no datasets were generated or analysed during the current study.
Authors' contributions
ABTH contributed to the conception and design of the manuscript, analyzed and interpreted the available data, and drafted the manuscript. FFB, BDM, and JMG contributed to the design of the manuscript and revised it for important intellectual content. All authors read and approved the final manuscript.
Ethics approval and consent to participate
Not applicable.
Consent for publication
Not applicable.
Competing interests
The authors declare that they have no competing interests.
Publisher's Note
Springer Nature remains neutral with regard to jurisdictional claims in published maps and institutional affiliations.
Copyright information
© The Author(s). 2019
Open AccessThis article is distributed under the terms of the Creative Commons Attribution 4.0 International License (http://creativecommons.org/licenses/by/4.0/), which permits unrestricted use, distribution, and reproduction in any medium, provided you give appropriate credit to the original author(s) and the source, provide a link to the Creative Commons license, and indicate if changes were made. The Creative Commons Public Domain Dedication waiver (http://creativecommons.org/publicdomain/zero/1.0/) applies to the data made available in this article, unless otherwise stated.