Stem cell therapy for diabetic foot ulcers: a review of preclinical and clinical research
Abstract
Background
Diabetic foot ulcer (DFU) is a severe complication of diabetes, preceding most diabetes-related amputations. DFUs require over US$9 billion for yearly treatment and are now a global public health issue. DFU occurs in the setting of ischemia, infection, neuropathy, and metabolic disorders that result in poor wound healing and poor treatment options. Recently, stem cell therapy has emerged as a new interventional strategy to treat DFU and appears to be safe and effective in both preclinical and clinical trials. However, variability in the stem cell type and origin, route and protocol for administration, and concomitant use of angioplasty confound easy interpretation and generalization of the results.
Methods
The PubMed, Google Scholar, and EMBASE databases were searched and 89 preclinical and clinical studies were selected for analysis.
Results
There was divergence between preclinical and clinical studies regarding stem cell type, origin, and delivery techniques. There was heterogeneous preclinical and clinical study design and few randomized clinical trials. Granulocyte-colony stimulating factor was employed in some studies but with differing protocols. Concomitant performance of angioplasty with stem cell therapy showed increased efficiency compared to either therapy alone.
Conclusions
Stem cell therapy is an effective treatment for diabetic foot ulcers and is currently used as an alternative to amputation for some patients without other options for revascularization. Concordance between preclinical and clinical studies may help design future randomized clinical trials.
Keywords
Stem cell therapy 
Cell therapy 
Diabetic foot ulcer 
Diabetic wound 
Critical limb ischemia 
Wound healing 
Amputation 
Abbreviations
ABI

Ankle-brachial index

ADSC

Adipose tissue-derived mesenchymal stem cells

BID

Twice a day

BM-MNC

Bone marrow-derived mononuclear cells

BM-MSC

Bone marrow-derived mesenchymal stem cells

DFU

Diabetic foot ulcer

EPC

Endothelial progenitor cells

ESC

Embryonic stem cells

G-CSF

Granulocyte-colony stimulating factor

hUC-MSC

Human umbilical cord mesenchymal stem cells

iPSC

Induced pluripotent stem cells

MSC

Mesenchymal stem cells

NRS

Non-randomized controlled study

PB-MSC

Peripheral blood-derived mesenchymal stem cells

PTA

Percutaneous transluminal angioplasty

RCT

Randomized clinical trial

SCT

Stem cell therapy

TcPO2

Transcutaneous oxygen pressure

UC-MSC

Umbilical cord-derived mesenchymal stem cells
Background
The prevalence of diabetes mellitus has increased precipitously due to worldwide changes in nutrition and lifestyle, and is currently estimated to affect 425 million adults in 2017 and to increase to 629 million patients by 2045 [1]. Diabetic foot ulcer (DFU), a major complication of diabetes, is defined by The International Working Group on the Diabetic Foot as a full-thickness wound located below the ankle in a diabetic patient, and is associated with diabetic neuropathy and peripheral arterial disease [2]. More than 2% of the diabetic population develops a new foot ulcer each year leading to US$9.1 billion spent on care per year in the USA alone [3, 4]. In addition to pain, infection, amputation, and impaired mobility, DFUs are also associated with severe economic, social, and psychological sequelae. One amputation occurs every 30 s as a consequence of diabetic complications, and 84% of these amputations are preceded by a DFU [5, 6].
Current treatment guidelines for DFU recommend debridement, management of infection, revascularization, and off-loading pressure to promote healing [7]. However, ischemia, infection, neuropathy, and metabolic disorders frequently delay wound healing, a critical challenge for both patients and clinicians [8]. Recent advances in understanding the cellular and molecular complexities of wound healing have identified coagulation, inflammation, cell migration, and proliferation as critical steps required for tissue remodeling and healing [9]. Stem cell-based therapy has emerged as a promising therapeutic strategy to treat DFU. Stem cells synthesize and secrete cytokines that promote cell recruitment, immunomodulation, extracellular matrix remodeling, angiogenesis, and neuroregeneration, all of which promote wound healing [10, 11, 12]. Stem cells are also capable of differentiating into various cell types, such as myofibroblasts, keratinocytes, pericytes, and endothelial cells that may participate in wound healing [13].
Although initial reports of stem cell therapy have shown efficacy, the different parameters used within each of these studies prevents easy interpretation and generalization of these reports, and therefore recommendations for treatment of DFU with stem cell therapy are difficult to standardize [14]. This study reviews current literature reporting stem cell therapy for DFU, with specific attention to the type and origin of the stem cells used for treatment, routes of cell administration, use of granulocyte-colony stimulating factor (G-CSF), and adjunctive use and comparison to percutaneous transluminal angioplasty.
Methods
The PubMed, EMBASE, and Google Scholar databases were searched on November 1, 2017. The search was performed using MeSH terms for "diabetic foot" paired with MeSH terms for "stem cell(s)" or "progenitor cells", which resulted in 256 articles available for screening (Fig. 
1
). Abstracts for all these articles were screened, and review and experimental research articles describing stem cell therapy for diabetic foot ulcers were included. Articles were excluded if they were duplicated articles, nontherapeutic studies, nondiabetic wound trials, studies not employing stem cells, studies that used unspecified cell populations, and non-English articles with incomplete English abstracts.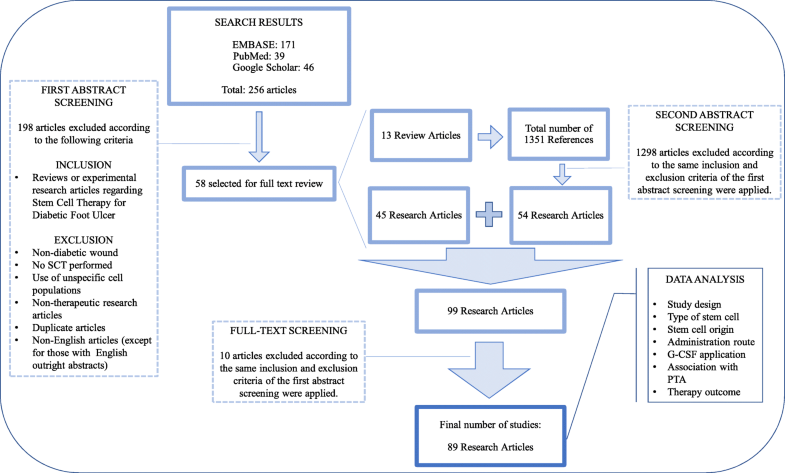 Screening the initial 256 articles led to selection of 58 studies, consisting of 45 primary research studies and 13 reviews, which were reviewed in depth. A secondary screening was performed on the 1351 references obtained from the 13 reviews, yielding an additional 54 primary research studies, for a total of 99 primary research studies. Full-text review of these studies excluded an additional 10 articles, leading to the final inclusion of 89 primary research articles.
Each of the 89 research papers were examined in detail to determine study design (preclinical or clinical), stem cell type, stem cell origin, route of administration, use of G-CSF mobilization, and adjunctive use of percutaneous transluminal angioplasty.
Discussion
We report a comprehensive review of 89 preclinical and clinical investigations regarding the use of stem cells to treat DFU. We show that in both preclinical and clinical studies BM-MSC were the main cell type used, in over half the studies (Table 2), and cells were most commonly delivered by local injection (Table 6). As expected, autologous cells were used in the majority of clinical studies (89%) whereas preclinical studies frequently studied allogeneic and xenogeneic cells (Table 5). Cell number was rarely addressed; G-CSF was used in some studies prior to cell harvest of PB-MSC or BM-MSC, but without standardization of dose or protocol (Table 4). Stem cell therapy performed concomitantly with angioplasty showed more clinical effect compared to either of the therapies performed individually (Table 7).
Among all the studies of stem cell therapy for DFU, only eight of these studies are randomized clinical trials in human patients with DFU (Table 1). However, the heterogeneity among these trials prevents establishing strong conclusions, diminishing the power of any potential recommendations for clinical use of stem cell therapy to treat DFU. Thus, it is logical that future clinical trials should have comparable protocols, doses, cell types, and administration routes to allow good comparison of these expected studies. Unfortunately, the heterogeneity of the clinical trials is predictable from the heterogeneity of the preclinical studies, with differences in most of the parameters including wound models, types of stem cells, wound location, size, and control groups (Table 2).
The "best" stem cell type to treat DFU remains controversial. In both clinical and preclinical studies, predominant use of autologous adult stem cells (Table 2) is justified by simpler isolation protocols, safety, and absence of ethical conflict. While the clinical and preclinical studies commonly reported using bone marrow as the chief source for stem cells, the use of PB-MSC was much more frequent in clinical studies than preclinical studies. However, stem cell therapy with ADSC was far more prevalent in preclinical research, suggesting enthusiasm for using adipose tissue as a potential stem cell source. The fewer number of clinical studies using ADSC could be an artifact of the less convenient isolation process, with need to perform liposuction, as well as reports of an equivalent effectiveness of the stromal vascular fraction to treat DFU [19, 112] and also it was the most recent introduced adult stem cell type. Even though there are currently no reports regarding the use of iPSC to treat DFU, this novel cell source combines advantages of both adult and embryonic stem cells; future improvements in somatic cell induction techniques, as well as control of cell differentiation to prevent malignancy, may allow use of iPSC in the future.
Clinical studies mainly reported use of autologous cells, while allogeneic and xenogeneic cells were generally used for preclinical research. Autologous stem cell therapy poses minimal risk of infection, is immunocompatible, and is typically free of ethical or legal issues [113]. However, patients with DFU may have reduced autologous cell function due to the metabolic changes of diabetes as well as advanced age, thereby decreasing stem cell therapy effectiveness and increasing the risk of complications [111, 114, 115, 116, 117]. The use of GCSF was observed to be advantageous in wound healing. Even though clinical studies differ regarding EPC mobilization protocol for PB-MSC stem cell therapy, 5 μg/kg injections BID for 5 days were reported as the optimal dose for DFU patients [72].
Alternatively, allogeneic therapy delivers stem cells from younger and healthier donors to the recipient but has the drawback of immunological incompatibility as well as potential legal issues; additionally, strict donor screening is needed to avoid disease transmission [113]. However, if these challenges are met, allogeneic stem cell therapy could be a good source of stem cells, allowing the formation of donation banks as well as potentially the use of cadaveric cells [118]. Immunological incompatibility is the major barrier to using xenogeneic cells. Interestingly, among preclinical studies reporting use of human cells in immunocompetent animal models, wound healing was observed without any immunological adverse effects. These results suggest the potential to use xenogeneic cells in the future.
Current evidence suggests that both local and systemic routes of stem cell therapy delivery are effective to heal DFU. Local injections of the cells were overall the most common method of cell delivery, with the distinction of intramuscular injections mostly being used for clinical studies, while preclinical studies predominantly used intradermal and subcutaneous injections (Table 6). Topical methods were frequently used in preclinical studies (43%), but less frequently in clinical studies (14%). Topical delivery within extracellular matrix scaffolds is another variable of interest. The extracellular matrix is a key modulator of cell maintenance, differentiation, proliferation, and self-renewal [119]; hydrogels and collagen scaffolds mimic the native in-vivo environment of stem cells, potentially increasing cell retention and engraftment [120, 121, 122, 123] and even cell function [17].
Some commercially available bioengineered products and matrices are available. Graftjacket (Wright Medical Technology, Arlington, TN, USA) is an allogeneic skin graft obtained from donation banks that has demonstrated efficiency in wound treatment [124]. Bovine collagen scaffolds are available (Integra; Life Sciences Corp, Plainsboro, NJ, USA) and have been approved for burns and treatment of DFU [124]. Epifix (MiMedx, Marietta, GA, USA) is a dehydrated anionic membrane containing growth factors that is also a promising vehicle for stem cell therapy [124]. However, large-scale comparative effectiveness studies have not been performed.
Conclusion
Current evidence points toward stem cell therapy as an effective treatment for human patients with DFU. Clinical and preclinical research studies do not offer a consensus regarding the optimal type of stem cell that should be used, and there is also no established optimal route or protocol to deliver stem cells. Differences within preclinical study designs suggest the need for a consensus regarding an optimal animal model that offers translation to human studies. Although autologous stem cells were the most commonly used stem cell type, it is possible that future studies will explore use of iPSC as well as allogeneic or even xenogenic cells. Administration of G-CSF promotes wound healing and its use is recommended as an adjunct to PB-MSC therapy. Hydrogels and bioscaffolds are promising topical delivery vehicles, but the impact of matrix design and configuration on stem cell function is still unknown. Angioplasty is a promising adjuvant to stem cell therapy in patients needing revascularization, and whether stem cell therapy will be used as an adjuvant to angioplasty remains to be determined.
Notes
Funding
This work was supported by the National Institutes of Health R01-HL128406 as well as by the resources and the use of facilities at the VA Connecticut Healthcare System, West Haven, CT, USA.
Availability of data and materials
The data that support the findings of this study are available from the corresponding author upon reasonable request.
Authors' contributions
LL collected, analyzed, and interpreted the data and wrote the manuscript. OS and AA interpreted the data and wrote the manuscript. SL, HH, TI, HL, TW, SO, XG, JG, and BY analyzed the data. YG and TN analyzed and interpreted the data. AD analyzed, interpreted, and wrote the manuscript. All authors read and approved the final manuscript.
Ethics approval and consent to participate
Not applicable.
Consent for publication
Not applicable.
Competing interests
The authors declare that they have no competing interests.
Publisher's Note
Springer Nature remains neutral with regard to jurisdictional claims in published maps and institutional affiliations.
Copyright information
© The Author(s). 2018
Open AccessThis article is distributed under the terms of the Creative Commons Attribution 4.0 International License (http://creativecommons.org/licenses/by/4.0/), which permits unrestricted use, distribution, and reproduction in any medium, provided you give appropriate credit to the original author(s) and the source, provide a link to the Creative Commons license, and indicate if changes were made. The Creative Commons Public Domain Dedication waiver (http://creativecommons.org/publicdomain/zero/1.0/) applies to the data made available in this article, unless otherwise stated.