Stress, pseudoallergens, autoimmunity, infection and inflammation in chronic spontaneous urticaria
Abstract
Chronic spontaneous urticaria (CSU) is often associated with organ specific autoimmunity but is rarely caused by food allergy. Colourings and preservatives in pre-packaged foods, so called pseudoallergens, have also been implicated. Factors that promote inflammation or reduce anti-inflammatory mechanisms may however, predispose susceptible individuals to CSU. Chronic underlying infection and mental and emotional stress can sometimes precede the onset of CSU and once established can exacerbate the symptoms. There is early evidence of dysbiosis within the gastrointestinal tract in people with CSU and reduced levels of vitamin D are also evident. The latter may be related to the importance of vitamin D3 in increasing T regulatory function which can control a tendency to autoimmunity. It is quite possible that a state of on-going chronic inflammation with reduced anti-oxidant mechanisms may underlie the not infrequent association between CSU and metabolic syndrome. Effective treatment of CSU should involve the use of anti-histamines, intermittent steroids and anti-IgE therapy. For recalcitrant disease immune modulatory therapy has a place. However, talking therapies that reduce stress and anxiety, vitamin D3 supplementation, correction of intestinal dysbiosis and treatment of any chronic infection should also be considered.
Keywords
Chronic urticaria 
Pseudoallergens 
Stress 
Infections 
Autoimmunity 
Cofactors 
Vitamin D3 
Abbreviations
CGRP

calcitonin gene-related peptide

CSU

chronic spontaneous urticaria

DHEA-S

dehydroepiandrosterone-S

IL

interleukin

IFN

interferon

MRGPRX2

Mas related G protein coupled X2 receptor

Th

T helper cells

TNF

tumour necrosis factor

Tregs

T regulatory cells
Background
Chronic spontaneous urticaria (CSU) is generally defined as recurrent urticaria present continuously or intermittently for 6 or more weeks. Most cases of acute urticaria resolve—less than 8% will continue to CSU [1]. It is frequently a mast cell driven disease with clinical features arising from the action of several factors released by activated and degranulated mast cells. Indeed, mast cell numbers are increased three fold in the involved and uninvolved skin of patients with CSU [2]. It has been estimated to present a lifetime risk of 20% and with an annual prevalence of approximately 0.02 to 0.5% [3, 4]. CSU is more frequent in females with a male to female ratio varying between 1.5:1 to 2:1. Such female preponderance is evident in many of the organ specific and systemic autoimmune diseases [5]. While autoimmune disease (21%), chronic infection (29%) and immune dysfunction (4%) may become evident over time, CSU remains idiopathic in 45% even after 10 years of follow-up [6].
Aetiologically, and despite the unequivocal benefit of anti-IgE therapy in severe CSU [
7
], IgE mediated type I food allergy is considered rare [
8
], although associated atopy is increased, especially in adolescents with CSU [
9
]. Much recent work has focused on other mechanisms leading to mast cell activation which is critical to CSU [
7
]. In particular, this includes autoimmunity type IIb with IgG anti-IgE auto-antibodies and positive autologous serum skin tests. Other mechanisms include type I IgE auto-antibodies directed at self-antigens, CD4-positive T cells directed at the high-affinity IgE receptor, immune cell activating IgE, and histamine-releasing factors able to bind to IgE. More recent work suggests a central importance of the Mas related G protein coupled X2 receptor (MRGPRX2) that is found on mast cells. This can be stimulated by the neuropeptides released by stress, defensins, pseudoallergens and various medications [
10
,
11
]. This is summarised in Fig. 
1
.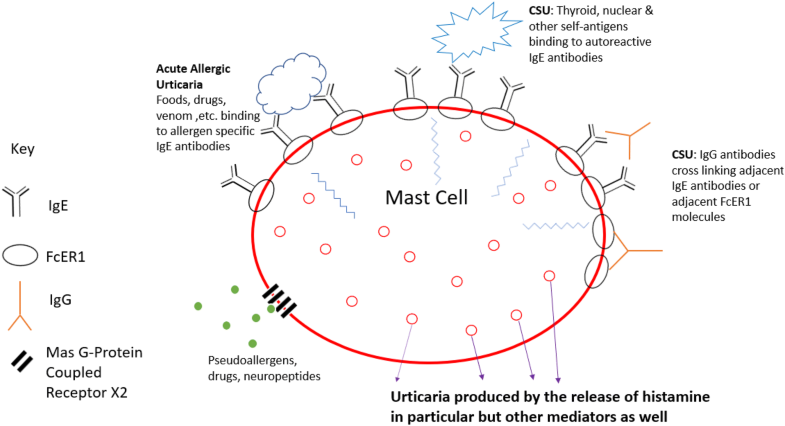 CSU is associated with several disorders which either predispose to the condition or facilitate mast cell degranulation. Additionally, several conditions appear to frequently co-exist with CSU and appear to be linked by a common underlying pro-inflammatory state. These are summarised in Table 
1
. In many patients with CSU the unpredictability of the urticarial wheals and overwhelming nature of the itching can lead to persistent stress [
12
]. This is frequently associated with a significant alteration of mood and a markedly reduced quality of life [
13
,
14
]. Each of these factors should be addressed in the investigation and management of patients with CSU. Certainly, efforts to reduce these variables may lessen the severity and duration of the condition with a lowered need to use second and third line therapies.
Table 1
Conditions associated with affecting the prevalence and severity of CSU
| Variable | Contribution to CSU | Outline of purported mechanism |
| --- | --- | --- |
| Autoimmunity | Predisposing factor | CSU is more frequent in females, associated with a positive autologous serum skin test and is frequently associated with underlying autoimmunity and altered T cells subsets. Diversely autoreactive IgE and IgG autoimmunity is particularly frequent in CSU. Benefit with anti-IgE therapy suggests direct ability of IgE auto-antibodies in triggering mast cell degranulation |
| Pseudoallergens | Facilitating factor | These low molecular weight compounds may bind to mast cell Mas related G protein coupled receptor X2 and lower the threshold for other factors to fully activate the mast cells to release CSU mediators. Salicyclates and non-steroidal anti-inflammatory drugs in predisposed individuals increase overall leukotriene activity by COX-1 inhibition. These then lead to mast cell activation and increased CSU activity |
| Stress | Facilitating or predisposing factor | Increased inflammation with altered T cell subsets and a reduction in Tregs especially leading to impaired B cell control. Stress released neuropeptides can also activate mast cells via Mas related G protein coupled receptor X2 |
| Parasitic infection | Predisposing factor | Parasites stimulate humoral autoimmunity especially a polyclonal IgE which may have auto-reactive components |
| Helicobacter gastritis | Predisposing factor | While the frequency of helicobacter infection may be higher in CSU patients evidence of anti-helicobacter therapy being effective is conflicting |
| Metabolic syndrome | Co-morbid condition | Both CSU and metabolic syndrome are associated with increased background inflammation. As such the association between these may be due to the chronic inflammation being common to both |
| Hypertension | Co-morbid condition | CSU more likely to be prolonged in patients with hypertension; hazard ratio 0.71 |
| Dysbiosis of gastrointestinal tract | Predisposing factor | Reductions in several types of bacteria in the stools of those with CSU but not enterobacteriaceae. Altered bowel microbiota may lead to increased gut epithelial permeability and absorption of immune activating compounds |
| Vitamin D3 | Facilitating factor | Low levels found in CSU. Vitamin D3 reduces Th1 and Th17 cells and increases T regulatory cell function that can reduce autoimmunity and reduce inflammation |
Aetiological and associated factors in CSU
Linking the different factors that facilitate the onset of CSU
The ability of pseudoallergens, infections and stress to initiate and/or aggravate CSU suggests that a common pathway may be involved. However, in some patients with CSU type 1 and 2a immune hypersensitivity with specific IgE and autoreactive IgG antibodies may be directly involved in activating mast cells. In this case the condition continues until the respective IgE and autoreactive B cells are lost or the antigenic stimulus is eliminated. However, an increased frequency of autoimmunity has been linked to stress [5, 73, 103, 104, 105, 106] and several viral infections, but especially Epstein Barr, can encourage autoimmunity [107, 108]. The mechanisms here involve a combination of impaired T regulatory activity and specific viral proto-oncogenes that give a survival stimulus to low avidity auto-reactive B cells. These would normally suffer spontaneous demise or be actively eliminated. Consequently, certain infections and stress may be linked to an increase susceptibility to CSU by perturbation of the immune system.
In the case of factors that facilitate the development of CSU, the role of the Mas related G protein coupled X2 receptor (MRGPRX2) found on mast cells may be relevant. Thus, increased expression has been found on the mast cells of patients with CSU compared to healthy controls [109]. Importantly, MRGPX2, previously known as MrgX2, can be stimulated by antimicrobial host defense peptides such as β-defensins and the cathelicidin LL-37 [110], neuropeptides such as substance P [109] and vasoactive intestinal peptide, major basic protein, eosinophil peroxidase, and several peptidergic drugs [10, 11]. Importantly, these multiple means of mast cell activation open the possibility that simultaneous subthreshold stimulation by several factors may cumulatively leading to mast cell degranulation and CSU. Thus, infection associated with host immune cell secreted defence peptides occurring during a period of stress and with an increased ingestion of foods with preservatives and colourings may together lead to urticaria whereas these factors alone may be insufficient. Moreover, the unpredictable continuation of the urticaria associated with raised stress levels may then perpetuate the CSU even when the original infection has been eliminated and there has been an improvement in the diet.
Varying degrees and patterns of inflammation are evident in CSU. In some there is a typical IgE mediated response with only low level lymphocytic and eosinophilic infiltration. In other cases, there is a greater involvement of neutrophils and mononuclear cells perhaps suggesting raised Th17 function. The pro-inflammatory cytokines mediating the latter type of immune response if unchecked for a prolonged period would likely aggravate and perpetuate CSU by encouraging inflammatory cell infiltration. However, the situation is rendered more complex by the ability of TNF-α to increase Tregs [45] and the fact there are several types of Tregs with slightly differing functions and ability to reduce autoimmunity [111].
Therapeutic relevance of autoimmunity, pseudoallergens, stress, low vitamin D, infection and increased tendency to coagulation in CSU
The interaction of the more important factors that impact on CSU are shown in Fig. 
2
. Here it can be seen that many of the factors are interlinked and can directly or indirectly exacerbate CSU. Attention to each of these areas should form the basis of the holistic treatment of all patients with CSU. Regardless, most patients with CSU controlled by conventional dose second generation anti-histamine therapy do not require investigation according to the European and World Allergy Organisation guidelines on urticaria [
112
]. However, those unresponsive to high dose antihistamine therapy used up to quadruple levels may benefit from investigation for underlying autoimmunity, hypovitaminosis D, gastrointestinal dysbiosis and possibly helicobacter infection [
113
] depending on their clinical evaluation. Appropriate therapy should then be offered including vitamin D3, probiotics, anti-microbials and levothyroxine. The latter should certainly be offered if hypothyroidism is discovered [
114
]. The use of colouring and preservative free diets remains controversial but worth considering on a temporary basis in those patients who regularly consume pre-packaged food.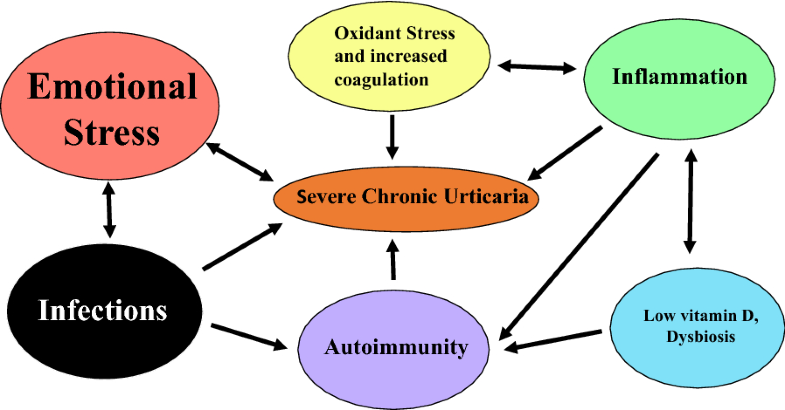 It has previously been shown that desloratadine can reduce oxidative damage to erythrocytes by increasing the activity of superoxide dismutase [115]. Thus, at least some anti-histamine therapies may work by both reducing the activity of histamine released by activated mast cells but also increasing anti-oxidative pathways that reduce inflammation. However, it is unclear whether oral anti-oxidant therapy provides any benefit to CSU patients on maximal anti-histamine therapy. Regardless, it should undoubtedly be considered in those with obvious poor diet and agents such as vitamin E and N-acetyl cysteine with their very low side effect profiles are ideal.
In rare reports, anti-coagulants have also been reported to be helpful in CSU patients with severe disease [116]. Although some have suggested that full carefully monitored anti-coagulation is required for efficacy [117] this is not always so. Indeed, some patients simply require low dose anti-coagulation that does not necessarily increase the prothrombin time or international normalised ratio. Indeed, low dose warfarin therapy was used with significant anecdotal benefit in the late 1980s.
As stress is a common precipitating or perpetuating factor in virtually all patients with CSU [118], efforts to uncover any obvious sources is important [12]. As such stress reduction therapy using a variety of approaches [119] may be helpful in improving CSU and should be considered as an important and early intervention to limit morbidity and improve overall quality of life. Interestingly, there is one report on the positive value of hypnotherapy in CSU although the benefit was most evident in those individuals who were considered hypnotizable [120].
At present anti-IgE therapy is recommended as third line treatment of severe CSU unresponsive to combinations of high dose anti-histamines [112]. The efficacy of additional leukotriene receptor antagonist therapy is unclear. Anti-IgE therapy appears at present to have very few short and long term side effects and is often better tolerated ciclosporin. There is also some evidence that it can normalise abnormal gene transcript signatures in lesional skin [121]. For the future, efforts to increase Tregs function and reduce Th17 activity would appear appropriate. This would be especially so in patients with severe CSU unresponsive even to anti-IgE therapy and perhaps especially in those with a positive autologous skin tests.
Conclusion
The threshold for developing CSU is reduced by several common conditions while others frequently modify the condition or prolong its duration. These conditions are associated with impaired immune regulation and/or an underlying pro-inflammatory state and contribute to mast cell irritability and an increasing tendency to autoimmunity. The latter is often directed towards IgG and IgE cell surface receptors. Persistent stress and mild underlying infection is frequently evident in CSU and can activate mast cells via several neuropeptides and anti-microbial host defence proteins acting through the MRGPRX2. All factors known to affect urticaria should be addressed in the investigation and management of this condition. This may lessen the severity and duration of the CSU with a lowered need to use second and third line therapies.
Notes
Acknowledgements
Professor Marcus Maurer for some of his thoughts on CSU and its aetiology.
Authors' contributions
Both authors contributed equally to the writing of this manuscript. Both authors read and approved the final manuscript.
Funding
No funding was required or used in the construction of this manuscript.
Ethics approval and consent to participate
Not applicable.
Consent for publication
Not applicable.
Competing interests
The authors declare that they have no competing interests.
Copyright information
© The Author(s) 2019
Open AccessThis article is distributed under the terms of the Creative Commons Attribution 4.0 International License (http://creativecommons.org/licenses/by/4.0/), which permits unrestricted use, distribution, and reproduction in any medium, provided you give appropriate credit to the original author(s) and the source, provide a link to the Creative Commons license, and indicate if changes were made. The Creative Commons Public Domain Dedication waiver (http://creativecommons.org/publicdomain/zero/1.0/) applies to the data made available in this article, unless otherwise stated.