A minireview of hydroamination catalysis: alkene and alkyne substrate selective, metal complex design
Part of the following topical collections:
Abstract
Organic compounds that contain nitrogen are very important intermediates in pharmaceutical and chemical industry. Hydroamination is the reaction that can form
C
–
N
bond with high atom economy. The research progress in metals catalyzed hydroamination of alkenes and alkynes from the perspective of reaction mechanism is categorized and summarized.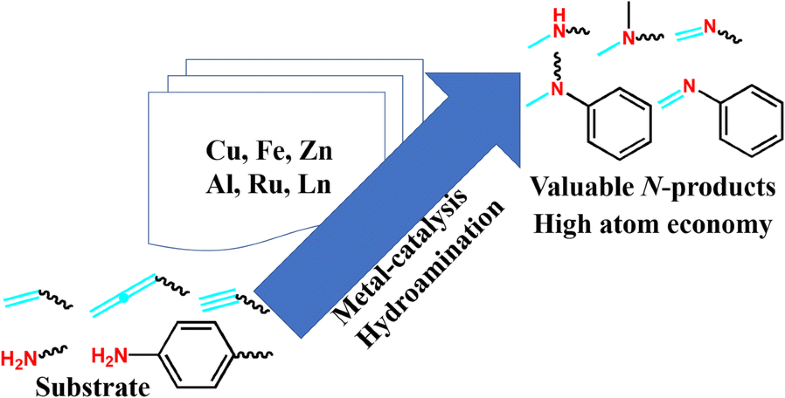 Keywords
Hydroamination 
Atom economy 
C–N bond 
Metal catalysis 
Introduction
More and more attention are attracted in hydroamination reaction as a tool for N–H synthesis, plenty of complementary synthetic methods have come to the fore for the development of intensified and industrially relevant C–N forming processes [1, 2]. According to our statistics, synthesizing C–N via hydroamination reaction has become a promising area of research, experiencing growing diversification [3, 4]. Since the first publications on this hydroamination reaction over past years, close to 450 research papers have been published on this topic [5, 6]. Further statistics indicate 78% of the published research can be classified as substrates which work under mild conditions as follows [7, 8]. At the same time, with the development of hydroamination, various catalytic systems have been gradually systematized, and many breakthrough progresses have been made [9, 10].
The attractive and challenging methods for the formation of C–N bonds are hydroamination reactions. In this review, we will mostly focus on recent developments in the effects of different substrates containing N–H. In the meantime, usage of the term hydroamidation is not only including the substrate classes of saturated fat primary amine, saturated fatty secondary amine and unsaturated fatty amine, but extended to structurally related compounds with selective, reactivity and productive yield. Moreover, intra- and inter-molecular hydroamination reactions will be mentioned as well if they are necessary for the discussion or might act as springboard for future research.
The effects of different compounds containing N–H
Saturated fatty primary amine
Fatty primary amines (C1 to C12) are essential intermediates for the chemical and pharmaceutical industries. A large amount of fatty primary amine and the corresponding derivatives are according to their cationic surface activity.
Saturated fatty secondary amine
Nitrogen compounds are widespread in many natural organic compounds and possess a series of physiological activity [18, 19]. After pharmacology studies, these compounds have good anti-inflammatory effects such as antiseptic, antifungal and other aspects [20]. Therefore, the reaction of hydroamination has been one of the hotspots in the research of organic synthesis [21]. In order to further enrich the kinds of nitrogenous compounds, chemists synthesized a variety of multifunctional nitrogen compounds [22]. Based on saturated fatty secondary amine, it will show more complex molecular structure as well, meeting the needs of pharmaceutical industry [23].
Unsaturated fatty amine
The hydroamination of unsaturated fatty amines as substrates has been studied for decades [37]. These substrates are often concentrated in the imidazole, pyrrole and other nitrogenous heterocyclic compounds [38]. Based on our research [39, 40, 41, 42], it is noteworthy that such substances are very important intermediates for synthetic drugs and natural products.
Conclusion and outlook
In summary, the raw materials of hydroamination, whether alkyne, alkene, amine or olefin, are widely existed in various moieties, applying for high atomic economy in artificial synthesis [52, 53, 54]. Over the past decades, heterogeneous catalysis for a more sustainable hydroamination due to the possibility of recycling and simple isolation of the secondary amines or imines by simple centrifugation or filtration of the solid, avoiding work-up and metal contamination of the product. It is believed that in the near future, hydroamination can replace those unsustainable reactions of methodology during the industrial circles, especial for medicine and paint intermediate, such as coupling reaction and Wittig reaction. In spite of these excellent achievements, research on the use of nonprecious metals is still open for both hydroamination and C-N formations. Soon intensive work will focus not only on new metal-organic design in the solid state, i.e. metal-organic frameworks or zeolites, also allow the stability, low toxicity and reusability of such heterogeneous catalysts [55].
Notes
Acknowledgements
The authors are thankful to Institute of Electrochemical Corrosion, College of Materials Science and Energy Engineering, Foshan University for providing necessary facilities to carry out this research work. Meanwhile, we are grateful to the High-Level Talent Start-Up Research Project of Foshan University (cgg040947), Guangdong Natural Science Foundation of China (Grant Nos. 2018A1660001, 2017A030313307), National Natural Science Foundation of China (No. 51702051), the key Project of Department of Education of Guangdong Province (2016GCZX008), the key Research Platform Project of Department of Education of Guangdong Province (cgg041002), the Project of Engineering Research Center of Foshan (20172010018), Education Department Foundation of Guangdong province (No. 2016KTSCX151) for financial support.
Authors' contributions
JH, GH, WC, XH, QD and DC have designed and prepared the review article. All authors read and approved the final manuscript.
Competing interests
The authors declare that they have no competing interests.
Copyright information
© The Author(s) 2019
Open AccessThis article is distributed under the terms of the Creative Commons Attribution 4.0 International License (http://creativecommons.org/licenses/by/4.0/), which permits unrestricted use, distribution, and reproduction in any medium, provided you give appropriate credit to the original author(s) and the source, provide a link to the Creative Commons license, and indicate if changes were made. The Creative Commons Public Domain Dedication waiver (http://creativecommons.org/publicdomain/zero/1.0/) applies to the data made available in this article, unless otherwise stated.