Pathogenesis and biomarkers of natural killer T cell lymphoma (NKTL)
Abstract
Natural killer T cell lymphoma (NKTL) is an aggressive disease with very poor treatment outcomes in the advanced stages. With chemotherapy, initial response rates to treatment are high but responses are short lived. A better understanding of the complex molecular pathogenesis of this disease is essential in order to design and develop better therapeutics with improved efficacy. This review aims to summarise the key pathogenic mechanisms in NKTL which may have significant prognostic and therapeutic implications.
Keywords
NK/T cell lymphoma 
Pathogenesis 
EBV 
JAK/STAT 
PD1 
PDL1 
Abbreviations
EBER

EBV non-coding RNA

EBV

Epstein-Barr virus

EZH2

Enhancer of zeste homologue 2

JAK/STAT

Janus kinase/signal transducers and activators of transcription

NK

Natural killer

NKTL

Natural killer T cell lymphomas

PD-1

Programmed cell death protein 1

PD-L1

Programmed death ligand 1

WHO

World Health Organisation
NK T cell lymphoma (NKTL), or extranodal NK T cell lymphoma, nasal type as classified by the World Health Organisation (WHO), is a non-Hodgkin lymphoma that has a predilection for the upper aerodigestive tract and can involve other non-nasal sites such as the gastrointestinal tract, skin, soft tissue and testis [1]. This is an aggressive disease with an Asian and Latin American preponderance [2, 3, 4]. This disease is characterised immunophenotypically by positivity for CD2, CD56, cytoplasmic CD3ε and cytotoxic molecules such as granzyme B and  TIA1. Demonstration of EBV-encoded RNA (EBER) is a prerequisite for the histological diagnosis of NKTLs. Early stages of the disease are treated with radiotherapy or a combination of chemoradiation with good clinical outcomes. However, in advanced stages, this disease is invariably fatal despite the initial good responses with multi-agent chemotherapy regimens.
Natural killer (NK) cells derive from the lymphoid lineage, together with B and T cells. While NK cells have traditionally been classified as a component of the innate immune system, they have been shown to have characteristics of adaptive immunity such as antigen specificity, immunologic memory and ability to undergo clonal expansion when exposed to a pathogen. NK cells, similar to its T cell counterpart, arise from a common lymphocyte precursor in the bone marrow. Mature NK cells can be found in multiple organs such as the spleen, liver, lung and blood [5, 6].
In recent years, the availability of genome sequencing technologies has changed the diagnostic and therapeutic paradigm in many diseases. NKTL is no exception—the understanding of molecular pathogenesis of NKTL has moved leaps and bounds [
7
]. Figure 
1
provides an overview of our current understanding of the key biologic mechanisms that drive this disease. A discussion of the various pathogenic mechanisms will be presented in this review.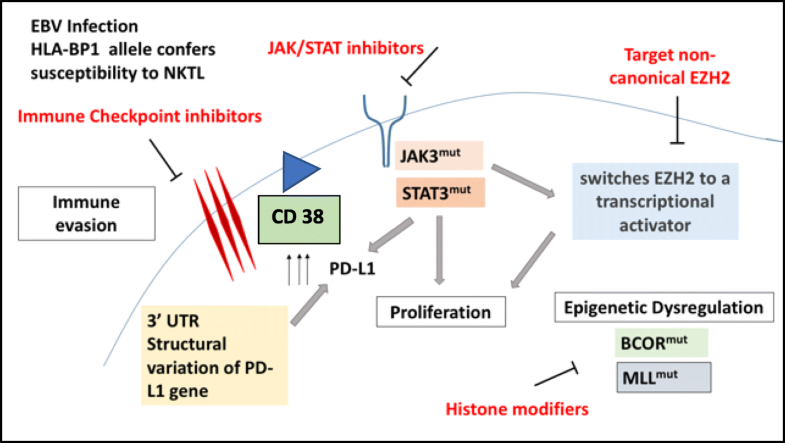 Notes
Acknowledgements
Not applicable
Funding
The studies done by our team were supported by research funding from the Singapore Ministry of Health's National Medical Research Council, Tanoto foundation as Professorship in Medical Oncology, New Century Foundation Limited, Ling Foundation and Singapore National Cancer Centre Research Fund, Oncology Academic Clinical Program Cancer Collaborative Scheme, Lee Kong Chian School of Medicine, Nanyang Technological University Singapore Start up Grant, and Biomedical Research Council, A*STAR.
Availability of data and materials
Not applicable
Authors' contributions
NS was involved in drafting the manuscript and revising it critically for important intellectual content. JQL and CKO were involved in editing the scientific content. STL was involved in editing the content and providing the final approval of the version to be published. All authors read and approved the final manuscript.
Authors' information
Dr. Nagavalli Somasundaram is an associate consultant in the division of Medical Oncology at National Cancer Centre. Her main interests are lymphomas, sarcomas and translational therapeutics.
Professor Soon Thye, Lim is a senior consultant in the division of Medical Oncology at National Cancer Centre. He is also the Deputy Medical Director (Clinical) of the division of Medical Oncology.
Ethics approval and consent to participate
Not applicable
Consent for publication
Not applicable
Competing interests
The authors declare that they have no competing interests.
Publisher's Note
Springer Nature remains neutral with regard to jurisdictional claims in published maps and institutional affiliations.
Copyright information
© The Author(s). 2019
Open AccessThis article is distributed under the terms of the Creative Commons Attribution 4.0 International License (http://creativecommons.org/licenses/by/4.0/), which permits unrestricted use, distribution, and reproduction in any medium, provided you give appropriate credit to the original author(s) and the source, provide a link to the Creative Commons license, and indicate if changes were made. The Creative Commons Public Domain Dedication waiver (http://creativecommons.org/publicdomain/zero/1.0/) applies to the data made available in this article, unless otherwise stated.