Proton beam therapy for cancer in the era of precision medicine
Abstract
Precision radiotherapy, which accurately delivers the dose on a tumor and confers little or no irradiation to the surrounding normal tissue and organs, results in maximum tumor control and decreases the toxicity to the utmost extent. Proton beam therapy (PBT) provides superior dose distributions and has a dosimetric advantage over photon beam therapy. Initially, the clinical practice and study of proton beam therapy focused on ocular tumor, skull base, paraspinal tumors (chondrosarcoma and chordoma), and unresectable sarcomas, which responded poorly when treated with photon radiotherapy. Then, it is widely regarded as an ideal mode for reirradiation and pediatrics due to reducing unwanted side effects by lessening the dose to normal tissue. During the past decade, the application of PBT has been rapidly increasing worldwide and gradually expanding for the treatment of various malignancies. However, to date, the role of PBT in clinical settings is still controversial, and there are considerable challenges in its application. We systematically review the latest advances of PBT and the challenges for patient treatment in the era of precision medicine.
Abbreviations
APBI

Accelerated partial breast irradiation

CBCT

Cone beam CT

COG

Children's Oncology Group

CR

Complete response

DFS

Disease-free survival

DMFS

Distant metastasis-free survival

EC

Esophageal cancer

FDM

Freedom of distant metastasis

HCC

Hepatocellular carcinoma

HNC

Head and neck cancer

HRQoL

Health-related quality of life

HU

Hounsfield units

IGRT

Image-guided radiation therapy

IMPT

Intensity-modulated proton therapy

IMRT

Intensity-modulated radiotherapy

IQ

Intelligence quotient

LET

Linear energy transfer

LGG

Low-grade glioma

LRC

Locoregional control

LRF

Locoregional failure

LRFFS

Locoregional failure-free survival

MGH

Massachusetts General Hospital

NCCN

Comprehensive Cancer Network

NPC

Nasopharyngeal carcinoma

NSCLC

Non-small cell lung cancer

OARs

Organs at risk

OS

Overall survival

PBS

Pencil-beam scattering

PBT

Proton beam therapy

PFS

Progression-free survival

PSPT

Passive scatter proton therapy

QoL

Quality of life

RFS

Relapse-free survival

RSP

Relative stopping power

RT

Radiotherapy

SBPT

Stereotactic body proton radiotherapy

SOBP

Spread-out Bragg peaks

WHO

World Health Organization
Background
Radiotherapy (RT) is an established treatment modality of malignant tumors. Currently, photon beam therapy is the most widely used in clinical settings. Intensity-modulated photon radiotherapy (IMRT) was introduced in the mid-1990s, and it took the radiotherapy with photons to a huge leap forward. As the development of IMRT, it has been considered to be the advanced and the standard of treatment for many malignancies [
1
]. Although the IMRT technique can typically provide a more conformal dose distribution than the traditional RT mode, it is necessary to improve the tumor control and overall survival (OS), and reduce the RT toxicity. It is well known that the advantage of a proton beam is the physical characteristics of its depth-dose curve, with a dose peak (Bragg peak) at a well-defined depth in tissue (Fig. 
1
). For relatively shallow tumors, unlike the photon depth-dose curve showing an exponentially decreasing energy deposition with increasing depth in tissue, the Bragg peak allows for rapid fall-off of the radiation dose at the end of the range and a sharp lateral dose fall-off with the maximum energy deposition for each proton beam in the target region and almost no energy around it. Therefore, proton beam therapy (PBT) effectively allows the delivery of high-radiation doses to tumor cells and very low or zero doses to the normal cells, which is recognized as an ideal therapy modality for treatment of malignant diseases, especially for organs at risk (OARs) with less toxicity. As Dr. Herman Suit in the department of radiation oncology of Massachusetts General Hospital (MGH) said: "No advantage to any patient for any irradiation of any normal tissue exists; and radiation complication never occurs in nonirradiated tissues."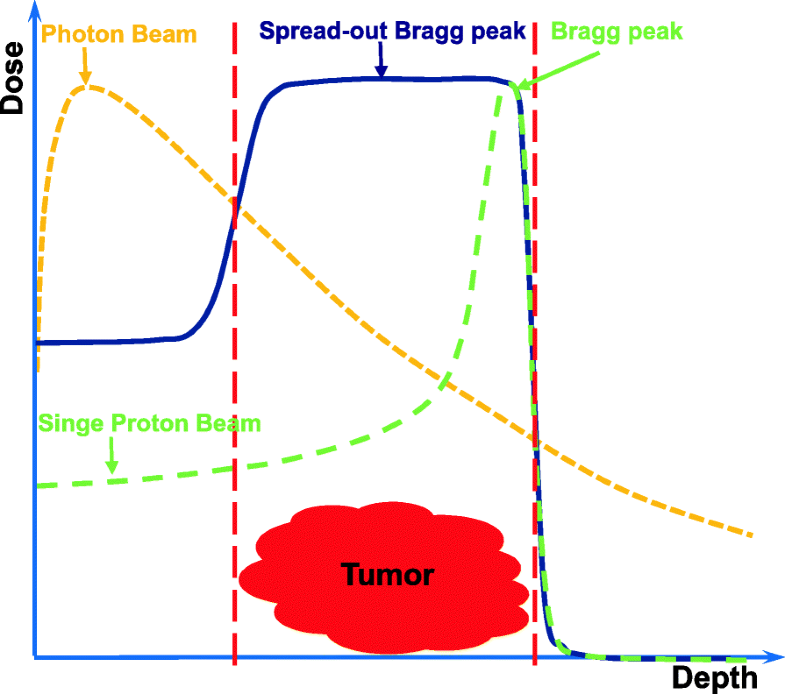 In 1946, Robert R. Wilson proposed to use accelerator-produced beams of protons to treat patients with deep-seated tumors [2]. In 1954, the first patient with breast cancer was treated with proton radiation of the pituitary in the Berkeley Radiation Laboratory [3]. In 1961, protons commenced to be used for clinical treatment at Harvard Cyclotron Laboratory [4]. Initially, the clinical practice and research of PBT only focused on the tumors near a critical structure or those that responded poorly to photon radiotherapy such as ocular tumors, skull base tumors, paraspinal tumors, and unresectable sarcomas. Over the next 60 years, with the vast development of technology, the application of PBT has been gradually expanding to various neoplasms. Although increasingly more evidence has been indicated for the advantages of PBT in clinical experience, PBT is not good for all cases all of the time. It is very important to understand the benefits and limitations of protons as well as the biology and the behavior of the tumor. In this review, we summarized the latest advances and clinical applications of PBT. We also considered the challenges of treatment optimization in the era of precision medicine.
Latest clinical studies of PBT
The dosimetry advantage of protons over photons has already been established (which is not reviewed in the article). However, do the potential advantages of the proton beam significantly transfer into clinical benefits for patients? Can the advanced techniques such as 360° rotational gantries and intensity-modulated proton therapy (IMPT) further minimize toxicity and/or improve the clinical outcome? To date, there is not enough evidence to answer these questions due to small cohorts of patients in most published studies and the limited prospective data of comparisons between proton and photon radiotherapy. In this part, we present the clinical experiences and studies in the past few years, which may be provide a valuable understanding of the true value and advantage of PBT.
The current challenges of proton therapy and its development in the future
Growing application of PBT to treat patients with malignancy has been confirmed to be safe, precise, and efficient with a tolerant toxicity, resulting in expanding the clinical applications in spite of that the vast costs and building sites are required to install and maintain the PBT treatment machine. During the last decade, the proton facilities are most widely distributed worldwide. As of August 2018, there were approximately 70 proton centers in operation in the world, and 45 were under construction; more than 140,000 patients have been treated by PBT [
90
,
91
]. The statistics of proton centers and patient treated by PBT are shown in Table 
1
. As of November 13, 2017, there were approximately 300 clinical trials with PBT that are ongoing, and the detail is shown in Table 
2
[
92
]. However, there are at least three limitations of published studies that evaluate the value of PBT. First, most studies were retrospective analyses. Second, the prospective studies had small samples. Last, the data for comparisons between PBT and conventional RT were limited. Further prospective trials with modern techniques should be more valuable to confirm whether the advantage of protons can be transferred into a benefit for clinical outcome and late effects in HNC.
Table 1
Facilities in operation patient statistics (last update August 2018) and facilities under construction (update July 2018)
Status

Area

Country/region

Numbers of proton centers

Total patients treated

Operation

Asia

China

2

1729

Japan

13

23,035

South Korea

2

2056

Taiwan, China

1

1010

Europe

Czech Republic

1

2428

England

2

3224

France

3

14,881

Germany

6

9752

Italy

3

1302

Poland

1

267

Russia

3

5552

Sweden

1

407

Switzerland

1

8448

The Netherlands

1

1

North America

USA

27

72,009

Canada

1

204

Oceania

Australia

1

79

Africa

South Africa

1

524

 

Total

70

149,086

Under construction

Asia

China

7

 

Japan

5

 

Thailand

1

 

South Korea

1

 

India

2

 

Emirate of Abu Dhabi

1

 

Singapore

1

 

Taiwan China

2

 

Saudi Arabia

1

 

Europe

France

1

 

The Netherlands

2

 

Russia

2

 

UK

6

 

Denmark

1

 

Belgium

1

 

Slovak Republic

1

 

North America

USA

10

 
 

Total

45

 
Table 2
Clinical trials for proton beam therapy (update November 13, 2017)
Indication:

Loc:

Links to protocols (clinicaltrials.gov and UMIN-CTR):

Pediatrics

Craniopharyngioma

NCT01419067; NCT02792582

Central nervous system tumors

NCT02559752; NCT01180881; NCT02112617

Brain tumors

NCT00602667; NCT01288235; NCT01115777; NCT00105560; NCT03267836; NCT00238264; NCT03281889

Head/neck

NCT02608762

Bone

NCT00592293

Rhabdomyosarcoma

NCT00592592

Lymphoma involving mediastinum

NCT01751412

Unclassified

NCT01502150; NCT02644993; NCT03223766; NCT01696721; UMIN000023170

Head and neck

Nasopharynx

NCT00592501; NCT01586767; NCT03274414

Oropharynx

NCT01893307; NCT02663583; NCT02736786

Esophageal

NCT01512589

Unclassified

NCT01228448; NCT01627093; NCT01973179; NCT02838602; NCT02923570; NCT03183271

Lung

Non-small cell lung cancer

NCT00614484; NCT01511081; NCT00495040; NCT01512589; NCT01165658; NCT00915005; CT01808677; NCT00875901; NCT00881712; NCT01770418; NCT02029222; NCT02038413; NCT02844140; NCT01629498; NCT01993810; NCT01076231; NCT01108666; NCT01126476; NCT02130427; NCT03087760; NCT01525446; NCT01565772; NCT02314364; NCT02204761; NCT02172846; NCT02172846; NCT02073968; NCT01859650; NCT02731001; UMIN000005585; NCT03132532; NCT03226925

CNS

Brain tumors

NCT01854554; NCT01730950; NCT02179086; NCT01024907; NCT01180881; NCT0135805; NCT01228448; NCT0328633; NCT02693990; NCT03286335; NCT01165671; NCT02607397; NCT01730950; NCT02824731; NCT02824731; NCT03180502; NCT03281889; NCT01117844; NCT01180881; NCT00798057

Skull base

NCT01795300; NCT01182753; NCT01182779

Chondrosarcoma

NCT00496522

Central nervous system

NCT01049230; NCT02559752; NCT02797366; NCT03055364

Breast

Partial breast

NCT01839838; NCT01386697; NCT00599989; NCT02603341; NCT02199366; NCT02725840; NCT01340495; NCT03270072; NCT03340402; NCT00614172; NCT01310530; NCT01766297; NCT01758445; NCT01245712; NCT02453737; NCT03339934; UMIN000017579; UMIN000016206

Lymph nodes

NCT02783690; NCT01365845

GI

Liver

NCT00614913; NCT01141478; NCT00857805; NCT01697371; NCT00976898; NCT00465023; NCT01239381; NCT00662246; NCT01963429; NCT01643824; NCT02395523; NCT00426829; NCT01668134; NCT02632864; NCT02571946; NCT02640924; UMIN000020596; NCT02802124; UMIN000020862; UMIN000002863; UMIN000025342; UMIN000020596; UMIN000016574; NCT03186898

Pancreas

NCT01821729; NCT01591733; NCT00438256; NCT01494155; NCT00658801; NCT00658840; NCT00685763; NCT00763516; NCT01553019; NCT02598349; NCT01683422; UMIN000020862; UMIN000008785; UMIN000012201

Upper GI

NCT01449864

Rectum

NCT00503932; NCT03018418; NCT03098108

Esophageal

NCT01512589; NCT01684904; NCT02023541; UMIN000015550; NCT03234842

GU

Prostate

NCT02110849; NCT01709253; NCT03285815; NCT01811810; NCT01352429; NCT01045226; NCT01617161; NCT02040610; NCT00969111; NCT00693238; NCT01368055; NCT01072513); NCT01040624; NCT01987193; NCT02598349; NCT00489814; NCT01950351; NCT00388804; NCT01492972; NCT01603420; NCT01230866; UMIN000020199; UMIN000010510; UMIN000017679; UMIN000017679; UMIN000020596; UMIN000003937; NCT02766686; NCT02874014

Bladder

NCT01520038

Lymphoma

Hodgkin lymphoma

NCT02070393; NCT00850200; NCT02404818; NCT01751412

Sarcoma

Chordoma, chondrosarcoma

NCT00797602; NCT00881595; NCT00901836; NCT0049652; NCT00496119; NCT01449149; NCT01561495; NCT01182753; NCT01904565; NCT01819831

Spine

NCT01346124; NCT00592345

Retroperitoneal

NCT01659203; NCT01034566

Sacrococcygeal

NCT01811394; NCT02986516

Female reproductive system

Rhabdomyosarcoma

Cervical and endometrial

NCT01871766

NCT03184350
Besides, there are currently still some great challenges in the precision PBT. In addition, in the future, there will be more advances in precision proton radiotherapy to benefit more patients.
Technical developments in precision proton radiotherapy
The proton planning system and facility are advanced, which makes PBT increasingly precise over time. The target volume is usually larger than the high-dose covered by the Bragg peak. Spread-out Bragg peaks (SOBP) are needed to make sure every tissue element in the target receives the same amount of dose. In the early days, the dose mainly delivered by PSPT used the beam double scattering and range modulation techniques. To spare the normal tissues in the lateral and distal tumor, the aperture and range compensator are usually needed. The drawbacks of scattering technique include broadened lateral penumbra, secondary particles, e.g., neutrons, from the scatters, and need for the numerous pieces of hardware for every treatment field. With the advanced development of computers and technology, the active scanning technique, named IMPT, including intensity-modulated scanning, PBS, and spot scanning, can overcome the drawbacks of the scattering system, obtain better dose conformity, and reduce the integral non-target dose. However, the active scanning technology is very sensitive to organ motion and change, because it delivers the dose to different parts of the target sequentially. Therefore, it is required that the boundary, motion, and changes of GTV and OARs are accurately determined. Meanwhile, the equipment with protons is more advanced with time, which is also very important for precision PBT. In the earliest proton facilities, the beam was fixed in 1 to 2 directions was fixed. To some extent, the restrictions of fixed beam, beam energy, and field size in turn limit the advantage of protons. Currently, most newly constructed facilities have 360° rotational gantries that allow treatment of tumors at any anatomic site, and the therapy system has the IMPT planning capabilities.
To fully take advantage of the depth-dose benefit, it is more important to define the range of the proton beam as accurately as possible. The range uncertainty in patients mainly arises from CT imaging and calibration, CT resolution, and CT Hounsfield units (HU) to relative stopping power (RSP) conversion [93]. To improve the accuracy of the proton beam range, more advanced devices including simulation MRI, dual-energy CT, and proton CT can be used. The current single-energy CT leads to related uncertainties in the proton range of approximately 3%. To ensure the target received the prescription dose, the range uncertainty should be included, which will lead to the normal tissues around target receiving much more radiation dose. Recently, studies have focused on reducing the range uncertainty and improving its accuracy, and the dual-energy CT was suggested to be used in the proton therapy. Previous studies have reported that dual-energy CT potentially improved the conversion from CT HU to RSP, which could reduce the proton beam range uncertainties by 0.4% in soft tissues, and reduce the RSP uncertainty from 1.59% to 0.61% for homogeneous tissue-equivalent [94, 95]. However, the dual-energy CT only reduces uncertainty arising from the conversion of CT HU to RSP but cannot eliminate it. Several studies have demonstrated that the proton CT, whose image-formation characteristics are based on the linear stopping power of protons, avoids the uncertainties of mapping x-CT HU values to RSP [96]. Arbor et al. [97] has validated the proton CT benefit based on a Monte Carlo comparison. Studies have demonstrated that the proton CT has the potential to outperform the accuracy achievable with dual energy CT [98, 99]. Another potential advantage of the proton CT is that it needs fewer doses to achieve the same quality image [100]. This kind of proton CT device is still currently in development and has not been used in clinical settings.
It is a great challenge to precisely calculate the dose in a treatment planning system. There are mainly two methods to calculate the dose: analytical algorithms and the Monte Carlo method. The accurate calculation dose of the Monte Carlo method is much higher than the former, which is a common method to use at present. Previous studies have analyzed the differences between analytical algorithms and Monte Carlo dose computations in proton therapy [101]. Urie et al. [102] has investigated that the analytical algorithms could not able to precisely predict the effect of range degradation, due to the fact that it is less sensitive to complex geometries and density variations. The study has compared Monte Carlo dose with analytical dose computations based on 525 patients, and found that the analytical method overestimates the dose in the tumor target by nearly 10%; however, the dose in some OAR could be underestimated about 10 Gy [103]. It has the potential to increase some toxicities. Monte Carlo algorithms should be applied to accurately calculate the dose to improve target coverage and spare the OAR in PBT. Currently, only a few proton centers use the Monte Carlo algorithms. It needs more time to compute the dose, which limits the application in clinical settings. However, with the development of computers, it would take much less time for Monte Carlo computation.
The effect of anatomical changes in precision proton radiotherapy
The effect of dose distribution caused by anatomical changes in proton therapy is more sensitive than photon therapy. Therefore, it is very critical to delineate accurately the GTV and monitor motion and changes of GTV and OARs. Apart from training physicians for GTV and OARs delineation with precision, there are several techniques to reduce the effect of dose distribution by anatomical changes. First, MRI can provide more detailed anatomical boundaries for GTV compared with CT images, including NPC, liver cancer, and colorectal cancer. Schmidt et al. [104] reviewed that MRI could apply to wide range of image contrast mechanisms and use to RT treatment planning. In addition, a number of challenges are reviewed: the effects of patient motion during the long-time scan, an estimate of electron density for tissues, MRI is acquired in the radiotherapy treatment position, and the geometrical accuracy. Second, for patients with lung cancer or liver cancer, the tumor movement during treatment with the breath is more significant. To keep the tumor receiving the prescribed dose, anatomic motion management strategies are currently used in proton therapy including respiration gating [105], real-time tumor tracking [106], and breathe and hold techniques [107]. Breathe hold techniques provide a relatively stable breath in phase of radiation therapy, which minimize the breath motion effect. However, patients need to have a better pulmonary function for the technique. Third, periodic imaging in the course of treatment is used to monitor and assess the changes in patient anatomy generated by tissue deformation, tumor shrinkage, weight loss, and so on. Kraanet al. [108] concluded that bulky radiosensitive human papillomavirus-positive tumors and cervical lymph nodes can respond early in the therapy course causing considerable anatomical changes, which might contribute to a less predictable proton dose distribution. It is not clear whether the treatment plan needs to be reformulated. Image-guided radiation therapy (IGRT) [109], cone beam CT (CBCT) or orbital CT (CT-on rail) is usually used to conduct an image scan before each irradiation for photon therapy. However, it has not widely been used in proton centers. Regular CT scanning is used in some studies. However, the optimum internal time of repeated CT scanning has not been defined, and the tracking technique or repeated CT scan causes the patient's exposure to ionizing radiation. Last, adaptive radiotherapy is a promising way to adjust the radiation dose distribution according to the changes of tumors and OARs [110].
Biological effectiveness in precision proton radiotherapy
The RT treatment planning is made on the basis of the prescription doses to the target and constraints for normal tissues. Proton treatment planning is currently planned and delivered assuming a proton relative biological effectiveness (RBE) relative to photons of 1.1 [111], which has usually been used. To date, there is very different comprehension of the 1.1 of RBE. Some studies considered that 1.1 of RBE were acceptable in clinical settings, which was an averaged value of measured RBE, neglecting any dependency of RBE on dose, endpoint or proton beam properties. Others disagree that 1.1 of RBE is an invariable value. In particular, the distal edge of the proton SOBP should be given much attention. The RBE quickly increases as the sharply increasing LET, which will underestimate the effectiveness in the surrounding tissue, causing more unexpected toxicity or complication. In a retrospective subset analysis, patients with oligodendroglioma treated with proton RT developed pseudoprogression earlier compared to photon therapy (48 days versus 131 days). However, there was no difference in those with astrocytoma. The finding suggests the biological effect of proton radiation is different between oligodendroglioma and astrocytoma [112]. Moreover, it is a great challenge to precisely measure the RBE value for the desired position due to the sharp distal fall-off of SOBP. Wouters et al. [113] has investigated the depth and dose dependence of RBE. In addition, the averaged RBE value for entrance, proximal half, distal half, and distal edge was 1.07, 1.1, 1.17, and 1.21, respectively, and the RBE was determined to have dose dependence. Maeda et al. [114] have evaluated the RBE of the spot-scanning beam in different depth of SOBP and found that the distal region showed higher RBE values; these results are in line with those previous studies conducted using PSPT. A study by Jones et al. [115] has demonstrated that the widest RBE ranges existed in low α/β value biosystems because of dose per fraction varies and improving linear energy transfer (LET), usually exceed 1.1 even within the SOBP LET range, with lower RBE values at higher dose per fraction. For tumors with greatly radiosensitive, the RBE values are usually less than 1.1 and insensitivity to per fraction. Therefore, it is important to reduce the LET in normal tissue due to the fact that RBEs increase with LET. However, all the results were based on the in vitro and animal systems [116]. There are limited published clinical data that would investigate the effectiveness for certain tumors or OARs. To the best of our knowledge, there is only one study by Zhang et al., only in a meeting abstract [117]. It attempted to find the end-of-range RBE in the temporal lobe based on long-term follow-up data from patients with NPC. The findings showed that the brain-specific end-of-range RBE could be ≥ 1.8, 7.3% higher than what is currently used in clinical settings. The optimal RBE has not been defined. RBE may be different in different biological diseases. The RBE varying with LET, physiological and biological factors, and clinical endpoints still requires further research.
Conclusions
The dosimetric advantage of protons results in a finite range with little or no exit dose and a smaller volume of normal tissue to be irradiated. It is worth noting that the precision is becoming increasingly more important to take advantage of PBT for patients. The technical advances allow that the precision PBT will become widely available, and it may be the lead application in the treatment of cancer in the future. Optimization of the PBT, appropriate integration of the proton beam with chemotherapy, target therapy, biological therapy, or immunotherapy, would further benefit patients with aggressive tumors, providing excellent survival and less toxicity.
Notes
Acknowledgements
The authors thank Hsiao-Ming Lu, Annie Chan, and Li Liu from Francis H. Burr Proton Therapy Center, Department of Radiation Oncology, Massachusetts General Hospital and Harvard Medical School for the help.
Funding
This work was supported by the grant from the Key Research Development Program of Shan Dong province (2016CYJS01A03) and Science Technology Program of Jinan (201805051).
Availability of data and materials
The dataset supporting the conclusions of this article is included within the article.
Authors' contributions
JMY designed the study. MH, LYJ, XLC, and JGZ coordinated and drafted the manuscript. MH edited and finalized the drafting of the manuscript. All authors read and approved the final manuscript.
Ethics approval and consent to participate
These issues are not applicable for this review.
Consent for publication
Not applicable.
Competing interests
The authors declare that they have no competing interests.
Publisher's Note
Springer Nature remains neutral with regard to jurisdictional claims in published maps and institutional affiliations.
Copyright information
© The Author(s). 2018
Open AccessThis article is distributed under the terms of the Creative Commons Attribution 4.0 International License (http://creativecommons.org/licenses/by/4.0/), which permits unrestricted use, distribution, and reproduction in any medium, provided you give appropriate credit to the original author(s) and the source, provide a link to the Creative Commons license, and indicate if changes were made. The Creative Commons Public Domain Dedication waiver (http://creativecommons.org/publicdomain/zero/1.0/) applies to the data made available in this article, unless otherwise stated.