The impact of RASopathy-associated mutations on CNS development in mice and humans
Part of the following topical collections:
Abstract
The RAS signaling pathway is involved in the regulation of developmental processes, including cell growth, proliferation, and differentiation, in the central nervous system (CNS). Germline mutations in the RAS signaling pathway genes are associated with a group of neurodevelopmental disorders, collectively called RASopathy, which includes neurofibromatosis type 1, Noonan syndrome, cardio-facio-cutaneous syndrome, and Costello syndrome. Most mutations associated with RASopathies increase the activity of the RAS-ERK signaling pathway, and therefore, most individuals with RASopathies share common phenotypes, such as a short stature, heart defects, facial abnormalities, and cognitive impairments, which are often accompanied by abnormal CNS development. Recent studies using mouse models of RASopathies demonstrated that particular mutations associated with each disorder disrupt CNS development in a mutation-specific manner. Here, we reviewed the recent literatures that investigated the developmental role of RASopathy-associated mutations using mutant mice, which provided insights into the specific contribution of RAS-ERK signaling molecules to CNS development and the subsequent impact on cognitive function in adult mice.
Keywords
RAS 
MAPK 
neurodevelopmental disorders 
cognition 
mutant strains mouse 
Abbreviations
Ascl1

Achaete scute-like 1

BLBP

Brain lipid binding protein

CFCS

Cardio-facio-cutaneous syndrome

CKO

Conditional knockout

CNS

Central nervous system

CS

Costello syndrome

ERK

Extracellular signal-regulated kinase

GABAergic

Gamma-aminobutyric acidergic

GAPs

GTPase activating proteins

GEFs

Guanine nucleotide exchange factors

GFAP

Glial fibrillary acidic protein

GNPs

Granule neuron progenitors

HCM

Hypertrophic cardiomyopathy

iPSCs

Induced pluripotent stem cells

JAK

Janus kinase

KRAS

Kirsten rat sarcoma viral oncogene homolog

MEK1/2

MAPK/ERK kinase 1/2

Neurog2

Neurogenin 2

NF1

Neurofibromatosis type 1

NRAS

Neuroblastoma RAS viral oncogene homolog

NS

Noonan syndrome

NSCs

Neural stem cells

NSML

Noonan syndrome with multiple lentigines

PI3K

Phosphatidylinositol 3-kinase

PTPN11

Protein tyrosine phosphatase non-receptor type 11

RTKs

Receptor tyrosine kinases

SHOC2

Soc-2 suppressor of clear homolog

SOS1

Son of sevenless homolog 1

STAT

Signal transducer and activator of transcription
Introduction
The RAS-extracellular signal-regulated kinase (ERK) pathway is a highly conserved signaling cascade that transduces signals from membrane receptors to the cytoplasm and nucleus by protein–protein interactions and phosphorylation [
1
,
2
,
3
]. It plays a critical role in controlling various cellular processes, including cell growth, survival, proliferation, and differentiation, in developing and adult tissues, such as the brain [
2
,
4
].
RAS,
which is composed of a multigene family that includes
HRAS
,
KRAS
, and
NRAS,
encodes a small guanosine nucleotide-bound GTPase protein, and the activation of the RAS-ERK signal transduction is initiated by the binding of growth factors to G-protein-coupled receptors, such as receptor tyrosine kinases (RTKs) and cytokine receptors.
RAS
is activated by guanine nucleotide exchange factors (GEFs), such as SOS1, whose activity is regulated by multiple adaptor proteins, including GAB1 and GRB2 (Fig.
1
) [
5
]. On the contrary, GTPase activating proteins (GAPs), such as NF1, switch RAS activity off by hydrolyzing GTP to GDP. The GTP-bound form of active RAS leads to the activation of its direct downstream effector, RAF.
RAF
encodes a serine/threonine kinase and represents the RAF family, which also includes ARAF, BRAF, and RAF1. RAF phosphorylates and activates the MAPK kinase, MAPK/ERK kinase 1/2 (MEK1/2), which in turn activates ERK1 and ERK2 by phosphorylating the tyrosine and threonine residues on ERK1/2 [
6
]. ERK1 and ERK2 are homologous subtypes of the ERK family and are final effectors of the RAS-ERK pathway. ERK1/2 affect a large number of downstream molecules, such as nuclear components, transcription factors, and membrane proteins [
7
].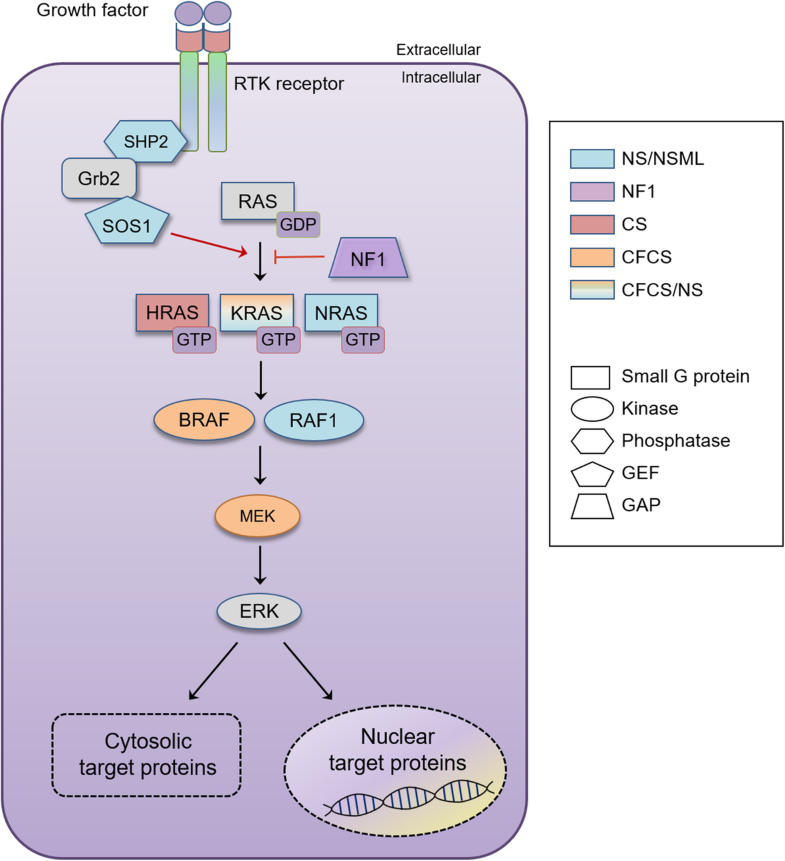 Since the RAS-ERK pathway is critically involved in multiple biological processes, germline mutations in RAS-ERK signaling components can cause a class of developmental disorders that are collectively called RASopathy [
3
,
8
,
9
]. RASopathy affects approximately 1 in 1,000 live births worldwide and shares a common molecular mechanism, such as mutations in RAS-ERK signaling components [
4
]. Representatively, RASopathy includes 1) neurofibromatosis type 1, which is caused by loss of function mutations in
NF1
; 2) Noonan syndrome, caused by gain of function mutations in
PTPN11
,
SOS1
,
SHOC2
,
CBL
,
KRAS
,
NRAS
,
BRAF
,
RAF1
, and
MEK1
; 3) Noonan syndrome with multiple lentigines that is caused by mutations in
PTPN11
and
RAF1
; 4) cardio-facio-cutaneous syndrome, which is caused by either gain of function or loss of function mutations in
BRAF
,
KRAS
,
MEK1
, and
MEK2
; 5) Costello syndrome, caused by gain of function mutations in
HRAS
; and 6) neurofibromatosis type 1-like syndrome (NFLS or Legius syndrome) that is also caused by loss of function mutations in
NF1
. RASopathies share typical characteristics, such as a short stature, craniofacial dysmorphism, cardiac defects, and neurocognitive impairments that are accompanied by abnormal brain development [
10
]. However, each RASopathy also displays distinct and unique symptoms, depending on the mutated genes [
3
,
11
]. Consistently, recent studies using mouse models of RASopathies have demonstrated that each disorder also shows disease-specific abnormalities in central nervous system (CNS) development. Here, we review the distinctive roles of RAS-ERK signaling molecules in CNS development that were revealed by investigating the deficits in CNS development of RASopathies (Tables
1
and
2
). Furthermore, we also review how RASopathy-associated mutations affect cognitive function in mice and human.
Table 1
Human patients with RASopathies and their phenotypes
| Disease | Associated genes | CNS structural phenotypes | Other phenotypes |
| --- | --- | --- | --- |
| Neurofibromatosis type 1 | NF1 (95%) [12] | Neurofibromas , abnormal cortical development [13], abnormal glial development [14], macrocephaly | Below-average IQ, ADHD, impaired executive functioning, deficits in visual-spatial skills [15, 16], hyperpigmentation of melanocytes, hamartomas of the iris [17, 18], bone malformation, cardiac defects [19, 20] |
| Noonan syndrome, Noonan syndrome with multiple lentigines | PTPN11 (>50%) [21], RAF1 (3-17%) [22, 23], SOS1 (9-13%) [24] KRAS (<2%) [25, 26], BRAF (<2%) [22], MEK1/2 (<2%) [27] | Cerebellar ectopia [28, 29], temporal lobe anomaly, hydrocephalus, cerebral abscess [30, 31, 32], epilepsy, cortical dysplasia [33] | Neurocognitive delay [33, 34, 35], typical facial abnormalities, short stature, motor delay, increased risk of cancer, cardiac defects [34, 35, 36, 37, 38, 39, 40] |
| Cardio-facio-cutaneous syndrome | BRAF (43-78%) [41, 42, 43], MEK1/2 (7-11%) [42, 43], KRAS (5-8%) [25, 43] | Ventriculomegaly, hydrocephalus [44, 45, 46, 47, 48, 49, 50], atrophy [44, 46, 51, 52, 53, 54], migration and myelination abnormalities, agenesis of corpus callosum [50, 52, 55, 56, 57] | Neurological abnormalities, seizures, tactile defensiveness, learning disabilities [4, 50, 55], craniofacial defects, cardiac defects [4, 58, 59], motor delay, hypotonia [4, 50, 55] |
| Costello syndrome | HRAS (85-90%) [60, 61, 62], KRAS (7%) [63], BRAF (4-6%) [27], MEK1/2 (2-3%) [27] | Ventricular abnormalities [64, 65, 66, 67], cerebral malformations [64, 65, 67, 68, 69, 70, 71], cerebellar abnormalities [66, 69, 71, 72, 73, 74], macrocephaly [59, 60] | Mental retardation [59, 60], facial features, loose skin, severe failure to thrive, predisposition to tumors [59, 60] |
Table 2
RASopathy mouse models and their phenotypes
Gene

Mouse model

CNS structural phenotypes

Other phenotypes

Nf1

Nf1 homozygous knockout

Defects in the neural tube, hyperplasia of neural crest-derived ganglia [75]

Embryonic lethality, heart defects, delay in organ development [76, 77]

Nf1 heterozygous knockout

Impaired synaptic plasticity, impaired spatial learning, heart defects [80, 81, 82]

Synapsin 1-dependent Nf1 ablation

Reduced size and weight of the forebrain, reduced cortical thickness, increased astrogliogenesis [83]

hGFAP-dependent Nf1 ablation

Increased gliogenesis, enlarged cerebral cortex, defective GNP migration and proliferation

BLBP-dependent Nf1 ablation

Increased glial lineage proliferation, abnormal neuronal differentiation [89]

Postnatal lethality [89]

Nestin-dependent Nf1 ablation (induction in adulthood)

Unlocked latent oligodendrocyte lineage, defective GNP proliferation and migration, increased adult hippocampal neurogenesis [88, 90, 91]

Spontaneous antidepressive-like behavior [91]

Ptpn11

Nestin-dependent Ptpn11 ablation

Decreased neural stem cell proliferation, lamination defects, reduced number of neurons, increased number of astrocytes [92]

Postnatal lethality, growth retardation [92]

Olig1-dependent Ptpn11 ablation

Decreased number of oligodendrocyte precursors and mature oligodendrocytes, reduced axonal myelination [93]

Developmental abnormalities [93]

Olig2-dependent Ptpn11 ablation

Decreased number of oligodendrocyte precursors, hypomyelination [94]

Postnatal lethality, severe shivering [94]

Olig2-dependent Ptpn11Q79R knock-in

Increased number of oligodendrocyte precursors, abnormal myelination [94]

Not described

Nestin-dependent Ptpn11E76K knock-in

Hydrocephalus, aberrant development of ependymal cells, reduced proliferation, enhanced glial differentiation [95]

Postnatal lethality, dome-shaped head, reduced anxiety behavior, hyperactivity, impaired motor function [95]

Ptpn11D61G herozygous knock-in

Increased neurogenesis, decreased gliogenesis [96]

Impaired synaptic plasticity, impaired spatial learning, short stature, craniofacial dysmorphia [97, 98]

Kras

Synapsin1-dependent KrasG12V knock-in

Enhanced GABAergic synaptogenesis [99]

Increased inhibitory tone, impaired spatial learning [99]

Hras

HrasG12V homozygous knock-in

Hypertrophy of the brain and pyramidal neurons [100]

Impaired spatial learning, facial dysmorphia, cardiac defects [100]

aCaMKII-dependent HrasG12V knock-in

Increase in docked vesicles [101]

Increased synaptic plasticity, enhanced spatial learning [101]

Braf

Nestin-dependent Braf ablation

Impaired neuronal differentiation, dysmyelination, defective oligodendrocyte differentiation [102, 103]

Postnatal lethality, growth retardation, defective motor coordination, neuromuscular defects [102, 103]

BrafV600E heterozygous knock-in

Increased number of GFAP positive cells in the DG [104]

Reduced life span, growth retardation, facial dysmorphia, cardiomegaly, epileptic seizures [104]

Raf1

Raf1 heterozygous knockout

Small granule cell volume, increased cell death, reduced neuronal maturation [105]

Postnatal lethality, growth retardation, apoptosis in the lung and liver, limbs coordination problems [106]

Raf1L613V heterozygous knock-in

Increased density of astrocytes, enhanced OPCs density [107]

Enhanced learning and memory [107]

Mek1/2

Mek1Y130C homozygous knock-in

Increased astrocyte density, increased number of cortical oligodendrocytes [108]

Pulmonary artery stenosis, cranial dysmorphia [108]

Nestin-dependent Mek1/2 ablation

Decrease of astrocyte precursors and OPCs, failure of gliogenesis [109]

Early postnatal lethality [109]

hGFAP-dependent Mek1/2 ablation

Suppressed generation of astrocyte precursors and OPCs, failure of gliogenesis [109]

Postnatal lethality [109]

hGFAP-dependent Mek1S218E,S222E

Increase in astrocyte precursors and mature astrocytes, reduction of neuron number [109]

Not described
RAS-ERK signaling and nervous system development
The RAS-ERK signaling pathway is tightly regulated during CNS development and many studies have demonstrated that the dysregulation of this signaling pathway results in aberrant brain development. There are a number of studies demonstrating that ERK1/2, the final effectors of RAS-ERK signaling, are involved in cell proliferation and differentiation in the nervous system [110]. Activation of ERK signaling is required for neural stem cells (NSCs) to maintain their ability to self-renew and form neurospheres, indicating that ERK may act as a critical regulator in the maintenance of NSCs [111]. In addition, it has also been shown that ERK signaling promotes neuronal survival by multiple mechanisms [112, 113]. For example, an ERK-activated kinase, ribosomal S6 Kinase (RSK), phosphorylates the pro-apoptotic protein BAD and suppresses BAD-mediated apoptosis in neurons [112]. ERK was also shown to regulate the activation of anti-apoptotic regulators, such as Bcl-2, CREB, and STAT3/5, and subsequently promote cell survival [112, 114, 115]. However, in spite of the crucial role of ERK in neuronal survival, aberrant and long-lasting ERK activation has also been implicated in neurodegenerative diseases [116, 117].
Several studies have implied that the MEK/ERK signaling cascade has a crucial role in neurogenesis. ERK2 is necessary for regulating the proliferation of neurogenic precursors and the positive regulation of neurotrophin-induced neurogenesis by the MEK-C/EBP pathway during cortical development [118, 119]. Despite the evidence that MEK is required for neurogenesis, in vivo and in vitro studies have demonstrated that ERK also regulates and maintains the pool of glial populations in the developing brain [109]. NSC-specific ablation of Mek1/2 induces a complete blockade of glial specificity and gliogenesis failure, while Mek1 gain of function promotes precocious glial progenitor specification in mice [109]. Several studies have demonstrated that in vitro, Erk1 and Erk2 are critical components of proliferation in cultured rat astrocytes, and that MEK/ERK signaling induces gliogenic signals, such as SDF-1a and FGF2 [120, 121, 122]. Consistently, treatment with the MEK inhibitor PD98059 induced a reduction in astrocytic growth, suggesting that MEK/ERK signaling is involved in astrocyte proliferation [122]. In addition, the chemical inhibition of MEK also impairs the ability of oligodendrocyte precursors to differentiate into mature oligodendrocyte in vitro, suggesting that both oligodendrocytes and astrocytes are regulated by ERK signaling [103]. Several studies demonstrated that the pharmacological inhibition of ERK1/2 signaling in oligodendrocyte progenitors negatively regulates differentiation and the transition of early progenitors to late oligodendrocyte progenitors [123, 124, 125]. Furthermore, ERK signaling promotes oligodendrocyte myelination [126]. However, there are conflicting results about the role of ERK signaling in the differentiation of oligodendrocyte progenitors into mature oligodendrocytes. Recently, Suo and colleagues demonstrated that MEK inhibitors significantly enhance the differentiation of oligodendrocyte precursor cells into oligodendrocytes in vitro and in vivo [127]. Consistently, many studies have suggested that increased ERK activity negatively regulates oligodendrocyte differentiation. For example, ERK1/2 activation, which is induced by high dose stimulation of neuregulin-1 or fibroblast growth factor-2 in mature oligodendrocytes, results in downregulated myelin proteins and aberrant cell cycle re-entry [128, 129, 130].
The RAS-ERK signaling pathway also regulates the expression of transcription factors, such as cell fate determinants. Numerous studies demonstrated that the enhanced activity of RAS-ERK signaling induces the expression of the transcription factor OLIG2, which promotes the fate of NSCs to the glial lineage [85, 90, 108]. Furthermore, the activation of RAS-ERK signaling promotes the expression of the pro-neural gene Achaete scute-like 1 (Ascl1) but blocks pro-neural gene Neurogenin 2 (Neurog2) expression. Neurog2 specifies glutamatergic neuronal cell fate in dorsal progenitors, while Ascl1 specifies neocortical gamma-aminobutyric acidergic (GABAergic) neurons and oligodendrocyte precursor cells [131, 132, 133]. Therefore, during normal early developmental stages, RAS-ERK signaling activity is kept low so that Neurog2 is able to promote glutamatergic neuronal differentiation of embryonic cortical progenitors. However, in an abnormal context where the RAS-ERK signaling is elevated, Neurog2 expression is switched to Ascl1 expression [134]. During moderate activation of RAS-ERK signaling, Ascl1 expression promotes GABAergic neuronal differentiation, while Ascl1 promotes proliferative glioblast phenotypes when RAS-ERK signaling is highly active [134].
RAS interacts with and regulates other signaling pathways in addition to the MEK/ERK cascade. As one of the main effector pathways of RAS, the phosphatidylinositol 3-kinase (PI3K)-AKT pathway regulates protein synthesis and variety of cellular processes such as cell growth, cycle entry, and cellular survival [135, 136, 137]. The Ras and PI3K-AKT pathway were shown to activate and inhibit each other via multiple cross-talks [138]. Studies using rodent models have reported distinct phenotypes and revealed a pivotal role of PI3K signaling in nervous systems. For instance, deleting a PI3K isoform PI3Kγ in mice impaired synaptic plasticity and behavioral flexibility, while its overexpression through viral vector resulted in impaired synaptic plasticity and spatial learning [139, 140]. The Janus kinase (JAK)-signal transducer and activator of transcription (STAT) pathway is also a well characterized cascade known to interact with RAS-ERK [141]. JAK activation stimulates cell proliferation, differentiation, cell migration and apoptosis, and there are compelling evidences that JAK-STAT pathway plays essential roles in synaptic plasticity [142].
RASopathies and central nervous system development
Concluding remarks
Here, we reviewed that mutations in different components of the RAS-ERK signaling pathway associated with different RASopathies have distinct impacts on CNS development in a cell type-specific manner (Fig.
2
). However, it is still unclear how some mutations affect neurons and others affect glia. One hypothesis is that different signaling molecules are expressed at distinct phases during development. So far, we do not have the expression profiles of RAS signaling molecules during brain development in high spatial and temporal resolution. However, most of the key RAS-ERK components, such as NF1, SHP2, BRAF, and MEK1/2, begin to be expressed before either embryonic day 10 or 15, which are initiation time points of neurogenesis or astrogliogenesis, respectively [
212
]. Recently, it has been shown that the expression of RAS-ERK signaling molecules was remarkably different between excitatory and inhibitory neurons in mouse hippocampus [
162
]. Thus, it would be interesting to examine whether the expression levels of various signaling molecules are differentially regulated in NSCs over different developmental stages. Advanced tools, such as single cell RNA-seq, might be useful to answer this question. It should also be considered that there are multiple cross-talks between RAS and other signaling pathways. Different components in RAS signaling interact with distinct signaling networks, which may account for the cell type-specific developmental deficits in each RASopathy.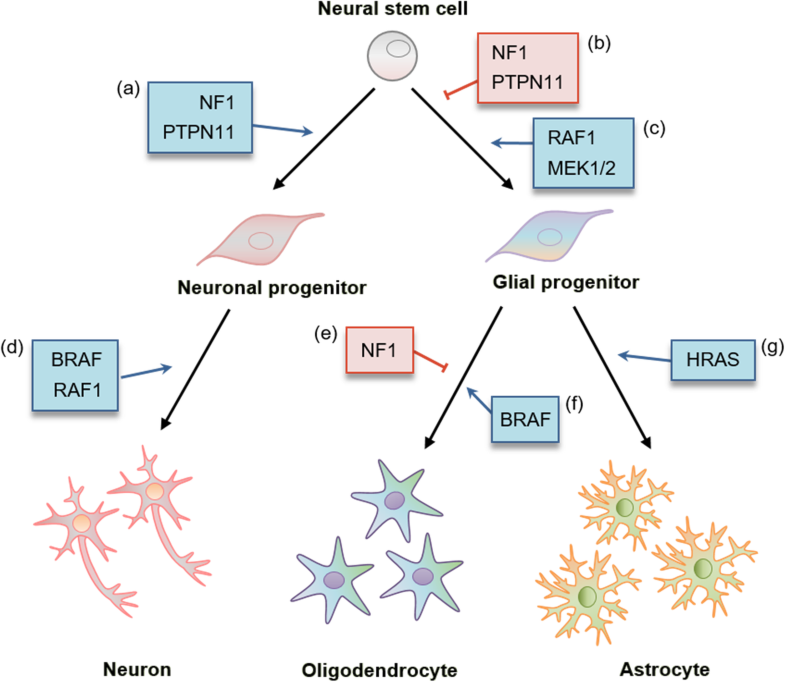 Treatments for the cognitive deficits found in RASopathies are not available yet. Since most RASopathy-associated mutations increase RAS-ERK activation, downregulating the activity of RAS or its downstream effectors is an obvious strategy to develop treatments for RASopathies. Although statins, which can reduce RAS activity by inhibiting the farnesylation of RAS, have been proposed for the improvement of learning disabilities in NF1 children [213], the results from various clinical trials have been inconsistent [214, 215, 216]. The reason for these discrepant results remains unclear. However, considering the ubiquitous expression of RAS in many cell types and multiple organs, directly regulating RAS activity may have unknown confounding effects. Thus, it would be better to target specific molecules other than RAS in a disease-specific manner. For example, Omrani and colleagues showed that inhibitory neuron-specific attenuation of hyperpolarization-activated cyclic nucleotide-gated (HCN) currents can be an underlying mechanism for the cognitive deficits in Nf1+/- mice when they used an HCN agonist to rescue cognitive deficits in Nf1+/- mice [217]. Recently, Ryu and colleagues showed that selectively reducing the interaction between mutant SHP2 and Gab1 in excitatory neurons reversed the physiological and behavioral deficits in a mouse model of NS [162]. Conditional mutant mice with higher spatial and temporal resolution will provide clues when, where, and which cell types are most suited for interventions.
Lastly, it should be noted that most of the RASopathy mechanism studies have used mice as a model system. Mouse models have many advantages and can be used to study neuropsychiatric disorders because the majority of neuropsychiatric drugs used in humans were shown to be, at least partially, effective in mouse models [218]. However, caution is still warranted. Nowadays, it has become relatively easy to model diseases in vitro using iPSC and several iPSC lines are available to study RASopathies, allowing for parallel and comparative analyses in vitro and in vivo.
Notes
Acknowledgements
Authors thank Jae Yoon Hwang for proofreading the manuscript and all the members of laboratory of neurophysiology for their comments on the manuscript.
Authors' contributions
Y-SL and MK contributed to conception. MK and Y-SL reviewed the literatures and wrote the manuscript. MK generated figures and tables. Both authors read and approved the final manuscript.
Funding
This work was supported by the NRF-2016H1A2A1907206 grant to M.K. and the NRF-2019R1A2C1084232, NRF-2019R1A4A2001609 and NRF-2017M3C7A1026959 grants to Y.-S.L.
Ethics approval and consent to participate
Not applicable
Consent for publication
Not applicable
Competing interests
The authors declare that they have no competing interests.
Copyright information
© The Author(s). 2019
Open AccessThis article is distributed under the terms of the Creative Commons Attribution 4.0 International License (http://creativecommons.org/licenses/by/4.0/), which permits unrestricted use, distribution, and reproduction in any medium, provided you give appropriate credit to the original author(s) and the source, provide a link to the Creative Commons license, and indicate if changes were made. The Creative Commons Public Domain Dedication waiver (http://creativecommons.org/publicdomain/zero/1.0/) applies to the data made available in this article, unless otherwise stated.