Delivery systems of CRISPR/Cas9-based cancer gene therapy
Abstract
CRISPR/Cas9 (Clustered Regularly Interspaced Short Palindromic Repeats) is today one of the most reliable method for gene-editing, supporting previous gene therapies technologies such as TALEN, Meganucleases and ZFNs. There is a growing up number of manuscripts reporting several successful gene-edited cancer cell lines, but the real challenge is to translate this technique to the clinical practice. While treatments for diseases based on a single gene mutation is closer, being possible to target and repair the mutant allele in a selective way generating specific guide RNAs (gRNAs), many steps need to be done to apply CRISPR to face cancer. In this review, we want to give a general overview to the recent advancements in the delivery systems of the CRISPR/Cas9 machinery in cancer therapy.
Keywords
CRISPR 
Delivery systems 
Gene-editing 
Cancer 
Gene therapy 
Abbreviations
AAV

Adeno-associated virus

ArgNPs

Arginine gold nanoparticles

AV

Adenovirus

BER

Base Excision Repair

CAR

Chimeric antigen receptor

Cas

CRISPR associated

CPP

Cell penetrating peptide

CRISPR

Clustered regularly interspaced short palindromic repeats

DSBs

Double strand breaks

EMT

Epithelial to Mesenchymal Transition

GEMMs

Genetically engineered mouse models

gRNA

Guide RNA

HDR

Homologous Directed Repair

IDLVs

Integration-deficient lentiviral vectors

LHNPs

Liposome-templated hydrogel nanoparticles

LVs

Lentiviruses

NHEJ

Non Homologous End Join

NLS

Nuclear localization sequence

PAM

Protospacer-adjacent motif

RNP

Ribonucleoprotein
Introduction
Cancer, unlike other genetic diseases such as Duchenne Muscle Dystrophy, HPV, HBV, Cystic Fibrosis, etc., relies on several genetic mutations. Indeed, it is widely known that dysregulation of not a single gene, but multiple genes leads to cancer. Therefore, the first issue for cancer gene therapy is that editing a single gene is often not sufficient. From these considerations, it is very important to understand the role of every single mutation that accumulate during cancer progression, in particular for those genes whose alterations play crucial roles in metastasis. Moreover, to complicate a yet hard to understand disease, being multifactorial and multigenic derived, many mutations occur stepwise during progression from early stage tumors to late ones [
1
]. The pool of cells composing the tumor bulk presents several genetic alterations but during tumor evolution, the gatekeeper mutations provide a selective growth advantage to some clones that acquire the capacity to resist therapies and keep growing, thus overwhelming the surrounding cells [
2
,
3
,
4
]. In order to restore the sensitivity to chemo- and radiotherapies the genes responsible for resistance should be corrected. Indeed, several studies are currently ongoing on the use of CRISPR to knockout gain-of-function tumor mutations [
5
]. CRISPR (Clustered Regularly Interspaced Short Palindromic Repeats) is a prokaryotic adaptable immune mechanism exploited by bacteria and archaea to protect themselves from foreign nucleic acids. This complex system, which has been adapted to be used in laboratory practice, can recognize and cut DNA to provide a complete and high selective gene editing in vitro and in vivo. The possibility to be used in clinical treatment for several genetic derived pathologies has rapidly spread its fame worldwide [
6
]. Another obstacle in the race for the perfect gene therapy is that, the therapeutic translation of the CRISPR/Cas9 system lacks an appropriate delivery carrier [
7
]. Even when a specific molecular target is available to select tumor cells, it is quite hard to identify an accurate transport system, which may contain all the machinery. To overcome this issue, researchers exploited several kinds of carriers, from viral delivery system to cation lipids, from nanoparticles to nanomolecular DNA traps, each one with pro and cons to be considered accurately (Fig. 
1
). In this review, we will consider the most reliable and used delivery methods worldwide but being the CRISPR-based therapies still at the beginning of their development, many aspects need to be further investigated in the future.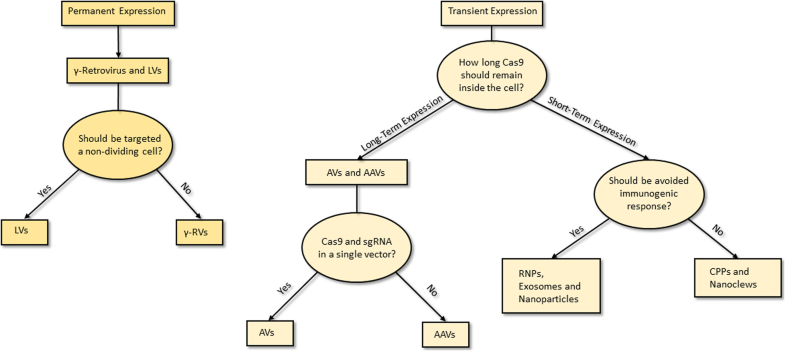 Discussion
To date, gene therapy and CRISPR represent not only the hopes for many patients affected by monogenic diseases, such as Duchenne Muscle Dystrophy [
61
], Cystic Fibrosis [
62
], familial hypercholesterolemia [
63
] and viral infections, like HPV [
64
], HBV [
65
], HIV [
66
] but also the possibility to improve the life quality of many people fighting against multifactorial syndromes such as diabetes [
67
], Alzheimer [
68
] and Parkinson [
69
]. However, while it is feasible to study and edit a single mutation, it is difficult to restore the correct expression of different mutated genes like in cancer. We do believe that even if the genetic profile of many tumors is well known and many mutations are recurrent depending on the tumor tissue, personalized medicine development may fuel the knowledge of CRISPR targets. Thus, cancer gene therapy based on CRISPR use might strike selective mutations or genes important for the tumor survival, combining this genetic therapy with the use of chemotherapies in order to hit the tumor with different approaches at the same time. Moreover, cancer does not offer a specific and universal molecular target to direct selectively a therapy to tumor cell only avoiding side effects on healthy cells. The most important marker commonly reported is HER2, that is overexpressed in some subset cases of breast, ovarian, gastric, colorectal, pancreatic and endometrial cancers, targeted by Trastuzumab [
70
], but in the majority of cases the lack of specific markers make promising target therapies non-exploitable. CRISPR based gene therapy offer the advantage that a specific designed gRNA could target precisely only one mutation. Therefore, in case CRISPR machinery is delivered into a non-mutated cell, at least theoretically, it does not perform any knockout or editing and its components should be rapidly removed. On the other hand, this gene-editing platform is not completely error proof and in particular, when gRNAs are not specific and Cas9 is expressed at high levels, it could lead to off-target effects [
71
]. The delivery system plays a crucial role as well, enabling the CRISPR machinery to reach all the mutated cells, avoiding mosaicism effects due to low loading and releasing capacity [
72
]. There are several delivery methods used in vivo and in vitro currently evaluated for their applicability in human gene therapy. Hydrodynamic injection can deliver large macromolecules such as RNPs in vivo by injecting a solution intravenously at extremely high volume and pressure thus causing the temporary opening of pores in the vasculature through which molecules enter penetrating into several tissues. While this method has successfully allowed to deliver plasmids encoding Cas9 and gRNA into the heart, lungs, liver, and kidney tissue [
73
] of mice, its use is restricted to small animal models due to the large injection volume, making it not currently appropriate for human application. Electroporation is another transfection methods recently highly optimized for genome editing used in ex vivo cell therapy, such as reported above for CAR-T cells reprogramming, but currently not feasible for in vivo clinical use [
74
]. Virus represents one of the most intriguing ways to efficiently deliver the content of the CRISPR machinery in tumor cells. In particular, AVs and AAVs are exploited thanks to their capacity to transport plasmids encoding the gRNA and the Cas9 with a short-term expression. Indeed, LVs are usually less used due to their ability to integrate into the host genome possibly causing oncogenic and/or heritable mutations. One possible alternative to canonical LVs is to exploit the mutations of the integrase viral enzyme that prevents proviral integration resulting in increasing the expression levels of circular vector episomes in infected cells [
75
]. Therefore, these integration-deficient lentiviral vectors (IDLVs) are gradually lost by dilution in dividing cells and are stable for longer period in quiescent cells. IDLVs, compared to wild-type LVs, have a significantly reduced risk of causing insertional oncogenic mutations and the transient expression of CRISPR machinery decreases also the risk of off-target effects (Table 
1
). Moreover, to increase the efficiency and the specificity of viral-mediated gene-editing delivery, viruses can be mixed with other viruses' parts, creating new hybrids, or fused with small molecules such as synthetic polymers and inorganic nanoparticles [
76
]. However, the most remarkable breakthrough in the last few years is the use of RNPs. The exogenous form of Cas9 complexed with the target gRNA confers great specificity and efficiency without the issue related to the immunogenic response. Moreover, RNPs may be transfected into cells both via electroporation and lipofection for the in vitro and via conjugated liposomes for the in vivo practice. Particularly interesting is the combination of liposomes with exosomes reported by Li et al. creating a new hybrids [
77
]. This simple system, encapsulating CRISPR machinery via an incubation with exosomes and liposomes, makes the resultant hybrid nanoparticles easily endocytosed by hard to transfect cells and it does not give rise to immunogenic response. ArgNPs were also reported to be one fascinating and extremely efficient method that could be coupled with the use of gold nanoparticles for therapeutic practice. Indeed, gold nanoparticles demonstrated a great potential in the ablation of solid tumors [
49
,
50
], an innovative approach that could be potentiated by CRISPR-mediated gene therapy. There are many other new technologies to deliver CRISPR/Cas9 such as CPPs and Nanoclews but with the evident limit posed by the strong immunogenic response reported in the in vivo experiments. Moreover, while in monogenic diseases is often sufficient to edit a limited number of cells to observe a biological effect, in cancer gene therapy the great issue is to target the population of cancer cells, which have a growth advantage over the healthy tissues, diluting quickly the number of edited cells and thus making the treatment ineffective. As a result, repeated injection are needed and higher editing efficiencies are strongly required to be therapeutic, which is challenging for the current CRISPR technologies [
78
].
Table 1
Pros and Cons analysis of the delivery methods. na: not applicable
System

Pros

Cons

Packaging

Size

Immunogenicity

Insertional Mutagenesis

Tissue/Cell Tropism

Ref.

AVs

High packing capacity

High immunogenic response

> 8 Kb

High

No

Yes

AAVs

Low immunogenic response, small viral particle size

Low packing capacity

⁓4.5 Kb

Tissue dependent

No

Yes

γ-Retroviruses

High packing capacity

Only dividing cells can be infected, genome integration of target sequence and high risk of oncogenic mutations

< 8 Kb

Moderate

Yes

Yes

[21]

LVs

Low

immunogenic response

Genome integration of target sequence and high risk of oncogenic mutations

< 8 Kb

Low

Yes

No

RNPs

Low

immunogenic response

Cells cannot be selected with antibiotics or fluorescent markers

na

Low

No

No

CPPs

No transfection reagents need to be used

Cas9 needs to be chemically conjugated to CPPs

na

CPP dependent

No

No

Exosomes

Low

immunogenic response, Self-accumulating in tumor mass

Low

efficiency of encapsulation, easily degraded

Exosome size dependent

Low

No

Yes

Nanoparticles

Can be conjugated with chemical or physical compounds

Difficult to use

na

Nanoparticle dependent

No

Nanoparticle dependent

Nanoclews

Release dependent on the microenvironment conditions

High immunogenic response

na

High

No

Nanoclew dependent

IDLVs

Reduced risk of insertional oncogenic mutations

Genome integration of target sequence in non-dividing cells

< 8 Kb

Low

Only in non-dividing cells

No

[70]
Concluding remarks
In last, we can affirm that while gene therapy has found an innovative and extremely efficient tool in CRISPR/Cas9, many efforts need to be spent to find not only a specific molecular target for cancer, but also a selective delivery method. Indeed, many of the above described systems present several pitfalls that should be overstep in order to translate their use in clinical practice. For many years, the majority of the approved gene therapies was based on the use of AAVs and AVs while to date scientific community is developing nanoparticles-like structure that could be easily loaded with the gene-editing machinery, as plasmid or RNPs, and with low cytotoxic and immunogenic effects. Among the described delivery systems, we encourage the use of AVs and AAVs to study the molecular effects of in vitro gene editing. Indeed, the high efficiency and the possibility to positively select transfected cells via specific markers of selection allow generating pure edited cell lines from single cloned cells, generating a genetically homogenous population. Although this system is the most affordable and easy to be used in vitro, it is not totally feasible for cancer treatment. Moreover, human immune response to gene therapy may vary significantly depending on the tissue site of injection, with outcomes ranging from unresponsiveness (gene transfer in the eye, i.e. Luxturna for RPE65 mutation), to tolerance, to clearance of transduced cells. Conversely, RNPs could be used as well but with the disadvantages that currently it is not available a selection markers as for plasmids. Thus, this method should be privileged when testing in vitro new molecular targets to be translated in in vivo applications. In last, among the most promising approaches, several fascinating gene therapies based on the use of chimeric viruses are also in development, which will let to generate high selective and specific organotropic lentiviral particles.
Future perspective
We do believe that in future the attention of the worldwide research should be pointed to develop new cell-based delivery systems for the human gene therapy. These approaches based on the use of autologous cells derived from patients will let us to exploit their natural homing capacities and to set to zero all cytotoxic and immunogenic effects. The so obtained cells could be easily edited in vitro to be used as shuttle for the CRISPR machinery, which may be transferred to cancer cells via the fusion of the cellular membranes, exploiting specific fusion protein like Sendai virus-derived Protein F and Hemagglutinin-Neuraminidase [79, 80]. Indeed, it is widely known to date that Sendai, exposing the above described proteins on the surface of the infected cell membrane, can generate syncytia. Thus, expressing the two fusion protein under control of an inducible promoter it may be possible to transduce a genome editing machinery, such CRISPR, among cells. Engineering autologous cells collected from patients, that retain a natural tropism for tumors, such as endothelial progenitor cells, with the fusion machinery and expressing the CRISPR system targeting one or more oncogenes may produce a syncytium where the oncogenes expression is abrogated, involving nearby cells. Such mechanism could then be stopped thanks to the inducible promoter control and the syncytium formation may fuel the inflammatory response, priming the action of the immune system. Currently such cancer cell-based treatments are studied as potential theranostic therapies [81] but if further developed, they might become also an interesting carrier for gene-editing therapies.
Notes
Acknowledgements
Not applicable.
Funding
Dr. Alessio Biagioni was supported by a post-doctoral fellowship of the Italian Foundation for Cancer Research (AIRC);
Availability of data and materials
All data generated or analysed during this study are included in this published article;
Authors' contributions
Conception and design: GF, MDR and AB. Writing, review, and/or revision of the manuscript: AB and MDR; FM, AC and AL searched the literature, edited the manuscript and revised English draft. All authors read and approved the final manuscript.
Ethics approval and consent to participate
Not applicable;
Consent for publication
Not applicable;
Competing interests
The authors declare that they have no competing interests;
Publisher's Note
Springer Nature remains neutral with regard to jurisdictional claims in published maps and institutional affiliations.
Copyright information
© The Author(s). 2018
Open AccessThis article is distributed under the terms of the Creative Commons Attribution 4.0 International License (http://creativecommons.org/licenses/by/4.0/), which permits unrestricted use, distribution, and reproduction in any medium, provided you give appropriate credit to the original author(s) and the source, provide a link to the Creative Commons license, and indicate if changes were made. The Creative Commons Public Domain Dedication waiver (http://creativecommons.org/publicdomain/zero/1.0/) applies to the data made available in this article, unless otherwise stated.