The potential role of P.gingivalis in gastrointestinal cancer: a mini review
Part of the following topical collections:
Abstract
Bacterial infection may be involved in the entire process of tissue carcinogenesis by directly or indirectly affecting the occurrence and development of tumors. Porphyromonas gingivalis (P.gingivalis) is an important pathogen causing periodontitis. Periodontitis may promote the occurrence of various tumors. Gastrointestinal tumors are common malignant tumors with high morbidity, high mortality, and low early diagnosis rate. With the rapid development of molecularbiotechnology, the role of P.gingivalis in digestive tract tumors has been increasingly explored. This article reviews the correlation between P.gingivalis and gastrointestinal cancer and the pathogenesis of the latter. The relationship among P.gingivalis, periodontal disease, and digestive tract tumors must be clarifiedthrough a multi-center, prospective, large-scale study.
Keywords
Porphyromonasgingivalis
Periodontitis 
Gastrointestinal cancer;esophageal cancer 
Pancreatic cancer 
Introduction
Pathogen infection is one of the main causes of chronic inflammation, and the most common types are bacterial and viral infections [1]. With the development of clinical medicine, a fundamental has shift occurred in the link between bacteria and cancer [2]. Tumorigenesis may be associated with inflammation. Bacterial infection may participate in the entire process of carcinogenesis by directly or indirectly affecting the occurrence and development of the disease. [1] Chronic infection may be involved in 17~28% of the morbidity and death of patients with cancer in countries such as China and South Korea [3].
The human flora plays an important role in normal physiological activities [4], and carcinogenesis [5]. More than 700 kinds of bacteria exist in the normal oral cavity, and these include at least 11 mycobacteria and 70 genera [6], among which red complex is an important pathogenic bacterium for periodontal disease [7]. Red complex consists of P.gingivalis, Treponema denticola (T. denticola) and Tannerellaforsythia [7]. All three are Gram-negative anaerobic bacteria, which can express virulence factors to interfere in the defense system,and invade and destroy periodontal tissue and host immune function [7].
The morbidity rate of periodontitis is approximately 10.0~17.6%, and it is often accompanied with increasing levels of inflammatory factors [8]. The definition "chronic periodontitis" has been replaced in the new periodontal diseases classification [9], the forms of the disease previously recognized as "chronic" or "aggressive", now grouped under a single category, "periodontitis". In this study we have made changes according to the latest standards. Pathogenic bacteria can spread to the blood and even to the brain [10], and they are associated with various of systemic diseases and cancers [11, 12]. Periodontitis can cause tooth loss, and meta-analyses [13] suggest that tooth loss and alimentary canal cancer are remarkbaly correlated and exhibit a dose–effect relationship, that is, the overall risk of cancer increases by 9% for every 10 teeth lost, and esophageal cancer (+ 14%), gastric cancer (+ 9%), head and neck cancer (+ 31%), colorectal cancer (+ 4%) and pancreatic cancer (+ 7%) [13].
P.gingivalis is an important pathogenic bacterium that mediates the local inflammatory response of periodontitis [14], adhere to and invade gingival epithelial cells, interfere with normal physiological metabolism, and inhibit apoptosis [15], which is a potential risk factor for cancer [16]. Gastrointestinal cancer involves common malignant tumors with high morbidity and mortality, low diagnostic rate in the early stage, huge consumption of medical resources [17], high treatment cost for patients at the late stage, and poor effects. Furthermore, the early diagnosis rate of digestive tract tumors is low [18, 19], and advanced treatment costs are high and have poor effects, therefore tumors have become the main healthcare burden of Chinese residents [20]. Domestic and foreign researches have shown a correlation between P. gingivalis and digestive tract tumor [21, 22]. This article systematically evaluates the results of recent studies to provide clinical assistance.
Conclusion and future studies
Severe periodontitis, is an important risk factor of gastrointestinal cancer that severely threatens human health. Controlling periodontitis contributes to early cancer prevention.
P. gingivalis
is probably an important risk factor of gastrointestinal cancer, especially for oral cancer, esophageal cancer, colorectal cancer and pancreatic cancer (Fig. 
1
). Investigations on the relationship among
P. gingivalis
, periodontitis, and gastrointestinal cancer are crucial, but multicenter, prospective, and large-sample studies are necessary.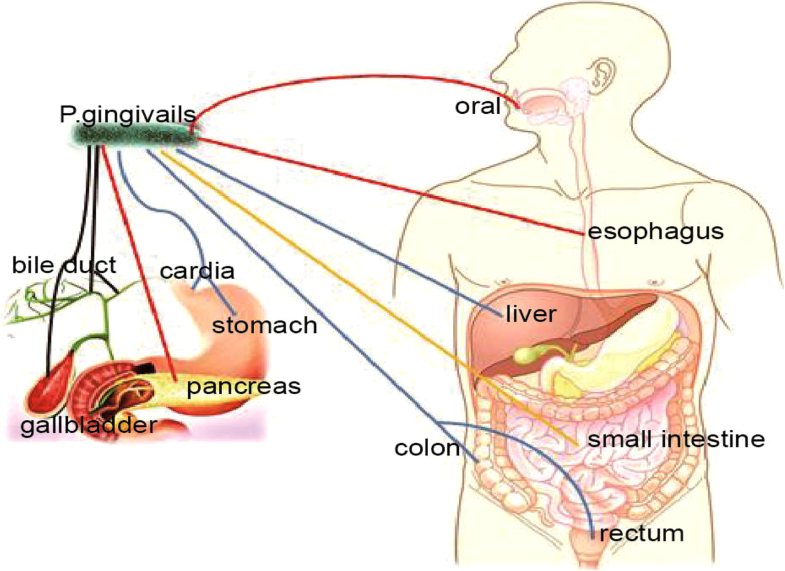 To date, many studies have supported that periodontitis is a potential risk factor of human diseases. The morbidity rates of periodontal infection and systemic disease have remarkably increasedin previous decades, and the correlation between the diseases and pathogenesis remains unclear [91]. Recently, scientist [92] showed that microorganisms can be used for cancer treatment, but whether P. gingivalis is beneficial to human health remains unclear. The pathogenic mechanism of P. gingivalis must be further explored to provide a new direction for cancer prevention and treatment, and to improve the health level and quality of life of patients suffering from this disease.
Notes
Acknowledgments
We sincerely thank professor Guo-jian Xie from department of gastroenterology of Taihe hospital for her unselfish help in this study.
Authors' contributions
LXB – main author, data extraction, wrote main manuscript. GZY– wrote abstract and summary, data collection. SCT –data collection, translation. WH– data extraction, data collection. GB –prepare Fig. 1 data collection. LSB –manuscript review, gastrointestinal oncology specialist consulation. TQ- wrote main manuscript, data collection, Gastrointestinal oncology specialist consulation. All authors read and approved the final manuscript.
Funding
This study was funded by the doctor's start-up fund of Taihe Hospital (2012QD09),and the 2016 Joint Diagnostic Medicine Research Project of Taihe Hospital (2016JZ02).
Ethics approval and consent to participate
Since all data are based on published literature, this study does not address any ethical issues.
Not applicable.
Consent for publication
Not applicable.
Competing interests
The authors of this work have nothing to disclose and the authors have declared that no competing interests exist.
Copyright information
© The Author(s). 2019
Open AccessThis article is distributed under the terms of the Creative Commons Attribution 4.0 International License (http://creativecommons.org/licenses/by/4.0/), which permits unrestricted use, distribution, and reproduction in any medium, provided you give appropriate credit to the original author(s) and the source, provide a link to the Creative Commons license, and indicate if changes were made. The Creative Commons Public Domain Dedication waiver (http://creativecommons.org/publicdomain/zero/1.0/) applies to the data made available in this article, unless otherwise stated.