Recent advances and perspectives of metabolomics-based investigations in Parkinson's disease
Abstract
Parkinson's disease (PD) is the second most prevalent neurodegenerative disease of the central nervous system (CNS), which affects mostly older adults. In recent years, the incidence of PD has been dramatically increasing with the aging population expanding. Due to the lack of effective biomarkers, the accurate diagnosis and precise treatment of PD are currently compromised. Notably, metabolites have been considered as the most direct reflection of the physiological and pathological conditions in individuals and represent attractive candidates to provide deep insights into disease phenotypes. By profiling the metabolites in biofluids (cerebrospinal fluid, blood, urine), feces and brain tissues, metabolomics has become a powerful and promising tool to identify novel biomarkers and provide valuable insights into the etiopathogenesis of neurological diseases. In this review, we will summarize the recent advancements of major analytical platforms implemented in metabolomics studies, dedicated to the improvement and extension of metabolome coverage for in-depth biological research. Based on the current metabolomics studies in both clinical populations and experimental PD models, this review will present new findings in metabolomics biomarkers research and abnormal metabolic pathways in PD, and will discuss the correlation between metabolomic changes and clinical conditions of PD. A better understanding of the biological underpinning of PD pathogenesis might offer novel diagnostic, prognostic, and therapeutic approaches to this devastating disease.
Keywords
Parkinson's disease 
Metabolomics 
Biomarker 
Metabolic pathway 
Abbreviations
6-OHDA

6-hydroxydopamine

8-OHdG

8-hydroxy-2-deoxyguanosine

8-OHG

8-hydroxyguanosine

AUC

Area under the curve

BCAA

Branched chain amino acid

CE

Capillary electrophoresis

CL

Cardiolipin

CSF

Cerebrospinal fluid

DOPAC

Dihydroxyphenylacetic acid

ECA

Electrochemical detection

GC

Gas chromatography

HVA

Homovanillic acid

IT

Ion trap

LC

Liquid chromatography

LID

L-dopa induced dyskinesia

MPTP

1-methyl-4-phenyl-1,2,3,6-tetrahydropyridine

MS

Mass spectrometry

MSA

Multiple system atrophy

NMR

Nuclear magnetic resonance

PAP

Progressive supranuclear palsy

PD

Parkinson's disease

PLS-DA

partial least squares-discriminate analysis

PPMS

Primary progressive multiple sclerosis

Q

Quadrupole

QqQ

Triple quadrupole

RPLC

Reverse-phase liquid chromatography

HILIC

Hydrophilic interaction liquid chromatography

SCFAs

Short chain fatty acids

TBI

Traumatic brain injury

TCA

Tricarboxylic acid

TOF

Time of flight

α-Syn

α-synuclein
Background
Parkinson's disease (PD) is a progressive, multi-focal neurodegenerative disorder, affecting approximately 1% of people over the age of 60 [1, 2]. The diagnosis of PD mainly relies on clinical symptoms, medical history, and response to dopaminergic treatment, which results in a high rate of misdiagnosis in the clinical practice of PD [3, 4]. In addition, the clinical manifestations of PD patients usually lag behind the underlying pathological changes in the brain, making the early diagnosis of PD a great challenge [5]. Currently, the most commonly used therapeutic strategy for PD, dopamine replacement therapy, can only improve the clinical motor symptoms and is incapable of slowing or halting disease progression. Markedly, long-term medical treatment can lead to serious, irreversible motor complications, such as L-dopa induced dyskinesia (LID) [6]. Although, a range of biomarkers derived from clinical, neuroimaging, genetic, and biochemical studies have been proposed [7, 8, 9, 10, 11, 12], sensitive, specific, and reliable biomarkers for PD remain elusive. Deterioration of dopaminergic neurons within the substantia nigra pars compacta and the accumulation of intracytoplasmic inclusions known as Lewy Bodies are hallmarks of the PD pathobiology [13]. Currently, the proposed hypotheses for the pathogenesis of PD include protein misfolding and aggregation, mitochondrial injury, oxidative stress and inflammation [14, 15]. However, since PD is a multifactorial disease, it is likely that multiple mechanisms may contribute to its pathogenesis. Despite decades of research, the underlying etiopathogenesis of PD is still not fully elucidated. Given the lack of knowledge regarding the mechanisms that regulate the onset and progression of the disease pathology, new approaches dedicated to the discovery of specific biomarkers that offer more accurate diagnosis, and better monitoring of PD progression and prognosis are in urgent need. Furthermore, the identification of reliable targets might lead to the development of novel drugs, which could reverse the neurodegeneration and progression of PD.
Metabolomics is an emerging technique that aims to investigate the global changes of numerous metabolites within a given sample, followed by deep data mining and bioinformatic analysis [
16
,
17
] (Fig. 
1
). These metabolites are not only endogenous, but are also derived from the metabolism of pharmaceuticals, environmental chemicals, and the co-metabolism between host and gut microbiota [
17
]. Minor changes of endogenous and exogenous factors can be reflected at the level of metabolites; thus, the study of metabolomics has immense potential to link the genetic, environmental, and physiological elements to specific pathological states [
18
]. In the past decades, metabolomics has become a powerful tool for investigating metabolic processes, identifying potential biomarkers and unraveling metabolic reprogramming in various diseases [
5
,
19
,
20
,
21
]. Advancements and achievements in both biological sample preparation and instrumental techniques have made the high-throughput analysis of a broad range of metabolites possible, stimulating a great interest regarding its potential application in PD research.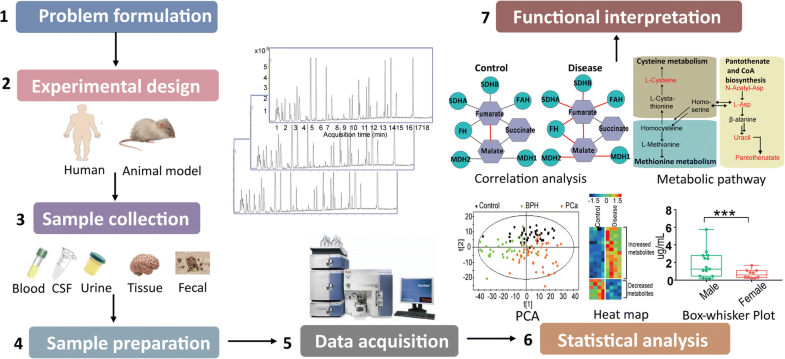 In this review, we summarized major improvements in analytical platforms and recent advancements in metabolomics studies, and discussed the advantage and limitation of each methodology. Then, we reviewed applications of metabolomics in PD research, and discussed the major metabolic findings in the metabolome of cerebrospinal fluid (CSF), blood, urine, feces and brain tissue in clinical populations as well as in experimental PD models. Finally, we outlined several abnormal metabolic pathways in PD, which may improve our knowledge on the molecular mechanisms mediating PD development, which can help develop new therapeutic strategies for this devastating disease.
Conclusions
Merits and caveats of metabolomics for PD research
Metabolic changes are the direct results of alterations in protein and enzyme activities. Therefore, metabolomics may offer valuable information on PD-related physiological process, molecular interactions and metabolic pathways. By providing an overall "fingerprint" of metabolite alterations in multiple biofluids and tissues, metabolomics has provided a myriad of potential biomarkers and therapeutic targets. Nevertheless, metabolomics is still in its infancy, particularly when it comes to PD research. The identification of the unknown metabolites is one of the major challenges. Although great progress has been made during the last decade, the public and commercial databases of metabolites are still limited and incomplete, the current metabolic findings may be only the "tip of the iceberg" of the whole picture of PD etiology. Another important issue is the heterogeneous nature of the individuals. Differences in genotype, medical history, disease progression, lifestyle and diet, etc. of the subjects are likely to affect their metabolome, which may obscure the direct influence from the disease. Besides, the reported works usually used different analytical techniques and different sample preparation methods based on different designs, thus it is not surprised to obtain controversial conclusions.
Future perspectives
Confirmatory studies based on optimized experimental protocols are urgently needed. The potential biomarkers and metabolic pathways revealed in the present studies require to be validated by independent large-scale populations. As highlighted above, further stratification of PD may allow the identification of specific targets among the different subtypes of PD. Also, a joint analysis of multiple biofluids and tissues using complementary analytical platforms should be employed in parallel to reveal the "bigger picture" for an in-depth biological investigation. It is noteworthy that other related diseases that have similar clinical symptoms with PD should be included in future studies. Identifying metabolites that are specifically changed in PD compared with controls and other related diseases will be of great significance for clinical differential diagnosis. In addition, accumulating evidences suggest that microbiome dysbiosis and changes in microbial metabolite levels are strongly associated with the pathogenesis of PD [74, 75]. Several metabolites involved in the regulation of brain function have been found in the gut, the concentrations of which can be regulated by gut microbiota, further influencing the function of neurons [110]. Given that metabolomics has been shown to be a powerful tool to fingerprint metabolic profiles in multiple matrices, the combination of metabolomics with other techniques, such as metagenomics, proteomics, and transcriptomics may lead to a better understanding of host–microbe interactions and yield potential novel biomarkers for PD diagnosis and therapeutic targets for effective treatment options.
Notes
Funding
This study was supported by National Natural Science Foundation of China (81430021, 81771521, 31700853) and Dalian Medical Science Research Project (1812008).
Availability of data and materials
Not applicable.
Authors' contributions
WL and YS conceived and designed the manuscript. YS did the literature search, writing and editing of the article. WL revised the manuscript, providing expertise in molecular neurodegeneration in PD. Both authors read and approved the final manuscript.
Ethics approval and consent to participate
Not applicable.
Consent for publication
Not applicable.
Competing interests
The authors declare that they have no competing interests.
Publisher's Note
Springer Nature remains neutral with regard to jurisdictional claims in published maps and institutional affiliations.
Copyright information
© The Author(s). 2019
Open AccessThis article is distributed under the terms of the Creative Commons Attribution 4.0 International License (http://creativecommons.org/licenses/by/4.0/), which permits unrestricted use, distribution, and reproduction in any medium, provided you give appropriate credit to the original author(s) and the source, provide a link to the Creative Commons license, and indicate if changes were made. The Creative Commons Public Domain Dedication waiver (http://creativecommons.org/publicdomain/zero/1.0/) applies to the data made available in this article, unless otherwise stated.