Implementation science in resource-poor countries and communities
Abstract
Background
Implementation science in resource-poor countries and communities is arguably more important than implementation science in resource-rich settings, because resource poverty requires novel solutions to ensure that research results are translated into routine practice and benefit the largest possible number of people.
Methods
We reviewed the role of resources in the extant implementation science frameworks and literature. We analyzed opportunities for implementation science in resource-poor countries and communities, as well as threats to the realization of these opportunities.
Results
Many of the frameworks that provide theoretical guidance for implementation science view resources as contextual factors that are important to (i) predict the feasibility of implementation of research results in routine practice, (ii) explain implementation success and failure, (iii) adapt novel evidence-based practices to local constraints, and (iv) design the implementation process to account for local constraints. Implementation science for resource-poor settings shifts this view from "resources as context" to "resources as primary research object." We find a growing body of implementation research aiming to discover and test novel approaches to generate resources for the delivery of evidence-based practice in routine care, including approaches to create higher-skilled health workers—through tele-education and telemedicine, freeing up higher-skilled health workers—through task-shifting and new technologies and models of care, and increasing laboratory capacity through new technologies and the availability of medicines through supply chain innovations. In contrast, only few studies have investigated approaches to change the behavior and utilization of healthcare resources in resource-poor settings. We identify three specific opportunities for implementation science in resource-poor settings. First, intervention and methods innovations thrive under constraints. Second, reverse innovation transferring novel approaches from resource-poor to research-rich settings will gain in importance. Third, policy makers in resource-poor countries tend to be open for close collaboration with scientists in implementation research projects aimed at informing national and local policy.
Conclusions
Implementation science in resource-poor countries and communities offers important opportunities for future discoveries and reverse innovation. To harness this potential, funders need to strongly support research projects in resource-poor settings, as well as the training of the next generation of implementation scientists working on new ways to create healthcare resources where they lack most and to ensure that those resources are utilized to deliver care that is based on the latest research results.
Keywords
Implementation 
Resource-poor settings 
Resources 
Capacity 
Reverse innovation 
Research methods 
Capacity building 
Many of the physical constraints that impede the routine delivery of effective health interventions to those who can benefit are (by definition) far more severe in resource-poor than in resource-rich countries. For instance, for each citizen, the resource-poor countries of sub-Saharan Africa spend only a fraction of the amount on health that the resource-rich countries of Western Europe spend, and the numbers of doctors and nurses per population are orders of magnitudes lower in Africa than in Europe (Fig. 
1
). At the same time, amenable mortality—i.e., the mortality that existing effective healthcare technologies could eliminate if they were delivered successfully to all those who can benefit—is far higher in resource-poor countries than in resource-rich ones (Fig. 
1
) [
1
,
2
]. This "inverse care law" in cross-country comparison—the "availability of good medical care tends to vary inversely with the need for it in the population served" [
3
]—is of course merely a global version of the classic inverse care law, which operates across communities within both resource-rich and resource-poor countries. In this editorial, we are addressing specific features of implementation science for both resource-poor countries and resource-poor communities, recognizing that scarcity and deprivation affecting the delivery of evidence-based healthcare exist worldwide and across all geographic areas and that there is a continuum from resource poverty to resource wealth in all countries.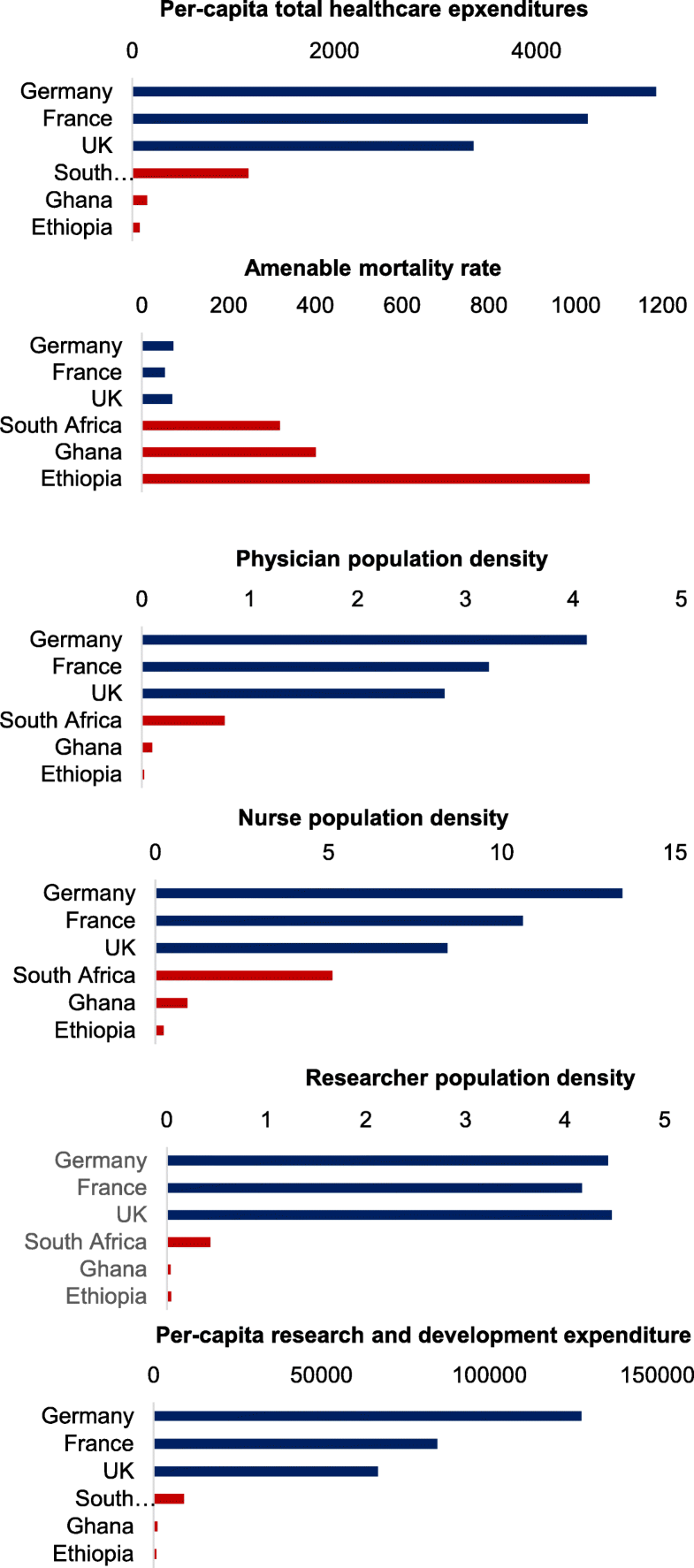 An obvious approach to reduce the high levels of amenable mortality in resource-poor countries and communities is to increase the financial resources available for healthcare. This approach, however, requires either substantial economic growth—which may fail to emerge in both resource-poor countries [4] and communities [5]—a redistribution of existing resources across sectors—which is difficult to achieve for obvious political reasons [6]—or external assistance—which cannot be relied on over the long term as donor priorities shift frequently [7, 8]. Another approach is to create new resources to deliver effective health interventions given the existing financial constraints. Implementation science can contribute to this approach as the science of the discovery, design, and evaluation of novel approaches to deliver evidence-based healthcare practice.
Notes
Funding
TB was supported by the Alexander von Humboldt Foundation through the Alexander von Humboldt Professor award, funded by the Federal Ministry of Education and Research; the Wellcome Trust; and the NICHD of NIH (R01-HD084233), NIA of NIH (P01-AG041710), and NIAID of NIH (R01-AI124389 and R01-AI112339), as well as FIC of NIH (D43-TW009775).
HMY is supported by an Australian Government Research Training Program (RTP) Scholarship, University of New South Wales, Sydney, Australia. The Kirby Institute is funded by the Australian Government Department of Health and Ageing, and is affiliated with the Faculty of Medicine, UNSW Sydney. AHRI receives core funding from the UK Wellcome Trust grant 082384/Z/07/Z and Howard Hughes Medical Institute.
Availability of data and materials
Not applicable
Authors' contributions
HMY and TB jointly conceived and wrote the manuscript. TB edited the manuscript for intellectual content and provided supervision. Both authors read and approved the final manuscript.
Authors' information
Till Bärnighausen is the Alexander von Humboldt University Professor and Director of the Heidelberg Institute of Global Health (HIGH) at the University of Heidelberg, Heidelberg, Germany.
H. Manisha Yapa is a medical specialist in Infectious Diseases and a PhD candidate at the Kirby Institute, University of New South Wales, Sydney Australia.
Ethics approval and consent to participate
Not applicable
Consent for publication
Not applicable
Competing interests
The authors declare that they have no competing interests.
Publisher's Note
Springer Nature remains neutral with regard to jurisdictional claims in published maps and institutional affiliations.
Copyright information
© The Author(s). 2018
Open AccessThis article is distributed under the terms of the Creative Commons Attribution 4.0 International License (http://creativecommons.org/licenses/by/4.0/), which permits unrestricted use, distribution, and reproduction in any medium, provided you give appropriate credit to the original author(s) and the source, provide a link to the Creative Commons license, and indicate if changes were made. The Creative Commons Public Domain Dedication waiver (http://creativecommons.org/publicdomain/zero/1.0/) applies to the data made available in this article, unless otherwise stated.