HIV prevention intervention for substance users: a review of the literature
Abstract
Background
Behavioral Interventions are needed to prevent HIV in substance users, which is associated with higher risk for contracting HIV via unprotected sexual intercourse or syringe-based exposure. We reviewed universal HIV prevention interventions targeting intravenous drug users (IDUs) and non-IDUs (NIDUs) to identify which prevention interventions are the most effective at reducing HIV transmission risk among IDU's and NIDU's and identify gaps in the literature.
Methods
A PubMed literature review (1998–2017), limiting studies to universal HIV prevention interventions targeting adult HIV-negative substance users. Interventions were compared across sample sizes, sociodemographic, intervention setting, study design, use of theoretical models, and intervention effects.
Results
Of 1455 studies identified, 19 targeted IDUs (n = 9) and NIDUs (n = 10). Both IDU and NIDU studies were conducted in substance use treatment centers and included both group (44% vs. 73%) and individual-based (56% vs. 27%) methods; only one NIDU study used a couple-based intervention. All IDU, and 89% of NIDU, studies used explanatory and behavior-change theoretical models to guide selection of intervention mechanisms. Reduction in frequency of risky sexual behaviors were observed in 33% IDU and 64% NIDU studies, where 56% of IDU studies effectively increased drug use-related hygiene and 67% decreased frequency of injections. Eight studies included start-of-study HIV testing and five examined HIV seroconversion.
Conclusion
The interventions reviewed demonstrate promising results for decreasing risky sexual practices for NIDUs and reducing high-risk drug practices for IDUs, thereby reducing HIV transmission risk. Future studies should include HIV testing and measurement of HIV seroconversion to fully elucidate intervention effects.
Keywords
Drug use disorder 
HIV/AIDS 
Injection drug users 
Behavioral interventions 
Intervention effectiveness 
Sexual behavior 
Universal HIV prevention interventions 
Introduction
In the era of highly active antiretroviral therapy (HAART), the incidence of new human immunodeficiency virus (HIV) diagnoses continues to remain high, with certain sociodemographic groups experiencing increased rates of HIV compared to the general population. Substance users in particular are at substantially increased risk of contracting HIV. The Substance Abuse and Mental Health Services Administration (SAMHSA) reports that approximately 81% of individuals living with HIV have used illicit substances at least once in their lifetime, with approximately 17% of HIV-positive individuals having used injectable drugs during their lifetime [1]. Sharing of needles and unprotected sexual contact are two high-risk behaviors that increase HIV transmission among substance users. Most individuals who contract HIV do so through unprotected sex, putting substance users at increased risk due to disinhibition as a result of intoxication, as well as through trading sexual favors for drugs [2].
Substance users belonging to marginalized sociodemographic groups are also at greater risk for contracting HIV. The Centers for Disease Control Drug Surveillance Report (2011–2016) indicated that of all injection drug users sampled, there were greater proportions of African-American (41.2%) HIV-positive injection drug users than white (32.5%) injection drug users [3]. Additionally, Hispanic injection drug users have a significantly higher estimated rate of HIV infection as compared to white non-Hispanic injection drug users, 4.9 per 100,000 people in the Hispanic population versus 0.9 per 100,000, respectively [4]. In addition, men who have sex with men (MSM) are at increased risk of substance-use related HIV infection, with 53% of substance use-related HIV cases comprised of MSM [1]. Reasons for the increased risk of contracting HIV in these particular sociodemographic groups may include lack of HIV and substance use education, lack of access to healthcare, discrimination, and increased stigma [2].
Furthermore, intravenous drug user (IDU) populations have different prevention needs than non-intravenous drug user (NIDU) populations. Some have reported that IDU populations require increased HIV testing and implementation of alternative programs to reduce sexual and drug use risk behaviors [5]. IDU populations also have higher transmission rates of HIV than NIDU populations due to widespread needle sharing practices, high rate of new injector initiation, and unsafe syringe cleaning practices [6, 7]. MSM who are also in the IDU population further have been reported to have increased violence, which should be considered in HIV prevention efforts [8]. Therefore, the IDU and NIDU populations should be separated to clearly define the best intervention methods for these differing groups at risk of contracting HIV.
Given the increased risk of HIV infection in substance users, universal interventions are needed to approach risk reduction. Universal interventions meaning prevention intervention efforts designed to reach the entire population of substance users rather than target specific subgroups of the population and focusing primarily on prevention of those who are not already HIV positive. Universal HIV prevention interventions including HIV education, drug use practices, and high-risk sexual practices may target multiple factors that contribute to increased risk among substance users. Although recent research showed that combined biomedical and behavioral approaches have the most potent effect on HIV risk reduction [9], the intervention topics that confer the greatest reductions in HIV risk have yet to be determined. Furthermore, researchers have not yet determined how best to target and deliver interventions to sociodemographic groups at the greatest risk for substance use-associated HIV. Intervention delivery methods, such as group vs. individual interventions, may significantly impact the effectiveness of interventions aimed at HIV prevention for those who need them most. Finally, there has not been a widely disseminated universal intervention technique for preventing HIV in substance users. Though many HIV prevention interventions are evidence-based, more work is needed to examine which of these interventions is the most effective [10, 11].
Current study
The objective of our current study is to provide a review of behavioral HIV prevention interventions specifically targeted to substance users. We reviewed the literature regarding universal HIV prevention interventions in both intravenous drug users and non-intravenous drug users to identify interventions most effective at reducing HIV risk, as well as to identify any pertinent limitations or gaps in the literature. Our review aims to highlight intervention models, which may be useful in the development and adoption of new interventions on a greater scale. In the current study, we review the sample characteristics, intervention settings, theoretical backgrounds, methods, and effects of HIV prevention interventions for substance users, as well as potential mediators of intervention effects.
Methods
We conducted a literature search for evidence-based universal HIV prevention interventions using PubMed to search the MEDLINE database (1998–2017). The PubMed search engine was chosen because PubMed has the MeSH vocabulary tool which provides a robust method of narrowing results [
12
,
13
]. Further, PubMed is a human-curated database, which means articles are selected for inclusion by based on scholarly and quality criteria by literature review committees. PubMed's accurate retrieval indicates that search results are reproducible and reportable. The target in this search was studies that addressed HIV prevention through an intervention that was targeted to those with substance use disorder who did not yet have HIV. To be included in the current review, the interventions had to meet all the following criteria:
1)

The intervention should be focused on universal HIV prevention,

 

2)

The intervention must be exclusively targeted to substance users,

 

3)

The intervention sample was comprised of a majority HIV-negative substance users, ensuring only universal interventions were considered, and

 

4)

The intervention sample must consist of adults ≥18 years old.

 
We utilized the search terms "HIV prevention", "intervention", and "substance users" and did not apply any date, language, or publication status limitations in the searches. The search terms were systematically combined with "AND" statements. We identified 1455 studies with these search terms and reviewed a total of 70 seemingly relevant abstracts by analyzing each abstract for inclusion criteria, of which 19 met all four inclusion criteria. Any studies that did not meet all four inclusion criteria were excluded. The studies were screened by at least two authors and if all inclusion criteria were met, data on sample size, sociodemographic characteristics, intervention setting, intervention type, theoretical foundations, intervention length, and effects were extracted. We then divided the 19 studies into interventions which targeted IDUs (
n
 = 9) and interventions which targeted primarily NIDUs (
n
 = 10). Figure
1
shows a flowchart describing the organization of the studies identified for the current review. The primary outcome was improved HIV prevention interventions for IDU and NIDU populations in the future by the accumulation of current evidence.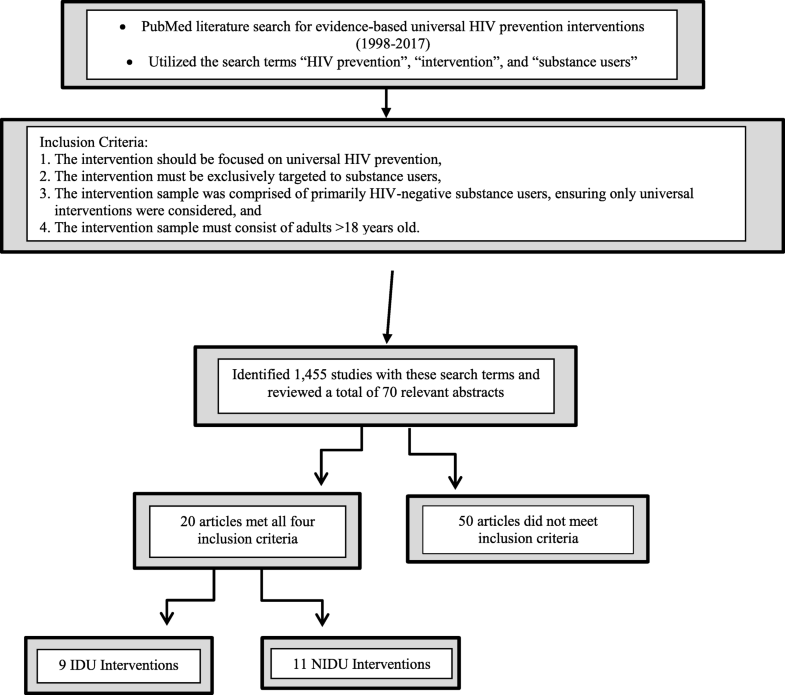 Discussion
Our review of 19 HIV prevention interventions for both IDUs and NIDUs revealed the majority of interventions to have positive effects on reducing rates of new HIV infection. The majority of interventions demonstrated improvements in at least some of their HIV prevention outcomes (80%), with 45% demonstrating reductions in sexual risk behavior, and 40% demonstrating reductions in drug use or risky drug use behavior. Although the majority of both the IDU and NIDU interventions reported favorable intervention effects, two of the NIDU interventions and two of the IDU interventions reported null or iatrogenic intervention findings [18, 22, 25, 31].
The question of how most interventions achieved at least some overall risk reduction is more complex. Most of the intervention studies for both IDUs and NIDUs used some form of condom training and education to improve sexual risk outcomes, as well as some form of HIV education. In addition, the majority of the intervention studies focused on either decreasing drug use or high-risk drug using behavior, although these methods varied based on intervention outcomes and intervention target group. For example, many of the interventions targeted to IDUs reviewed needle cleaning and disposal practices, while interventions targeted to NIDUs more often focused on drug use during sexual activity.
Although there were some similarities in intervention methods, certain factors may have contributed to the success of the various interventions in mitigating HIV risk. To start, universal intervention setting may have impacted the results of each study, influencing the sample receiving the intervention. For example, some of the interventions examined in this review [16, 22, 23, 25, 29, 30] incorporated interventions into substance use disorder treatment programs—the samples in these programs may have exhibited more severe drug use than samples drawn from the community. When disseminating these interventions researchers should consider the setting the intervention was originally tested in and exercise caution when making inferences on the generalization of such interventions to substance users more broadly. Further, although most interventions demonstrated favorable effects, theoretical approach may have influenced the effectiveness of these interventions. Theoretical approaches varied significantly between studies, and more work is needed to determine which theoretical approaches yield the most efficacious interventions. Potentially, whether or not a particular intervention was culturally tailored may influence the effectiveness of the intervention. One of the interventions reviewed demonstrated that cultural tailoring augmented intervention effects in ethnic minority drug users, as compared with a previous study of the same intervention [23]. Further work is needed to determine the effects of cultural tailoring on intervention success. Generally, medical and psychological disorder comorbidity among subjects were not considered in the studies included in this review. Though, psychological disorder comorbidity could significantly affect the results of the intervention and should be considered an important factor in future research regarding HIV prevention interventions. Additionally, inclusion of a follow-up period would help to clarify the maintenance effect of interventions and risk reductions over time. Some studies included sessions that extended multiple years, but specific follow-up meetings would elucidate the results of the intervention. Future research should extend the follow-up period to provide clarification of the long-term effects of HIV prevention intervention. Ultimately, our review has identified many factors to be considered when formulating or disseminating a universal HIV prevention intervention for substance users.
It is noteworthy that effect size may impact the results of each study. Effect size in medical literature is the magnitude of the difference between groups [33]. Effect is often reported as a p value, however, this only demonstrates that an effect exists. The p value – indicating the effect is statistically significant – does not demonstrate the size of the effect nor does it necessarily suggest that the improvement is clinically meaningful. Effect size provides a scale-free measure that reflects the practical meaningfulness of the difference or the relationship among variables [34]. Therefore, the results of each study should report beyond statistical significance and attempt to examine the clinical impact of the results through effect size. This would considerably improve the quality of HIV prevention intervention research which might help to improve the clinical applicability of these HIV interventions.
Overall, HIV prevention interventions that seem most promising are those that incorporate theoretical bases such as the IMB model. For IDU prevention interventions, individual interventions or interventions that contain individual portions seem to have the most effects on prevention and understanding of HIV. For NIDU prevention interventions, group interventions seem to have the most effect on prevention and increased HIV knowledge. The use of theoretical bases and individual versus group prevention interventions should be further analyzed in forthcoming research efforts.
Limitations
There are limitations in the interventions we reviewed. Firstly, many of the interventions were targeted to specific sociodemographic groups of drug users, such as ethnic minorities or men who have sex with men 14, 17–20, 23–28, 31, 32]. While these interventions targeted sociodemographic groups with high risk of contracting HIV, the specificity of these studies to these particular groups limits the generalizability of these interventions. More work is needed to elucidate whether the positive effects found in many of the interventions reviewed are generalizable to other sociodemographic groups. Furthermore, the majority (75%) of studies we reviewed did not describe cultural tailoring of their intervention to meet the needs of the particular sociodemographic groups targeted in the interventions. As one study demonstrated, cultural tailoring may increase favorable intervention effects [23]. Future studies should aim to customize HIV prevention interventions to reflect the needs of their community, especially when targeting minority populations. Finally, all but two studies reviewed did not measure HIV seroconversion as an outcome, but rather theoretical modifiers of HIV seroconversion such as risky drug and sexual behavior. Understandably, many of the studies were not powered to detect intervention effects on HIV seroconversion; however, understanding potential intervention effects on HIV seroconversion is important, as mediators such as sexual risk behavior may not perfectly relate to changes in HIV risk as a result of intervention. Larger and more highly powered studies are needed to examine the effects of universal HIV prevention interventions on HIV seroconversion in substance users.
Further, there are some limitations in this systematic review. It is possible that some studies were missed in the search strategy, such as unpublished articles or relevant articles missed by the search terms. Also, there may be publishing bias in the original research studies where only significant and positive results were published and this bias would be transferred to the review. Additionally, a limitation in this review is that only studies with intervention samples that consisted of adults ≥18 years old were included.
Conclusion
The current review examined universal interventions for new HIV infection in substance users. The vast majority of interventions reviewed had favorable effects on HIV knowledge, behavioral skills, sexual risk behavior, and/or risky drug use behavior, which may all be mediators of HIV seroconversion. More research is needed to adapt these interventions to other sociodemographic groups in order to determine the applicability of these interventions across various populations. In addition, larger studies are needed to examine the influence of these interventions on HIV seroconversion.
Notes
Acknowledgements
None.
Funding
This research did not receive any specific grant from funding agencies in the public, commercial, or not-for-profit sectors.
Availability of data and materials
This is a review article.
Authors' contributions
Study conception and design: AE, BD, GP, MMcK. Acquisition of data: AE, BD, GP. Analysis and interpretation of data: AE, BD, MMcK, GP. Drafting of manuscript: AE, BD, VP, MMcK, GP. Critical revision: AE, BD, VP, MMcK, GP. All authors read and approved the final manuscript.
Ethics approval and consent to participate
This research is conducted in compliance with ethical standards.
Consent for publication
Manuscript contains no identifiable personal information in any form.
Competing interests
The authors declare that they have no competing interests.
Publisher's Note
Springer Nature remains neutral with regard to jurisdictional claims in published maps and institutional affiliations.
Copyright information
© The Author(s). 2019
Open AccessThis article is distributed under the terms of the Creative Commons Attribution 4.0 International License (http://creativecommons.org/licenses/by/4.0/), which permits unrestricted use, distribution, and reproduction in any medium, provided you give appropriate credit to the original author(s) and the source, provide a link to the Creative Commons license, and indicate if changes were made. The Creative Commons Public Domain Dedication waiver (http://creativecommons.org/publicdomain/zero/1.0/) applies to the data made available in this article, unless otherwise stated.