The potential of omics approaches to elucidate mechanisms of biodiesel-induced pulmonary toxicity
Abstract
Background
Combustion of biodiesels in place of fossil diesel (FD) has been proposed as a method of reducing transport-related toxic emissions in Europe. While biodiesel exhaust (BDE) contains fewer hydrocarbons, total particulates and carbon monoxide than FD exhaust (FDE), its high nitrogen oxide and ultrafine particle content may still promote pulmonary pathophysiologies.
Main body
Using a complement of in vitro and in vivo studies, this review documents progress in our understanding of pulmonary responses to BDE exposure. Focusing initially on hypothesis-driven, targeted analyses, the merits and limitations of comparing BDE-induced responses to those caused by FDE exposure are discussed within the contexts of policy making and exploration of toxicity mechanisms. The introduction and progression of omics-led workflows are also discussed, summarising the novel insights into mechanisms of BDE-induced toxicity that they have uncovered. Finally, options for the expansion of BDE-related omics screens are explored, focusing on the mechanistic relevance of metabolomic profiling and offering rationale for expansion beyond classical models of pulmonary exposure.
Conclusion
Together, these discussions suggest that molecular profiling methods have identified mechanistically informative, novel and fuel-specific signatures of pulmonary responses to biodiesel exhaust exposure that would have been difficult to detect using traditional, hypothesis driven approaches alone.
Keywords
Biodiesel 
Pulmonary toxicity 
Transcriptomics 
Metabolomics 
Hypothesis generation 
Mechanism 
Abbreviations
1H NMR

Proton nuclear magnetic resonance spectroscopy

AhR

Aryl-hydrocarbon receptor

BALF

Bronchoalveolar lavage fluid

BDE

Biodiesel exhaust

BDE-PM

Biodiesel exhaust particulate matter

bFGF

Basic fibroblast growth factor

BW

Bronchial wash

CCL

Chemokine (C-C-motif) ligand

CO

Carbon monoxide

CXCL

Chemokine (C-X-motif) ligand

CYP

Cytochrome P450

EGFR

Epidermal growth factor receptor

EPA

Environmental Protection Agency

ERK

Extracellular signal-regulated kinase

FAME

Fatty acid methyl ester

FD

Fossil diesel

FDE

Fossil diesel exhaust

FDE-PM

Fossil diesel exhaust particulate matter

GC-MS

Gas chromatography-mass spectrometry

G-CSF

Granulocyte-colony stimulating factor

HO-1

Heme oxygenase-1

HVO

Hydrogenated vegetable oil

IL

Interleukin

IP-10

Interferon-γ induced protein

IPA

Ingenuity Pathway Analysis

LC-MS

Liquid chromatography-mass spectrometry

LIF

Leukaemia inhibitory factor

MAOK

Mitogen-activated protein kinase

MCP-1

Monocyte chemoattractant protein-1

M-CSF

Macrophage colony stimulating factor

MIP

Macrophage inflammatory protein

NFκB

Nuclear factor kappa-light-chain-enhancer of activated B cells

NIFNγ

Interferon-γ neutralising

NOx

Nitrogen oxides

Nrf2

Nuclear receptor factor 2

PAH

Polycyclic aromatic hydrocarbon

PDGF

Platelet-derived growth factor

PM

Particulate matter

PM0.1

Ultrafine particulates

RME

Rapeseed methyl ester

SME

Soybean methyl ester

SOF

Soluble organic fraction

TLR

Toll-like receptor

TNF-α

Tumour necrosis factor-α

TRPA1

Transient receptor potential ankyrin 1

VEGF

Vascular endothelial growth factor

WGPM

Waste grease biodiesel exhaust particulate matter

β2AR

β-2 adrenergic receptors
Background
In 2017, UK road users travelled 325.5 billion miles [1]; a figure that is forecast to increase by 75 billion by 2040 [2] and follow a trend that is being predicted globally [3]. Fossil fuel combustion contributes significantly to traffic-related air pollution, releasing pollutant gases (including nitrogen oxides (NOx), sulphur dioxides and carbon monoxide (CO)) and particulates [4]. As these composition derived particles are of respirable size [5, 6, 7], exist ubiquitously in urban areas and have been shown to induce inflammatory pulmonary pathophysiologies [8, 9, 10, 11], regulators welcome interventions that reduce their emission.
Biodiesel is a liquid fuel produced through transesterification of vegetable oils, animal fats or waste cooking oil. This base-catalysed reaction is driven by adding alcohol to the feedstock [12], converting the parent product to its less viscous alkyl-ester. When blended (up to 20% volume) with fossil diesels (FD), biodiesels can power modern compression-ignition engines efficiently without demanding modified transport or storage measures [13, 14].
Biodiesel has a higher oxygen content than FD, encouraging more complete fuel combustion [13]. Coupled with an absence of aromatic and sulphurous compounds, the resulting emissions can contain 90% fewer unburned hydrocarbons, 75–90% fewer polycyclic aromatic hydrocarbons (PAHs), 43% less CO and 55% less particulate matter (PM) than FD exhaust (FDE) [15, 16], depending on the engine and combustion conditions used to burn the fuel. As these pollutants associate significantly with the incidence of airway infection and respiratory symptoms, onset and exacerbation of inflammatory pulmonary diseases and rates of respiratory hospital admissions in heavily trafficked areas [17, 18, 19, 20], biodiesel usage has been encouraged in Europe, with the 2009/28/EC directive striving to replace 10% of transport fuel with biodiesel by 2020 [21].
Despite some improvements in emission profiles, BDE generally contains more NOx and ultrafine particles (PM0.1) than FDE [22] with particle emissions increasing with the chain length and degree of double bond saturation in the feedstock fatty acids [23]. Given that PM0.1 have been shown to exhibit greater inflammatory potential and oxidant capacity than larger particles [24, 25] and that both PM0.1 and NOx have been associated with mortality from respiratory diseases [26, 27], it is imperative that the impacts that biodiesel exhaust (BDE) exposure have on pulmonary health are characterised and communicated to policymakers. Furthermore, BDE contains a number of molecules that have the potential to induce pulmonary toxicity that are not found in FDE (or are present at significantly lower levels). Esters such as those found within BD can produce toxic, mutagenic and carcinogenic carbonyls when burnt in the presence of O2, with concentrations of formaldehyde, acetaldehyde, acrolein, acetone, propionaldehyde and butyraldehyde increasing linearly as the BD component of blends increases [28]. Additionally, BD fuel esters themselves have been detected in BDE, including several species that are known to induce pulmonary irritation [29].
Two complementary approaches have been employed to investigate particulate toxicity; traditional hypothesis-driven methods and, more recently, agnostic approaches that employ various untargeted omics platforms to identify global patterns of response to generate novel insights and new hypotheses. Traditional approaches are of considerable value to epidemiologists because they associate pathophysiological endpoints (including airway responsiveness and respiratory symptoms) with underlying molecular events, i.e. they support causal inference. Furthermore, with BD being proposed as a replacement for FD, they enable investigation of endpoints that have previously been validated as markers of particle toxicity allowing comparative toxicological assessment. The techniques are however, limited in their ability to uncover novel pathways, making them less informative for mechanistic studies of complex aerosols with novel constituents.
In contrast, high-throughput omics techniques characterise the expression of 100s–1000s of molecules, or 10s of thousands of transcripts, simultaneously, enabling additional molecular events to be tested for association with exposures in an untargeted manner (Fig. 
1
). This approach has significantly advanced characterisations of FDE toxicity, demonstrating, for example, that lung cells undergo a hierarchical oxidative stress response following exposure [
30
] and that impairment of macrophage phagocytic functions may be influenced by differential expression of genes implicated in cytoskeletal rearrangements [
31
]. Still less commonplace than the cheaper traditional techniques, omics screens are gaining popularity as methods of characterising pulmonary responses to BDE exposure.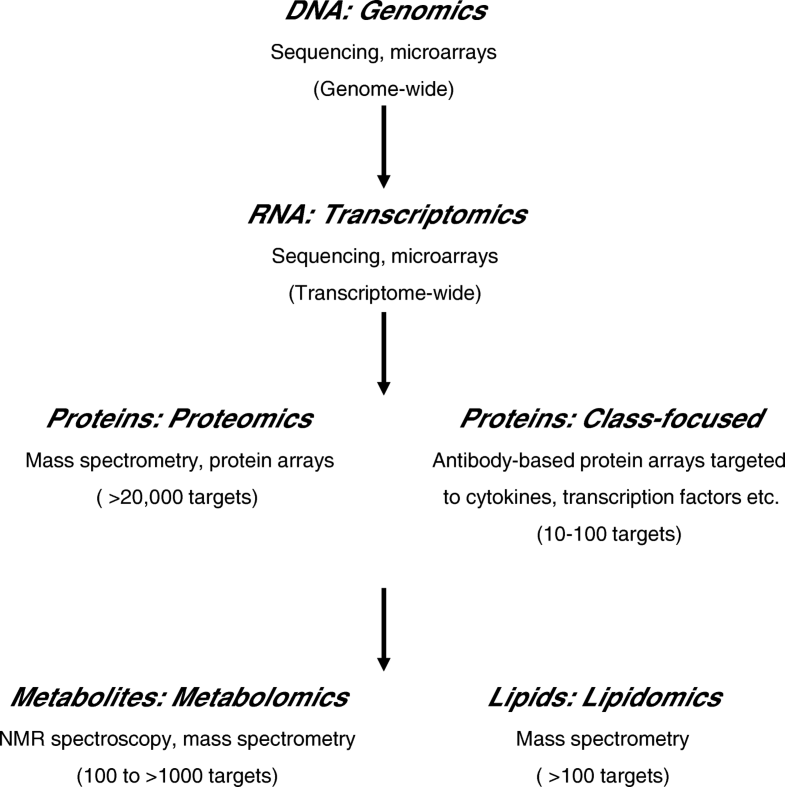 The information that hypothesis-driven studies have provided on biodiesel-induced pulmonary toxicity has been reviewed comprehensively [32, 33]. Following from this work, our review focuses on recent transitions towards omics-based assessments of BDE-induced pulmonary toxicity. The work aims to evaluate the effectiveness of including molecular screens in characterisations of pulmonary toxicity mechanisms and to comment on the usefulness of these data in terms of understanding whether BD blends are a 'healthy' replacement for pure FD. To produce these evaluations, studies of biodiesel toxicity were identified within the PubMed database (http://www.ncbi.nlm.nih.gov/sites/entrez) using the key words 'biodiesel AND lung OR pulmonary' combined with 'toxicity/ inflammation/ genotoxicity/ transcriptomics/ mass spectrometry or omics'. Reports from human cohort studies, animal exposures or in vitro modelling were included for review while studies performed in plants or with raw biofuels were excluded from the analysis.
Conclusions
Introduction of omics strategies to the characterisation of toxicity pathways has greatly progressed our understanding of how human lungs respond to BDE. Moving away from hypotheses inspired by our knowledge of how the lungs respond to FDE, profiling methods have identified mechanistically informative, fuel-specific molecular signatures. Importantly, they have also highlighted mechanisms beyond those that we traditionally associate with particulate exposure, which could encourage exploration into the roles of additional pathways and physiological systems. Such outcomes are difficult to achieve using traditional toxicological testing but would be highly beneficial throughout the field of particulate toxicology. The most recent air quality proposals (such as the UK Clean Air Strategy 2018) pledge to address a range of pollutant sources much wider than the transport combustion engine [108]. Characterisations of the toxicity posed by many of these particles are in their infancy but, with the breadth of information that omics screens offer, policy makers could be provided with a more detailed understanding of how the different particles impact the lungs, and whether some cause more diverse toxicities than others. This information could assist targeting of regulatory efforts to those pollutants that pose the greatest risk to public health and help to prevent unexpected consequences by focusing on new fuels, or engine technologies that may offer solutions to current problems but introduce a new set of problems. The history of air pollution regulation is littered with such examples [109], with the European policies of the mid-1990s promoting the uptake of diesel vehicles being the clearest contemporary example. Embracing the advances in multi-omics technologies, allied to traditional hypothesis-led approaches to address the safety of new fuels presents the opportunity to develop evidence-based pollutant mitigations strategies, rather than simplistic fixes that often fail to consider the health of the population.
Notes
Acknowledgements
The authors would like to acknowledge Professors Anne Willis and Marion Macfarlane for the kind help and guidance that they provided whilst proof reading this manuscript. Gratitude is also offered to the Medical Research Council for their financial support.
Funding
Production of this manuscript was funded by the Medical Research Council through a UKRI Innovation/ Rutherford Fund Fellowship grant (RG95376) awarded to LS.
Authors' contributions
IM researched and produced discussion of the health impacts of diesel exhaust while DHP analysed and produced content on studies of biodiesel genotoxicity and mutagenicity. All other sections, including Figs. 1 and 2 and Table 1 were produced by LS. All authors contributed to the editing of the manuscript. All authors read and approved the final manuscript.
Ethics approval and consent to participate
Not applicable
Consent for publication
Not applicable
Competing interests
The authors declare that they have no competing interests, financial or otherwise.
Publisher's Note
Springer Nature remains neutral with regard to jurisdictional claims in published maps and institutional affiliations.
Copyright information
© The Author(s). 2019
Open AccessThis article is distributed under the terms of the Creative Commons Attribution 4.0 International License (http://creativecommons.org/licenses/by/4.0/), which permits unrestricted use, distribution, and reproduction in any medium, provided you give appropriate credit to the original author(s) and the source, provide a link to the Creative Commons license, and indicate if changes were made. The Creative Commons Public Domain Dedication waiver (http://creativecommons.org/publicdomain/zero/1.0/) applies to the data made available in this article, unless otherwise stated.